If there are two things I love, they're alternate earth stories and weird meta Grant Morrison comics. So who's surprised that Multiversity, the story that combines them, is one of my favorite things ever? But it's kind of a weird, unwieldy book, so I decided to break it down a little more efficiently for you. Join me on this tour through the multiverse, starting with"¦
                                                              Source: ign.com
10. What the Hell is This?!
(Multiversity #1)
If you've read Grant Morrison's previous big spread-out weird project, Seven Soldiers of Victory, the format of this series will be somewhat recognizable to you.
There's Issue One, a bunch of one-shots, and a concluding Issue Two to wrap the whole thing up. This opening chapter is"¦f***ing insane.
It introduces us to Nix Uotan, the dimension-hopping last Monitor. We also get some of his ship, which travels dimensions and runs on music. It's called the Ultima Thule. Comics are weird. And speaking of weird comics, we also get a first look at Ultra Comics, the living haunted cursed comic book that will come back later. If that sounds confusing, that's only because it really is.
Also, President Superman from Morrison's Action Comics run comes back, so that's pretty cool. But overall, it sets up a threat and a team, and it gives us the throughlines that we will see as the series progresses. Plus, Captain Carrot!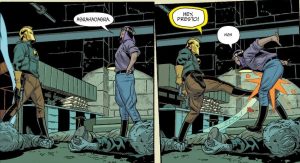 Source: needtoconsume.com
9. Pulp Power
(Multiversity: Society of Superheroes: Conquerors from the Counter-World #1)
For our first foray into the Multiverse, we have the longest title for anything ever. But M:SOS:CCW is a pulp homage, so that makes sense.
The SOS (yes, the acronym IS intentional) is put together by gun-slinging magic man Doc Fate, who I love. It also includes Abin Sur, the Green Lantern; teen wonder The Mighty Atom; and the badass Lady Blackhawk as they do battle with Vandal Savage and Count Sinestro's Parallax Monster.
Overall, it's a really fun time, and includes a lowbrow joke that made me actually laugh out loud. There's still some weirdness, but it's much more straightforward than the intro chapter. It's fun and pulpy and a really imaginative read. The Chris Sprouse art is fantastic, delivering on that thirties sensibility in a square-jawed, magic and science-intermixed charm fest of a story.
In the book, the SOS are attempting to repel an invasion from another alternate earth on the day when they both cross over. It's a good Chapter Two.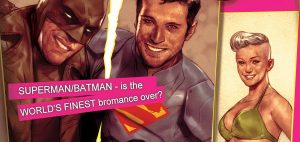 Source: dccomics.com
8. "Just" Desserts
(Multiversity: The Just #1)
Next up, we have a fascinating concept for a comic that seems like it wouldn't make for a good comic in execution, but it does.
The Just takes place on the nicknamed Earth-Me, a world where all of Earth's heroes wiped out crime some time ago, and now spend their days playing around in re-enactments of their greatest battles. At the same time, their kids live hedonistic party lifestyles, dressed in their parents' outfits as their supposed successors.
If this issue can be said to have main characters, I guess they'd be Damien Wayne, aka Batman, and Chris Kent, aka Superman. The duo spend the issue investigating the suicide of Megamorpho, and looking for the meaning behind it. Of course, it turns out that Batman's girlfriend Lexie Luthor is behind it all, having poisoned Megamorpho's mind with a virus from a multi-dimensional comic book (hint, hint).
Eventually, the Superman robots protecting everybody turn tail and start destroying the earth, with no real heroes left to stop them. Weird, interesting, and perfectly Morrison.

                                                       Source: comicbook.com
7. Who's Watching?
(Multiversity: Pax Americana #1)
So fun fact: Grant Morrison and Alan Moore don't really seem to like each other all that much.
Mostly owing to Morrison accusing Moore of stealing central ideas for his greatest works from the 1977 novel Superfolks. I'm not getting into those accusations at this time (I'll cover them in the future) but essentially, this is Morrison trying to one-up Watchmen. It's fascinating.
Watchmen takes place on a nine-panel grid? Pax Americana functions on a 16-panel grid. Watchmen wasn't allowed to use the Charlton Comics characters? Americana does. Watchmen plays with time? Americana takes place completely in reverse, but reads fluidly no matter what order you read it in.
The book is about the team Pax Americana, a group of heroes split up due to multiple factors, who galvanize again when one team member, Peacemaker, murders the president of the United States. From the insane Question, who parodies Moore's (or Ditko's, honestly) dialogue in a beautiful pseudo fourth-wall break, to the mentally broken Captain Atom, the whole group are fascinating takes on Watchmen as an idea. I'd honestly want to see a full maxi series of this, and not just one issue, no matter how perfect that issue is.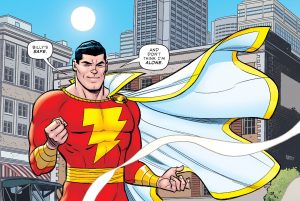 Source: comicvine.gamespot.com
6. Thunder…Thunder…THUNDER!
(Multiversity: Thunderworld Adventures #1)
Holy hell, this one is a beautiful piece of comic booking.
Not just because of Cameron Stewart's clean and bold artwork, but because of Nathan Fairbairn's perfect coloring. Seriously, the guy nailed this issue. It's bright and beautiful and superhero-y to the extreme. As fun as the story is, and as gorgeous as the art is, it's the coloring that's MVP for me.
But this one is a straight-up Captain Marvel adventure featuring Mary Marvel, Captain Marvel Jr., and Dr. Sivana. Yes, there's some multiversal crossover stuff centered around the league of Sivanas from other earths, but that's more supplemental than pivotal. Also, murderous Sivana is frigging terrifying, and I don't like looking at him or his Hannibal Lecter face mask.
We get one more tie-in to the connecting comic book subplot with a reference to SOS, but other than that, it's pretty standalone. But that's not so true about"¦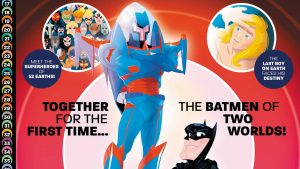 Source: dccomics.com
5. The Hitchhiker's Guide to the Multiverse
(Multiverse: Guidebook #1)
This is the first big tying-together issue. Which is why I like that it comes about something like halfway through the whole series.
This one is half anthology story, bouncing around to some Earths that we wouldn't otherwise get a chance to see, and half"¦well, guidebook, laying out all of the Earths. The guidebook half is crazy entertaining, mostly due to all of the artists who contributed beautiful, gorgeous work to illustrating it.
The comic half focuses on a team-up between the post-apocalyptic armored murder Batman of Earth 17 and the childish cartoon character Batman of Earth 42. The two bounce off each other well, and both are interesting characters in their own right, and I would like to see more of Earth 17 Batman and his Marauding Apocalypse-surviving cohorts.
I feel this way not exclusively because his costume makes him look like a weird Batman/Buzz Lightyear hybrid, but also mostly for that reason. That may be the majority of my reasons for wanting to see him more.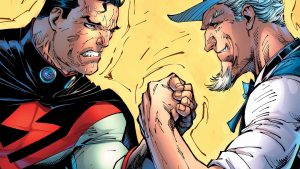 Source: dccomics.com
4. Springtime for Superman
(Multiversity: Mastermen #1)
I am on fire with the entry titles this week. Like, just lighting up the switchboard with fantastic references.
But anyway, this one is about Nazis. In fact, it's an update of the Freedom Fighters of Earth X joined with the more recent concept of a Nazi Justice League to create a great little one-shot.
In the story, Superman's rocket lands in Nazi-occupied territory, and Hitler has him recommissioned as Overman. The Nazis win the war and take over the world, and decades later Overman is dealing with the consequences of the Nazis' actions, while a new band of Freedom Fighters is on the rise.
So first, Jim Lee is an amazing artist who nails every page of the issue, from Hitler on the toilet to the ruined landscape on the final page. Also, Morrison paints a vivid picture of a post-Nazi victory world, especially the distancing and pseudo-apologizing for the genocides.
And then there's the Freedom Fighters. Of whom Human Bomb gets easily the best moment when he takes out the Mastermen. Because Nazi Batman is just such a friggin' jerk.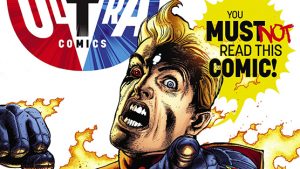 Source: pastemagazine.com
3. Mary Sunshine, You Are Ultra-Ultra!
(Multiversity: Ultra Comics #1)
A solid thumbs-up to anyone who can tell me what that header references.
But this is the big serious important issue. And it's also my favorite one of the entire series of one-shots. This is Ultra Comics, the paper and ink superhero of Earth 33. Our world. Yes, he is a living being of thought, who is encased in a comic book, and relies on accessing the brains and imaginations of the readers for his power. But it's also a haunted comic book. A cursed comic book.
Not kidding, this issue will mess you up in ways you would never expect. It is a beautiful comic book, and a hideously evil one, as well. It's the fourth wall-breaking skill Morrison showed in Animal Man, but elevated to an art form. A beautiful, sexy art form of creepiness and villainy. Every time I read it, it leaves me haunted and chilled. I really don't want to say more about it because it will ruin the experience.
I'm just saying that you need to read it. Or actually no, wait, don't. Don't read it! If you read it, they will get you too! Don't let them in, don't let…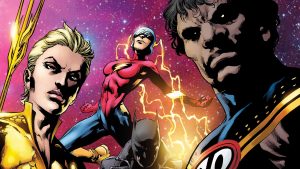 Source: dccomics.com
2. What the Hell Was That?!
(Multiversity #2)
And the closing chapter of the whole thing is just as crazy as the rest of the series.
But if you were expecting a big moment bringing together all of the characters from the previous wave of specials"¦That ain't happening. No, the threads being tied together are The Gentry, the group of villains and thought monsters who have been secretly appearing in the background of the previous issues. Or in Ultra Comics' case, the villain who scared the absolute hell out of me by being prominently featured.
And this issue, like the first, is insane, and full of stuff that you'd need a who's who of the DC Universe to decode. But a bunch of characters get friggin' awesome moments, especially Red Racer and Aquawoman.
Aquawoman's is easily the best. She calls down the lightning in a crazy badass way, marking her as someone to watch for all time. Plus, we do get more appearances by President Superman and Abin Sur, pulp Green Lantern. So that's pretty cool.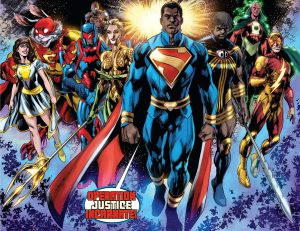 Source: newsarama.com
1. Overall Thoughts
Obviously, this series is pretty solidly worth reading, but due to its divergent nature, do you need to read all of it?
I would personally say yes. Even in the weaker issues, there's still tons of stuff to pour over and enjoy. In fact, I'd say its weakest chapters are the bookending Multiversity #1 and #2 (although the same was true of the book's spiritual predecessor, Seven Soldiers). Each one-shot could honestly be its own full miniseries, and I'd love to see more Multiversity.
Yes, I know about the proposed Multiversity Too, but like, come on. Morrison's schedule is weird, and the first Multiversity was delayed a bunch of times.
It runs kind of like a Morrison greatest hits album, with him trying on different hats and telling incredibly varied kinds of stories. And then taking a shot at Alan Moore halfway through, because come on, he had a chance to. But yeah, this one is 100 percent worth your time, so check it out as soon as you can. Just be safe when you do"¦Dangerous things are afoot.