Tony Stark, aka Iron Man, has had a lovely and varied wardrobe, composed mostly of big scary murder suits. And we all love to pore over those big scary murder suits, so here's a fun rundown (a fundown, if you will) of those beloved giant metal death costumes. Come take a look at the best Iron Man armors known to man, iron or otherwise.






  








    

               



                                                                                Source: marvel.wikia.com
10. The Model 1
And of course we gotta find a place for that classic of classics, the first Iron Man armor.
Built in a cave in Vietnam, this hunk o' junk was able to take on Wong-Chu and his entire army of vague stereotypes that made us kind of uncomfortable when viewed from today's perspective. Professor Yinsen and Tony Stark collaborated in building the first suit, which was in part a makeshift pacemaker to keep Tony from a painful death.
Once home, he painted the thing gold to make it look more heroic and less monstrous. Eventually, though, Tony realized that the suit was just too clunky and heavy, and he switched to a lighter armor. This was, however, the armor in which he started, and the armor he wore when he founded the Avengers. An important one to behold, for sure.
Also, Stark used a version of the Model 1 to defeat Norman Osborn in his Iron Patriot armor. The armor was destroyed, but pieces were used in the construction of Pepper Potts' Rescue Armor, so it's still saving people to this day.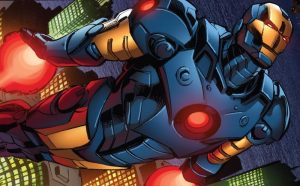 Source: marvel.wikia.com
9. The Model 42
The Model 42 was introduced during Marvel Now!, and existed to test out new tech in the Iron Man.
For example, the multiple repulsor cores were spread throughout the suit, giving it a better overall energy output. Also, I really liked the suit's yellow and black coloring and its beautiful red highlights. The bumblebee might not have been beloved, but it was a great new direction that was still clearly Iron Man.
The suit was occasionally used remotely from space while Tony was there with the Guardians of the Galaxy. The suit's main improvement was its modular nature, which allowed pieces to be swapped out, depending on the mission. This suit was the subject of several key stories.
It stood alongside the rest of the lineup for the formation of the Avengers during the Avengers World era. It did combat with the heroes of earth during Infinity. It investigated the death of the Watcher and fought the Hulk during Original Sin. Overall, it was one kick-butt suit.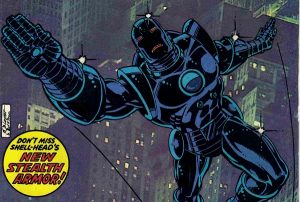 Source: craveonline.com
8. The Stealth Armors
Tony Stark has worn several suits of covert ops stealth armors, so I figured I'd group them together.
The Model 7 was used to infiltrate the Roxxon Heaven's Hand fortress. The suit had hyper-diminished weaponry to make room for stealth, so it wasn't the best in combat.
The Model 43 was created to sneak around destroying samples of the Extremis virus throughout the world. This suit contained light-bending tech for camouflage. Its weapons were designed for non-lethal use and its repulsor output was around ten percent of the norm. It was used throughout the Gillen run on Iron Man, but sadly, it hasn't been used since.
Let's take a look at the Model 21 next. This one was created to fight Black Panther, and contained – surprise – no metal! It was actually made using Kevlar and gel circuits. It kept uni-beams and repulsors, which was pretty neat. Pretty neat, indeed.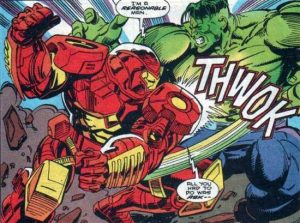 Source: vox.com
7. The Hulkbusters
Like the Stealth Armor, there have been numerous Hulkbuster Armors, so let's look at a rundown.
The Model 13 had plug-in points for heavy duty tech to enable a hulkbuster add-on that was used to confront the Hulk. Then there's the Model 31, which Stark created, but never wore. Eventually, it was remotely activated to attack Times Square, until Tony found a way to shut it down.
The Model 36 was used to fight the Hulk during World War Hulk. It didn't go great. The Model 49 was deployed during Original Sin for a fight between Iron Man and the Hulk after Banner became convinced that Stark was responsible for the Malfunction of the Gamma Bomb that turned Banner into the Hulk.
Then we got the Model 52, which actually compacted into a flying car, which was hell of rad. It was used to fight Warbringer during the formation of the All-New All-Different Avengers. Also, we technically have the Wakandan Hulkbuster, but since that was built by Black Panther, I'm not going to officially count it.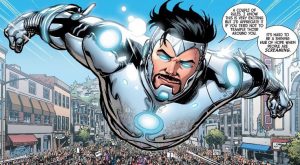 Source: pinterest.com
6. The Superior Armor
After his personal moral polarity was inverted, Tony Stark became a right evil jerkwad. Like, suuuuuuper evil. And, of course, evil means a new armor and a new comic book.
During the run of Superior Iron Man, Tony created the Model 50, or the Endo-Sym Armor. This armor wasn't based on nanotech, but on alien symbiotes, like the kind that just loved trying to kill Spider-Man. If this sounds like a terrifyingly evil idea, that's only because it was. The suit didn't last super long, but neither did evil Tony, which I feel was a mistake.
Tom Taylor really had something fun going with that one. The suit was created during the Avengers and X-Men: Axis event, and it lasted for about a year, until Secret Wars did away with it in a hand wave.
It was best used in Unbeatable Squirrel Girl (Vol. 1) #2, which is hilarious, and in Nick Spencer's Ant-Man run, which still makes me laugh every single time I read it.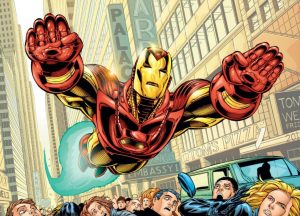 Source:comicvine.gamespot.com
5. The Model 16
God, Heroes Return was fun.
And it spawned an Iron Man run that was way better than anyone acknowledged. The glowing head and neck pieces just looked cool! As did that sharp-edged mask. He just looked great – can we get this one back sometime soon? Tony wore the suit for a while, and had some good adventures. These include:
The formation of the Heroes Return Avengers team
His battle against Ultron's resurgence
His work to stop Baron Zemo and the Thunderbolts from taking over the earth
His team-up with Carol Danvers (Ms. Marvel at the time) to fight off the Kree
The Mandarin's return to the forefront
Also, this suit kinda sorta came to life and decided it was in love with Tony Stark. Yeah, that's a thing. Creepy stalker armor was a great storyline, check it out if you get any amount of time.
But yeah, Stark eventually had to abandon this suit when its power source became too toxic.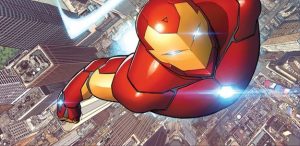 Source: newsarama.com
4. The Model-Prime
Using what he learned from his evil time with the Endo Sym Armor (Model 50), Tony decided to apply that knowledge to a heroic armor. Here's what he came up with.
Also known as Model 51, the Model Prime armor was able to shape itself into any needed suit, allowing it to be a sort of all-in-one suit. The result was sleek and elegant in its design. After the super-complex Bleeding Edge and Extremis armors, this took it back to basics in a really great way. I love this design. The suit came about after the most recent Secret Wars, and lasted Tony through the second Civil War.
During its run, Tony helped found the All-New All-Different Avengers, fought back the jailbreak of Pleasant Hill during Avengers: Standoff, and dealt with the Vision's declining mental health in his own series.
The armor didn't last crazy long, but it had some really fun stories in its time. It also inspired the Riri Williams armor, which I also think was pretty great-looking.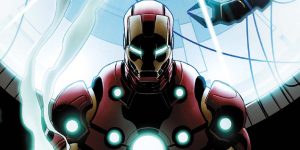 Source: screenrant.com
3. The Bleeding Edge Armor
Matt Fraction and Salvador Larroca's  run on Invincible Iron Man was one of the best ever. In fact, I've written extensively about it, because it was just so great, you guys.
After he survived Norman Osborn's takeover of S.H.I.E.L.D. in World's Most Wanted, and Tony's own return to sanity in Stark Disassembled, Iron Man needed a new armor. So we got the beautiful Model 37 Bleeding Edge armor. The suit was all nanotech, and it was stored inside Tony's very bones – which, while creepy, was also cool.
During the Fear Itself event, it was ingrained with uru metal, which turned it into the Iron Destroyer armor. Interestingly enough, its power source was Stark's RT node, which was implanted in his chest.
This armor lasted Stark through a great many events. It faced off with Magneto during Avengers vs. X-Men, opened up the Heroic Age, and survived Spider-Island and Ends of the Earth. An all-timer.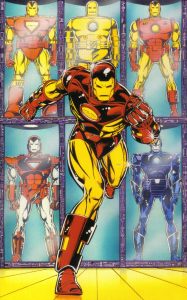 Source: marvel.wikia.com
2. The Model 9
After Firepower destroyed Silver Centurion during Armor Wars, Tony had to build a new armor, so he came up with Model 9, the Neo-Classic Armor.
Stark used this armor for a while during the late eighties and early nineties, and it made it through numerous events and changes in the status quo. Personally, I love the beautiful giant boots and shoulder pads on this one. It was big and clunky, but in a really charming and satisfying way.
When Tony was shot in the spine and paralyzed, he created a means to interface with the suit, which allowed him to walk again. This process eventually began to cause nerve damage, so he switched to a newer armor.
The suit survived numerous ordeals, including Atlantis Attacks, the doppelganger attack during Infinity War, confrontations with the Grey Hulk and Ultron, and a trip back to Arthurian times to fight Doctor Doom. Hell of a resume.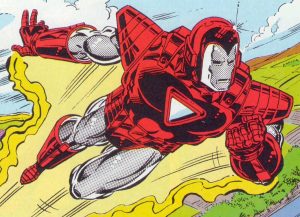 Source: superherohype.com
1. The Silver Centurion
Here we go, my personal favorite Iron Man armor of all time. Hands down, I will always pick Model 8, the good ol' Silver Centurion armor.
The armor was originally built for James "Rhodey" Rhodes during his time as Iron Man, but Stark wore it during his battle against the Iron Monger. It served quite well there, and Tony used it for a good long while, until it became one of the most iconic Iron Man armors ever.
The suit was used during the Beyonder's appearance on Earth in Secret Wars II, the formation of the West Coast Avengers, and the Avengers' battle against Mephisto. It's what I remember when I think of fantastic 1980's Iron Man stories, including one of my all-time favorites: Armor Wars, a rad comic book in which Iron Man discovers that a bunch of other armored supervillains had been using stolen Stark tech to run their suits.
That pissed Tony right off, and he went out to go kick butt up and down the street. In that arc, the Firepower armor annihilated the suit, and this allowed Tony to fake Iron Man's death. Later versions have popped up since that time.
And there we go. All of my favorite Iron Man armors in one definitive place. Have your own favorite? Feel free to share in the comments! I'm excited to hear other people's opinions on this one.