I spent a long time piecing together a series on DC villains, and I loved doing it. But, for the most part, I've exhausted the supply of DC heroes with enough cool villains to make a list. If I were to do Aquaman, say, it would be less "Here's Aquaman's ten coolest villains" and more "Here are all ten of Aquaman's villains". So I moved on to the Marvel camp. I've already done Spider-Man, and now I want to move on to the Marvel hero who I'd argue has the most underrated rogues gallery. Cap's villains are amazing. Seriously, I don't understand why we don't discuss Cap's band of foes alongside those of Spider-Man, Batman, and The Flash as some of the best in the medium. Don't believe me? Stay tuned.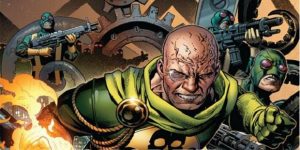 Source: denofgeek.us
10. Baron von Strucker
Wolfgang von Strucker (another tubular name, there) was a Nazi (surprise) who eventually became leader of HYDRA.
He spent a long time as a Nazi, until Hitler ordered his death, at which point he buddied up with the Red Skull. He spent a lot of time facing off against Nick Fury during his early S.H.I.E.L.D. days, but eventually was killed in the service of HYDRA. Then HYDRA brought him back. He bounced around quite a bit, trying a bunch of new things to make his name.
He tried forming a new Thunderbolts team"¦but they rebelled and almost got him killed. He tried to get a new HYDRA cell off the ground"¦and had to destroy it all to stave off a Skrull attack during the Secret Invasion. Poor Baron von Strucker. Guy just can't find his footing as a Cap villain.
I guess it's not enough to just be a Nazi when your competition is a Nazi with no face and a Nazi who is also a vampire.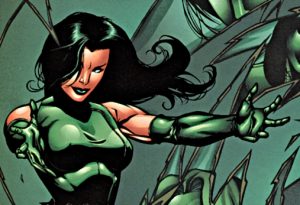 Source: marvel.com
9. Madame Hydra
Meet Madame Hydra. Her Name is Ophelia. An orphan recruited by HYDRA, Ophelia eventually moved up the ranks to take on the handle of Viper.
During this time, she saved Wolverine's life from Sabretooth. Small world. She moved into a command role, taking on the name Madame Hydra, and she gained the attention of Captain America. But she was the victim of identity theft when the most obscure Marvel villain ever, The Space Phantom, used her ID for his own benefit and wrecked her reputation. She went back to using Viper as an alias and began working her way up.
Oh, also, she was married to Wolverine for a time. Until a ninja demon possessed her, and she divorced him.
Look, it's a thing.
She had ownership of Madripoor, the mutant haven town with a seedy underbelly. Eventually, Viper regained her high placement in HYDRA and re-took the Madame Hydra title. She was last seen working under Sin in the organization, which has to hurt. Nepotism at its finest.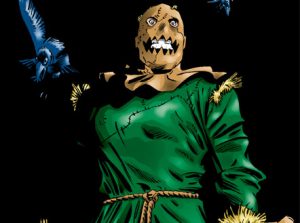 Source: wikipedia.com
8. Scarecrow
No, the other one.
Yeah, I know, NOT the Batman villain. Marvel has a Scarecrow too, okay? He's an objectively worse Scarecrow, but still.
Ebenezer Laughton, who has I swear to God the best name, worked as a sideshow attraction. He did this under the nickname Umberto the Uncanny. This guy is like the master of rad-as-hell names. I don't know how it's possible to have not one, but two, names I would name a child in a heartbeat. It's downright impressive. He also has a platoon of trained crows, because Ebenezer clearly has a fundamental misunderstanding about the purpose and function of scarecrows.
Fun Fact: He actually fought Iron Man first. Because Man of Straw v. Man of Iron is just too good an idea not to hit on. But he fought Cap later on. Ghost Rider too, but mostly Cap'n Stevey-Steve.
Hold on, I just gotta repress the impulse to call him that for the entire rest of this list.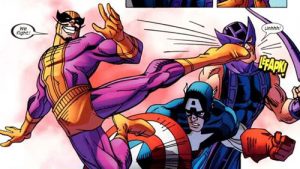 Source: herosandwich.net
7. Batroc the Leaper
Please tell me you all love Batroc the Leaper as much as I do. Please. Because if you can't love a French mercenary who does a lot of jumping and kicking, I don't know how to help you.
Look, I coulda put The Tumbler on here. Woulda had a lot of easy joke opportunities. But he was busy taking up his extra hour in the ball pit (Ha! Still got one in there!!). But back to Batroc.
B-Dog was a master of savate, a French kickboxing fighting style that Batroc refuses to shut up about. Batroc speaks in a comically overblown French accent, to the point where it honestly borders on offensive. Unlike most of this list, though, Batroc tends to view Cap as a rival more than as an enemy. He was even seen mourning Cap's death one of the thirty times he died.
Batroc is also notable for getting the living s**t kicked out of him by Batman during the JLA/Avengers crossover.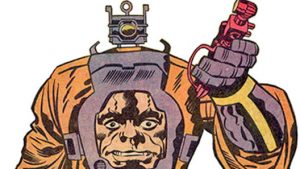 Source: geekleagueofamerica.com
6. Arnim Zola
Chestface McGee!! I love how goofy Arnim Zola's visual design is and how comics have fully stuck with it throughout the decades. It's impressive.
Zola was a biochemist and genetic engineer who worked with the Nazis to help them with their whole Master Race thing. He was responsible for the weirdest Marvel Villain ever when he beamed Hitler's brain into a cloned body, creating the Hate Monger. Zola eventually did his own body swap, switching his own mind into a robot body. His robot body had a camera for a head and a face for a chest, because that's how Zola rolled. Very, very, strangely.
The dude even bounced off to an Alternate Dimension known as Dimension Z, where he conquered and raised a family and stuff. Including a son, who was kidnapped and raised for good by Steve Rogers, who renamed the boy Ian. Ian grew up to become the new Nomad, a hero and partner to Sam Wilson, aka Captain America. Aaaand then Secret Wars happened, and everyone forgot about Ian.
What Arnim's been up to lately remains to be seen, but I'm sure it's rad.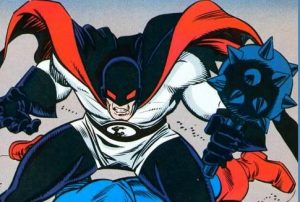 Source: bamsmackpow.com
5. Flag Smasher
Hey, look, a straight up fascist! I mean, I guess most of this list is fascists, but with the others, it's supplemental. With Flag Smasher, it's kinda his thing. The Flag Smasher is a terrorist who wants to end the idea of separate nations and bring everyone together"¦through a campaign of death and terror. Counterintuitive if you ask me, but whatever.
He eventually joined up with U.L.T.I.M.A.T.U.M., a terrorist group with similar ideals and goals, before he was assassinated by former X-Force associate Domino. Flag Smasher 2 fought the Runaways and Deadpool before he was killed and replaced by members of his own organization. Flag Smasher 3 fought Deadpool for a while, but Deadpool got the better of him as well and killed him.
That's right, U.L.T.I.M.A.T.U.M. lost two Flag Smashers dealing with Deadpool. Friggin' Deadpool!
I'm shocked they didn't lose a Flag Smasher to tripping down the stairs, for God's sake. Now we finally have a new Flag Smasher who's a robot, which makes sense. Maybe he's less likely to die.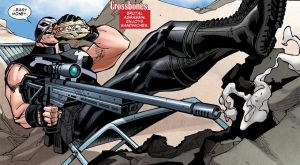 Source: lowbrowcomics.com
4. Crossbones
Brock Rumlow, alias Crossbones, is stone cold scary.
A gang leader in his youth, Rummy eventually entered Taskmaster's crime school, becoming a trained mercenary and murder specialist. He bounced around a bit under various names, working for various villains. With Taskmaster, he was Bingo Brock. With the imposter Red Skull, he was Frag, but it was with the real Red Skull that he took on a new codename: Crossbones.
He worked as a hired gun for the Skull for a lengthy stretch of time, pausing only to make an attempt on Gambit's life at New Son's behest. But he was drawn back into to Red Skullduggery (See what I did there? I'm – no joke – proud of that joke.) for a role in the death of Steve Rogers.
He fired at Steve with a sniper rifle and shot him in the shoulder. He wasn't the one to kill Steve, but he had a big hand in it. Impressive for someone who used to call himself Bingo Brock.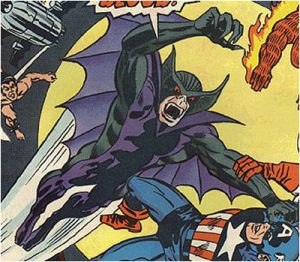 Source: i-mockery.com
3. Baron Blood
MY FAVORITE CAPTAIN AMERICA VILLAIN OF ALL TIME. He isn't number one because"¦y'know what, I'm not sure why.
Baron Blood is Captain Rad of the USS Badass. He's a vampire who regularly fights Captain America.
John Falsworth was an English aristocrat who ran afoul of Dracula and got turned into a vampire himself. He tooled around for awhile before teaming up with the Nazis. Nazi vampire, you guys. He got his butt kicked by the Invaders, and wound up staked by a silver stalagmite. Then later he got staked again by Namor the Sub-Mariner. Then he finally fought Captain America, who dealt with him by"¦cutting his head off with his shield. Damn. Hardcore way to deal with a problem, bro.
Baron Blood also popped up in the Marvel Apes miniseries, albeit another universe's version of the character. Long story told shorter, Baron Blood is a vampire who fights Captain America, and that's friggin' awesome.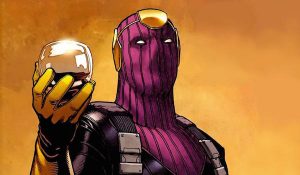 Source: cinemablend.com
2. Baron Zemo
Are we talkin' about Baron Zemo? We talkin' about Helmut Zemo of the Zemo family? We talkin' about a founding Thunderbolt? Because Baron Zemo is so friggin' rad.
Helmut is the son of Heinrich Zemo, the first Baron Zemo to fight Captain America. That Baron Zemo is best known for accidentally gluing his own mask to his face. Real winner, that one. Real A-number one supervillain.
Helmut suffered a similar accident, but he wasn't wearing his mask at the time, so instead of getting his dumb pink hood glued to his flesh, he just had his face melted. Helmut would later found an incarnation of the Masters of Evil and form the Thunderbolts, aka my favorite superhero team of all time, as Citizen V.
Although the T-bolts didn't become superheroes until after Zemo got booted for trying to conquer the earth. Just couldn't go straight, could ya Helmut? You melty-faced cretin, you.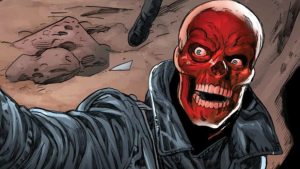 Source: youtube.com
1. Red Skull
Look, the number ones on these lists are, by virtue, always gonna be obvious. I could have made Skull Number 2 and thrown Baron Blood in as Number 1, but, while that would've reflected my true feelings, it would've been dishonest.
So here's Johann Schmidt, alias the Red Skull. The Red Skull is an eeeeeeeevil son of a gun. I mean, even more so than most Nazis. Which is kinda saying something.
Red Skull tricked a cohort into attempting to kill Hitler, just so he could stop him and win the Fuhrer's blessing. The Skull was selected to be the recipient of the Nazi's attempt at Project: Rebirth and became the terrifying monster man he is today. He manipulated behind-the-scenes factors in the Nazi Army until his power rivaled Hitler's. Schmidt survived to the present and began squaring off with Captain America once more.
Dude got himself a Cosmic Cube. I'm sorry, a Tesserac""no, screw that, it's called a Cosmic Cube. I'm sorry you movie folks can't handle goofy names, but here we call a Cosmic Cube a Cosmic Cube. Where were we? Oh, right, the Red Skull is a scary murder man who is the best foe Captain America's ever faced.
And so there you go, guys! My favoritest Captain America villains. Because there are so many good ones. SOOOOO MANY. Hopefully I've introduced you to a new favorite or gave you respect for one you thought was a joke. Till next time, folks!