There are a lot of famous comic book characters who spent their early years punching Nazis square in the face. Most of this was due to three all important factors:
1. Superhero comics rose to prominence right before the advent of the second World War.
2. Many early comic book creators were Jewish (like myself; I have no trouble disclosing), and had quite a few reasons for writing stories about kicking Nazi ass.
3. In the years since, Nazis have proven to be those black-and-white bad guys that you can have your hero beat up without anyone getting mad about it because, I mean, they're Nazis.
So here's my shortlist of the best dudes and ladies to ever beat the hell out of the Third Reich.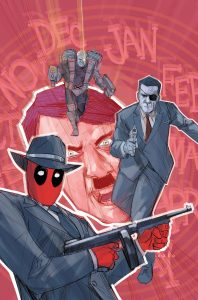 Source: marvel.wikia.com
10. Deadpool
Look, Deadpool has been everywhere and done everything you could possibly imagine. So of course he's fought Nazis.
Back during the Gerry Duggan/Brian Posehn run on Deadpool, they would occasionally take time out to tell "flashback" stories, so called "lost stories" that fit into different eras of Marvel comics. This one was a team-up between Cable, Deadpool, and Nick Fury, a beautifully drawn issue (by Scott Koblish) in which they fought time-traveling Hitler.
The issue ended with the trio beating Hitler and blowing him to absolute pieces. They then realized that they needed to set history back in order, so they dumped the body back in Hitler's bunker, and Deadpool loudly faked Hitler's suicide. The guards rushed in  and discovered that it was clearly not suicide, but they were too apathetic to care, since the war was already lost. I mean at that point, just start bolting for Brazil and hope for the best. War over. You lost. Just drop your uniforms by the door and try not to get Nuremburg-ed on your way out.
And yes, "It was secretly [blank] who killed Hitler" will be a recurring trope on this list.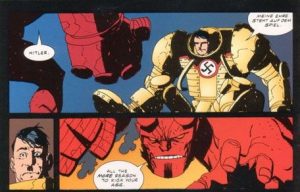 Source: bleedingcool.com
9. Hellboy
Look, even the forces of Hell itself hated the Nazis.
In the closing days of World War II, Grigori Rasputin decided to open a portal to hell, with the intention of defeating the Allies once and for all with an unstoppable demon army. But after the portal was closed, a small, friendly demon was left behind. The soldiers who found him took him in and named him Hellboy. Hellboy fought with the military, and later the Bureau of Paranormal Research and Development. Throughout that time, he fought a bunch of Nazis, most of them trying to summon demons.
In fact, one of his most memorable villains was Obersturmbannführer Karl Ruprecht Kronen, a Nazi in a gas mask who served as the coolest-looking bad dude in the first Hellboy film. Also the Nazi monocle on Klaus Werner von Krupt was like something a forties DC villain would wear.
It's insane.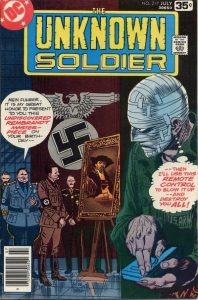 Source: dc.wikia.com
8. The Unknown Soldier
The Unknown Soldier was a nameless World War II soldier who was horribly scarred by a grenade blast that also killed his brother. Deciding that he wanted to become the intelligence operative the allies needed, the Soldier underwent training to become a master of disguise and combat, with his face always covered with either a mask or his trademark bandages.
The Soldier fought valiantly throughout the war, and was instrumental in several key military actions. Also, he killed Hitler. Yeah, that's a thing. The Unknown Soldier infiltrated Hitler's Bunker during the Battle of Berlin and stopped him from initiating Project Nosferatu, which would have unleashed vampire octopi upon the world.
Yes, that is weird, no, we're not gonna address it.
The Soldier killed Hitler and staged it to look like a suicide. While fleeing the city, he saved a child from a bomb and was seemingly killed, although later stories would hint that he survived. I mean, dude killed Hitler, he deserved a nice relaxing retirement.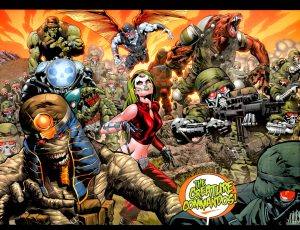 Source: comicvine.gamespot.com
7. Project M
Look, the DC Comics Allies really knew how to fight a war.
Project M was a military outfit on Ferris Island that decided to fund strange new methods of fighting the Nazis. Some of the projects they sponsored included the Nazi-wrecking automaton GI Robot, the matter-warping Miss America, and the Universal Horror-inspired Creature Commandos.
Yes, the DCU US government paid for a team that included a Frankenstein, a Dracula, a Wolfman, and a Medusa so they could fight the Nazis. And also a murder robot. I love that murder robot. GI Robot is, I would argue, the best DC Comics character of all time. Miss America's also pretty rad. Even if she didn't know she was a product of Project M for the longest time.
Still, the idea that ANYTHING in Project M got approved by a government official is hilarious. Someone looked at a proposal that said, "We would like to use millions of taxpayer dollars to make a murder robot, a team of literal monsters, and lady with godlike powers." And someone said, "Yes, this sounds like a good use of time and money."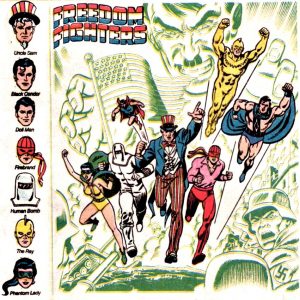 Source: dc.wikia.com
6. The Freedom Fighters
What if World War II never ended? That was the question asked by Earth-X, a planet where the Nazis won the second World War and imposed their rule on the planet.
This planet was encountered by the All Star Squadron on one of their missions, and the team quickly realized that there weren't easy fixes for the crisis it faced. So several All Stars decided to stay behind with the heroes of Earth X, and together they formed the Freedom Fighters.
The team included the high-flying Black Condor; the original bright shining The Ray; the explosive Human Bomb; the disappearing Phantom Lady; the miniscule Doll Man; and the spirit of America, Uncle Sam himself. The team had tons of incarnations over the years, including one featuring JSA-er Damage, which got decimated in the opening chapter of Infinite Crisis.
And look, any team that had The Ray and Damage in its roster is one I will love forever.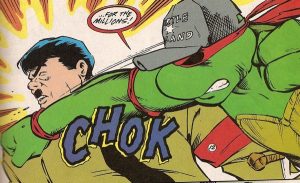 Source: therobotsvoice.com
5. Teenage Mutant Ninja Turtles
The Teenage Mutant Ninja Turtles were created in comic book form as a parody of Frank Miller-era Daredevil comics. Later, they were adapted into a beloved (and personal favorite) cartoon series. That cartoon had a comic book spin off. And that comic book gave us this issue.
In Issue #64 of the TMNT Adventures comic book, Hitler's brain from the future built itself a robot body and went back in time to help his past self commit genocide even harder.
The Turtles followed him back and beat the tar out of the robot body. Raphael then punched past-Hitler in the face pretty hard for good measure. When Hitler questioned exactly what in the hell was going on, Leonardo told him that they were demons who would soon return to claim the Führer's soul. After they left via a time portal, Hitler raised his pistol and shot himself in the head.
That's right, the Ninja Turtles were responsible for Hitler's suicide.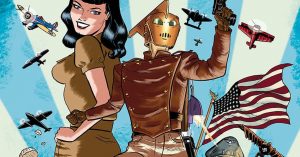 Source: cbr.com
4. The Rocketeer
Look, if I were more of a biased man, this would be my number one entry by a mile.
I LOVE The Rocketeer. I am IN LOVE with The Rocketeer. He is everything I love about comic books and more.
Cliff Secord was a Los Angeles-based racing and stunt pilot in 1938. One night, he spotted two gangsters hiding something in his plane, and investigated. He found the thing they were hiding: a jet pack. A jet pack designed by Howard Hughes that was being stolen for the Nazis. Because, holy s**t, jetpack Nazis.
Cliff stole the jet pack, had his friend make him a sweet helmet, and took to the skies as The Rocketeer, professional Nazi puncher. And this was in 1938. America was four years away from entering the war. But Cliff knew right from wrong, and went after the Nazi menace. Like a true hero.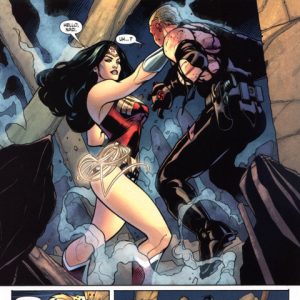 Source: tumblr.com
3. Wonder Woman
The Amazons lived on Paradise Island, where they were secluded from the world of men. Until the day when pilot Steve Trevor crash landed on the island and was saved by Princess Diana.
Hippolyta decided to send an emissary of peace to the world of men, especially since the threat of the Axis powers sure sounded like a big deal. A contest was held, but Diana was forbidden to participate. She did it in secret, and won the right to explore the outside world as Wonder Woman.
Not only did she face off with actual day-to-day Nazis, but she kicked around a couple of Nazi supervillains like Baron Blitzkrieg and the Red Panzer.
We also got some great Wonder Woman Nazi fighting out of her TV series. And, although the new movie changed her origin to World War I instead of II, we all know where she really got her roots.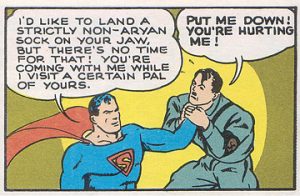 Source: bleedingcool.com
2. Superman
The big blue boy scout mostly stayed out of World War II, taking an allied role as more of a sideline cheerleader, but in 1940, we got to see what would happen if he changed that policy.
In a short strip put together for Look Magazine, Supes went to Germany and, after destroying some turrets and planes, smashed through the roof of Adolf Hitler's hideout. Hitler squealed (in English, for some unexplained reason) for his guards to take care of Superman. Superman wiped the floor with the guards and hoisted Hitler up into the air by the collar.
He then threatened to "land a strictly non-Aryan sock on your jaw", but decided that there wasn't enough time. Hitler responded, "Put me down! You're hurting me!" Dignified. And satisfying. Superman then ran to get Stalin (they were allies at the time), and dragged both of them before the League of Nations, where they stood trial.
Ugh, I wish that'd happened for real.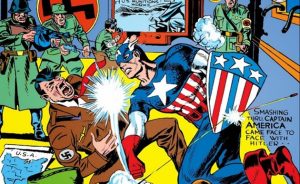 Source: comicsalliance.com
1. Captain America
Ok, well, DUH. Like, who else was gonna top this list? Did you expect anyone different? Really, did you? No, you didn't. Because when it comes to comics vs. Nazis, there's one man who stands out above the rest.
Steve Rogers was a scrawny kid from Brooklyn who just wanted to go overseas and fight the good fight, but he was classified 4F. But someone noticed Rogers's can-do spirit, and gave him the opportunity of a lifetime. He was welcomed to Doctor Abraham Erskine's Project Rebirth, an initiative designed to grant American soldiers superhuman abilities.
Steve was the first one to experience the Super Soldier Serum, which turned him into exactly the kind of heroic soldier he always wanted to be. Unfortunately, Dr. Erskine was killed by a Nazi assassin, and the secret of the Super Solider Serum formula was killed along with him, leaving Steve Rogers as the only one left to fight the Nazis. And he did so by adopting the guise of the red, white, and blue as Captain America.
The greatest comic book superhero of World War II, and one of the best ever. Dude punched Hitler in the face, doesn't get much better than that.
And there you have it, the ten best anti-Nazi World War II superheroes. I love WW II era comic books, so this list was really easy to put together. I could have assembled two if I wanted. Maybe three. So take that, Mr. Hitler!