There are a lot of famous comic book characters who spent their early years punching Nazis square in the face. Most of this was due to three all important factors:
1. Superhero comics rose to prominence right before the advent of the second World War.
2. Many early comic book creators were Jewish (like myself; I have no trouble disclosing), and had quite a few reasons for writing stories about kicking Nazi ass.
3. In the years since, Nazis have proven to be those black-and-white bad guys that you can have your hero beat up without anyone getting mad about it because, I mean, they're Nazis.
So here's my shortlist of the best dudes and ladies to ever beat the hell out of the Third Reich.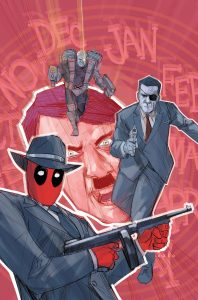 Source: marvel.wikia.com
10. Deadpool
Look, Deadpool has been everywhere and done everything you could possibly imagine. So of course he's fought Nazis.
Back during the Gerry Duggan/Brian Posehn run on Deadpool, they would occasionally take time out to tell "flashback" stories, so called "lost stories" that fit into different eras of Marvel comics. This one was a team-up between Cable, Deadpool, and Nick Fury, a beautifully drawn issue (by Scott Koblish) in which they fought time-traveling Hitler.
The issue ended with the trio beating Hitler and blowing him to absolute pieces. They then realized that they needed to set history back in order, so they dumped the body back in Hitler's bunker, and Deadpool loudly faked Hitler's suicide. The guards rushed in  and discovered that it was clearly not suicide, but they were too apathetic to care, since the war was already lost. I mean at that point, just start bolting for Brazil and hope for the best. War over. You lost. Just drop your uniforms by the door and try not to get Nuremburg-ed on your way out.
And yes, "It was secretly [blank] who killed Hitler" will be a recurring trope on this list.