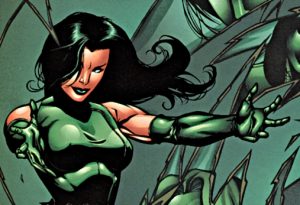 Source: marvel.com
9. Madame Hydra
Meet Madame Hydra. Her Name is Ophelia. An orphan recruited by HYDRA, Ophelia eventually moved up the ranks to take on the handle of Viper.
During this time, she saved Wolverine's life from Sabretooth. Small world. She moved into a command role, taking on the name Madame Hydra, and she gained the attention of Captain America. But she was the victim of identity theft when the most obscure Marvel villain ever, The Space Phantom, used her ID for his own benefit and wrecked her reputation. She went back to using Viper as an alias and began working her way up.
Oh, also, she was married to Wolverine for a time. Until a ninja demon possessed her, and she divorced him.
Look, it's a thing.
She had ownership of Madripoor, the mutant haven town with a seedy underbelly. Eventually, Viper regained her high placement in HYDRA and re-took the Madame Hydra title. She was last seen working under Sin in the organization, which has to hurt. Nepotism at its finest.