Marvel alternate realities are a dime a dozen. There're so many you could spend hours just listing the Spider-Men involved in their events. From the pages of What If?, Spider-Verse, Exiles, or many other alternate reality titles come these web slingers. And with Spider-Man: Into the Spider-Verse adding new Spider-Men by the second, I figured it couldn't hurt to blow through some of the fun ones and the important ones. I've always been a big Spider-Man guy and an even bigger alternate reality guy and this is an opportunity to stretch those muscles. The world is full of Spider-Men, true, but some are more notable than others and some are pigs. So with that, our honorable mention: Spider-Ham AKA Peter Porker. Spider-ham comes from a universe of wacky animal people like the perfectly named Ducktor Doom. He's also had a bit of a resurgence recently since he's pretty silly and people like silliness nowadays. Thank god they do because I can talk about Spider-Ham for a living now. What a good day.
10. Spider-Man
(Earth 616)
And why don't we start with the classic original recipe Spidey?
Peter Parker was your average constantly angry teen who no one liked and lived with his incredibly old Aunt and Uncle. We all knew a kid like that. But one day Peter was going to a science museum exhibit by himself (like a nerd) and got bitten by a radioactive spider. That bite gave him incredible powers.
He could stick to walls, sense danger, and perform feats of strength and acrobatics on cue. Peter also used his own intelligence to build web shooters, giving his alter ego a method of traveling super fast around the city. He didn't use those talents and powers to fight crime, though, instead he entered into a wrestling match. A badly booked wrestling match, I might add. I mean, Crusher Hogan is pretty obviously a Heel but so would be the guy wearing the full face spider mask so I don't know who the audience was supposed to root for.
But Crusher put Spider-Man over and Pete decided to be a professional famous person! And then some guy shot his uncle or something and his life changed course I guess.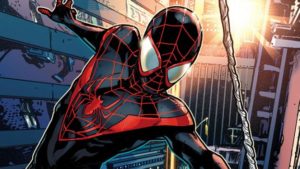 Source: geek.com
9. Miles Morales
(Earth 1610)
Miles! Miles Morales will be getting his big screen debut at the end of this year but for now let's recap who he is in general.
Miles was 13 when he was bitten by a further iteration of the 00 Spider that gave this universe's Peter Parker his powers. Miles gained powers similar to Peter's but not exactly the same. Rather than a spider sense, Miles got invisibility and a powerful venom sting he could emit from his hands.
Using these powers he stopped his uncle Aaron, AKA The Prowler and took up the role as his universe's second Spier-Man. His black and red costume is pretty great by the way.
He's younger than Peter was, which comes with its own set of challenges, but he has learned to be his own Spider-Man and can even hold his own when working with the original Spidey, either through cross dimensional travel or the retcon shenanigans of Secret Wars.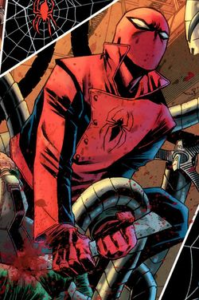 Source: marvel.com
8. Ezekiel Sims
(Earth 4)
During Spider-Verse, Morlun and his interdimensional murder family went universe to universe hunting and murdering Spider-Men.
One of those was the Spider-Man of Earth 4. But when that Peter Parker died, Ezekiel Sims took over. Ezekiel was a member of the Spider Totem clan and had his own Spider-Man powers. In our universe he was just kind of an a**hole and then died. In this universe, he joined the other Spider-Men for the recruitment of more heroes before they could be hunted down and killed.
After uniting the two groups of Spider-Men, Ezekiel had his neck broken by Daemos, one of Morlun's family, and died from the injury some time later. Before that, he told the others to protect "The Bride", "The Scion", and "The Other". He, uh, he could have been less cryptic but whatever, you do you.
Who am I to judge a weird old man with Spider-Powers who speaks in prophesies?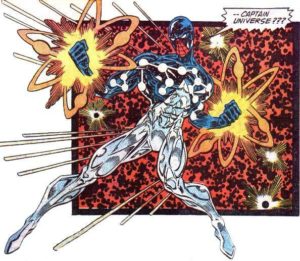 Source: wordpress.com
7. Captain Universe
(Earth 13)
I miss cosmic Spider-Man. I mean, I think Marvel does too given how much they like bringing back versions of it.
Cosmic Spider-Man occurred during Acts of Vengeance when Spider-Man encountered the Captain Universe force, a pure cosmic energy that turns anyone who encounters it into the superhero Captain Universe. Spider-Man became Captain Universe and used that power to defeat the Tri-Sentinel along with several other supervillains. In our universe, Spidey relinquished that power and moved on with his life but the Spider-Man of Earth 13 did not.
His power was so great that he was able to provide refuge for several Spider-Men during the Inheritors attacks. But eventually, Solus arrived and attacked the team, stripping the Captain Universe power (also known as the Enigma Force) from Peter and killing him.
It is possible that this Spider-Man is the same as the one from the What If? Issue with the same premise but unclear. It's just sad that there isn't still a cosmic tier Spider-Man out there patrolling and saving the galaxy.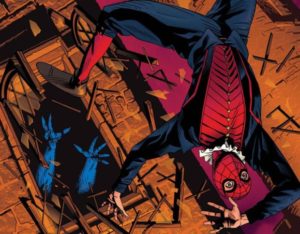 Source: pinterest.com
6. 1602
(Earth 311)
Peter Parquagh was a simple orphan boy in the year 1602.
After a spider became tangled in a cosmic time portal (that was used to send Captain America back to the future because comics are really confusing) it bit Peter and gave him our traditional Spider-Man power set. Of course, he called himself The Spider, but you know. The Spider fought crime across the New World and *checks notes* "let Green Goblin sell illegal dinosaur eggs to Doc Ock" "¦ okay.
Anyway after that he met Marion Watsonne, the famous theater actress and they started dating and it was all cute and stuff. But this story has a sad ending. Because The Spider was the sacrificial lamb that kicked off the Spider-Verse event, in their Guardians of the Galaxy/Spider-Verse free comic book day issue. During a performance at the Globe Theatre, Morlun appeared and attacked The Spider, eventually killing him.
Poor Peter, kid never got the shot he deserved.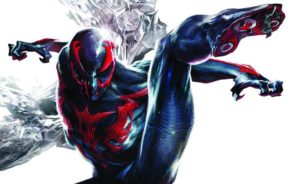 Source: superiorspidertalk.com
5. 2099
(Earth 928)
Miguel O'Hara has started to become a major figure in the expanded Marvel Universe which is pretty exciting.
I love the 2099 verse and hopefully he might pop up in Into the Spider-Verse if we're lucky. Miguel was a scientist for Alchemax, a big evil super corporation when he got spider powers and used a Day of the Dead uniform to be the new Spider-Man. And oh my god is that a costume. It's super nineties Spider-Man but it just works.
The spikes, the designs, the weird skull spider thing on his chest. There's a lot of tribal design work that feels like it's built around a culturally merged aesthetic. Also that web cape is really good. I saw a dude somewhere saying that Spider-man Unlimited invented the web cape and I was like "where the hell do you get off, sir? How dare you participate in Spider-Man 2099 erasure?"
But that's my own cross to bear.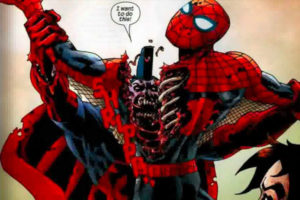 Source: whatculture.com
4. Zombie
(Earth 2149)
Hey, remember Marvel Zombies?
They were huge, like mega huge, like super mega huge. And then it all went away. But the Marvel Zombies line continued on for a long flippin time. And Spider-Man was a big part of it. In the classic original miniseries, he had a running joke about how he wouldn't stop whining about how guilty he felt about eating Mary Jane and Aunt May. Look, it's a very dark joke but it's pretty funny. Like, the jokes don't translate into this dry format super well.
He also ate part of Galactus and got Galactus powers and went around the galaxy eating planets with his fellow Galacti until they ate the whole universe. Zombie Spider-Man was one of the major recurring characters in that series of miniseries and he had some fun moments within it.
I love the pitch black comedy of those things and if you can find them collected, the first one or two are totally worth it.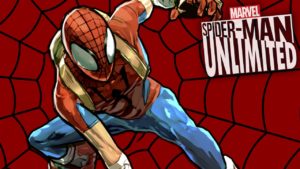 Source: youtube.com
3. Mangaverse
Ah the Marvel Mangaverse, what a weird strange artifact of its time.
Manga was huge in the early 2000s and Marvel wanted to cash in hardcore. So the Marvel Mangaverse was born. And their Spider-Man was a ninja. He was a member of the Spider Clan who lost his uncle to a giant armored Venom, an agent of the Kingpin. He and Mary Jane would later team up as Spider-Heroes before retiring to be together.
And then Spider-Verse happened and he had to go fight the Inheritors. Thankfully he didn't die during the experience. Manga Spidey is pretty fun and has a good design. The backpack and bandages separate him visually from the others and the Manga style really fits Spider-Man's expressive character and style of action.
He bounces around like a MF-er and just looks good doing it.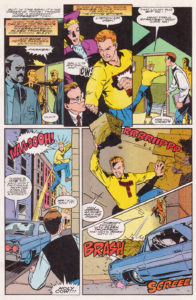 Source: scansdaily.com
2. Peter Parker Vs. The Spider
(Earth 958)
This one comes from a pretty fun little What If? Story, "What if Peter Parker had to Destroy Spider-Man?"
In it, Flash Thompson is the one bitten by a radioactive spider and becomes"¦ The Spider. Wait hang on. Isn't that like, the third The Spider we've seen on this list? Is that just the literal first thing that comes to any writer when they can't call their spider based man character Spider-Man?
Flash used these powers for evil and to commit crimes literally all the time so Peter Parker decided to stop him. Peter did this with the help of the very nice Dr Otto Octavius who will totally always be a nice guy and never turn evil or anything like that.
So Pete got himself a harness with a bunch of mechanical arms and he beat up Flash Thompson but good and left him in the capable hands of the Fantastic Four where he was kept depowered and in jail.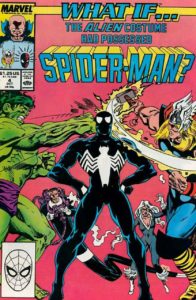 Source: comicvine.gamespot.com
1. Symbiote-Bonded
(Earth 1089)
And closing out the list is another What If? Specifically What If? Vol. 2 No. 4 (and no I did not have to look that up because I am a giant nerd with a brain full of useless BS).
In this reality, Peter kinda got busy and put off going to see Mr. Fantastic about his weird new costume that changed shape and seemed to maybe be alive. Because he waited too long, it bonded to him mind and body and ate his life force, aging him quickly as it did. But the symbiote was a fair-weather friend and only used Peter to get it closer to another, more powerful host. That being The Hulk. Oops.
So once the symbiote latched on to the Hulk, Peter, now aged to somewhere in his late nineties, tried frantically to find a way to stop the monster he helped create. He died midway through that experience but had a nice funeral and he tried his best.
And there you have it: quite a few alternate Spider-Men for your reading pleasure. They're all worth your time to go track down the issues and learn more about so maybe have some fun and go back issue hunting some time.