If you're a big Marvel fan, you'll no doubt enjoy wearing Marvel clothing.

Whether you only wear it around the house, to conventions, to see Marvel movies at the cinema, or if you flaunt your love of Marvel to the outside world on a daily basis, the more Marvel garments you own, the better!

In this piece, we'll be taking you through thirty awesome Marvel T-Shirts to add to your comic book wardrobe!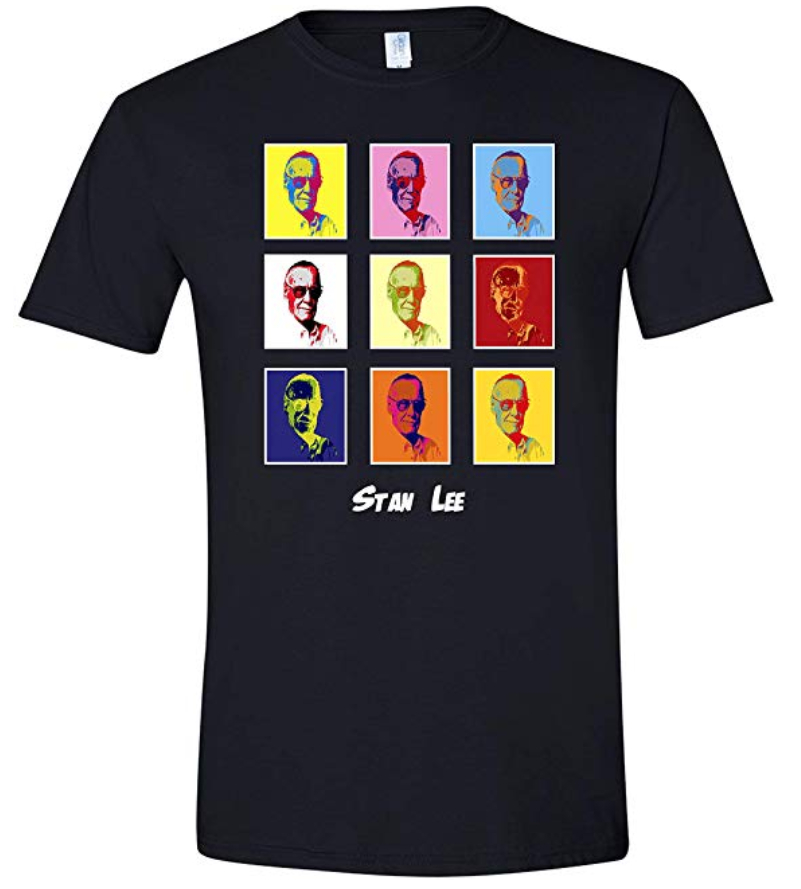 Excelsior! What better way to start this piece than with a T-shirt paying tribute to the Marvel legend that is the late Stan Lee?

Lee sadly passed away in 2018, but this T-shirt – in the style of Andy Warhol's classic pop art – honours his memory in suitable fashion.

There are nine images of Lee in the kind of bold colours his classic character creations were known for – and you should definitely buy it. 'Nuff said!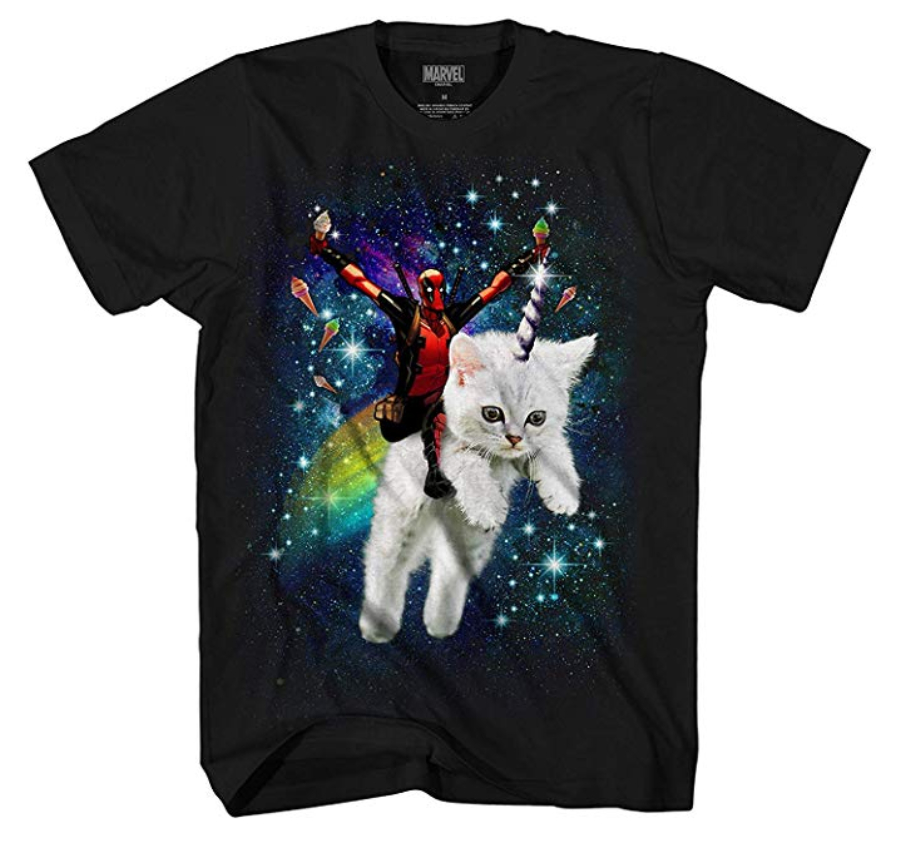 We had to include some Deadpool T-shirts in this piece – for the simple reason that Deadpool is awesome – and they had to be every bit as crazy as the character himself. This one is definitely a good start in that regard.

It's the Merc with a Mouth riding a unicorn-kitten! Yes, you read that correctly – a unicorn-kitten! And he's in space. Eating ice cream.

Why? Well, there's only one answer to that: Because Deadpool, obviously!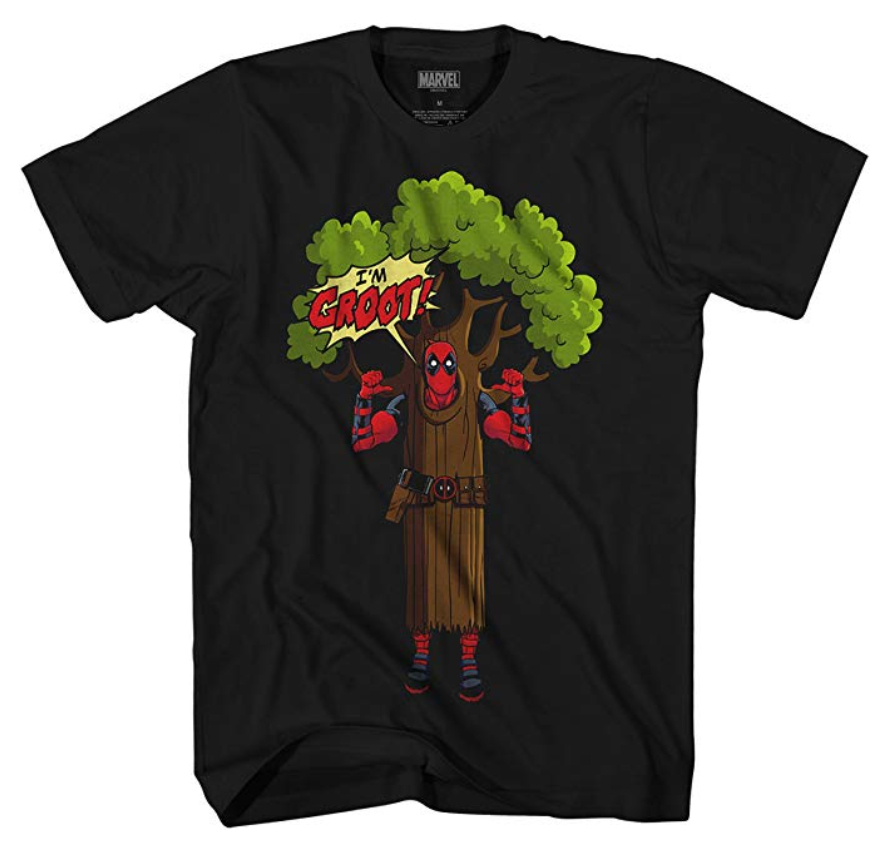 We come to more Deadpool craziness now – and this time, it's the Merc with a Mouth pretending to be popular Guardians of the Galaxy member Groot!

This T-shirt depicts our favourite fourth wall-breaker inside a tree, pointing at himself, saying the words "I am Groot!" He's even got his utility belt wrapped around the tree's trunk!

It's typical Deadpool and… well… it's kind of adorable, too. And you should definitely own it. So buy it!
Speaking of Groot, this T-shirt has cute little Baby Groot from Guardians of the Galaxy Vol. 2 plastered all over it!

Specifically, there are six images of the little guy, each of which is expressing a different emotion, with "Today I feel" written along the top.

But, of course, Groot can only say three words – "I am Groot" – so rather than saying what the emotion is, the T-shirt has those same three words written under each image. It's pretty damn adorable!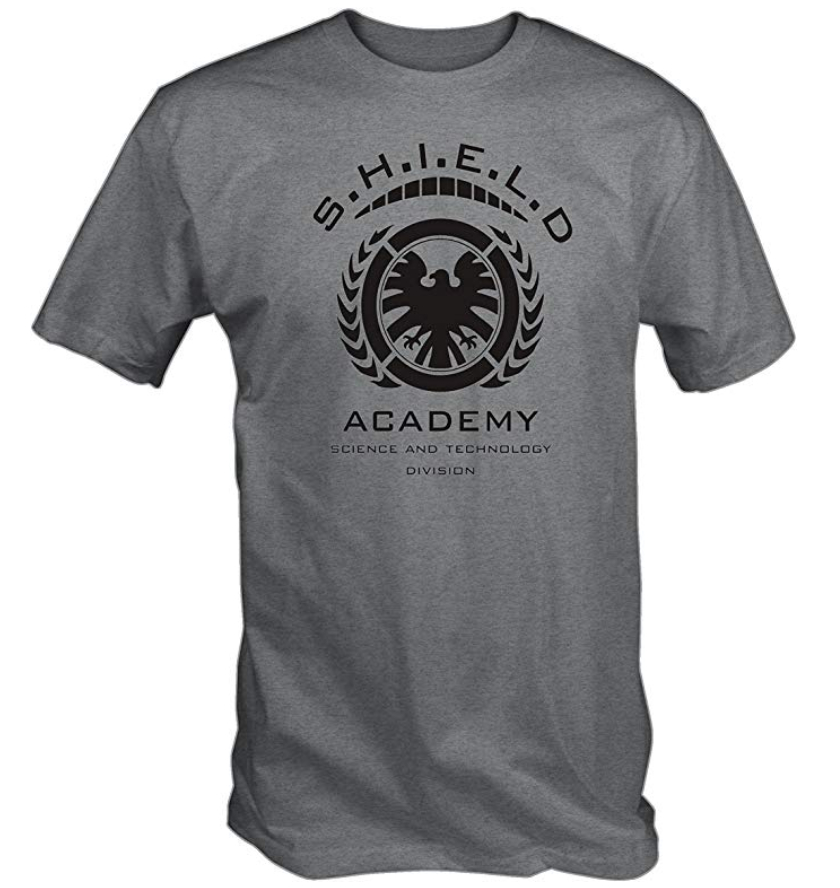 You know how the likes of Jemma Simmons and Leo Fitz came from the S.H.I.E.L.D. Academy in Marvel's Agents of S.H.I.E.L.D. television series? Well now you can look like you came from there, too!

This awesome S.H.I.E.L.D. Academy T-shirt will have you feeling like the next genius prodigy of Marvel's most iconic espionage organisation.

As well as pretending you're a technology wizard, you can also say you were friends with Phil Coulson as well, which is always a good thing!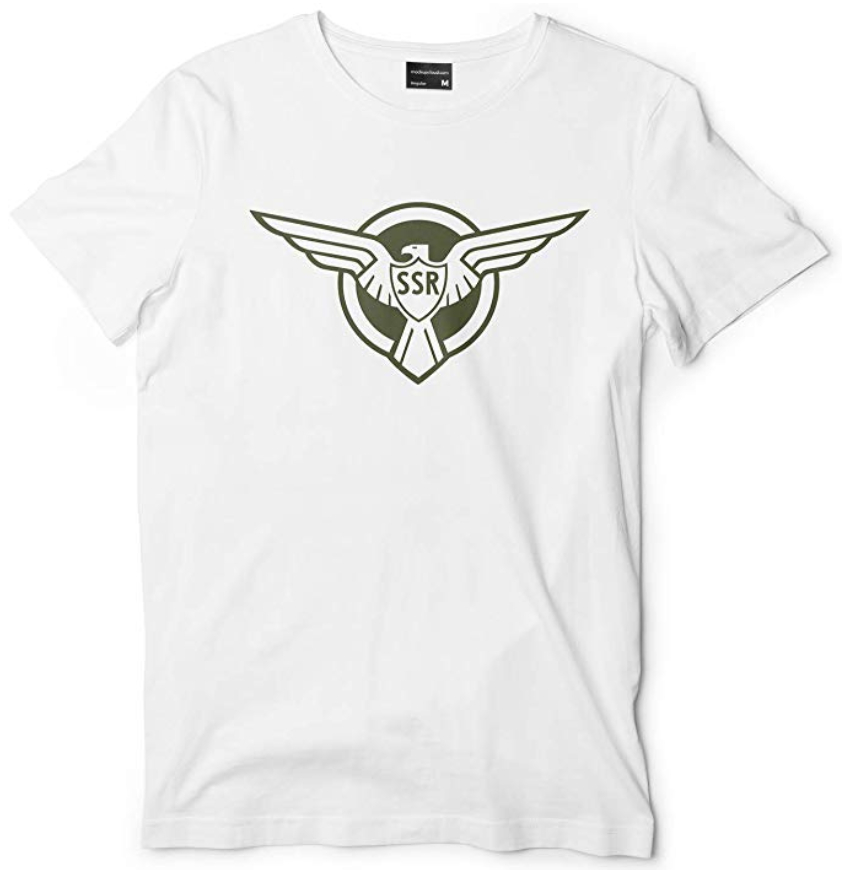 The forerunner to S.H.I.E.L.D. was the Strategic Scientific Reserve, which you may remember was a very prominent organisation in 2011's brilliant Captain America: The First Avenger.

In that movie, Steve Rogers could be seen wearing an SSR T-shirt – specifically in the scenes after he received the Super Soldier Serum – and now you can own that same T-shirt!

It's white and very simple, but it's undoubtedly very cool – so we highly recommend that you buy it!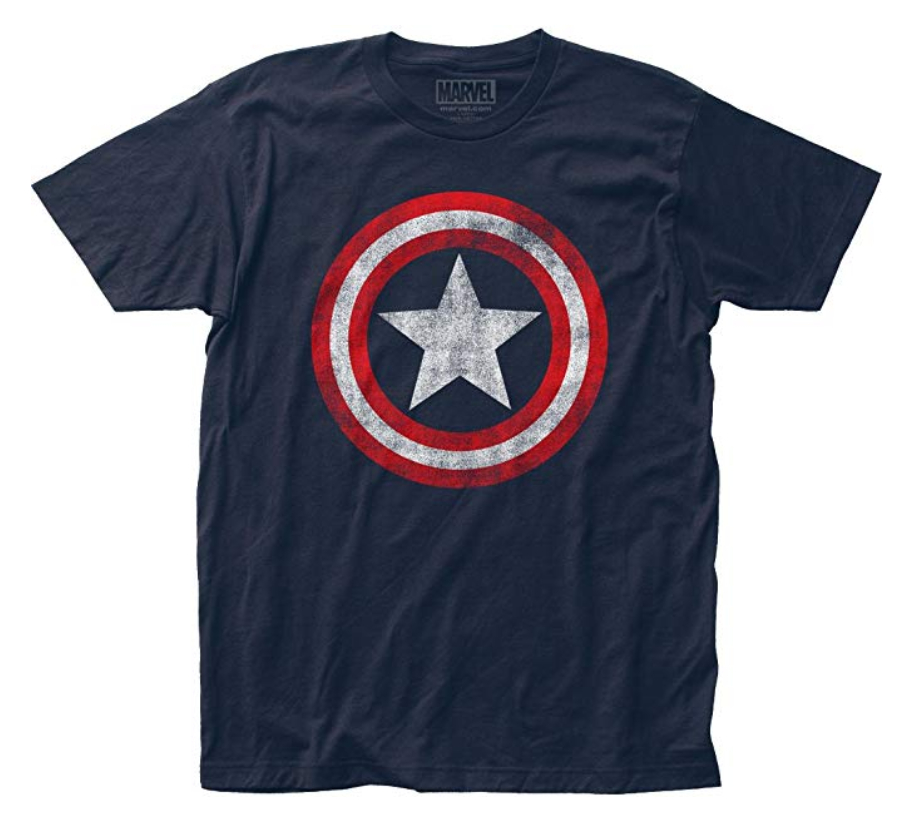 We couldn't possibly put together a piece on Marvel T-shirt without including one emblazoned with Captain America's iconic logo.

It's the one you've seen so often on his equally iconic vibranium shield, both in the comic books and on the big screen in the Marvel Cinematic Universe.

There really is no better way to represent Captain America than wearing this T-shirt so, if you're a fan of the Super Soldier, what are you waiting for? Get it bought!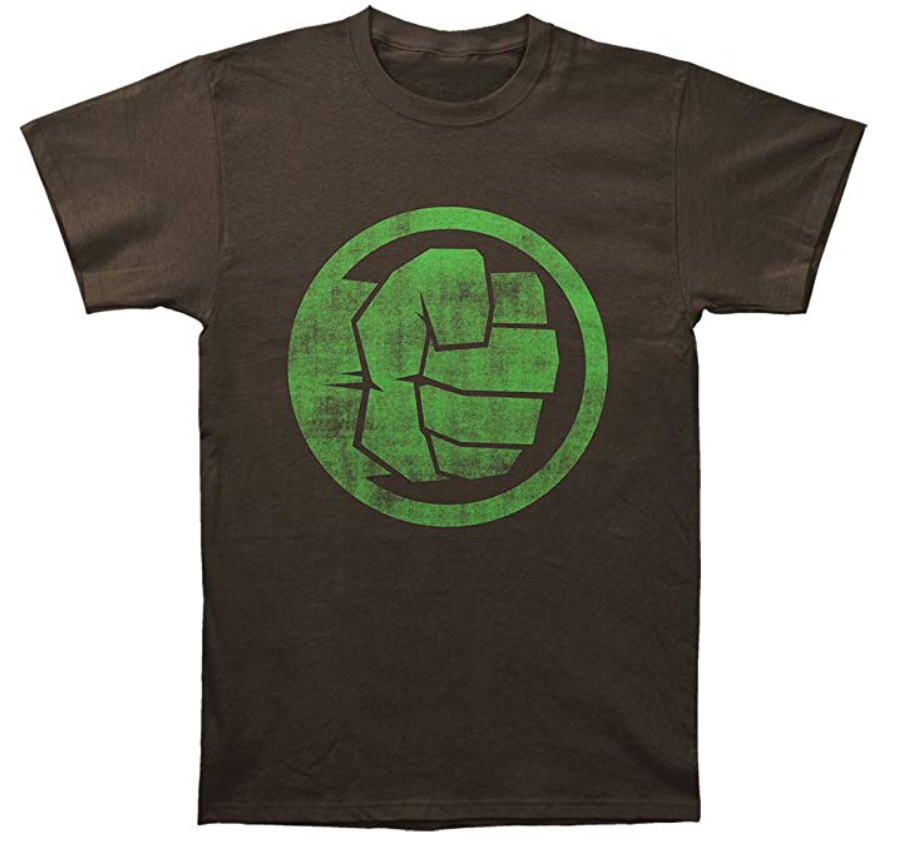 Some people might not actually realise that the Hulk has his own logo – mainly because he doesn't have a uniform emblazoned with one – but he really does!

The big green guy's emblem is, as you might expect, a big green fist in a big green circle – and you can represent Bruce Banner's angry alter-ego with this very cool T-shirt!

By all means, go ahead and buy it – but, please, promise us you won't go around smashing things when you're wearing it!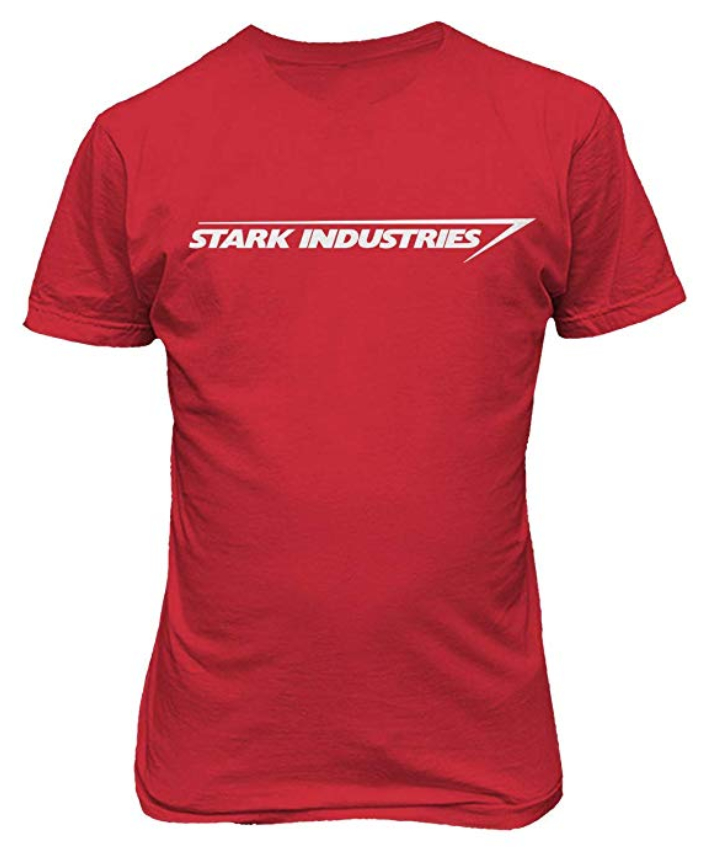 Ah, Tony Stark. May he rest in peace (in the Marvel Cinematic Universe, at least).

If you were a fan of the character (and why wouldn't you be?), you can honour his memory by donning this fantastic Stark Industries T-shirt!

Sure, Stark Industries have something of a shady history in the MCU, but Tony Stark turned them into a decent company in the end – and you should be proud to wear their logo, so buy this!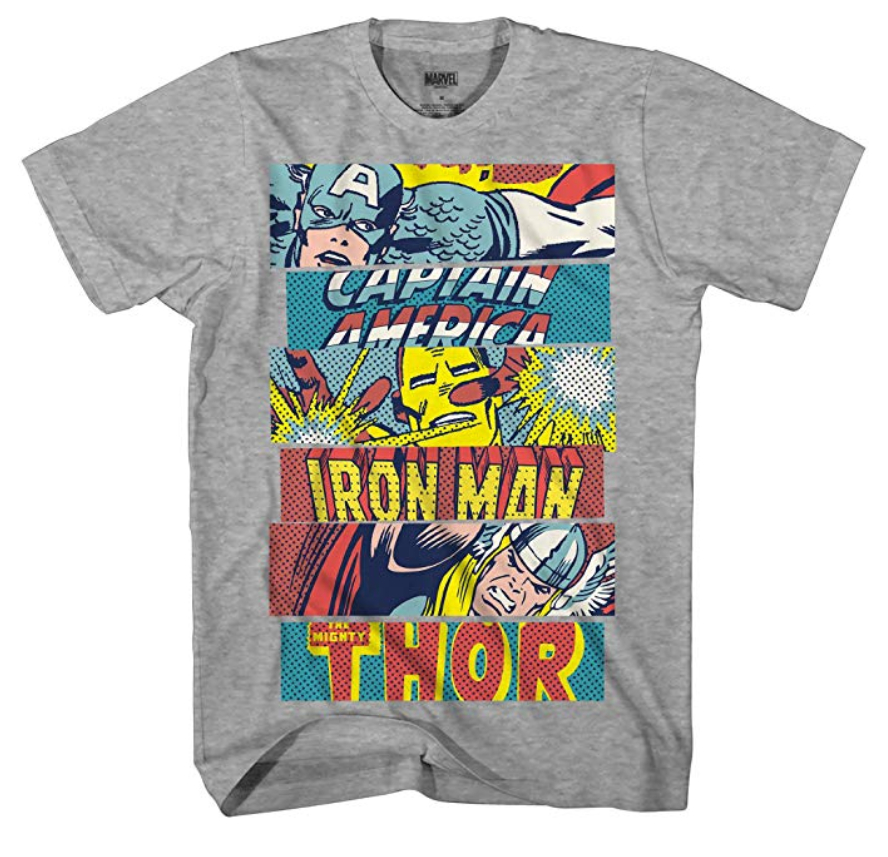 DC's holy trinity is Superman, Batman and Wonder Woman – there's no doubt about that – and since the Marvel Cinematic Universe became so popular, Marvel has found its own, in the form of Captain America, Iron Man and Thor.

That awesome scene at the end of Avengers: Endgame, when the trio went up against Thanos in the wreckage of the Avengers' HQ, totally emphasised how iconic they've become as a unit.

Well now you can buy this T-shirt with all three of them on it – so do it!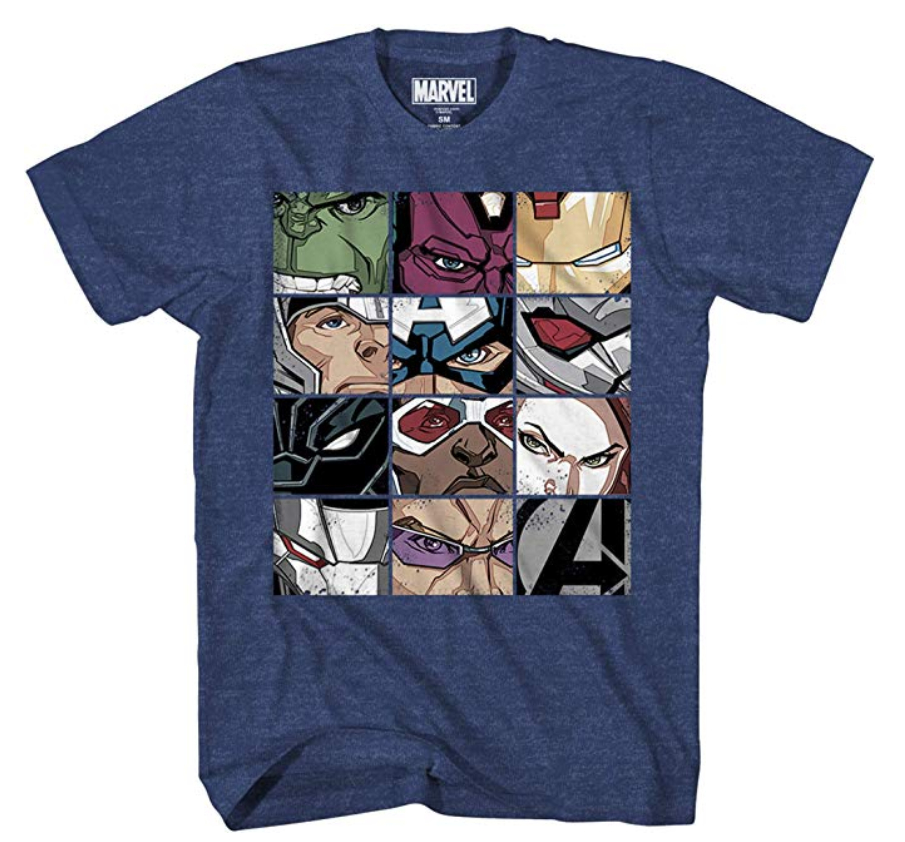 What could possibly be better than Marvel's holy trinity? How about Marvel's holy trinity plus eight other iconic Avengers?

This T-shirt features Captain America, Iron Man, Thor, the Hulk, Vision, Ant-Man, Black Panther, Falcon, Black Widow, War Machine and Hawkeye – as well as the Avengers' logo.

It's a really cool design – and do you know who it would look great on? You! Buying it is just a few clicks away. You know what to do.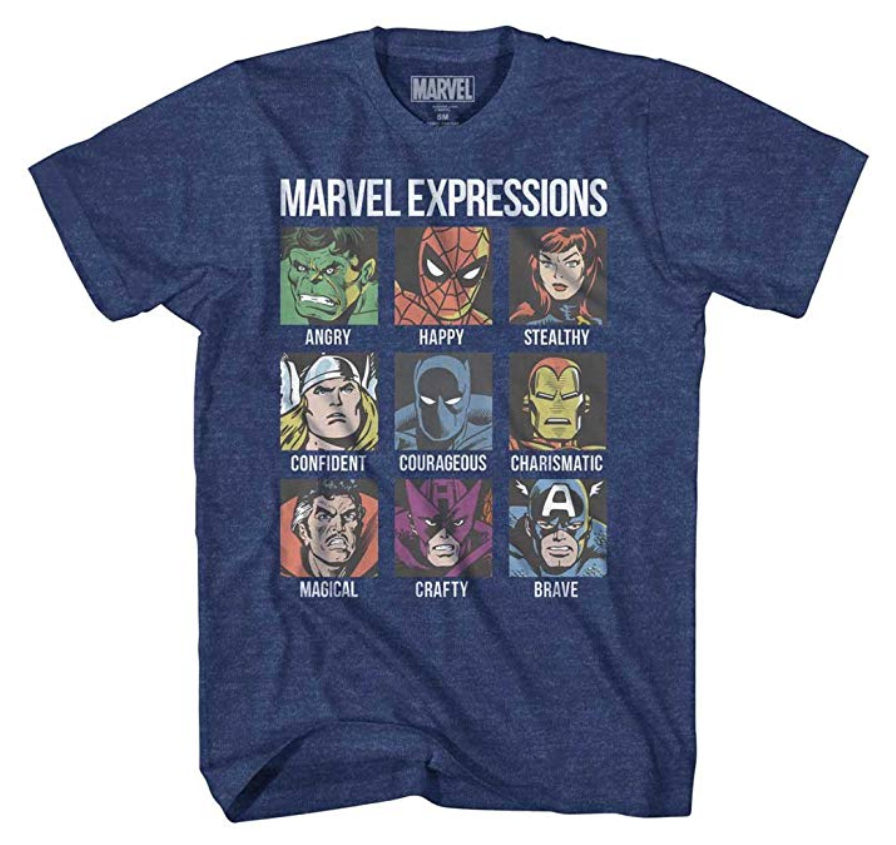 Can you think of a better way to express emotions and personality traits than via the use of Marvel characters? We certainly can't!

This T-shirt has nine Marvel characters on it – the Hulk, Spider-Man, Black Widow, Thor, Black Panther, Iron Man, Doctor Strange, Hawkeye and Captain America – all of whom represent a particular expression.

It's cool, it's quirky and it's fun – so there's absolutely no excuse for you not having it in your T-shirt collection!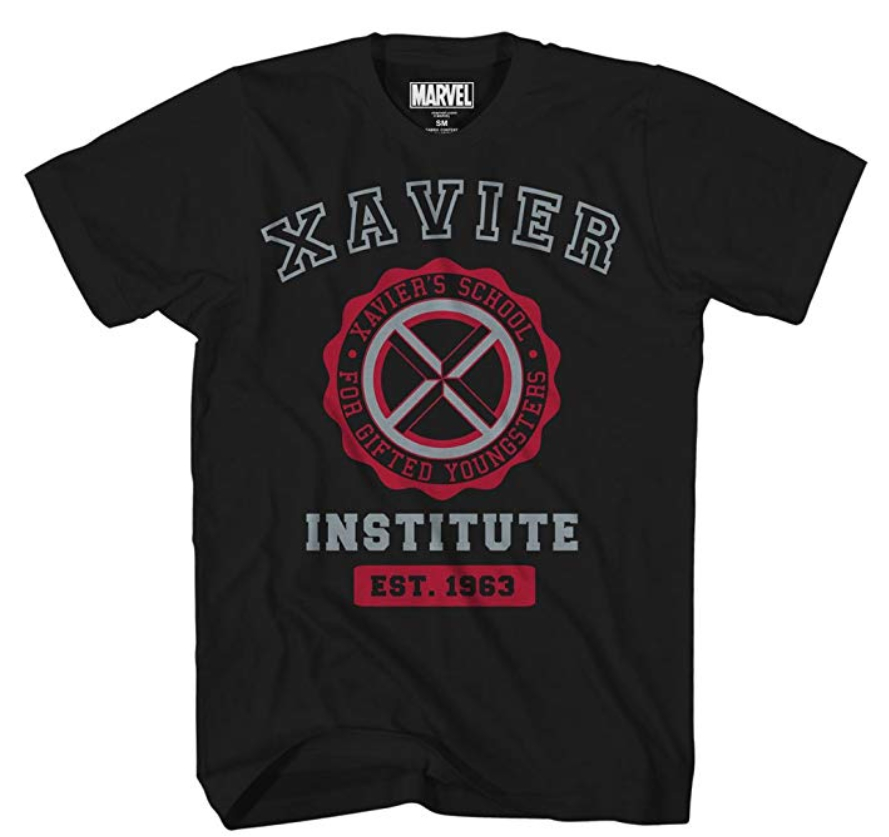 In the real world, you can buy sweaters, hoodies and T-shirts with your school's name emblazoned on them, so why shouldn't you be able to do the same with fictional schools?!

This T-shirt lets you rep Xavier's School for Gifted Youngsters – you know, from the X-Men stories and movies?

It's pretty cool and in the same style as a real school T-shirt – and it will have you imagining what your amazing mutant power would be, if you had the X-gene.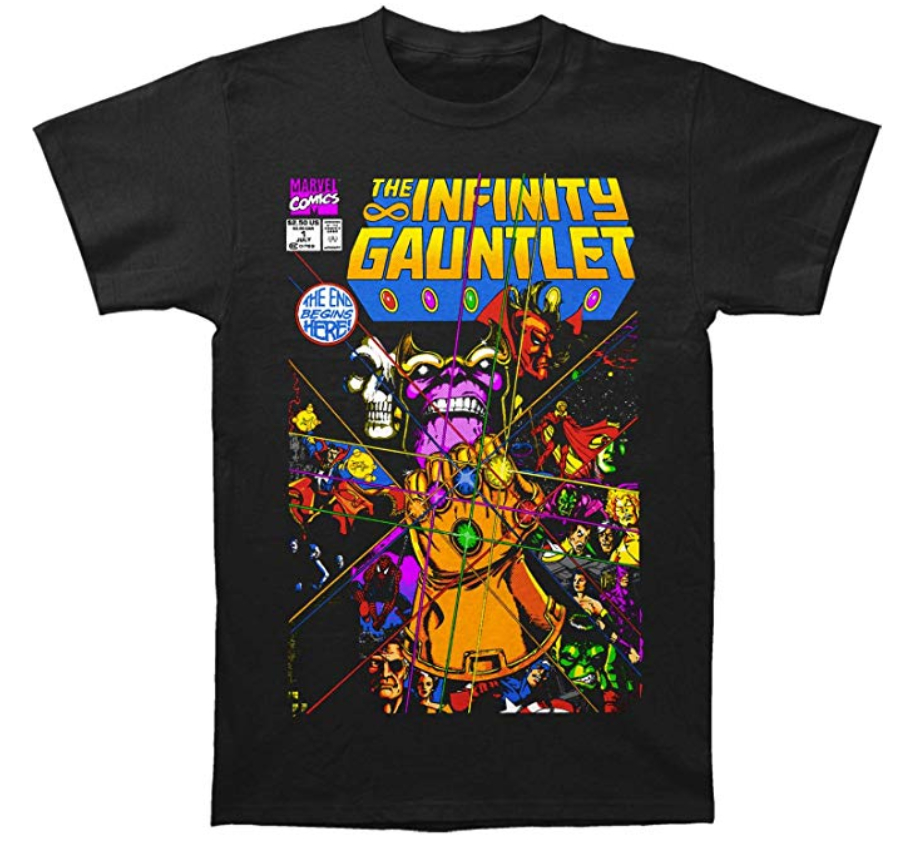 One of Marvel's most iconic arcs came in 1991 with Infinity Gauntlet – an epic story that saw Thanos having collected all six Infinity Gems and using them to wipe out half of all life in the universe.

It was, of course, loosely adapted in the Marvel Cinematic Universe with Avengers: Infinity War and Avengers: Endgame.

Well now you can wear the cover from the iconic story proudly, as this T-shirt depicts the colourful and iconic image with the Mad Titan and his allies surrounded by Marvel's heroes.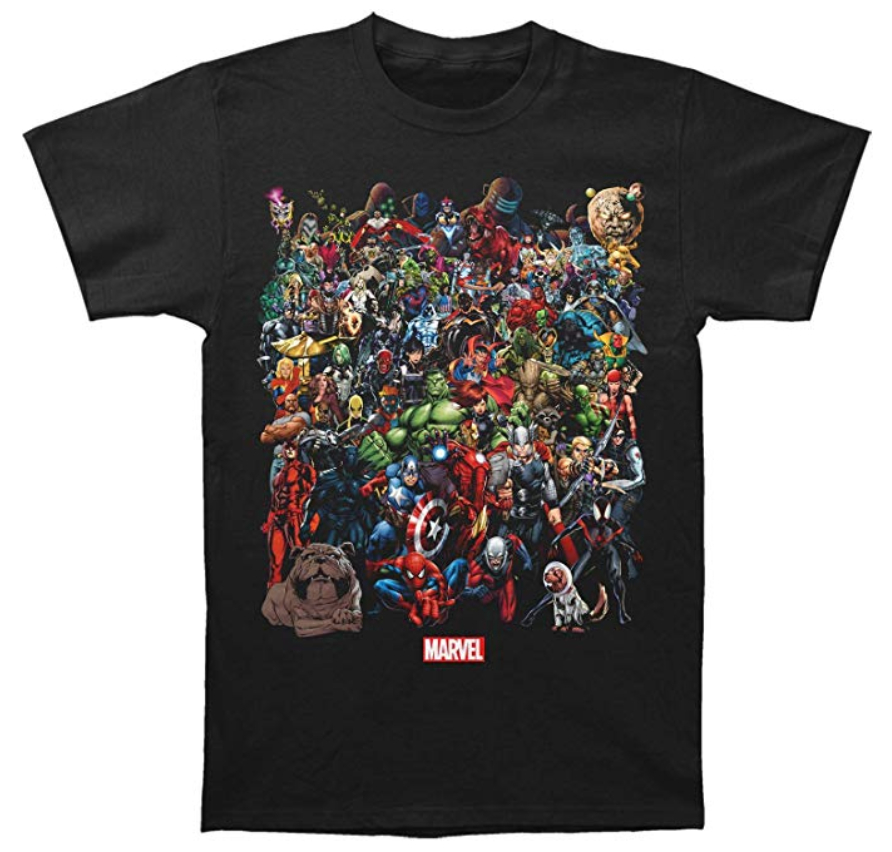 You're definitely going to need at least one T-shirt that's categorically TEEMING with Marvel universe characters – and this one fits the bill perfectly.

It has all your favourite heroes and villains, like Thanos, Iron Man, Captain America, the Hulk and Spider-Man, as well as slightly lesser-known characters like M.O.D.O.K., Devil Dinosaur, Cosmo the Spacedog, the Leader and Lockjaw.

Your friends will constantly be asking "who's that?" – but we're sure you won't mind showing off your Marvel knowledge!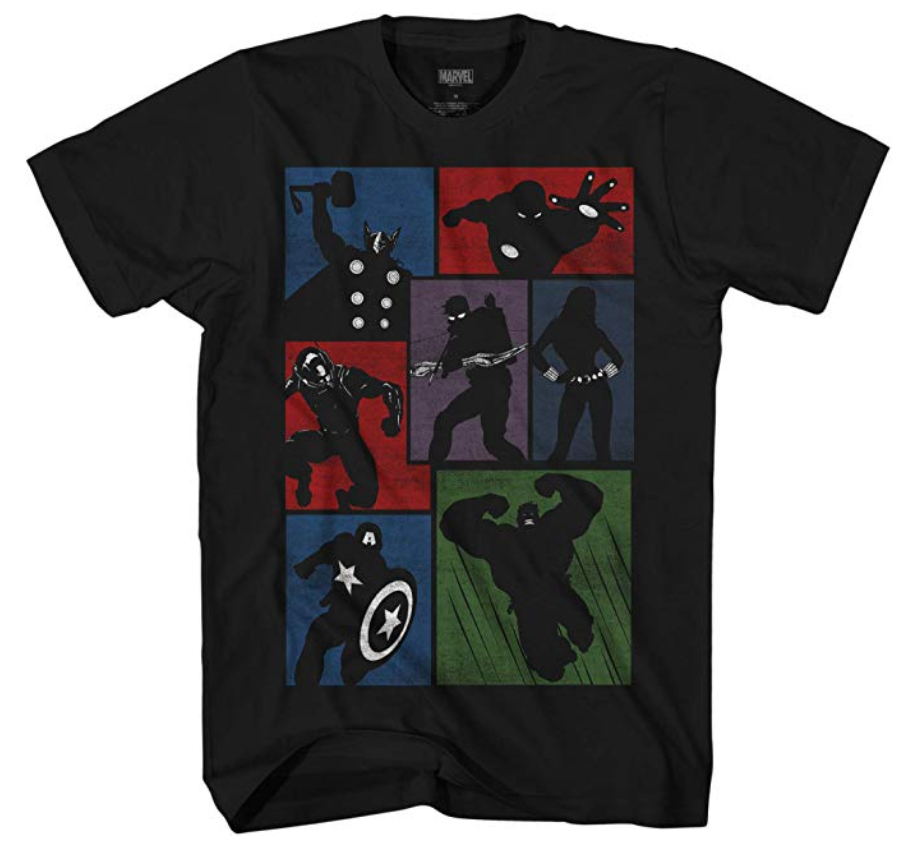 This is a really cool T-shirt that features seven of the most famous Avengers, illustrated in very unique fashion.

It has Thor, Iron Man, Ant-Man, Hawkeye, Black Widow, Captain America and the Hulk – but they're all presented as shadows, with only very minor features from their faces and costumes filled in.

They're all so iconic that it's still very easy to recognise them, regardless of how they're illustrated, and you'd look pretty awesome wearing this great item.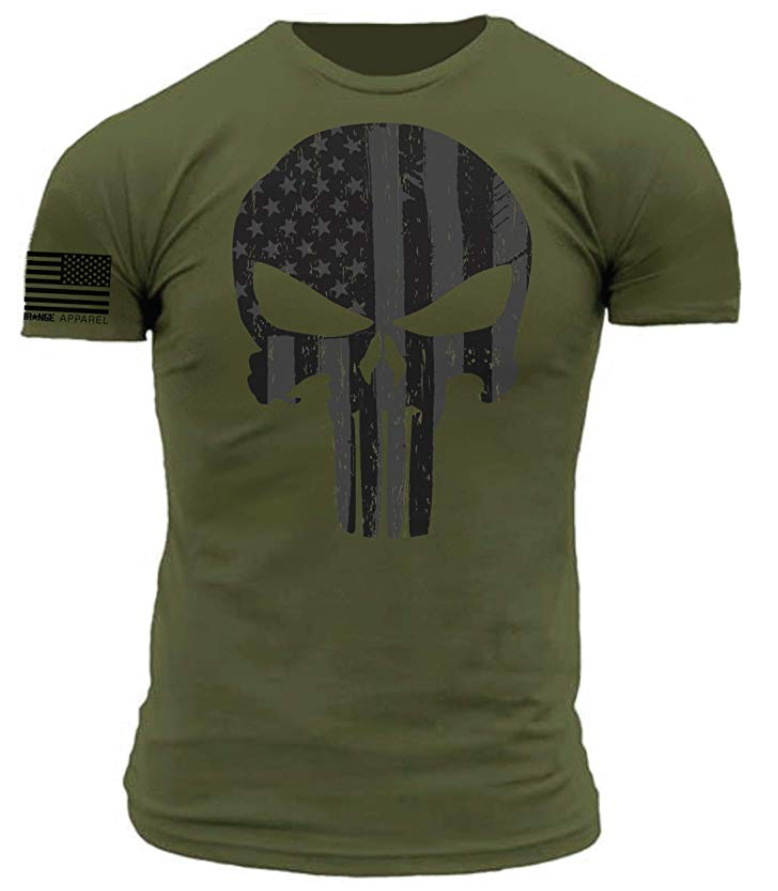 Punisher's mainstream popularity has risen in recent years, thanks to his appearances in the Marvel Cinematic Universe Netflix shows.

If you've become a fan of the character since Jon Bernthal became the ruthless vigilante – or if you've been a fan for years before that – this T-shirt is absolutely perfect for you.

It's a military style T-shirt with the Punisher's famous skull logo (decorated with the Stars and Stripes) emblazoned on the front of it. It's pretty damn neat!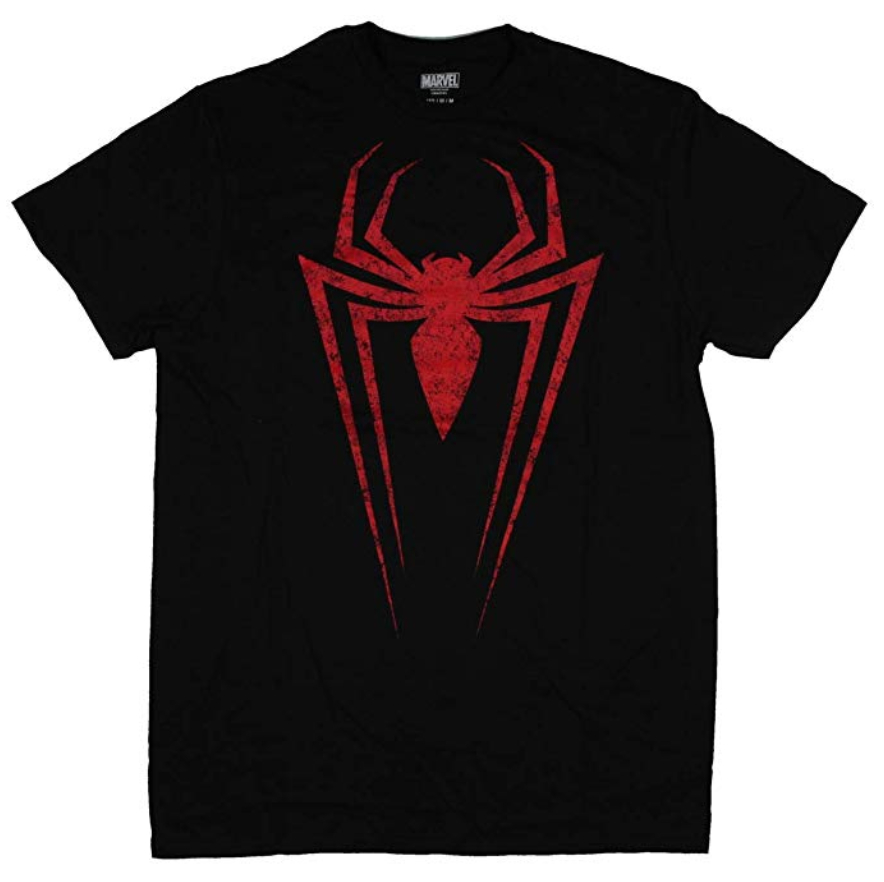 Did you really think we'd go the whole article without a T-shirt dedicated to Marvel's most iconic superhero? Not a chance!

We are, of course, talking about your friendly neighbourhood Spider-Man – the instantly recognisable web-slinger with the equally recognisable emblem.

Well, that emblem is on this awesome T-shirt! It has a cool, grungy, distressed look – and yes, it would undoubtedly make an absolutely fantastic addition to your collection. Pay the money – you know you want to!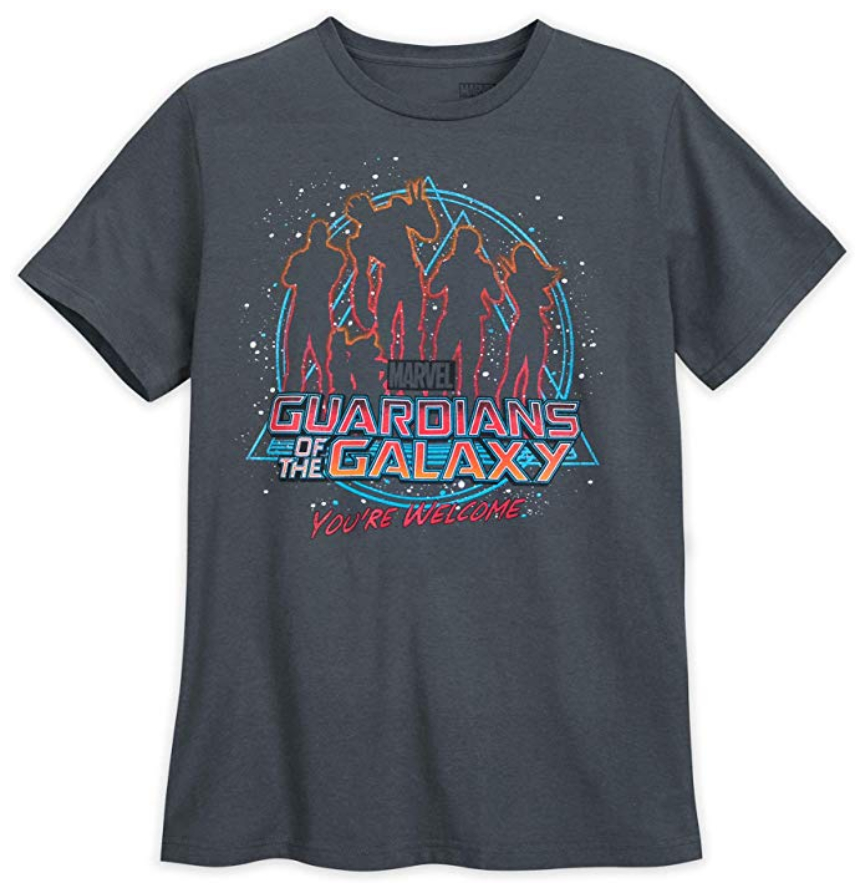 In a very short space of time, the Guardians of the Galaxy have gone from a C-list set of heroes in the Marvel universe to some of the most popular characters in all of fiction.

That is, of course, thanks to their appearances in the Marvel Cinematic Universe – starting with 2014's Guardians of the Galaxy movie.

This awesome T-shirt features silhouettes of the MCU versions of the team – with Drax, Rocket, Groot, Star-Lord and Gamora all on it.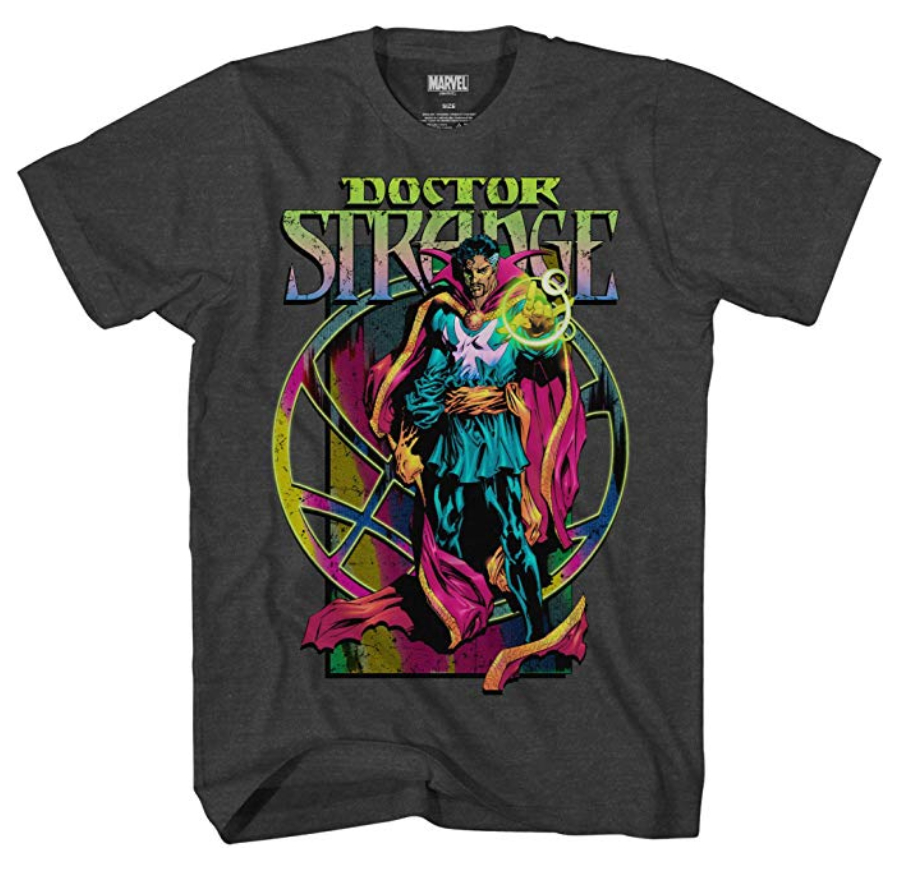 Another character who recently became popular in the mainstream, having previously been extremely popular amongst comic book fans for quite some time, is the Sorcerer Supreme Doctor Strange.

Benedict Cumberbatch has portrayed the character in the Marvel Cinematic Universe since 2016 – and his movie was full to the brim of psychedelic imagery and bright colours.

This T-shirt featuring the character is equally as vibrant – so be sure to buy it if you're wanting to get yourself noticed!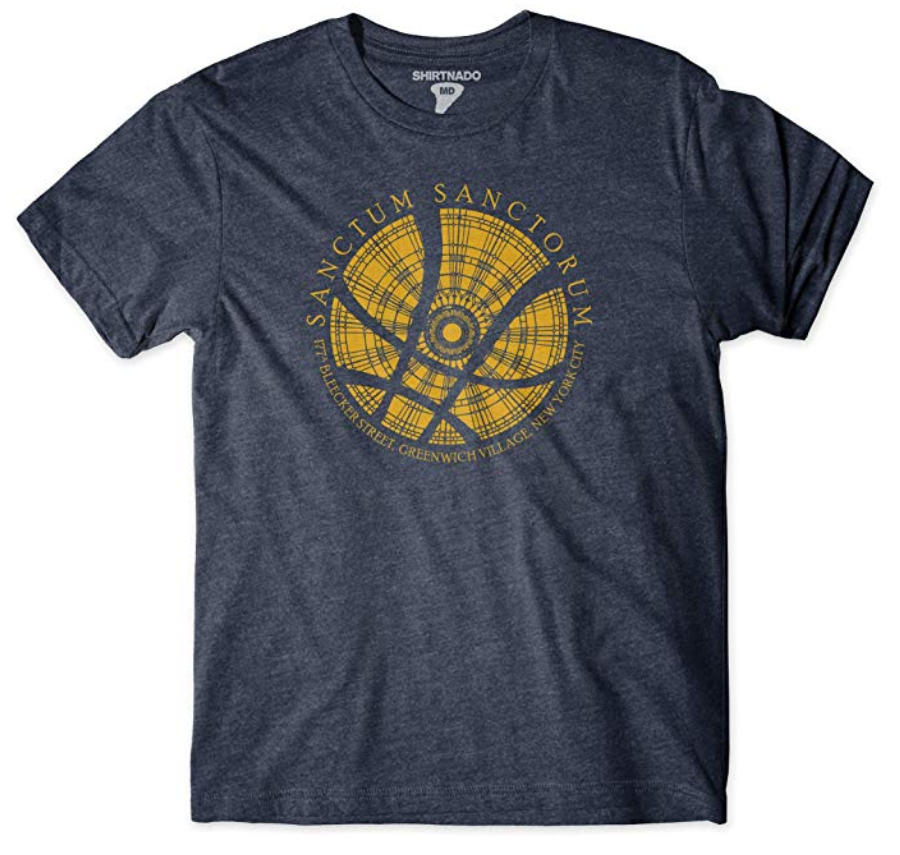 Doctor Strange, of course, lives in the Sanctum Sanctorum – or at least one of them, as there are actually three on planet Earth (in Strange's case, it's the one in New York City).

This T-shirt features the famous design that represents the Sanctum, which also happens to be the pattern on the building's biggest window.

It also has the Sanctum's address on it: 177A Bleecker Street, Greenwich Village, New York City – and that's a pretty quirky little feature for Marvel fans like yourself.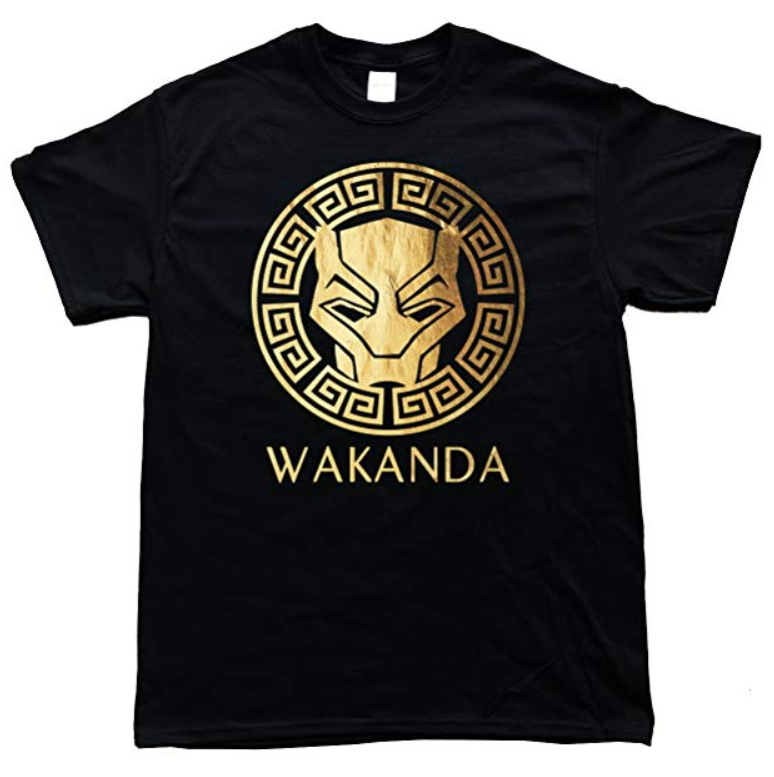 Has there ever been a more popular fictional nation than Wakanda? We don't think so.

Since Black Panther was introduced to the Marvel Cinematic Universe, everyone's gone crazy for the technologically-advanced country, so why not represent the African nation that's home to T'Challa with this superb T-shirt?

It has a really cool golden Black Panther design on the front, as well as "WAKANDA" in capital letters, so you'll truly be representing the place. Wakanda forever!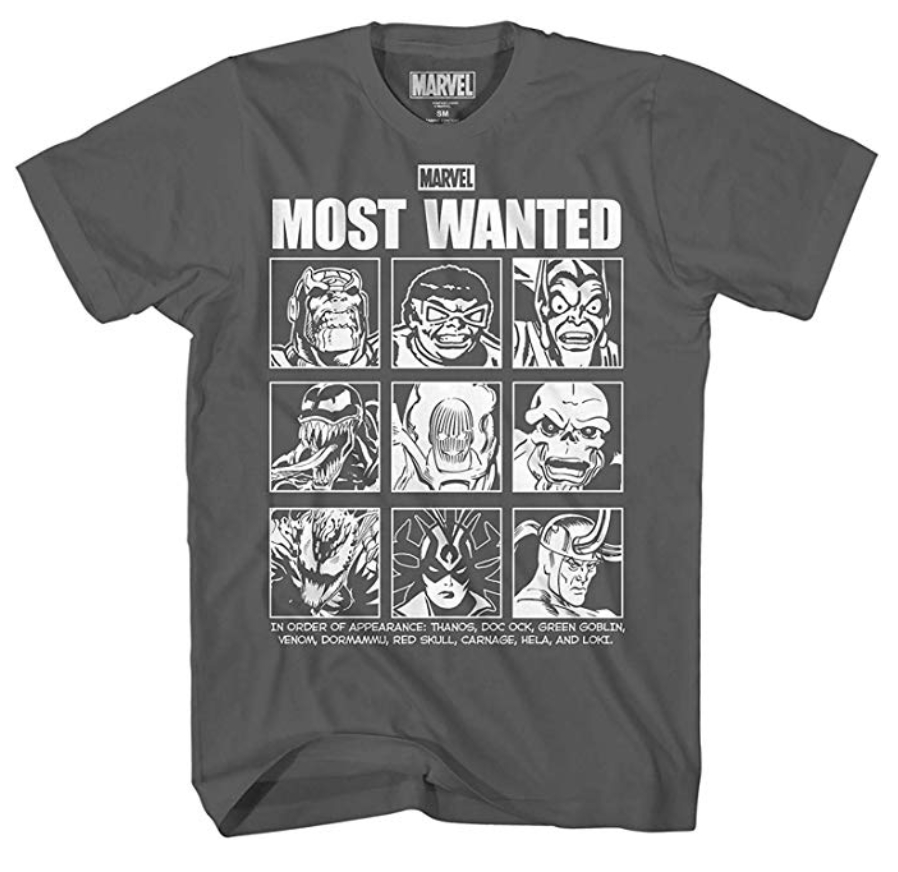 It's about time we gave the villains some love – or, you know, presented them as the evil wanted fugitives that they are! That's what this fantastic black and white T-shirt does.

It features Thanos, Doctor Octopus, the Green Goblin, Venom, Dormammu, the Red Skull, Carnage, Hela and Loki – which really is quite the rogues gallery!

So, if you want break from the norm and showcase some of Marvel's bad guys, this is definitely the item for you!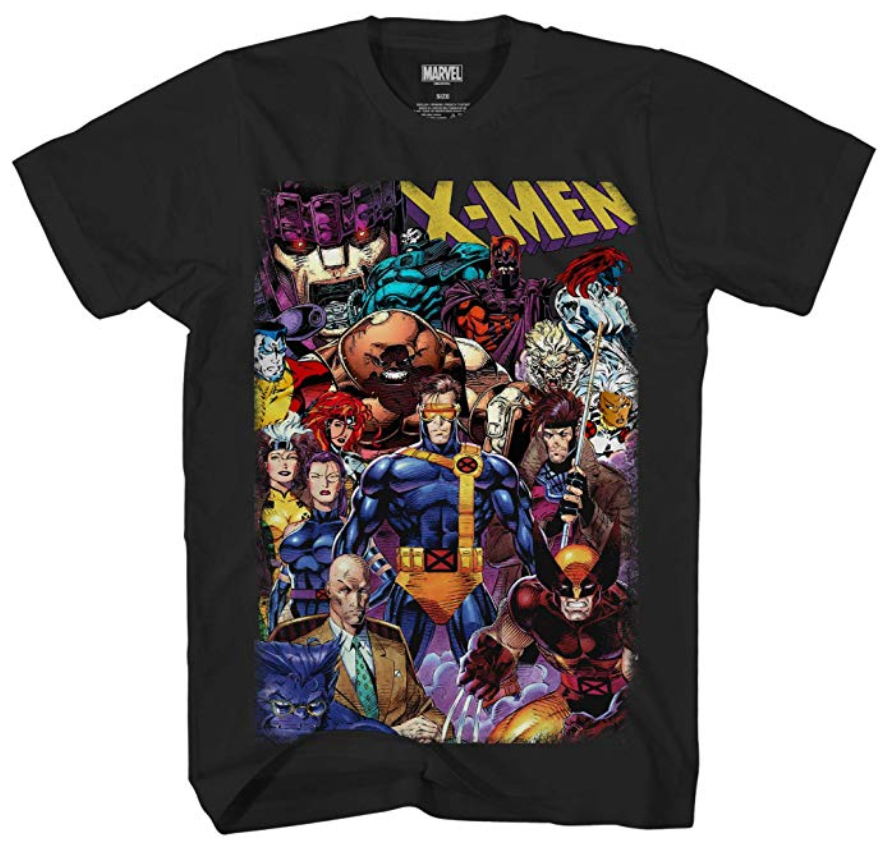 Ah the X-Men. They've been almost as popular as the Avengers in recent years, given the huge success of Fox's X-Men movie franchise – at least until the likes of X-Men: Apocalypse and X-Men: Dark Phoenix ruined everything.

But they're still beloved characters and you should still want to proudly show them off on your torso – and this T-Shirt will help you do exactly that!

It features both heroes and villains alike, with Professor X, Wolverine, Cyclops, Magneto, the Juggernaut and several other characters in wonderfully bold colour.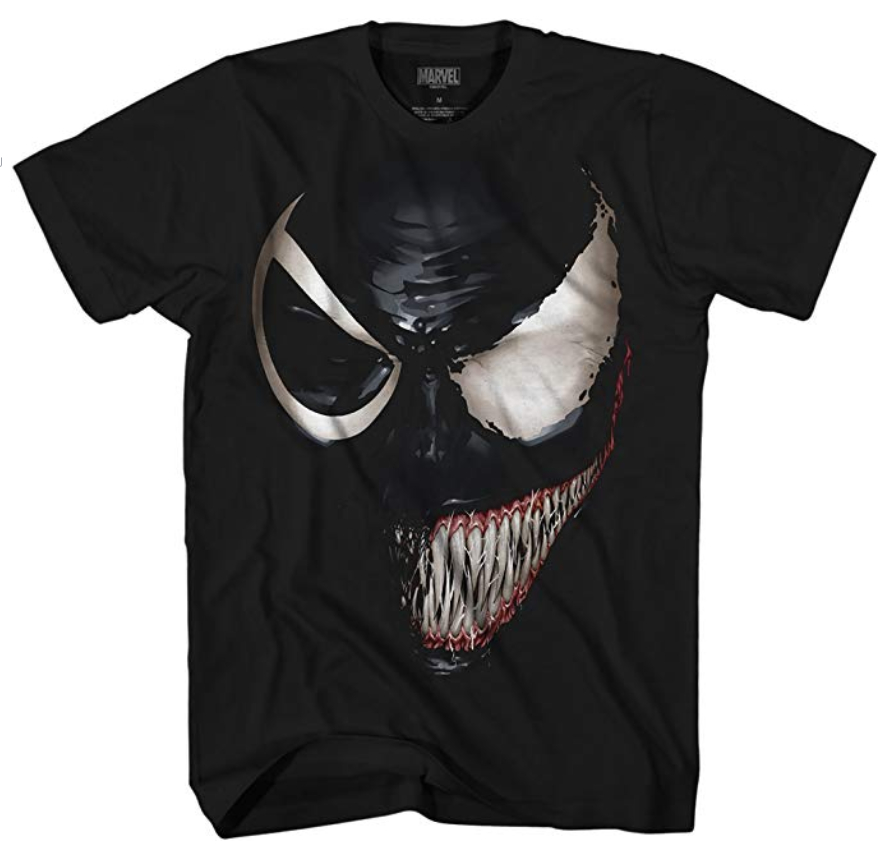 Venom is a major point of contention amongst comic book movie fans at the moment – after all, the existence of the character's movie franchise is the reason Spider-Man has been taken out of the Marvel Cinematic Universe.

But he's still undoubtedly a great character and an awesome villain – and he looks particularly fearsome on this T-shirt.

Just look at those teeth! Nobody would want to run into you on a dark night when you were wearing this!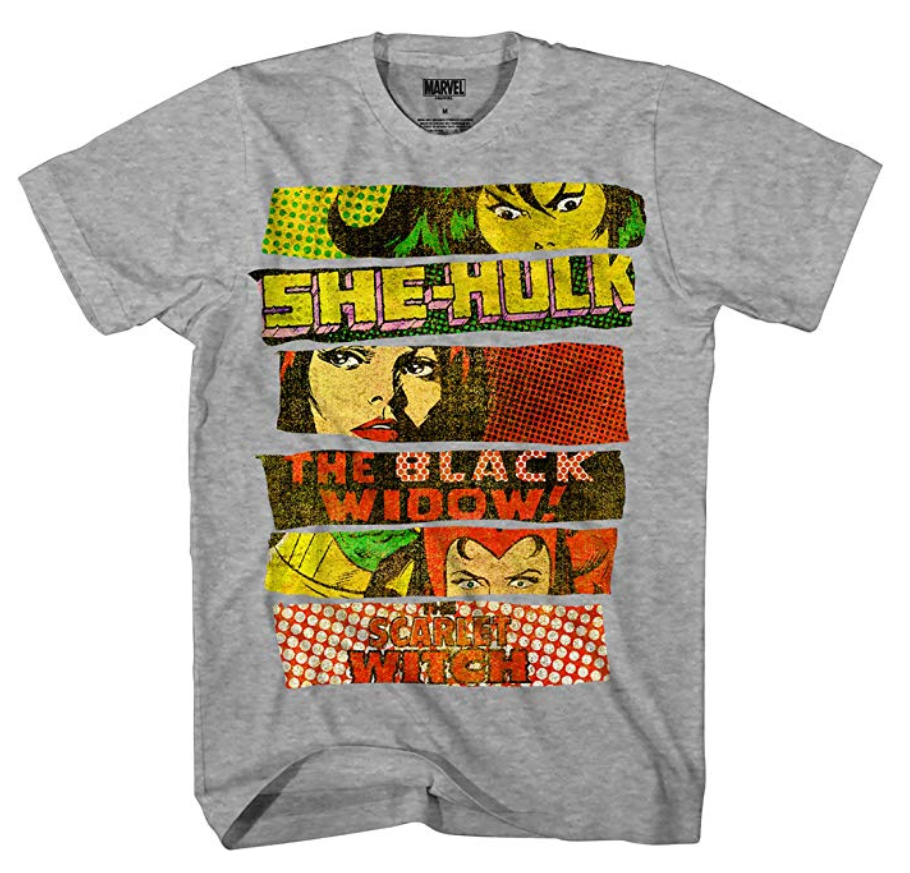 Female superheroes have really been smashing it in recent years – Wonder Woman and Captain Marvel have had their own movies, and Jane Foster became Thor in the comic books, for example – so OF COURSE you should be wanting to show your love for them.

This T-shirt has three of Marvel's most awesome proponents of girl power on it, in the form of She-Hulk, Black Widow and Scarlet Witch.

The art is in that classic comic book style, so it looks awesome – and it would look even more awesome on you!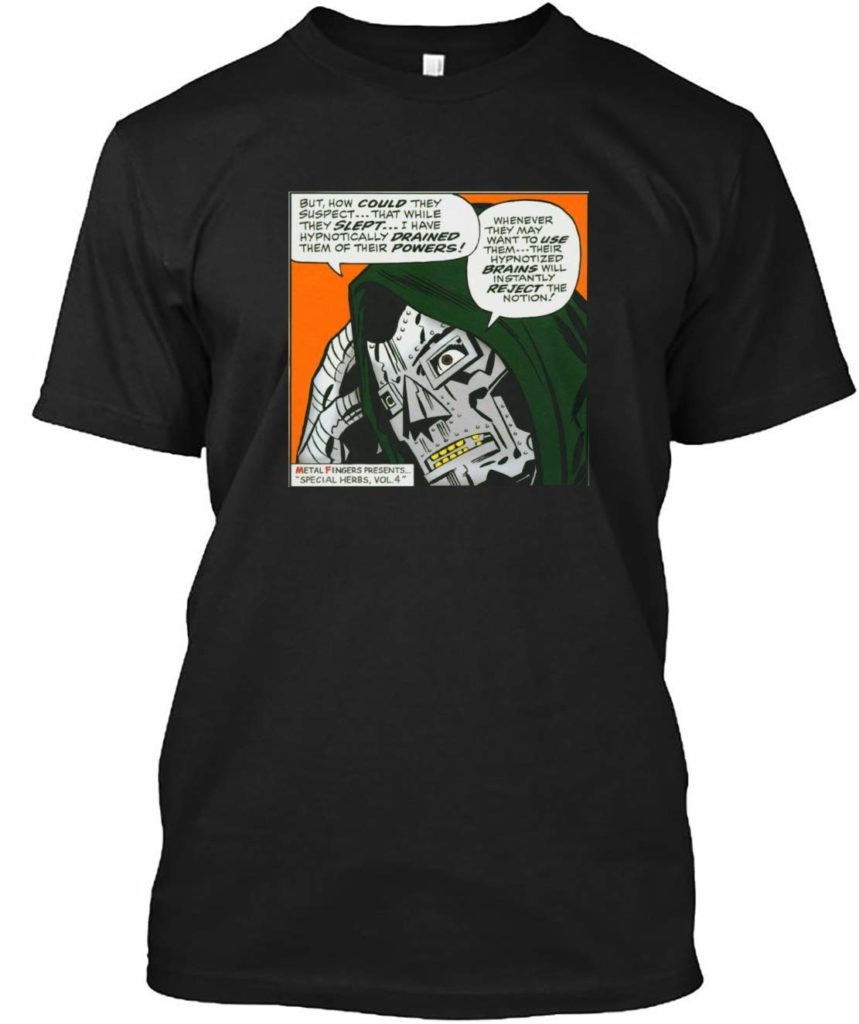 The movies might not have presented him as such (seriously, Julian McMahon and Toby Kebbell have A LOT to answer for in those Fantastic Four movies!), but Doctor Doom is undoubtedly Marvel's most iconic villain.

Forget the likes of Thanos, Magneto, Loki and the Green Goblin, this armoured genius is an expert in science, technology AND magic – and he deserves our respect.

So represent the awesome bad guy with this cool T-shirt of a Doom comic book panel. Doom demands it!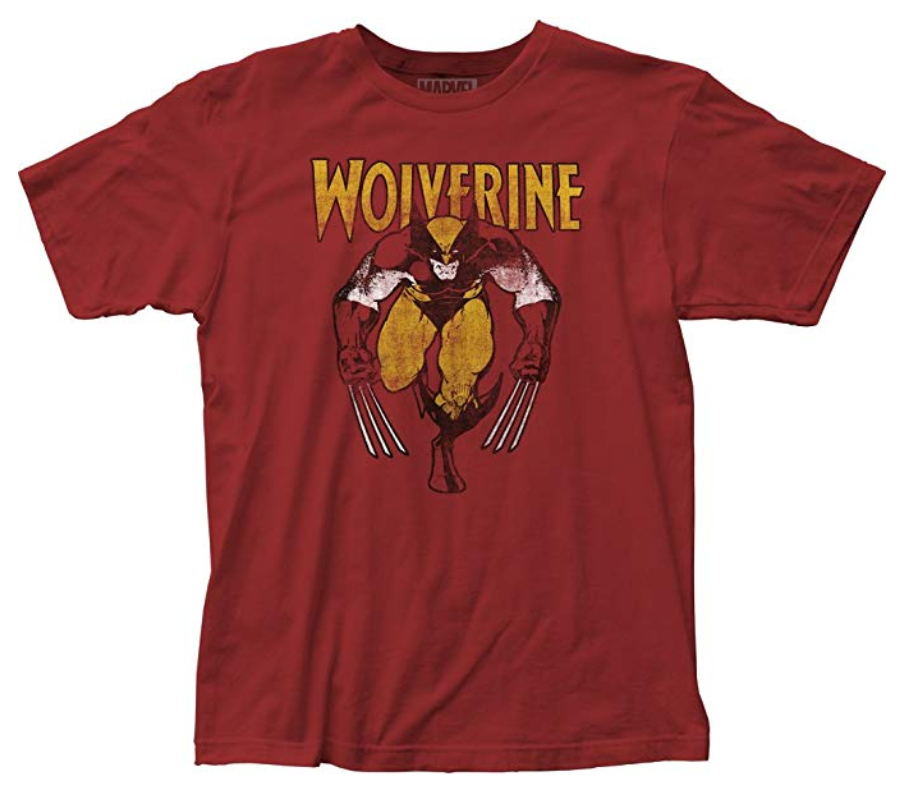 Without any shadow of a doubt, the most popular character from the X-Men franchise is Wolverine.

Hugh Jackman portrayed the character in nine of the twelve X-Men movies between 2000 and 2017 (including cameos) and, as a result, the character's mainstream popularity has gone through the roof.

So OF COURSE there are T-shirts with the character on – and this one shows the character in all his rage-fuelled glory. What are you waiting for? Buy it, bub!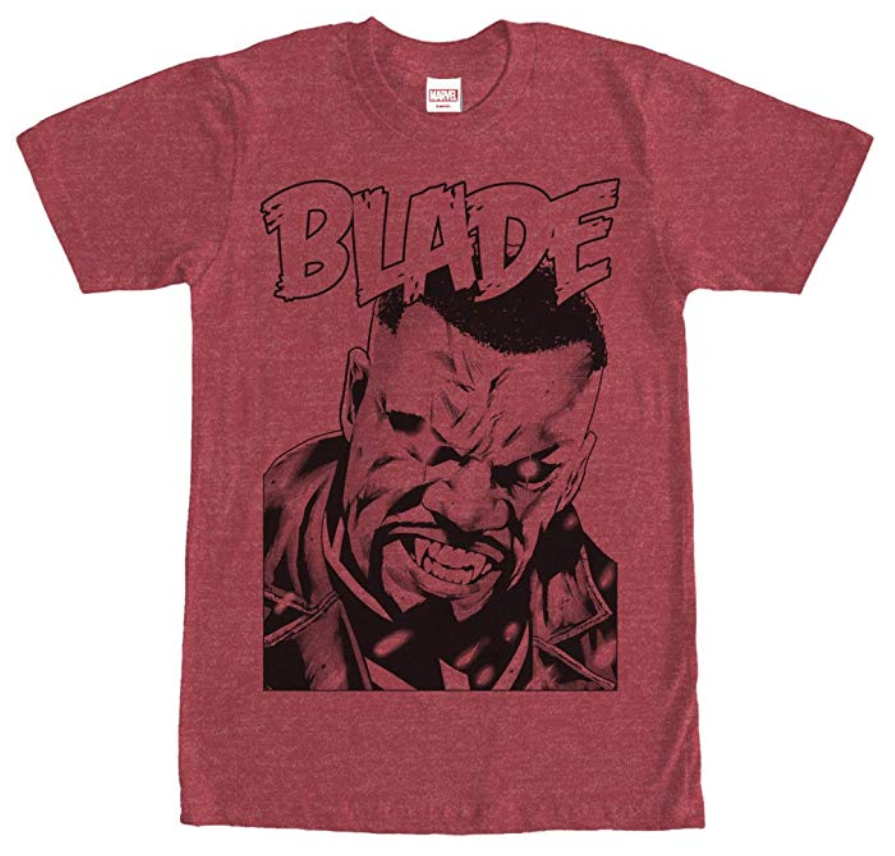 If you want to look like a real bad-ass, you might want one of Marvel's most bad-ass heroes on your T-shirt – so you'll definitely be needing this one!

Blade is the vampire hunter who, having previously been played by Wesley Snipes in three movies, will soon be portrayed by Mahershala Ali in the Marvel Cinematic Universe.

The Daywalker looks particularly fearsome on this T-shirt – and we guarantee that, if you don't want it now, you'll want it when Ali does his thing in the MCU!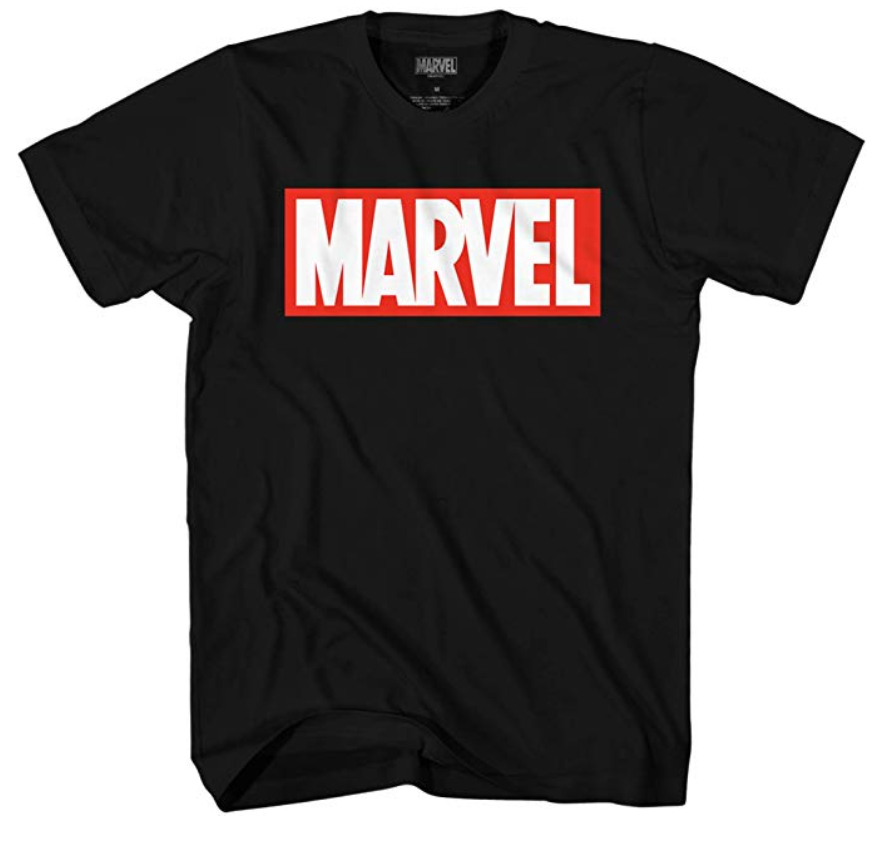 What else could we possibly bring this piece to a close with, other than this absolute classic?

If you don't already own a T-shirt with the iconic red and white Marvel logo on it: a) Can you really call yourself a Marvel fan? b) What are you waiting for? Buy it RIGHT NOW!

Nothing will show the world how much you love Marvel more than this T-shirt, so wear it proud like the bona fide Marvel legend you are!
Did you like these T-shirts? Do you already own any of them? Let us know!