The Marvel Cinematic Universe is one of the greatest universes of all time. Whether it's the superheroes or villains, powerful fights, or mastermind tactics, Marvel has stood out to be one sole love for anime lovers. In curiosity to know whether Marvel will emulate its video games with the MCU, the answer came out to be NO. No, Marvel has confirmed that its upcoming video game projects will not be released in any kind of connected Universe.
Marvel Executive Bill Rosemann rebuked any such rumors and confirmed that there are no plans of tying the projects into each other. Recently, in an interview, The Vice President explained that this decision will embark on new creativity and allow artistic freedom.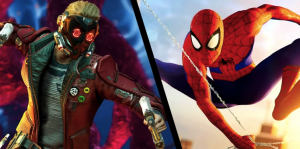 He also added, "The world is, amazingly, very familiar and accepting of the multiverse. We have all these different realities. Now they're all real, and we want to give everyone the freedom to tell their story. We don't want to say 'you can't blow up the moon, because this game over here by another studio needs the moon. We want to give everyone the freedom and the clear lane to tell their story."
He further explained that his vision is to create Marvel building blocks. Marvel Studios aims at delivering a different and innovative experience to its viewer every time. Say for instance, "When you play the game, it may not be the Iron Man story that you've experienced before, but there will be many similar things", he added.
On a happy note, Marvel is all set to expand its gaming universe by the end of the year. There are a lot of releases lined up that include Marvel's Midnight Suns from Firaxis, due in December, and the next Insomniac Spider-Man title, due in 2023. Some other details are unknown but seem promising, considering its MARVEL!