The maker of the two most incredible characters, Marc Silvestri announced the unthinkable! A partnership of Batman and The Joker in 'The Deadly Duo' is a long-awaited dream come true for the fans. Batman and The Joker are finally teaming up and this is no joke.
The exceptional writer and artist Marc Silvestri called this a "fragile alliance" as this would turn out to be one of the most iconic superhero-arch supervillain series in DC history. DC will debut The Deadly Duo #1 in November and the second issue will go on sale in December. Each issue is 32 pages with a cover price of $4.99.
Marc gave a rather interesting and engaging description in the trailer to announce this alliance and create a rage among fans. He promised the series to be "a buddy cop horror story" and we have no doubts. Seeing The Dark Knight team up with the Clown Prince of Crime is a rivalry of more than 80 years. Marc added to this by saying, "I always thought it would be pretty entertaining to have them on the same side so I wrote a story about it. Needless to say, stuff happens."
An extremely terrifying and suspense-filled version of Gotham city is what has taken us aback in the trailer. The story begins with the abduction of Harley Quinn, thus creating a dilemma for The Joker. We know he would go to any lengths to get her back. The synopsis shows that other Joker-like creatures are also stranded on the streets. Then Batman witnesses a bloody piece of his friend at the Gotham police station, igniting his soul to save him no matter what. The disappearance of Commissioner Jim Gordon takes a toll on our adrenaline!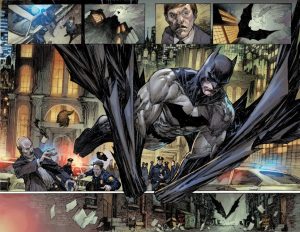 The Beginning
The Deady Duo was first announced at Comic-Con International in 2018 when DC Comic Publisher Jim Lee and Marc discussed the project. Lee often asked Marc to do a Batman project and it took almost seven years to take in on air. Presenting a dark comedy in this limited series, the project has set very high hopes for the fans and other storytellers. This could be the beginning of an era.
The first issue of Batman & The Joker: The Deadly Duo arrives on Nov. 1, 2022.