The End of Spider-Verse is on edge of release later this year and will probably end the multiversal spide family forever. In the latest trailer for Dan Slott and Mark Bagley's 'Spider-Man' #1, two of Peter Parker's greatest villains will return to finish him off and the spider-verse once and for all.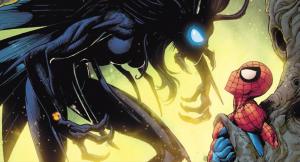 The series features everyone's favorite Peter Parker and other spider icons Spider-Woman, Ghost Spider, Miles Morales, and Silk, thus adding a plethora of twists and turns to the spider verse. The spider series will witness the alliance of Morlun with Shathra, the scariest Spider-Villain of all time. If you're familiar with the spider world, you know that this is a deadly alliance and no spider is safe now.
In the Spider-Man #1 preview, you will see spidey taking down some robbers, not knowing that he is being watched by Shathra. She's in Loom world and has turned poor Anna-May "Annie" Parker into her servant, Nestling. Morlun and Shathra will join forces to take down Spidey this time but little do they know, he has some of his own friends as an army. Meanwhile, Madame Web, Anya Corazon, and the new Spider-UK are hiding at the Spider-sanctuary planning a counterattack. There are a lot of emotional stakes!
In one of his guest spots in Marvel's Pull List, Slott blurted out, "Mark Bagley and I are ending the Spider-Verse! We're destroying it, completely and utterly! We're taking this thing you all dearly love and is a huge cash cow for Marvel and we're just pouring gasoline on it, setting it on fire, and running away cackling. We're having fun!"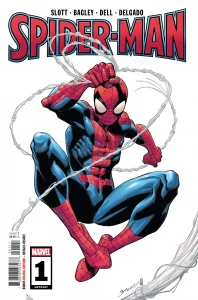 The End of The Spider-Verse will bring together the chosen one, Peter Parker, Miles, and your favorite characters from previous Spider-Verse stories to showcase a fiery attack on screen! This saga is going to be an action-packed drama, with twists and turns, emotional hits, and an epic direction that you would not want to miss.
Witness the End of the Spider-Verse in Dan Slott and Mark Bagley's SPIDER-MAN #1, on sale October 5th!