Harley Quinn made her debut in Batman: The Animated Series 30 years ago and her anniversary has been celebrated by DC Comics every single year. This year also, DC has some lavish plans which are unknown yet, for the big celebration. In addition to the 30th anniversary this week, DC made an exclusive announcement of a new creative team for Quinn.
The Clown Crime Princess will now have the author Tiny Howard and artist Sweeney Boo as the new creative team for the Harley Quinn title, starting this March in issue #28. This is a major change by Harley in so many years since the issue first came live.
DC is all set to have a pop-up celebration for Quinn's 30th anniversary outside the Javits Center in New York City on October 7th. The Comics con attendees will get free comics, breakfast, and cupcakes to kickstart the big event. The food truck pop-up opens at 9 am ET. Outside NYCC, Quinn fans can access apparels, accessories and a lot of other fun things.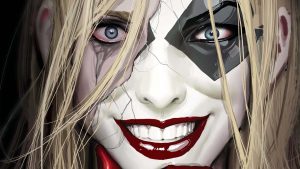 Harley Quinn's 30th Anniversary special edition is also available on sale right now and features a who's who of Harley creators, including writers like Amanda Conner, Jimmy Palmiotti, Stephanie Phillips, and many more.
Quinn was created by Paul Dini and Bruce Timm as a comic relief henchwoman for the supervillain Joker in Batman: The Animated Series, in 1992 and has been on air since then. Howard expressed his love and obsession with Harley once, stating that he loves writing the character, "I think she's cool, she's a genius, and she can go on a wild ride with her friend, talk to her cat, and play with her ice maker. I don't think she's secretly stupid."