With all the trailers, footage, promo photos, and other hype-building materials for Suicide Squad, there's one important question that still hasn't been answered: Who's the actual bad guy? Well, the film's producers have finally shared some interesting, though still vague, details on the big villain, who they're calling The Adversary.
No, it's not this guy who received powers from Lord Satanus and appeared in J.M. DeMatteis' Superman. Director David Ayer created the movie's villain after understanding the historical context of the comics and "going into the original Suicide Squad", which actually forced several of the film's villains together. "The backbone of this story is right out of canon, and it's one comic book. I'm not going to say which one"¦eventually people might figure it out," said Ayer.
For a long while fans believed The Joker to be the main villain of the movie, based on the early trailers, which heavily featured the actual members being drafted into the squad. As more details and footage emerged, it became apparent that this was not the case, and that Batman's nemesis is only looking to have Harley back at his side, now that she's out of prison.
Producer Andy Horowitz added, "There's multiple adversaries that the Squad has to contend with over the course of the movie…(and) the Joker is one of them." He doesn't clarify whether The Joker is a lower or higher-level adversary, though.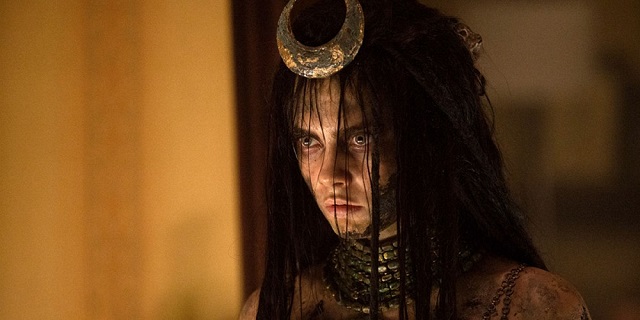 Attention then shifted on the theory that Enchantress, played by Cara Delevigne, is the actual villain when footage and behind-the-scenes photos revealed lots of magic going on. Producer Richard Suckle says:
There's magic in this movie. There's things that are happening that are unexplainable. Some of them may be attributed to magic. Some of them may be attributed to other things. Maybe they're scientific, but, yes, it's not just someone coming into the city and laying waste. This obviously is clearly"¦Something has happened and the Squad is sent into Midway City to try and fix a problem, but that problem is something that you learn more and more about as the movie unfolds.
However, new plot details reveal that it was Enchantress that the government first sends in to get close to a "non-human entity" that police and the military are helpless against. Unfortunately, it manages to persuade her or possess her to do its bidding. The newly formed Suicide Squad will have to go up against Enchantress and her magical abilities to get to the real Adversary.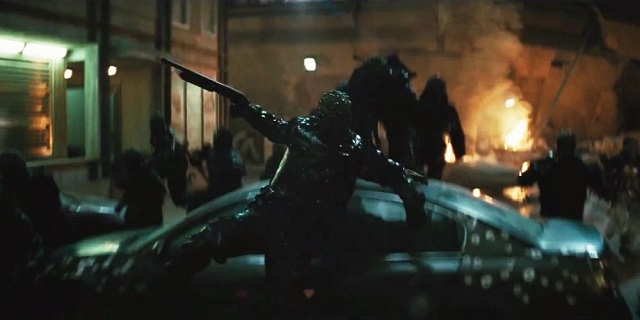 They'd first have to deal with its henchmen, which producers call the Eyes of the Adversary. They appear to be military men covered in thick motor oil with countless eyeballs bubbling out of the ooze. Asked whether these are his original creations, Ayer replied:
Only in the sense that, if you look at Joker, he has his henchmen. There's always sort of the henchmen concept in comic books. The specific visuals of what they are and how they work, sure, but it's very much out of canon that you have these armies of servants.
These foot soldiers offer another hint as to the nature of The Adversary. A combat patch on the shoulder of one of them says Escort to Darkness, and has the image of a giant tentacle reaching out of the ground. Sounds like a Cthulhu-like Old Gods creature to me.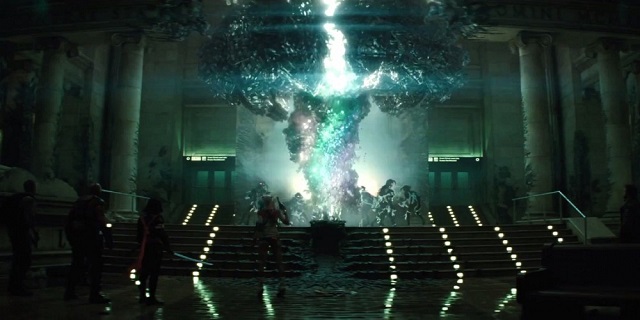 In a movie about a team of villains tasked to do good guy things, we'd expect the actual big bad villain to impress, and hopefully they deliver. Even more importantly, fans will hope that the fun, frenzied action and witty dialogue shown in the trailers translate into the entire film, especially after the punishingly dour Batman v Superman.
Suckle promises that Suicide Squad will have a very different tone from Zack Snyder's Superman movies, explaining:
The sense of humor, that's one thing also I could just mention about the movie and hopefully the Comic Con piece gave hints of that, if not more than hints, is this movie is incredibly fun. I think it's going to really surprise people. At least people who may not have expected that before they saw the Comic Con piece. The movie has a fantastic sense of humor, all the while being serious when it needs to be serious. It delivers on the action, but the sense of humor is something that I found went well in the script, but now you see it on camera…it's a great cocktail, I guess is the way to describe it.
Let's all hope that Suicide Squad lives up to the hype when it hits theaters on August 5, 2016.