Mark Hamill recently delighted fans at the Star Wars Celebration in London by reciting some lines not as Jedi Master Luke Skywalker but as The Joker from Batman: The Killing Joke at one point during his hour-long Q&A panel.
The newest animated Batman feature definitely earned its R Rating, according to Hamill. "Kids will come up to me and say, "˜Oh, I'm excited for The Killing Joke.' I said, "˜Don't you watch that.'"
"The thing is, it's not for kids," says Hamill, "and I really apologize for this. It's rated R […] but it's really mean and nasty." He reiterates that it's not a direct adaptation of the acclaimed 1988 comic by Alan Moore and Brian Bolland, and that the story has been expanded for its 95 minute runtime.
"And, by the way, for you Alan Moore fundamentalists, of which I am one, it's not — because I thought of it as a book on tape where we were going to do every single word, right, and just do music and sound effects," Hamill said. "Because Alan Moore doesn't like anything that they do — you know, 'V for Vendetta,' he didn't like 'Watchmen.' It's just, you know, he's a perfectionist, so he's going to hate 'Killing Joke.' But 'Killing Joke' is embedded in a larger story that I can tell you involves Batgirl and Batman. And, like I say, it's earned its R rating. I mean, they really did it like the book."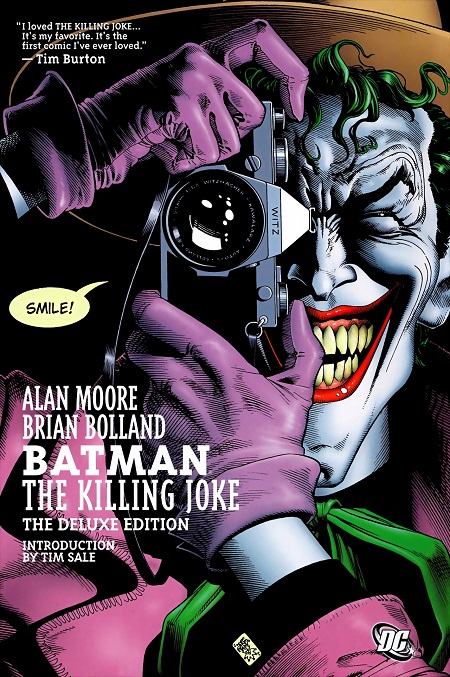 Hamill has been voicing The Joker for nearly 25 years, starting with Batman: The Animated Series and continuing on to Superman: The Animated Series and Justice League, as well as Rocksteady's "Arkham" video games. He probably knows Batman's greatest nemesis more than any other actor who ever took on the role, and it shows in the clip below.
His full panel is available to watch on YouTube, but here's an edited video with all the segments about Batman: The Killing Joke, including his short but fantastic sampling of The Joker's lines from the upcoming animated film:
Fans who may be worried that The Killing Joke might be Hamill's last time giving voice to The Joker can settle down with his short but sweet reply:
— Mark Hamill (@HamillHimself) July 13, 2016
Batman: The Killing Joke also stars long-time series voice actors Kevin Conroy as Batman and Tara Strong as Batgirl, and is directed by Sam Liu and Bruce Timm from a script by Brian Azzarello. It will premiere at the San Diego Comic-Con on July 22, 2016, followed by a limited theatrical release on July 25.
Are you excited for Batman: The Killing Joke? Sound off on Facebook!