In the wake of the Multiverse-shaking conflict chronicled in Jason Aaron's remarkable "Avengers" series, a new era begins with a revamped Avengers team. Marvel Comics presents the highly anticipated debut issue of "Avengers" #1, where Captain Marvel takes charge and assembles a formidable squad of heroes. This incarnation of Earth's Mightiest Heroes closely aligns with the beloved Marvel Cinematic Universe while maintaining the grandeur and thrilling action fans have come to expect. Within the pages of this issue, readers witness Captain Marvel's thoughtful rationale behind each selection, providing insight into the minds of these extraordinary champions.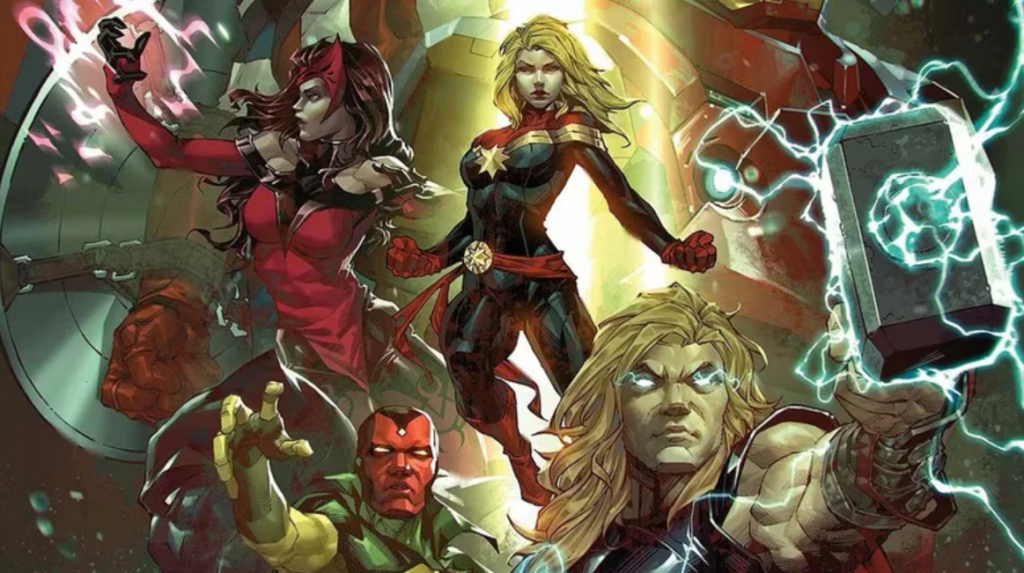 Witnessing Captain Marvel carefully hand-pick her team offers a captivating glimpse into her meticulous decision-making process. This fascinating insight delves into her perceptions of her fellow heroes, the qualities that make them ideal candidates for the new Avengers roster, and the seamless synergy they bring to the superteam. Each hero's unique role and contribution are expertly woven together, culminating in the formation of one of the most formidable groups of heroes ever assembled. With a deliberate mix of diverse abilities and strengths, Captain Marvel's chosen Avengers promises an extraordinary ensemble that is poised to face any challenge head-on.
Iron Man and Thor are Captain Marvel's first two picks
Marvel Comics "Avengers" #1, crafted by Jed MacKay, C.F. Villa, and Federico Blee, unveils Captain Marvel's first choice in assembling a fresh Avengers team—none other than Tony Stark himself. As the newly appointed leader of the Avengers, Captain Marvel engages in a crucial conversation with Tony, emphasizing the importance of avoiding future conflicts akin to Civil Wars. Driven by her ambition to elevate the Avengers to unprecedented heights, Carol Danvers names Iron Man as her top selection, referring to him as her trusted number two. Accepting Danvers' offer, Stark becomes the inaugural member of this reimagined Avengers lineup.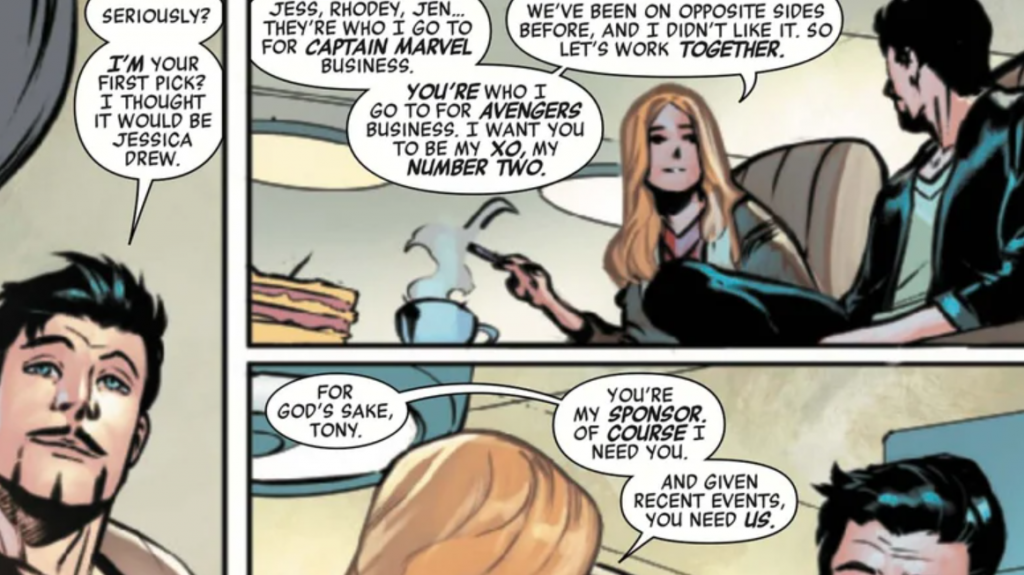 In the pages of "Avengers" #1 by Jed MacKay, C.F. Villa, and Federico Blee, Captain Marvel pays a visit to Asgard, seeking an alliance with the brooding Thor. As she extends an invitation for him to join the Avengers, Thor reveals that he has never truly left the team. The God of Thunder affirms his unwavering commitment, declaring himself an Avenger since the very beginning and pledging to fight alongside them until the "end of everything." Despite facing personal challenges, such as balancing his role as the King of Asgard with the weight of loss, Thor's dedication to the Earth's Mightiest Heroes remains unshakable. Captain Marvel admires his resilience, knowing that the Avengers can rely on his god-like powers to stand as one of the team's most formidable assets through thick and thin.
Black Panther and Captain America are next
Continuing her mission to assemble a new Avengers team, Captain Marvel's quest leads her to the South Pacific, where she discovers T'Challa in seclusion after his recent exile from Wakanda. Aware of T'Challa's troubled history with the Avengers, particularly his involvement in planting sleeper agents, Captain Marvel acknowledges the breach of trust that occurred and the subsequent loss of valuable information. Despite the challenges he has faced, Captain Marvel recognizes the magnitude of T'Challa's sacrifices. Stripped of his title as the King of Wakanda and no longer officially holding the mantle of the Black Panther, T'Challa finds himself at a crossroads.
However, Captain Marvel sees in him an essential ally and believes in his potential for redemption. She extends an invitation for T'Challa to return home and become an Avenger once more. Viewing him as a crucial asset, Captain Marvel acknowledges his past mistakes but values the opportunity for growth and a fresh start. T'Challa accepts the offer, embracing the chance to reclaim his role as a hero and contribute to the Avengers' cause. Captain Marvel later refers to him as the most dangerous man alive, recognizing his formidable abilities and strategic mind.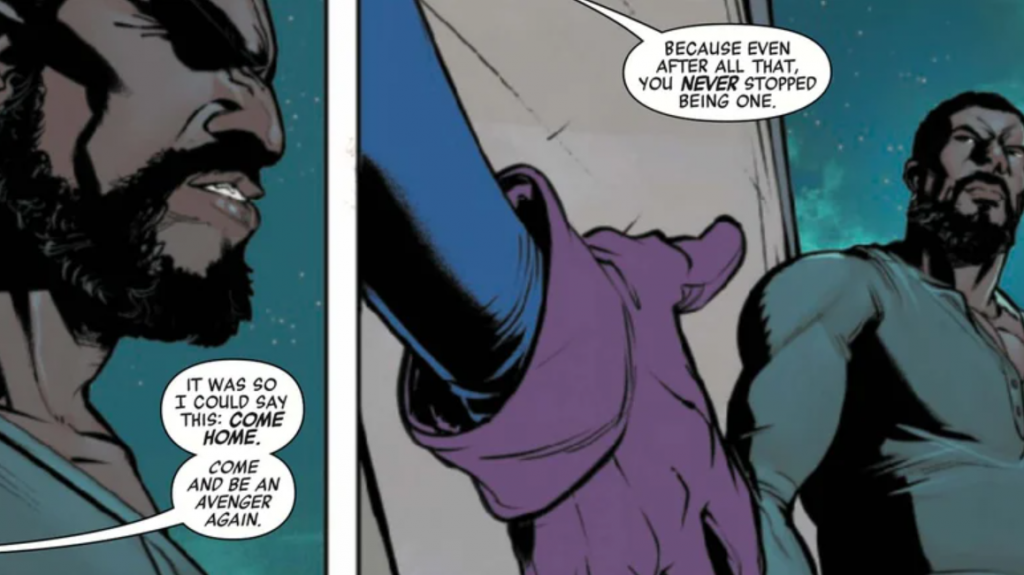 During her visit to the Lower East Side, Captain Marvel realizes the importance of having Captain America on the new Avengers team. She approaches Sam Wilson and Steve Rogers, expressing her intention to form a fresh roster and inviting Sam to join. Sam is initially puzzled, questioning why Carol would choose him over Steve. Carol clarifies that amidst a team comprised of powerful entities like gods, super-geniuses, and rulers, she seeks an ordinary individual to maintain a grounded perspective. She explains that the Avengers must not act like gods, and Sam's background as a social worker brings the necessary perspective and heroism. Recognizing the significance of his role, Sam accepts Carol's offer and becomes the new Captain America for the team.
Scarlet Witch and Vision round out the team
Encountering Vision in a state of introspection after the events of "Judgment Day," Captain Marvel empathizes with his existential concerns. Vision questions his worthiness and ponders whether he is merely an unfit machine in the eyes of divine judgment. Adopting a straightforward approach, Carol Danvers dismisses the significance of the opinions of gods, reminding Vision that he has confronted his creator and courageously rejected their authority. She assures him that she does not require constant validation from him. Inspired by her pep talk, Vision decides to cast aside his doubts and accepts the invitation to join the Avengers, ready to contribute his unique abilities to the team.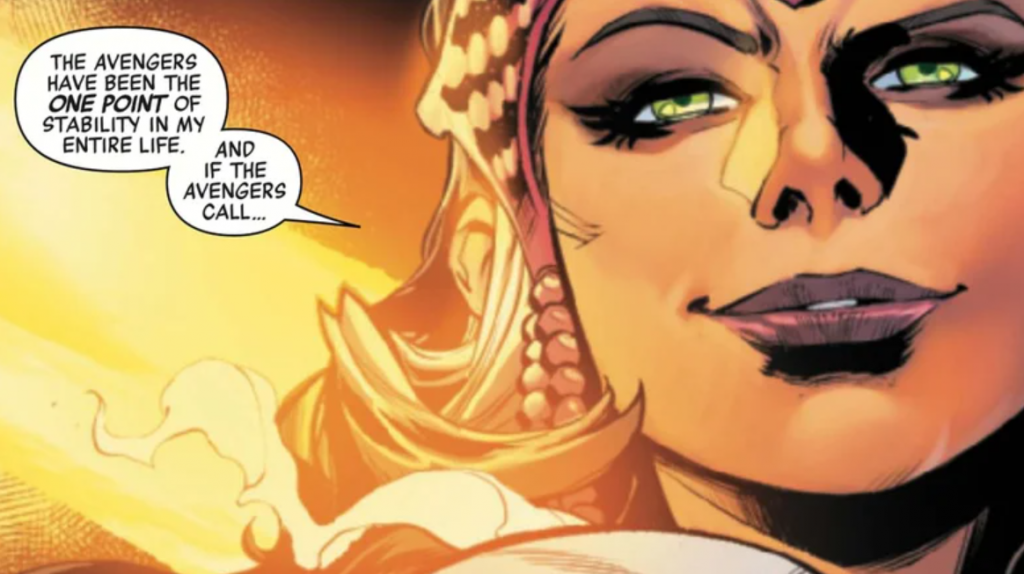 In her final visit, Captain Marvel arrives at Scarlet Witch's Emporium with the intention of inviting Wanda Maximoff to join the Avengers. However, before Carol can even ask, Wanda interrupts her and confidently declares her answer as a resounding yes, as if she had anticipated the question. Wanda acknowledges that the Avengers have provided her with a rare sense of stability amidst the turbulence of her life, and she pledges her unwavering commitment to always answer their call for assistance.
The Avenger's next battle leads them to a familiar foe
The newly formed Avengers team unites to confront the formidable antagonist Terminus, who seeks to acquire an artificial black hole reactor to augment his already immense technological body and amplify his power. The carefully chosen members of Captain Marvel's team synergize flawlessly as they spring into action. However, as the reactor reaches a critical point of instability, Carol Danvers takes decisive action and carries it high into the sky, preventing the explosion from harming innocent lives below. Her daring maneuver succeeds but unexpectedly transports her to a mysterious realm outside conventional space and time, where she encounters a gravely wounded Kang the Conqueror.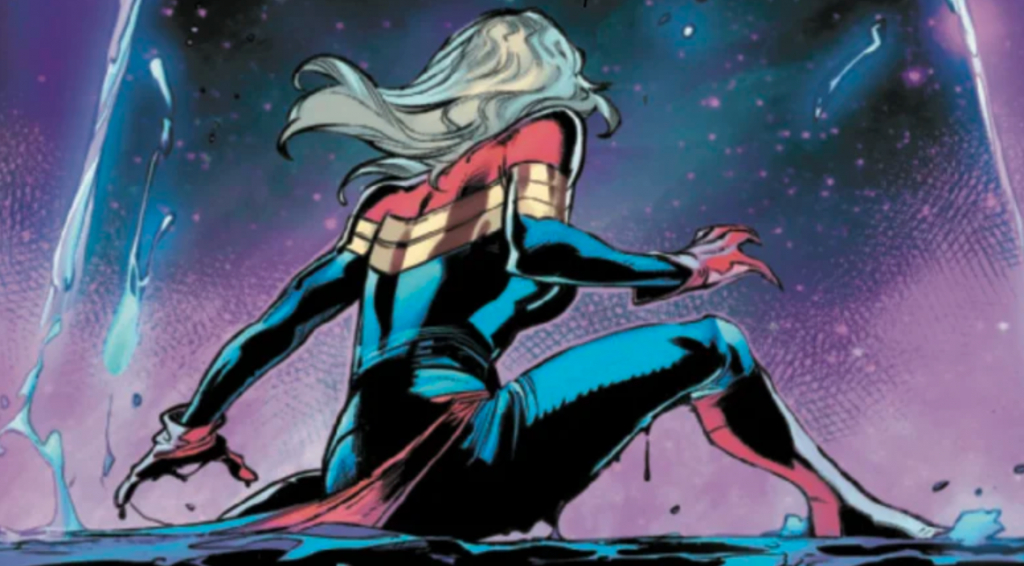 In the pages of "Timeless" #1, Kang's relentless pursuit of the Missing Moment led him to the brink of death, inflicted by the enigmatic Myrddin, who shared a similar obsession. Meanwhile, Captain Marvel finds herself thrust into the same reality, where Kang imparts a dire warning about the imminent threat ahead. Kang's words likely revolve around the Tribulation Events orchestrated by the dangerous new adversaries known as the Ashen Combine. Now, the pressing question remains: can Kang be trusted? As the Avengers embark on the challenging quest to locate their missing leader, Captain Marvel must grapple with this uncertainty and ascertain the truth for herself.
Experience the thrilling exploits of the reimagined Avengers team in the exhilarating pages of "Avengers" #1, brought to life by the creative talents of Jed MacKay, C.F. Villa, and Federico Blee. Dive into this captivating Marvel Comics issue, where the new Avengers team takes center stage and embarks on their first epic mission. So don't miss out on the excitement—grab your copy today and witness the dawn of a new era for Earth's Mightiest Heroes.