A new look and costume of Tenoch Huerta's Namor in the upcoming Marvel Cinematic Universe film Black Panther: Wakanda Forever was released recently. These images have put the spotlight on Namor, the Sub-Mariner, and showcase a much better and clearer look.
Following that jaw-dropping new trailer, Marvel Studios released new images for Namor, the Sub-Mariner who is the new character being introduced in the film. Having a look at these images gives more clarity to the character. Sequel to the 2018 critically acclaimed Film Black Panther, Part 2 has made the fans static in wait.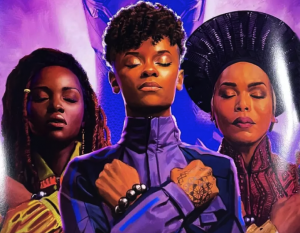 (L-R) Angela Bassett as Ramonda, Letitia Wright as Shuri, and Namor.
The images were designed by production designer Hannah Beachler and were released by Empire for the November issue. Creating an impact with New Age Wakanda, the Black Panther poster looks powerful as ever.
Who Is Namor & How Is He Related to Wakanda Forever?
Namor is described as an "ultra-man of the deep" who can fly through the sea or the air and has the strength of a thousand surface men. Namor is usually referred to as "Marvel's first Mutant" because of his unusual genetic heritage. An Atlantean/Human, he is also the leader of the Atlantis.
Not much has been said about what will happen in the upcoming Black Panther: Wakanda Forever, a lot of speculations have been going on around Wakanda fighting the invaders. In the enormous trailer, we could see that a massive wave hit Wakanda, thus inducing Namor's attack on the Nation. We have no clue whether Namor will be a friend or foe, villain or hero to the Black Panther. All we know is we need to wait for the release patiently for the most awaited film of the year.
Directed by Ryan Coogler from a script by himself and Joe Robert Cole, Black Panther: Wakanda Forever hits theaters on Nov. 11.