Jean Grey is set to star in a brand-new limited series penned by legendary comic book writer Louise Simonson. This series will delve into the character's rich and significant history with the X-Men. Simonson, renowned for her iconic work on Marvel Comics' "X-Factor," "New Mutants," and DC Comics' "Man of Steel," as well as co-creating Marvel characters like Cable and Apocalypse and DC's Steel, collaborates with Bernard Chang ("Children of the Atom") and Marcelo Maiolo ("Star Wars: The High Republic") to unveil the next chapter in the journey of the founding X-Man, formerly known as Marvel Girl.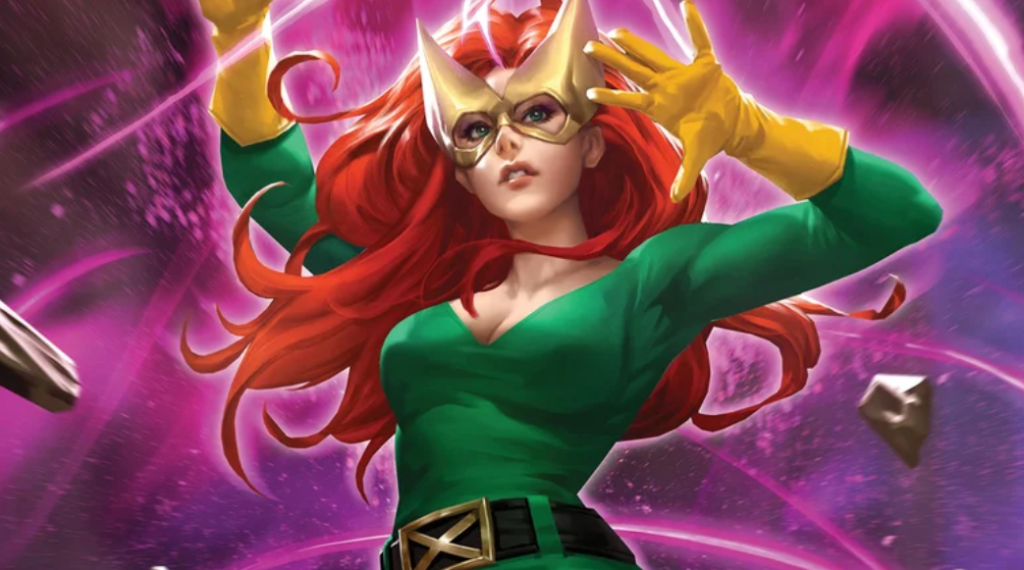 In an interview with Marvel.com, Simonson expresses her immense excitement for crafting Jean's next "mega-adventure." She applauds the character's depth and significance, referring to Jean Grey as a pivotal figure whose presence serves as the anchor for numerous crucial story elements. Simonson further describes Jean as a calming, empathetic, and formidable force within the world of Marvel's mutants.
Following the devastating aftermath of the imminent "Fall of X," "Jean Grey" #1 will delve into the journey of the legendary Omega-level mutant as she confronts the darkest chapters of her past. In an effort to aid the X-Men in their present struggles, Jean must unlock the secrets buried within her history. As her fellow mutants emerge from the ashes of the X-Men's Hellfire Gala and brace themselves for the looming fall of Krakoa, our exclusive preview from Looper also hints at the resurgence of the enigmatic Phoenix entity, whose allegiance remains uncertain—friend or foe? Moreover, the spotlight shines on the return of a significant X-Men antagonist, Madelyne Pryor, better known as the formidable Goblin Queen.
Your First Look at Jean Grey #1
In our exclusive preview of "Jean Grey" #1, the artwork by Bernard Chang and Marcelo Maiolo treats readers to a grand double-page spread that takes Jean Grey on a captivating journey, walking through pivotal moments that have shaped both her personal history and the illustrious legacy of the X-Men.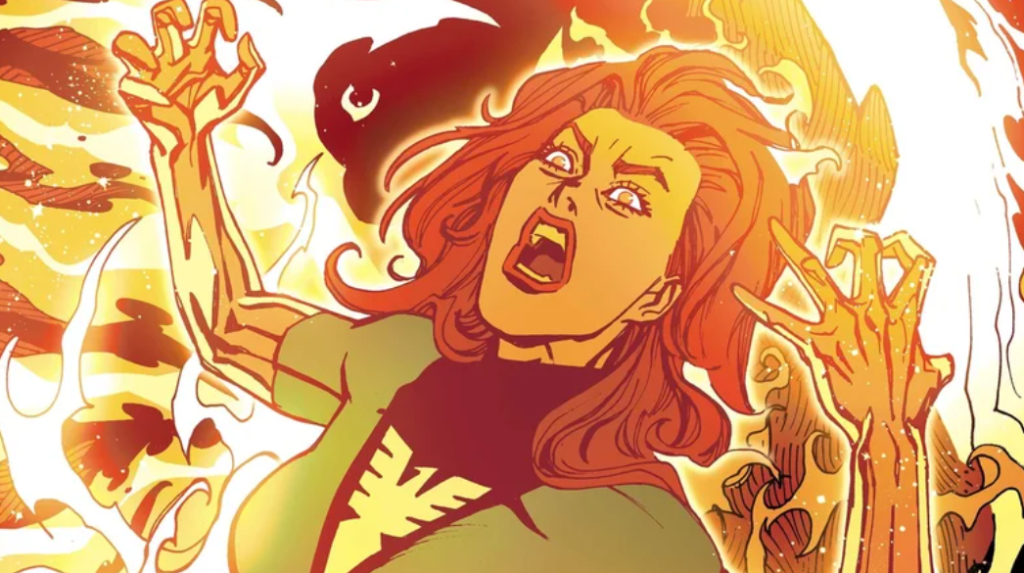 From Jean Grey's debut as a member of the original X-Men team to the tumultuous Dark Phoenix saga, where she was held in stasis unbeknownst to her fellow mutants, the stunning image depicted in Chang and Maiolo's artwork showcases a myriad of significant moments from Marvel Comics' rich mutant history. The visual narrative captures not only Jean's personal journey but also events she wasn't directly involved in, featuring key characters who have played critical roles throughout her life, including Charles Xavier, Emma Frost, Wolverine, and the enigmatic Madelyne Pryor.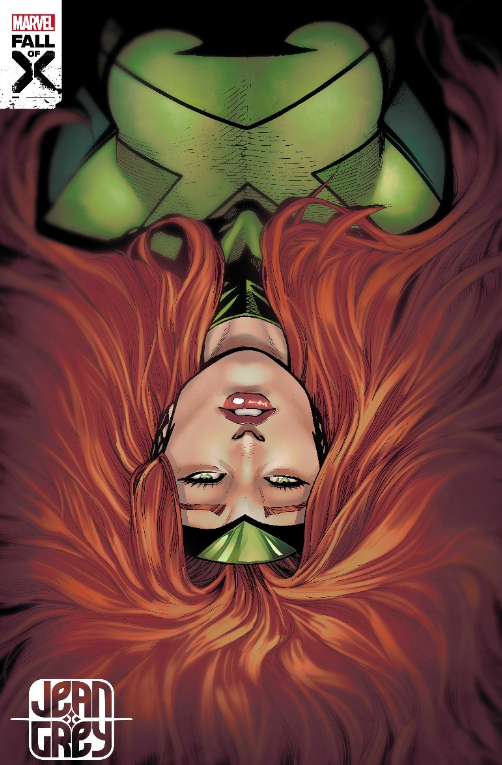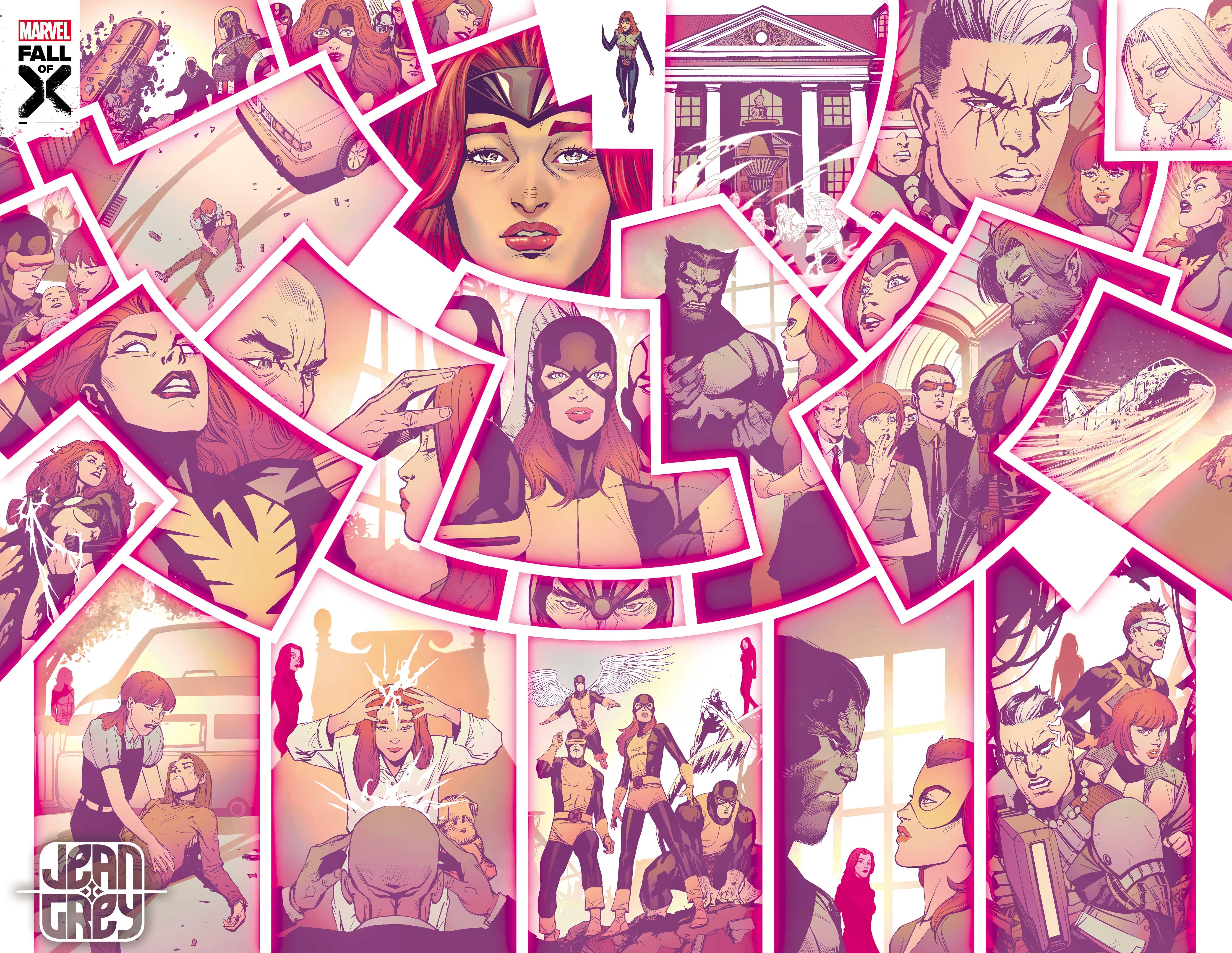 In the third exciting preview image, we witness the original X-Men, under the watchful eye of Professor X, engaging in a training session within the Danger Room. Angel, Cyclops, Beast, Iceman, and Jean Grey display their formidable abilities as they face off against menacing robots. Additionally, the image captures a poignant moment between Xavier and Jean as they meet after the intense training session.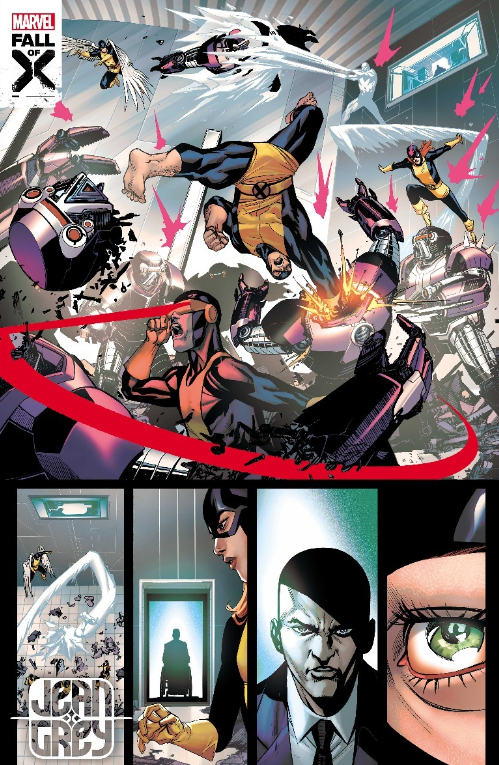 In our thrilling final exclusive page, Jean Grey is enveloped in the fiery aura of the Phoenix Force, adorned in the cosmic entity's iconic gold and green costume. The implications of this transformation for Jean, the X-Men, and the enigmatic Phoenix Force itself remain shrouded in mystery… at least for the time being.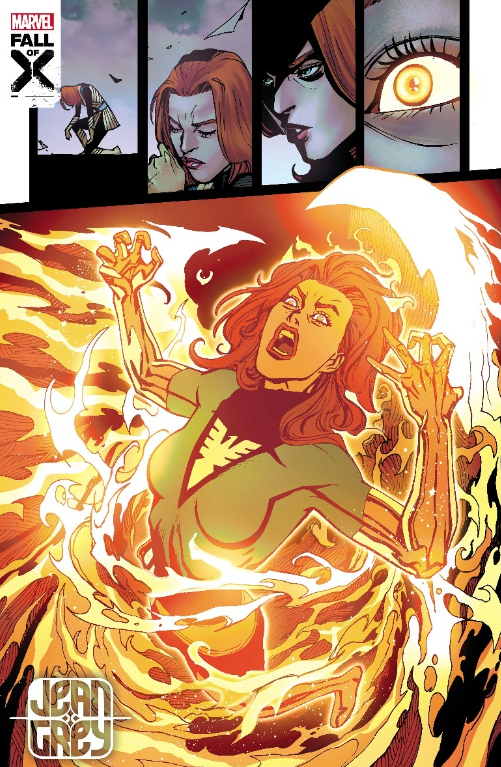 "UNLEASHING A BLAZING SAGA! After the shocking events of the Hellfire Gala, Jean Grey's world lies in ruins. With mutant-kind facing dire peril, this iconic X-Man must first rescue herself. To safeguard Krakoa's future, she embarks on a perilous journey through her own past, seeking the pivotal moment that led to their current predicament. Accompanied by breathtaking art from Bernard Chang and Marcelo Maiolo, esteemed writer Louise Simonson returns to the X-Men universe, crafting a tale brimming with beloved moments, heartrending truths, and earth-shattering consequences!"
What's Coming in Jean Grey #2
The cover art for "Jean Grey" #2 by artist Amy Reeder ("Moon Girl and Devil Dinosaur") showcases Jean Grey and her longtime partner, Cyclops, sharing an affectionate and fiery embrace. Below the captivating artwork, the text synopsis for the issue hints at a significant and potentially transformative revelation concerning Jean's history with the Phoenix.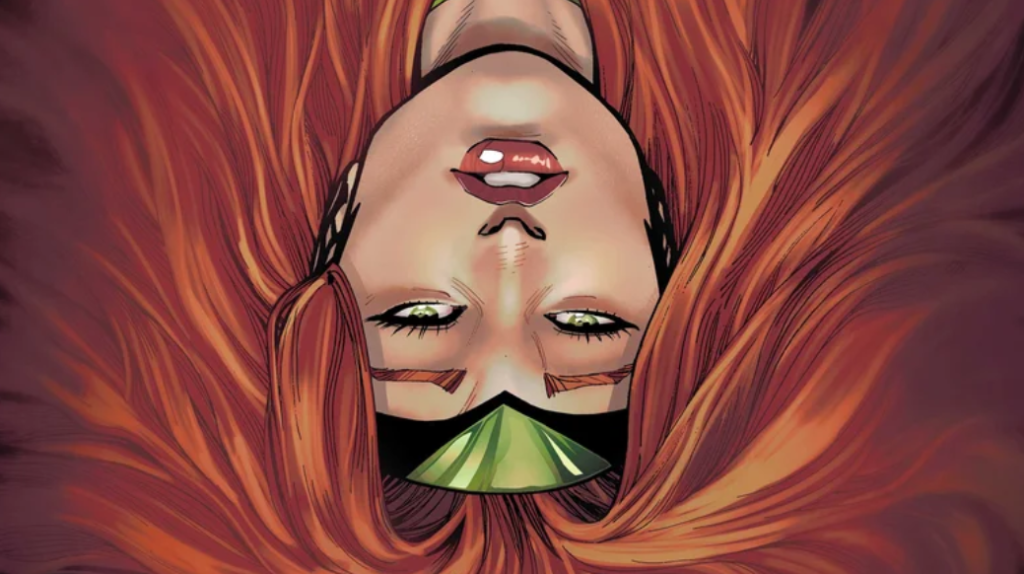 DARK TIMES FOR JEAN GREY! The haunting legacy of the Dark Phoenix has always loomed over Jean Grey since it emerged from Jamaica Bay. But what if fate had chosen a different host for the Phoenix Force? Marvel at the beloved love story of Cyclops and Jean Grey as a legendary creator twists their hearts and minds, revealing jaw-dropping secrets. Brace yourself, for this is not a mere "what if." Jean Grey finds herself in an unexpected place, and the rest of mutant-kind is in a similar predicament. Get ready for shocking revelations as Jean Grey sets the stage for her momentous appearance in 'Fall of X'!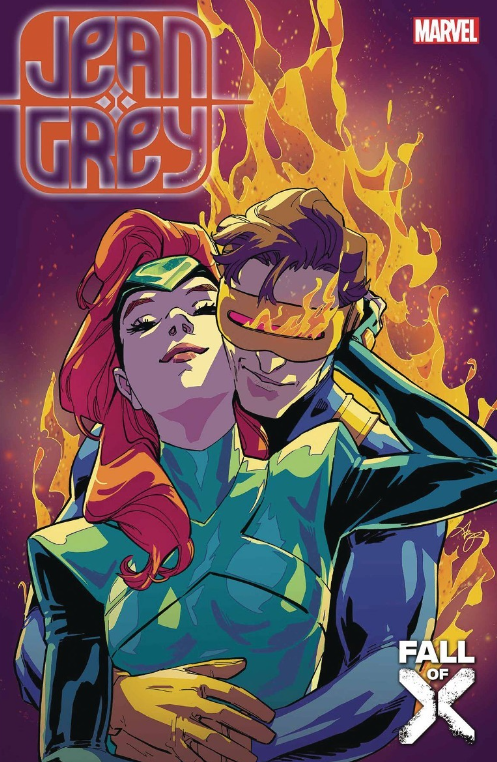 At last, Looper brings you the exclusive unveiling of Reeder's striking cover for "Jean Grey" #3, showcasing Jean in an intense battle against Madelyne Pryor, the notorious Goblin Queen. The action-packed artwork captures the hero and her clone locked in a fierce clash, unleashing their extraordinary powers in a thrilling brawl.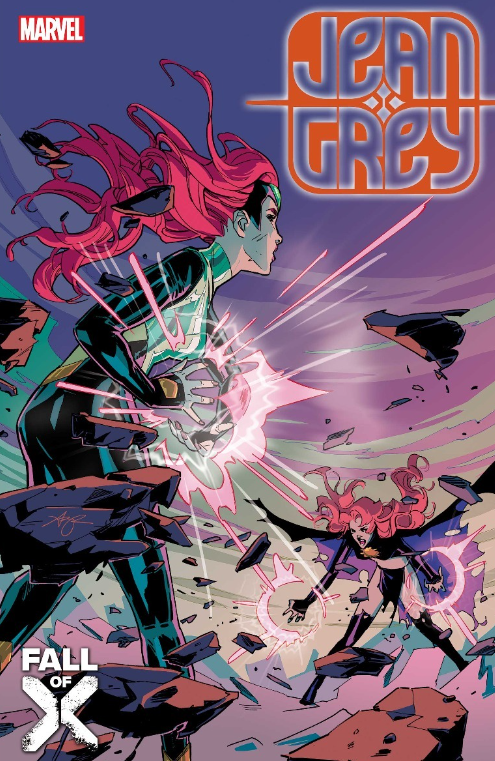 Get ready for the exciting new journey of Jean Grey in "Jean Grey" #1, hitting comic book stores on August 23, 2023, courtesy of Marvel Comics. And mark your calendars for the second issue, scheduled for release on September 27! Stay tuned to Looper for more thrilling "Jean Grey" content coming your way soon!