Within the world of One Piece, the Marine Admirals stand as the most formidable and feared members. Among these elite ranks is Borasalino, also known as Kizaru or the Yellow Monkey, whose possession of a truly terrifying Devil Fruit sets him apart. Kizaru first appears in the Sabaody Archipelago Arc, where he confronts the Worst Generation and the Straw Hat Pirates after Luffy strikes a Celestial Dragon. His power and prowess serve as a chilling reminder of the world's collective fear of Marine Admirals, as even a hint of harm towards a Celestial Dragon could provoke their intervention.
Kizaru exhibits incredible prowess in overpowering even the strongest of pirates with ease. As an antagonist, he proves to be a formidable foe for Luffy, causing him trouble in both the Sabaody Archipelago and the Summit War arcs. Kizaru's enigmatic character remains difficult to decipher even now, and his Devil Fruit abilities remain particularly perplexing. He possesses light-based powers and ranks among the most fearsome characters in the series. The intricate and varied techniques he employs with his Devil Fruit abilities exceed the capabilities of an ordinary Logia fruit. Below, we take a closer look at Kizaru's Devil Fruit abilities and their mechanics.
What are the powers granted by Kizaru's Devil Fruit?
Kizaru's powers stem from the consumption of the "Pika Pika no Mi," a logia-type Devil Fruit that affords him the ability to create, manipulate, and transform into light. In the English version of the show, the fruit is referred to as the "Glint-Glint Fruit," which Kizaru consumed during his early forties. As a result of the Devil Fruit, Kizaru becomes a "Light Human," enabling him to move at the speed of light and utilize reflection-based transportation. Remarkably, Kizaru deems Luffy's Gear 2 mode as "too slow," given his capacity to travel at the speed of light and unleash powerful energy beams from his fingers, leading to devastating assaults on his opponents.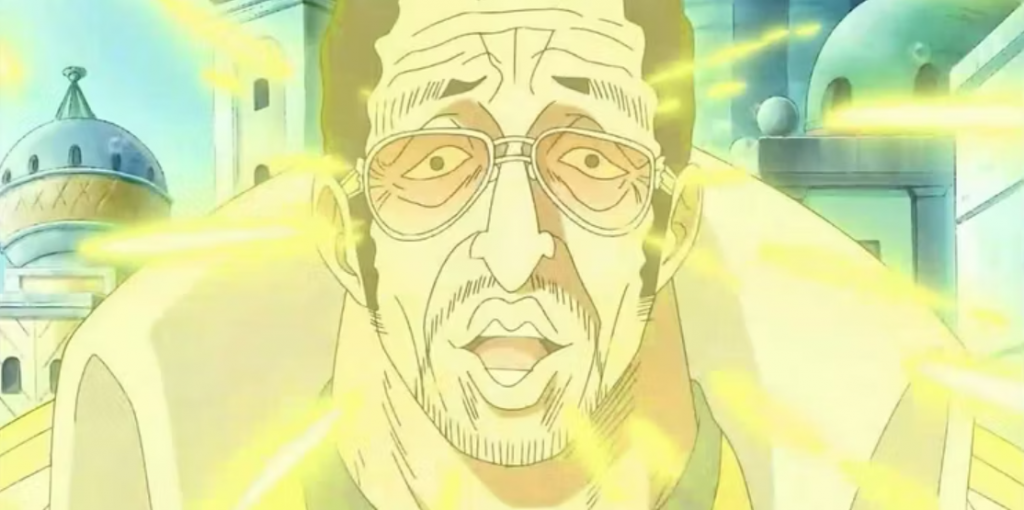 Kizaru employs his light-based powers in an attempt to impede the Heart Pirates' efforts to rescue Luffy and Jinbe. Given the versatile properties of his Devil Fruit, Doctor Vegapunk conducts research on it and replicates Kizaru's laser blasts, first in the Pacifistas and later in Seraphim. This technology subsequently influences Franky of the Straw Hat Pirates and Queen of the Beast Pirates. During the time skip, Franky rebuilds himself using this technology, enabling him to generate beams by simply clasping his hands together. Additionally, Queen integrates this technology into his mouth, allowing him to project laser beams while transforming into his full brachiosaurus form.
Pika Pika no Mi Techniques
One of Kizaru's most recognizable moves involves him infusing his foot with light, adopting a stance similar to Sanji's, and releasing the light as a beam from the bottom of his foot, causing a colossal explosion upon impact with the target. Although the technique remains nameless in the series, the video game "One Piece: Burning Blood" appropriately labels it as "You're Dying Now." Moreover, Kizaru can generate light in his hands and reflect it off any surface, transforming himself into light and maneuvering to his desired location using the technique known as "Yata no Kagami." He initially utilizes this move against Scratchmen Apoo, then later against Rayleigh, making it one of his most potent techniques as it not only allows him to conjure light out of thin air but also attack from virtually anywhere.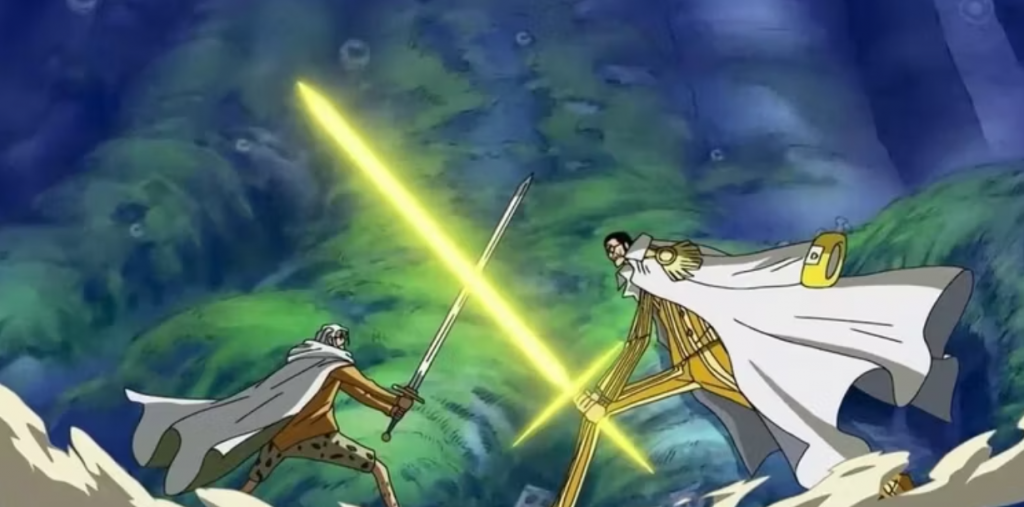 Kizaru's techniques include "Sacred Yata Mirror," named after the sacred mirror in the Imperial Regalia of Japan, and "Heavenly Illumination," known as "Amaterasu" in the "One Piece: Pirate Warriors" game. By pointing his index and middle fingers, Kizaru emits a powerful flash of light to blind his targets with "Amaterasu." He can also create a sharp and durable sword of light with the "Sword of the Gathering Clouds of Heaven," known as "Ama no Murakumo." Finally, Kizaru's devastating attack is "Comma Jewel of Eight Shaku," or "Yasakani no Magatama."
Kizaru can unleash a deadly attack called "Particle Acceleration" by crossing his arms and firing light particles with both hands. He can aim this technique at a single person or cover a wide area with it. All of his moves are influenced by Japan's Three Sacred Treasures or Shinto deities. In addition to his known techniques, two non-canon techniques are introduced in video games. The first one is "Heavenly Rock Cave," or "Ama no Iwato," where Kizaru fires a huge laser beam in the form of a monkey head. The second one is a combination of three techniques, starting with Yasakani no Magatama to launch the target in the air, then Yata no Kagami to attack them mid-air, and finally, Ama no Murakumo to slam them back onto the ground.
The Strengths and Weaknesses of Pika Pika no Mi
Kizaru possesses exceptional reflexes, enabling him to swiftly avoid incoming attacks by transforming into light and reappearing elsewhere. When he moves at light speed, he becomes practically invisible to his adversaries, except for those with advanced Observation Haki. Nevertheless, it takes him a few moments to achieve the velocity of light, making him vulnerable to formidable opponents who can capitalize on this shortcoming. Although ordinary fighters are unable to counter Kizaru's speed, someone as mighty as Silvers Rayleigh can halt him from gaining maximum momentum with a single sword slash.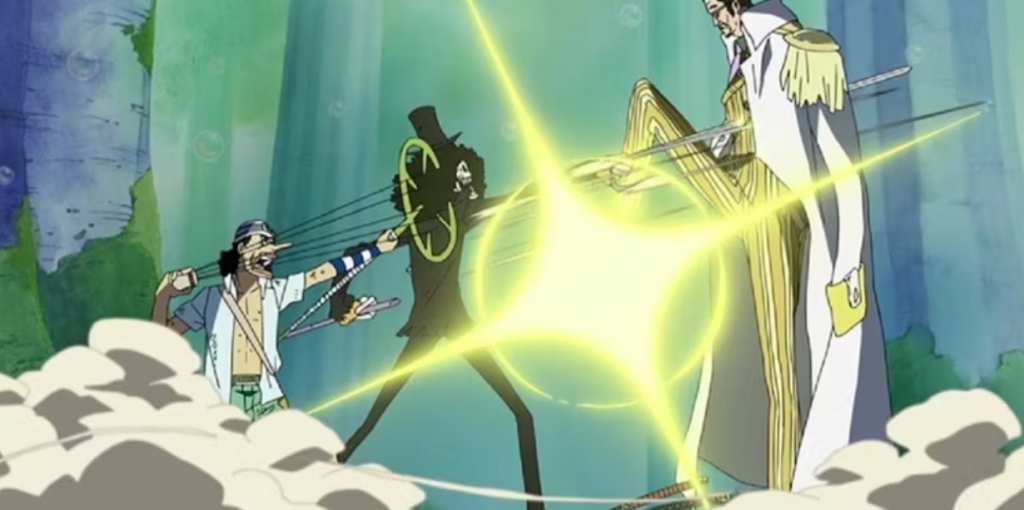 Except for Rayleigh, whose unmatched strength and Haki make him an exception, Kizaru has the ability to terrify everyone in the Sabaody Archipelago. However, as a Logia user, he is highly susceptible to attacks infused with Haki. Furthermore, Kizaru's attacks, such as his laser beams, can only move in straight lines due to his nature as a light human, making it simple for swift opponents to evade them. In addition to a few drawbacks, Kizaru also shares the same weaknesses as other Devil Fruit users in One Piece, namely seawater and sea prism stone.