It turns out that the evil characters that populate the Marvel universe are just as important to the continued success of Marvel Comics as their heroic counterparts. In spite of the fact that they seek to dominate the planet or bring about the end of the universe, characters like Doctor Doom, the Green Goblin, and Thanos, along with a countless number of others, are now considered to be icons of popular culture. When discussing infamous Marvel villains, it becomes immediately evident that not all of them are created equal in terms of their strength level. This is a point that cannot be emphasized enough. Even if some of them are tough, some of them are crafty, and some of them are deadly, the good guys are in danger from all of them in some way.
Galactus made his first appearance in the pages of Fantastic Four #48 in December of 1965. The comic book luminaries Stan Lee and Jack Kirby were responsible for creating Galactus. Galan was a humanoid who lived in the sixth iteration of the multiverse. His homeworld of Taa was put in jeopardy due to a catastrophic cosmic catastrophe known as the Big Crunch. Galan was born in this iteration of the multiverse. Because of his merger with the personification of the Sixth Cosmos, which transformed him into the being known as Galactus, he was able to miraculously survive it and become the being known as Galactus. In this guise, he would eventually prove to be quite a pain in the side for a number of Marvel's heroes, making effective use of the incredible powers he possessed.
In reference to the amazing extraterrestrial skills that Galactus possesses, the following is the information that you need to know about them.
Galactus boasts the near-limitless Power Cosmic
Galan of Taa, in his guise as Galactus, possesses the legendary Power Cosmic, which translates to him being a being with an almost unfathomable amount of power. Not only does the Power Cosmic grant him a laundry list of abilities that have made defeating him a difficult task for the Fantastic Four, Thor, and other heroes in the decades since his print debut, but it also imbues him with knowledge of the universe that is unparalleled, and it acts as a bargaining chip for his Heralds, which are beings that help locate planets for Galactus to devour (hence his "Devourer of Worlds" nickname), often in exchange for some of the Power
First and foremost, Galactus is able to change his physical size at will and hover in the vacuum of space, both of which make it much simpler for him to consume the Life Force that is contained within planets and stars. He can bend matter to his whim, generate unbreakable force fields, open wormholes to nearly any destination, teleport, create beings out of thin air, and even resurrect dead ones with relative ease, all with the full strength of his completely unequaled might. In addition to being a proficient telepath, he possesses superhuman levels of strength and durability, as well as immunity to illness and any and all poisons. To put the odds in your favor, to speak.
How does one defeat Galactus?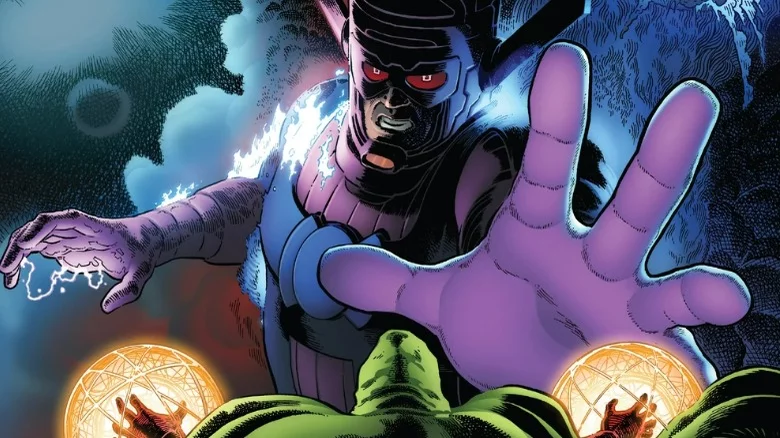 When all of these factors are considered, it is easy to understand why so many people in the Marvel world believe that Galactus is one of the most powerful and terrible beings in the entire universe. It is nearly difficult to defeat him in a one-on-one confrontation because he is practically all-knowing, he possesses nearly every talent that someone could possibly require, the only thing that can stop him is his imagination, and he is limited only by his own creativity. However, this does not mean that Galactus cannot be defeated, as evidenced by the fact that this feat has been accomplished numerous times in the past. As it turns out, the one thing that has come to define him is the thing that is considered to be his greatest weakness: his appetite.
It should come as no surprise that controlling such a vast array of talents does not come without a cost, and as was said previously, Galactus needs to keep his energies up by nibbling on the Life Force of planets and stars in order to maintain his strength. In the event that this does not occur, his strength will decrease, and it will require an increasing amount of effort for him to use his powers. In issue #243 of "Fantastic Four," which took place when Galactus sought to consume the Life Energy of Earth, the titular team and its friends made full use of this situation. They were able to defeat the greedy villain after a brief battle and with the help of some of Doctor Strange's more traditional magic just in time before it was too late.
Galactus will be remembered as one of the most iconic villains to ever appear in Marvel Comics throughout the course of time. Even though it would be easy to attribute that position to his unique clothing or the stories he participated in, his broad list of powers deserves at least some of the credit as well.