Many people have their own opinions on their favorite comic book movie. Many people will argue tooth and nail for what is the BEST comic book movie, even though the answer is OBVIOUSLY The Rocketeer. But we aren't ranking things by best or favorite today, but by most important. What were the most impactful, influential, important comic book movies of all time?
Note: we are talking about this on a grand scale, and since we're measuring influence, don't expect anything from the last four years to make this list. Deadpool or Guardians of the Galaxy might very well change the entire comic book movie landscape, but it's far too early to tell. Oh, by the way, totally was not kidding about The Rocketeer. The Rocketeer is rad.
                                                  Source: superherohype.com
10. Blade
An entry you probably didn't expect, but really should have.
Blade is crazy important to comic book films as a whole and to superhero movies specifically. At the time of its release, we were at a lull in comic book centric properties being filmed. Which was crazy, because this was around the same point that decent looking CGI had made some of the crazier visuals possible for the first time.
And with Blade, people realized that fact. The film wasn't really a superhero movie, but it proved that movies based on Marvel comics properties could definitely work and be successful. In the wake of that success, films like Spider-Man and the first X-Men film went into production.
This kick-started the first superhero movie boom of the 21st century. Which in turn lead to the second big boom and the birth of the MCU. A good movie with a tremendous impact.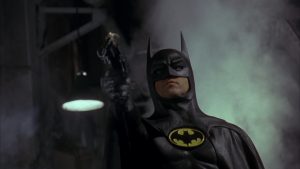 Source: colider.com
9. Batman '89
Well, here's the progenitor of the "˜90s comic book movie boom, and the proof that a more serious (but not too much more serious) Batman adaptation could be made.
But, of course, that was because Warner Brothers learned the lesson they would forget and Marvel would learn more than a decade later: Pick your director carefully. But before Marvel was asking Shakespearean directors to helm Thor and putting the guy behind The Rocketeer in charge of Captain America, Warner Brothers was handing the Dark Knight Detective over to one of our more visually interesting directors.
While his last couple of films have been disappointing, Tim Burton has incredible potential within him. Even if his '94 film Ed Wood wasn't one of my favorite movies of all time, I'd still call him someone who has regularly made great movies. And his Batman is the perfect blend of source material inspiration and original vision.
Plus, give it up for Danny Elfman's score. That main theme is the best Batman theme we're ever going to get.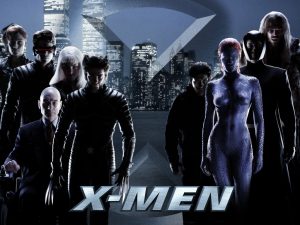 Source: nerdreactor.com
8. X-Men
Remember I didn't say the BEST movies, I said the most important ones.
That first X-Men movie may not hold up that well but""well, okay, it might not hold up at all, but it is still an important part of the landscape of superhero cinema. The visual aesthetic shaped the costume designs favored for quite a long time afterwards.
Not even counting the fact that the franchise would go on to be a superhero movie frontrunner for a long time, the film is still important. Casting seriously talented actors like Patrick Stewart and Ian McKellen really brought the genre to new heights that would be the norm for the foreseeable future.
An okay movie, but one whose success opened the doors for much better ones.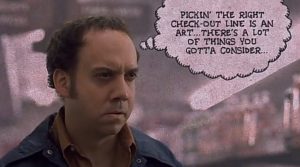 Source: inavejar.wordpress.com
7. American Splendor
This list's honorary representative of the "comic book movies that aren't superhero movies" category.
American Splendor is the true life story of cartoonist Harvey Pekar, based on his own works. The film was nominated for tons of awards the year of its release, even nabbing AFI's movie of the year award. A critical darling, Splendor showed that "comic book movie" didn't necessarily mean capes and tights. It also gave a better look at the kind of anti-establishment cartoonists populating America's underground comics scene.
Pekar was a public figure with his own weird charm to him, and his appearance in the movie alongside Paul Giamatti playing him is surreal and wonderful.
Plus, Giamatti is great even on his own. Like, it's hard to play someone when the person you're playing is ALSO IN THE MOVIE, but he pulls it off effortlessly. A wonderful movie, and one that is most assuredly worth a watch.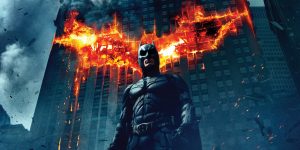 Source: screenrant.com
6. The Dark Knight
Well, of course this was going to be on here.
While it's not my personal favorite comic book movie, I'd have to be an idiot to not include it on a list of important films in the set. After all, this is the closest superhero movies have ever gotten to awards bait. Successful awards bait too. The Dark Knight is a wonderful film that deserves the praise it gets. And while its influence has been arguably a negative one (attempts to replicate its darkness in tone have led to some low points for comic book cinema), that isn't really the movie's fault.
It does something very well that many people would later fail to replicate. That should be a plus, not a negative. Plus, you know, Chris Nolan is an incredibly talented director capable of getting great performances and incredible shots.
A skilled filmmaker made a great movie, what a surprise.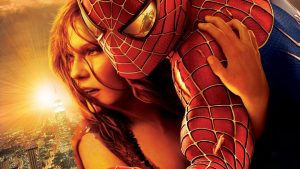 Source: youtube.com
5. Spider-Man 2
Let's look at the movie that taught us how superhero movie sequels could work.
Yeah, there'd been sequels before, but this one was the gold standard that all others would attempt to follow or surpass. Sam Raimi's Spider-Man trilogy was revolutionary as a whole, but it's the highly praised sequel that people point to as the best of the series. And it's easy to see why. All filmmaking is hard, but to some extent the origin story is the easiest chapter. Establish the character, set the stakes, big happy resolution, you know the drill. But for the sequel, you need escalation, you need development, you need to one-up your first outing. And Spider-Man 2 does it with style.
Clever, fun, and exciting, the film swings with "˜60s influence and the air of a Romita issue of Amazing Spider-Man. The train scene alone is one of the most beloved scenes in superhero cinema.
And to be honest, any scene in which regular people step up as one to help protect a superhero in need makes me at least tear up. I got misty writing that sentence. Jeez, you hand me a copy of Grant Morrison's JLA: World War 3 and I will be sobbing in a puddle in five minutes.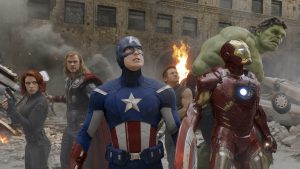 Source: marvel.wikia.com
4. The Avengers
This is the newest film on this list but I couldn't NOT put it on here.
The success of The Avengers isn't just important to the comic book movie industry, but to the film industry as a whole. In the tech world, a common term you might have heard before is disruptive. It means a technology that is so revolutionary, it forces everything around it to change immediately. Don't believe me that The Avengers disrupted blockbuster cinema? Then I have two words for you: Cinematic. Universe.
True, Iron Man was the start of the MCU, but until 2012, no one knew whether or not the concept would work. Within weeks of the film's release, The cinematic universe boom began. DC's Man of Steel became the first chapter of a slate of films, Universal announced a Monster Cinematic Universe (we'll see if that one ever actually happens), eventually stuff like King Kong and Godzilla even got the same treatment. Without this movie's success, none of those would have come to fruition.
So, depending on your feelings, feel free to thank/blame The Avengers for the DCEU.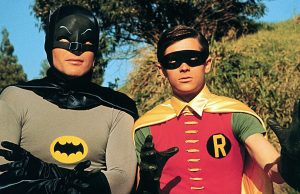 Source: screenrant.com
3. Batman: The Movie
The 1966 Adam West Batman show is one of the most important pieces of superhero media of all time; you can fight me on that one.
It's also fantastic and hilarious on purpose. And I can't put the whole series on a list of movies because, y'know, it's not a movie. But I can put the feature film they made during the series on this list. A: This movie is so skillful in its comedy. "Some days, you just can't get rid of a bomb," is one of the best lines in the context of the decade.
I mean, I've already explained how Batman '66 saved Batman as a character from disappearing into obscurity, but for those who haven't read all my previous articles, because I don't expect you to, I'll recap. Batman comics in the fifties and sixties were selling incredibly poorly, and nearing cancellation. The '66 TV show propelled the character back to relevance and success.
If you like Batman, you owe that silly sixties show and movie a debt of gratitude.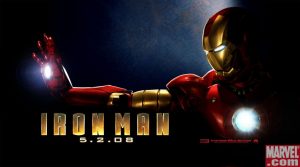 Source: lonepinefilmhistory museum
2. Iron Man
We can't even begin to discuss the recent history of comic book movies without discussing the impact of the MCU.
There are several movies on this list that are "format-setters." Movies that became the gold standard for "how to make a superhero movie" for the years to come. Iron Man is one of these. It isn't the best of the pre-Avengers Marvel films (That would be the near-perfect Captain America: The First Avenger) but it was the how-to guide to how to make an MCU movie.
Because, let's be honest, I love the Marvel movies and I think they're fantastic, but they've basically made Iron Man over and over again, with a couple exceptions. In terms of tone, plot structure, and general atmosphere, they figured out what worked and stuck to it.
And who can blame them?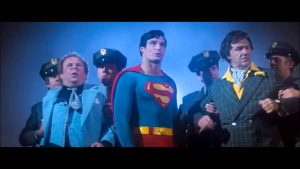 Source: youtube.com
1. Superman: The Movie
If you've liked any comic book movie made since its release, you owe a debt of gratitude to Richard Donner's Superman.
I've talked about a couple "format-setting" movies, that everyone after copied, and this is the grandfather of "˜em all. There were attempts at superhero movies before Superman '78, but other than Batman '66 – which was basically a long episode of the show – none of them especially worked. No one had really figured out how to make a movie based on superhero comics yet. Someone needed to show everyone how it was done.
And Richard friggin' Donner did.
Seriously, Richard Donner is a criminally underrated director, and Superman is maybe his best film. An incredibly skillful movie that captures the tone of the comic book like no other, 1978's Superman set the kind of light, subtly comedic tone that pretty much all superhero movies for the foreseeable future would stick to. Also, come on, Christopher Reeve is to date the best Superman of all time. Seriously, if you want to see where comic book movies came from, head on back to 1978.
After all, it's true what they said: "You will believe a man can fly."