Marvel's God of Mischief has stood by his name in an incredible manner when he granted Deadpool with the powers of Thor, the God of Thunder.
Deadpool's role within the Marvel Universe is highly adaptable, as the character can fit seamlessly into various settings and scenarios. Despite being closely linked to the X-Men, he has established both friendships and animosities with other heroes and villains. In fact, in an early story arc, he faces off against one of Marvel's most powerful characters.
During a time when Loki was still a villain trying to defeat Thor, he recruited Deadpool for an unexpected mission. Surprisingly, Loki granted Deadpool one of his most significant power boosts, providing him with a replica of Mjolnir and all of Thor's abilities.
How Loki Gave Deadpool the Powers of Thor
During a transitional period for Deadpool, issues #36 and #37 of his solo series (written by Christopher Priest, with artwork by Paco Diaz, Andy Smith, Jim Calafiore, Mark McKenna, Shannon Blanchard, Sharpefont's PT, Jon Holdredge, and Rich Perrotta) showcased his evolution from a villain to a more heroic, yet still chaotic and occasionally cruel, mercenary. These issues also marked the beginning of Deadpool's unexpected romantic relationship with Death, which infuriated Thanos. As Deadpool's impact expanded, he became embroiled in a plot by the pure villain Loki to defeat his brother Thor. In an effort to convince Deadpool to join him, Loki briefly captured Death and offered her full release in exchange for Deadpool's cooperation, claiming to be his father.
Amidst a time when Thor was rendered powerless without his hammer, Loki orchestrated a diversion that allowed Deadpool to retrieve Mjolnir. By manipulating an illusion, Loki fooled both Thor and Deadpool into thinking that the latter was now worthy of the hammer. With his god-like abilities now in tow, Deadpool unwittingly became entangled in Loki's plot to take Thor's life. However, Deadpool eventually uncovered Loki's true intentions and restored Thor's powers, ultimately thwarting Loki's plan.
Deadpool Held His Own Against Thor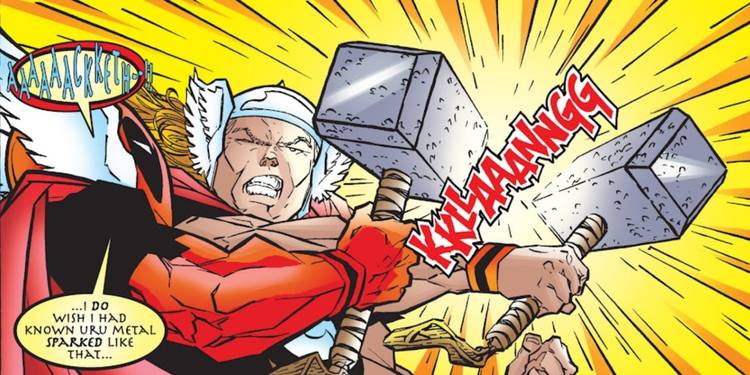 Deadpool's encounter with Loki had a transformative effect on the Merc with a Mouth, imbuing him with Asgardian powers and granting him the use of a Uru metal hammer. The hammer's power enabled Deadpool to hold his own against Thor in battle, but instead of honing his skills, he squandered his newfound strength on frivolous activities like eating tacos and hitting on women. Despite his best efforts to protect Death from Thor's wrath, Deadpool ultimately suffered a crushing defeat and had his head squashed between two Uru hammers. This tragic outcome served as a cautionary tale about the dangers of overestimating one's abilities, even with powerful Asgardian upgrades.
After waking up, Deadpool found himself back to his invulnerable self, stripped of his Asgardian abilities. Nevertheless, it's an amusing footnote in the character's history. Unlike other Marvel heroes who have wielded Mjolnir across the multiverse, such as Captain America, Storm, and Rogue, who are known for their leadership and moral principles, Deadpool's power boost came from an unconventional source. Still, it's perhaps for the best that he doesn't hold such power, considering how he misused it.