One of Aquaman's biggest foes is getting ready to take the spotlight. As reported by Comic Book Resources, DC has announced a Black Manta comic book miniseries. The book is set to hit shelves in September. 
The miniseries, simply titled Black Manta, will be written by Chuck Brown with art by Valentine De Landro. This marks the first time in the character's long history that he will lead a solo title. It comes on the heels of the villain's appearance in 2018's Aquaman movie, which went on to become a massive hit. 
Some initial artwork has been revealed as well, which we've included below for you to check out.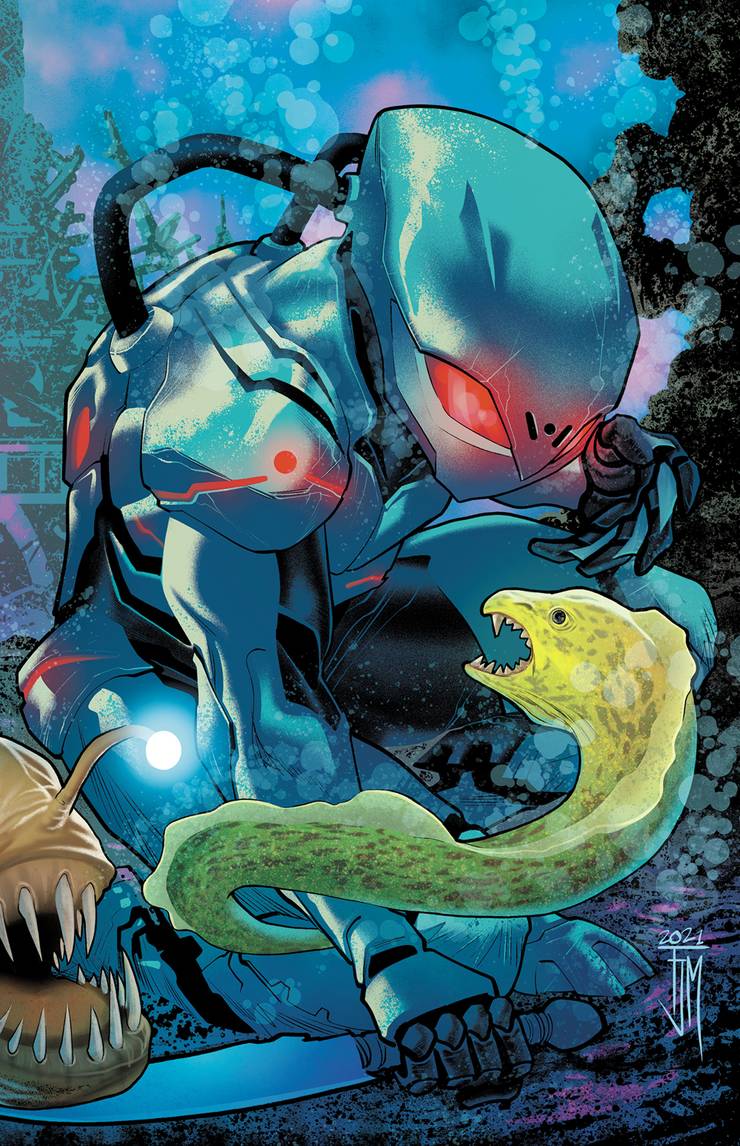 Here is the synopsis for Black Manta #1. 
"Following his appearance in the Aquaman 80th Anniversary 100-Page Super Spectacular, the scourge of the seas now gets his own series. Black Manta is chasing a rare metal with incredible powers, and he's not the only one who wants to get his hands on it, friend and foe alike! Torrid is a former ally who has escaped hell (literally!) to answer the call of the metal, but can Manta trust her? Hopefully so because he might need her help to fend off Devil Ray, a new competitor for the role of the biggest villain underwater."
This character has been a part of the DC Comics canon for some time. Black Manta originally debuted in the pages of Aquaman #35 back in 1967. He has primarily been an Aquaman antagonist but has occasionally shown up elsewhere. However, he is finally getting the chance to take center stage with this new series. 
Meanwhile, Warner Bros. and DC Films are gearing up for Aquaman 2. Returning director James Wan recently revealed that the title will be Aquaman and the Lost Kingdom, with pre-production underway currently. Aside from Jason Momoa returning as Arthur Curry, Amber Heard will also be back as Mera. As it relates to this new miniseries, Yahya Abdul-Mateen II will indeed be reprising his role as Black Manta as well. 
Aquaman was released in December 2018. It garnered favorable reviews but was a sensational hit with audiences. Momoa had previously appeared as Aquaman in Justice League and the hero proved to be a breakout star. The film earned $1.13 billion at the global box office. That is good enough to make it the highest-grossing DC movie of all time. The previous record holder was Christopher Nolan's The Dark Knight Rises. 
Black Manta #1 hits shelves on September 7. 
What do you think? Are you excited for the book? Do you think this is the right time for the villain to take the spotlight? Join in on the conversation over on Facebook or Twitter!