Calvin and Hobbes have been ruling the comic world since the 80s and even today, they continue to remain popular amongst adults and kids.
Ever since 1985, our beloved comic strip characters Calvin and Hobbes have been together through thick and thin, have been through so many phases, maintaining an era of healthy and long-running gags and jokes. The most amazing thing about their comics is that the running gags pop up again and again, thus making it almost impossible to forget them.
It feels like yesterday but it's hard to believe they started publishing back in the 80s which was four decades ago! But young reads are still very much inspired and lured by their beloved comic strips. Those who have been associated since the 80s feel nostalgic reading them. The sense of imagination that their comics portray is so engaging and there is never a dull moment, thus making them the most loved comic strips of all times.
#8 Calvin's Snow Art Gets More And More Outrageous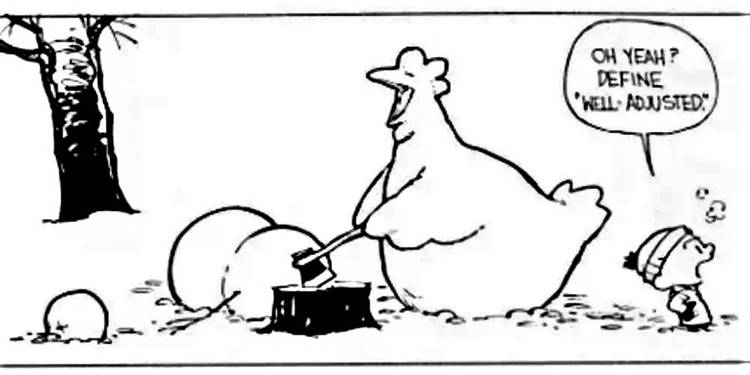 Calvin's iconic snow art took a toll on everyone's heart who has seen it right from the start. His sense of imagination is so wild and outrageous that the snow art is still so much afresh in the mind of his fans. They have fond memories of making snow people only because of him.
Calvin's imagination and creativity is beyond words. The scene where there is a large-scale battle where snow people can be seen with grievous injuries and in varying states of distress is the most memorable scenes in the comic. Some other memorable gags like a snow chicken cutting the head off a snowman is just beyond words. His snow art went over and above what any kid could ever imagine.
#7 Calvin's Dad Tells Some Wild Bedtime Stories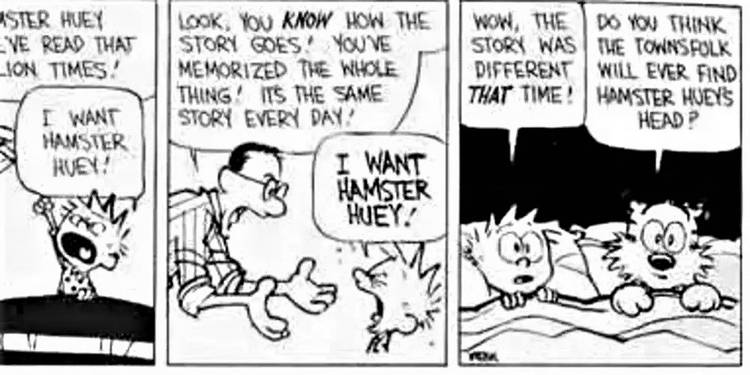 Everyone who follows Calvin and Hobbes knows how frustrated was Calvin with his dad's bedtime stories. Even Calvin tried to play around his stories sometimes by introducing some wired plots to spice up the story. One such example was when he wanted to see the three bears eat the three little pigs. Calvin's dad played along and narrated it.
Calvin's dad was a great storyteller but sometimes he himself tried to change the plots of famous stories. One such famous gag was when he was reading Hamster Huey and decided to give it a whole new face. His plot left Calvin and Hobbes horrified and wondering what happened to Huey's head. Things were always fun and creative when it came to bedtime stories.
#6 Calvin Tries To Get In Santa's Good Graces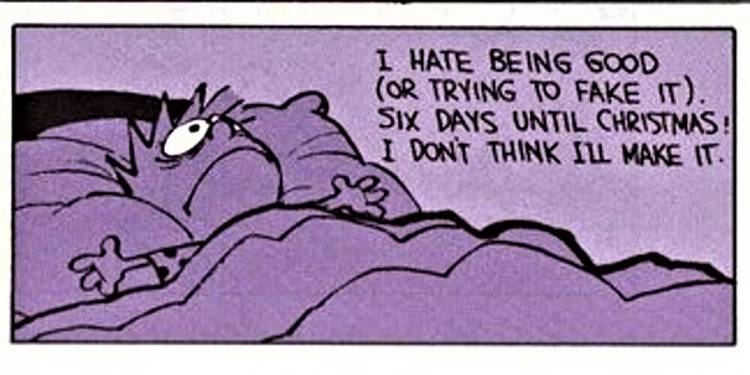 Readers of Calvin and Hobbes know that he was just so scared during the holiday season. He knew that his misbehaviour would lead to not getting any gifts from Santa. He became so anxious during this time that he would try to find some way of being good to please St. Nick. He would try to do some good things for others.
So, what he did was try to explain why he did something wrong or swearing that he hasn't done anything. This would be his constant behaviour around holiday season. The entire character change of Calvin was so much fun to watch! And once the holidays were gone, he would go back to being normal.
#5 Hobbes Unexpectedly Ambushes Calvin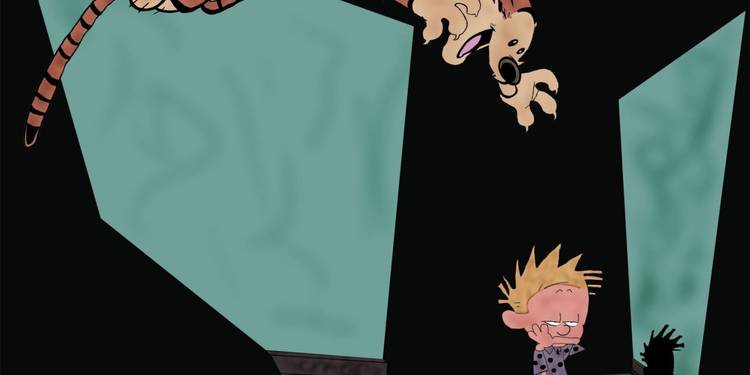 Calvin and Hobbes were usually inseparable but sometimes they end uo being in a fight. They would extend their limits and were seen rolling around, crashing into things, being too crazy. Then someone like Calvin's mom or dad would intervene to stop the mess.
Cutting this fight and Calvin finally being seen fighting with a stuffed animal is the funniest part of the comic. This gag was so loved by the readers because even Hobbes was portrayed as a fighter tiger during this wrestling scene.
#4 Calvin's Repeated Attempts At Flight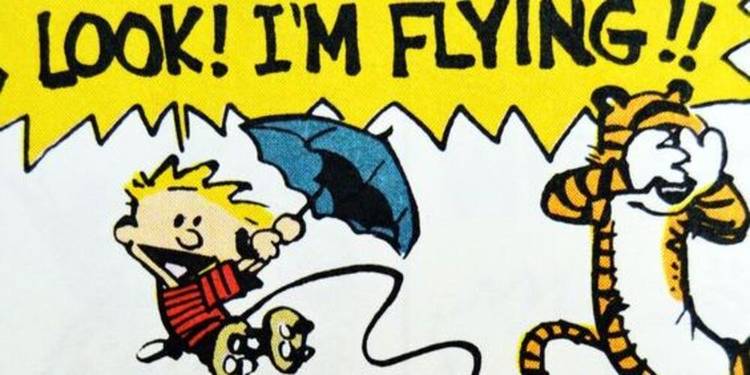 Calvin was always a very free child who looked for ways to express himself. He was never confined to himself and that's his best trait. His brave and determined behaviour towards things made sense that he was attracted towards flying. Although he could not succeed in flying but it was still fun to watch him try doing it from the back of his wagon with an umbrella.
#3 Calvin And Hobbes Have Calm Discussions In Dangerous Situations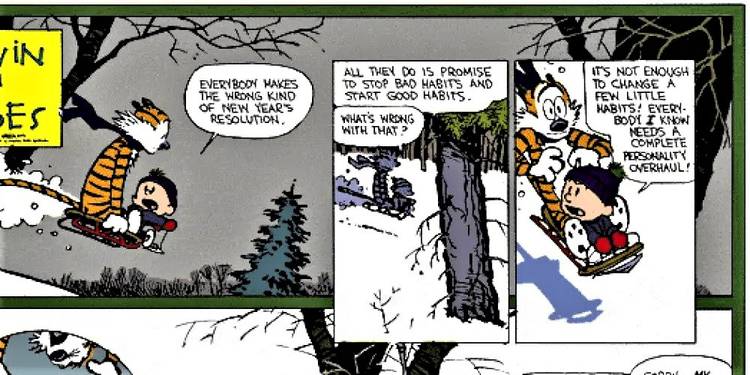 Calvin and Hobbes had the best time during winter season because they made snow art together and sped down the hill sometimes. Surprisingly, they also engaged in calm discussions during dangerous situations.
This would happen while they are speeding down the hill when they haven't even landed on the ground. They would talk about the meaning of life and other philosophical thoughts like New Year's resolutions. Their pair was absolutely the craziest and weirdest!
#2 Calvin's Inability To Take A Good Picture
Calvin's parents always struggled with him taking a good picture. He would never pose the right way and always make silly faces. He was truly a very tough kid to raise.
He would eventually get irritated at his picture being taken frequently because they never came out good. Sometimes his hair wasn't combed, sometimes he would make silly faces, having a good picture was an impossible task. The pictures came out wacky and his parents were seen struggling all the time.
#1 Spaceman Spiff And His Travels To The Planet Zog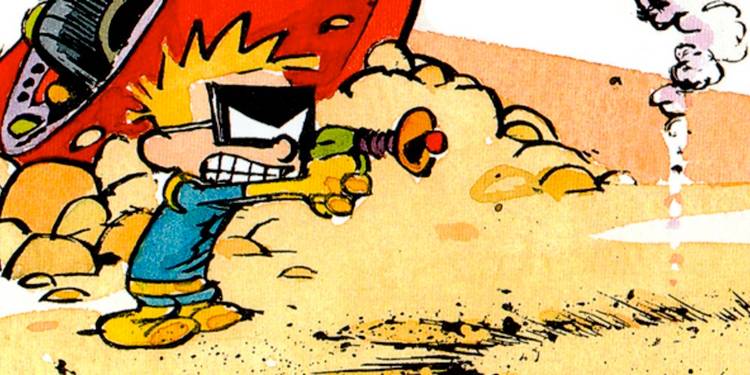 Calvin's alter ego was Spaceman Spiff which used to shake thing up for his character. There was some sort of space adventure that drove Calvin crazy. Having this alter ego usually plays with the characters mind and makes it all the more interesting.
Spaceman Spiff, Calvin's alter ego went on a futuristic space adventure exploring the outer space. This would also include battling aliens on the planet Zog. He also had a futuristic gun called Zorcher that could be used for "shake and bake." The ridiculous features made the comic strip very interesting.