The second half of The CW series The Flash is few days away from kick-off. What makes you excited about the 20 January, 2015 to onward section of the series? Is it the expectation to watch the Reverse-Flash mystery gets solved? Is it the return of Mark Hamill as the Trickster? Is it the arrival of the first female villain in the series? That of Weather Wizard? Or Time Travel?
It's most likely that your answers will be picked from these options, isn't it? But what about love in the series, guys? What about Barry and Iris developing as a couple? If that's something you're looking up to, then don't worry at all! You can get confirmed by what you read and see now that there's a good bit of romantic breeze setting up to blow towards the DC and Warner Bros superhero television series!
To What Extent Has Love Developed Between Barry & Iris?
From the beginning to end of first half of The Flash, love between Grant Gustin's Barry Allen and Candice Patton's Iris West has been entirely one sided. It is our superspeedy superhero who's been love-sick, but not the lady he loves! We know that Iris has got a boyfriend and none other than Rick Cosnett's Eddie Thawne, the man who hates Barry and is a contender for the face beneath the Reverse Flash suit!
In the midseason finale episode, The Man in the Yellow Suit, we've seen our Barry confessing his love to Iris. But what did the lady do? She didn't utter a single word! She didn't seem to be happy at all hearing all that from her best friend. We just saw tears gliding down her cheeks hearing what Barry says. To this extent, love has actually developed in The Flash! Here's the confession scene for your better recall!
To What Extent Is Love Surely Developing Between Them?
Those who've read comic book must know that Iris West ultimately falls in love with The Flash. But when that is to happen in the CW series? Is it planned for this season or some later seasons of The Flash?
If such questions are roaming around your head, you can get confirmed that Iris will be falling in love with Barry this season! A set of leaked photos from 7 January shooting at Crab Park in Vancouver, Canada, reveal Barry and Iris sharing a romantic kissing scene, not any kind of forced stuff! Well, we don't know yet for which episode they had been shooting, but that's not obviously for season 2! Here's the leaked photo for you!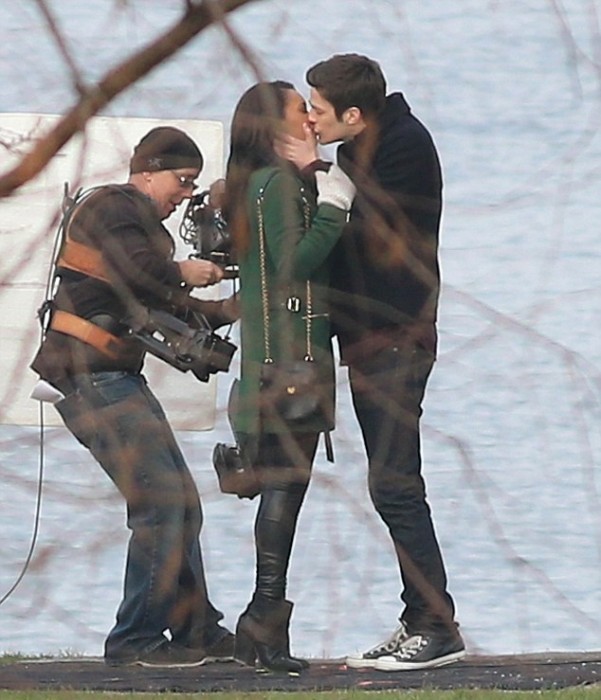 Does that mean Iris is going to break up with Eddie adding more hatred for Barry in his heart? Don't forget to share what you feel, guys!