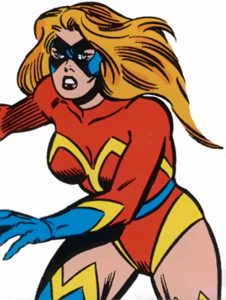 Source: writeups.com
9. Ms. Marvel
No, not the one you're thinking of. Yeah, the Carol Danvers one? The one going by Captain Marvel now, the one who has a movie coming out in which she's played by Brie Larson? Yeah. Not her.
The other one.
Sharon Ventura was a military brat who eventually found work as a movie stunt person. She was a notable part of the Thunderiders motorcycle stunt squad, where she met Ben Grimm, aka The Thing, and the two shared unmistakable chemistry. Ventura wanted to get closer to Grimm, so she endured the process of being augmented with super powers so she could go into Unlimited Class Wrestling alongside Ben. However, things weren't permanently fixed for Sharon, as she and Ben were assaulted by cosmic rays after she got herself into the Fantastic Four.
This caused Ben to mutate even further, and he became a more horrendous version of The Thing, while Sharon became a female version of his first-ever form as The Thing. She decided to call herself She-Thing. After some time with the team, she was replaced with a Skrull impersonator, turned evil, and got thrown in prison. Complicated life for poor not-Carol Danvers.