An "Event" comic is a term usually used to refer to a big crossover featuring characters from all sorts of comic books teaming up or facing off due to some great threat. "Civil War" was an event. Both "Infinity Gauntlet" and "Infinity War" were events. Now it's time to tackle the best events from the company that is best AT events, DC Comics. DC created the event and they made some great ones. Here's my top ten.
10. Bloodlines
Bloodlines was a crossover, mostly taking place in the DC Comics Annuals for the year, that intended to introduce a bunch of new characters, with the hope some of them would stick. Unfortunately, since this was the "˜90s, we got characters like Gunfire, whose power was that he could basically turn anything into a gun, and Edge, who could throw blades.
So why is it on this list, if it wasn't all THAT great? Well, firstly because I couldn't track down and read a copy of Legends, which is supposed to be pretty good, and secondly because the one character Bloodlines created that stuck was Tommy Monaghan, AKA Hitman AKA one of my favorite comic book characters of all time and protagonist of one of the best things DC has ever published. That's the deal, you create something as amazing as Hitman, you get a spot on the list.
Not, like, a high ranking spot, but a spot nonetheless.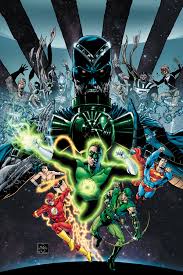 9. Blackest Night
Well, it's about time we had our first Green Lantern event. Blackest Night is a superheroes vs zombies story where the zombies are also superheroes. And yeah, that's a pretty great idea.
In the story, a mysterious force starts sending out Black Lantern rings, which find and resurrect dead heroes with the intention of murdering the hell out of all the living ones. It's a pretty good superhero horror story that turns into a big fun space-y punch-em-up by the conclusion. But, y'know, that's comic books for ya.
Here's the thing: Any comic that contains a bunch of color coded heroes punching a character who represents the abstract concept of death right in his face is fine by me. Hell, that's two degrees off just being Power Rangers.  It does falter at the end and many of the tie-ins were more than a little meh, which is why it isn't higher on the list. But, with a high-concept premise and some fun punch-y stuff, it earns a spot on the list for certain.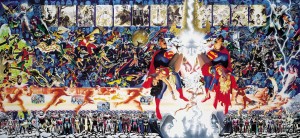 8. Crisis on Infinite Earths
Gosh-darn if that isn't the comic book-iest title for any story ever, I don't know what is.
A being called the Anti-Monitor (remember that name, it'll come back later) decides he wants to destroy all of space and time, and the heroes of every world across multiple alternate dimensions have to stop him. Over the course of the story, loads of people and worlds die, we get a couple classic heroic sacrifices, and things change forever for the DC universe.
Crisis may have been the first event and may have revitalized the DCU, but let's all be honest, it is incredibly cluttered. I have read more DC Comics than should be legally allowed, and even I have trouble identifying everyone. But on the positive end, Crisis also contains the greatest super hero death of all time. That being the scene in which Barry Allen, AKA The Flash literally runs himself to death to save all of reality. No super hero death can ever measure up to the scope of that. Crisis is fun and innovative and grand, and that overcomes its flaws. It is BY NO MEANS an entry level DC event. This thing is a 300 level course and you get out what you put in.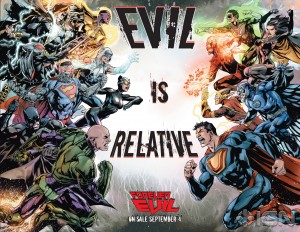 7. Forever Evil
Here's one of the few post New 52 crossovers I like, Forever Evil. In this one, an evil alternate universe version of the Justice League known as the Crime Syndicate invades and imprisons the Justice League inside Firestorm before pretty much conquering the world. It's up to a bunch of supervillains plus Batman (because you can't have an event without Batman) to save the world.
This series has some really great moments for Lex Luthor, Bizarro, and Captain Cold, all of which I appreciate, but it lacks the blockbuster feel of most other events on this list. I can only really think of one real fist-pumping moment in the whole miniseries, and that moment excites me only because I really really like Captain Cold. Although, to be fair, the Luthor/Bizarro relationship is incredibly well developed, and when I throw in the fact that Forever Evil gave us both Rogues Rebellion and (to a lesser extent) Grayson, it definitely earns its place on this list.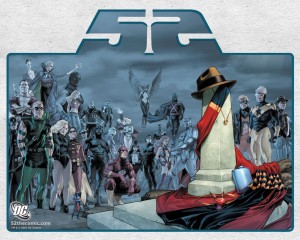 6. 52
52 might be one of the most impressive achievements in the history of modern comic books. For those who don't know, 52 was a weekly series that ran for one full year (or fifty-two weeks, getit?) in the aftermath of Infinite Crisis. It told the story of what happened in the DC universe in the span of one year, during which neither Superman, Batman, nor Wonder Woman were active.
The series was written by multiple A-list comic book writers, with each one taking on one of the book's many storylines. There was the tale of The Elongated Man, who struggles with finding a way to resurrect his dead wife. There was the arc of Steel and his daughter and their involvement with Lex Luthor's Everyman Project. The adventure had by Animal Man, Starfire, and Adam Strange as they try frantically to cross the galaxy to get home. The Question training former Gotham Central Detective Renee Montoya, the mad scientists of Oolong Island, Booster Gold's attempts to become famous and save the universe, Black Adam, Batwoman, and just SO much more. And the beautiful thing is that it all ties together to tell a complete story. And of all of them, I don't think there's a bad story in the bunch.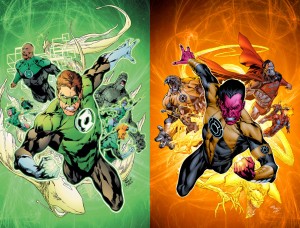 5. The Sinestro Corps War
The Sinestro Corps War is arguably one of the most influential DC storylines of the previous decade. It shaped what Green Lantern would be for the seven years since its release. At its core (heh, pun) it's a very simple idea: what if there were just a bunch of evil Green Lanterns?
Sinestro, who I've talked about a couple'a times already, recruits some of the most evil beings in the universe, from Superboy-Prime (who literally punched reality) to the Anti-Monitor (told ya he'd be back) and sics all of them and a bunch more power-ringed psychopaths on the Green Lantern Corps. This story was huge and impactful, but still remained tightly plotted.
It's scope and quality are what push it above it's follow-up "Blackest Night" for me, even though Blackest Night was a bigger story overall. Sinestro Corps is big and loud and fun and set up the "multicolored lanterns" concept that turned the next half decade of Green Lantern comics into the super space light brite war I loved.
  4. Night of the Owls
As for post DC Reboot crossovers, The Night of the Owls is a pretty goshdarn great one. Spinning out of the gloriousness that was Scott Snyder's Batman run, "Night" is really the second half of his inaugural Batman story arc, "Court of Owls."
In the first half, Bruce Wayne discovers an ancient, shadowy organization who seems to know Gotham better than he does. Which, if you're Bruce Wayne, is super-duper terrifying. After making themselves known, The Court sends their spooky assassins, The Talons, out into the night to murder key figures in Gotham City.
In a series of tie-ins to the main story arc, all the Bat-Family (from Robin to Nightwing to Batgirl) had to step up to defend the city. Honestly, this is 99% on here because of the strength of the main book, but the tie-ins make it an "event", sooo"¦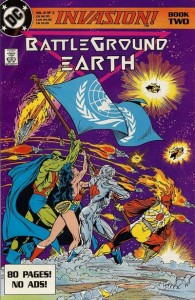 3. Invasion!
Invasion isn't good. Invasion is great. Invasion is so so great. Invasion is a dense three-part event, spanning something like two hundred and forty pages just in the main series.
In part one, a vast coalition of alien races decides that "hey, you know that "˜Earth' place, where all the superheroes are? Yeah, it's not fair that they get all the superheroes, so let's get rid of them all!" The story follows Adam Strange as he is trapped in the galactic space prison known as the Starlag alongside The Omega Men. After a daring attempt at a prison break and Strange's cosmic return to earth, we find he's too late to deliver a warning, as the invasion of earth has already begun. The aliens, led by the freaky-looking Dominators, demand the people of earth surrender all known superheroes under threat of total annihilation. After deliberation from the UN, the world responds via huge block letters in the front page of The Daily Planet: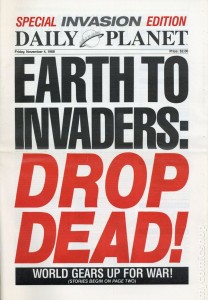 One of my favorite last pages of all time, by the way.
Issue two is all out war between the aliens and earth's heroes, with some wonderfully done action, culminating in the aliens' forced retreat. In the final chapter, the Dominators release an ultimate weapon: a bomb to poison most of earth's heroes, causing their powers to overload to the point of near death. A race against time ensues to find the cure and save earth's best and brightest. Overall, Invasion is pulse-pounding, intense, and fun. But it's also full of great character moments especially a fantastic little scene for Lex Luthor and some nice work with Amanda Waller and Maxwell Lord. It is so totally worth a read you'd have to be crazy not to.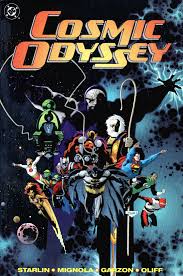 2. Cosmic Odyssey
Cosmic Odyssey contains a scene where Batman wears a trench coat over his Batman outfit. I know I have to talk about other aspects of it, but that ALONE should place it this highly on this list. As for plot, Darkseid (yes, THAT Darkseid) brings together a bunch of earth's space faring heroes (plus Batman) to stop an ancient force that threatens to destroy everything. On a journey to protect four key planets, the heroes set off across the galaxy.
Superman and Orion head to Thanagar where Orion's vicious personality earns him no friends. Seriously, Orion is such a jerkface he gets decked by Superman AND Batman in this mini. That's, like, approaching peak jerk face levels.
We also get a story with Starfire and Lightray, which may be literally the only time I've found either of those characters interesting. Darkseid and Etrigan get some visually amazing sequences, and Green Lantern John Stewart is changed forever by the horrors he encounters. Also, oh my god is the Batman/Forager storyline near perfection. Cosmic Odyssey is sprawling and fun and tense and excellent. And it would be the greatest DC crossover if not for"¦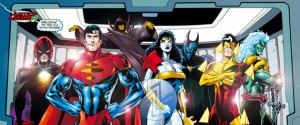 1. DC One Million
DC One Million is spectacular. The set up is simple: Justice Legion A, the heroes of the 853rd century come back in time to team up with our Justice League. But then things go wrong when the combined threats of Vandal Savage and Solaris the Tyrant Sun threaten the future and the past.
What's so great about DC One Million is that it is a tale that allows all the books it crossed over with to maintain their own tone and story while contributing to the greater whole. Starman 1,000,000 is all about legacy and the pressures of heroism, Resurrection Man 1,000,000 continues on to themes of death and immortality, and Hitman 1,000,000 is an entire comic book that apexes with the line "My God, I've turned my ass into a hand grenade".
Also, the Superman of the 853rd century literally punches through time and if that doesn't convince you this one is the best event DC has ever published, literally nothing will.