An "Event" comic is a term usually used to refer to a big crossover featuring characters from all sorts of comic books teaming up or facing off due to some great threat. "Civil War" was an event. Both "Infinity Gauntlet" and "Infinity War" were events. Now it's time to tackle the best events from the company that is best AT events, DC Comics. DC created the event and they made some great ones. Here's my top ten.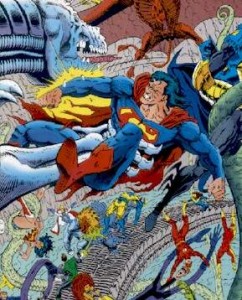 10. Bloodlines
Bloodlines was a crossover, mostly taking place in the DC Comics Annuals for the year, that intended to introduce a bunch of new characters, with the hope some of them would stick. Unfortunately, since this was the '90s, we got characters like Gunfire, whose power was that he could basically turn anything into a gun, and Edge, who could throw blades.
So why is it on this list, if it wasn't all THAT great? Well, firstly because I couldn't track down and read a copy of Legends, which is supposed to be pretty good, and secondly because the one character Bloodlines created that stuck was Tommy Monaghan, AKA Hitman AKA one of my favorite comic book characters of all time and protagonist of one of the best things DC has ever published. That's the deal, you create something as amazing as Hitman, you get a spot on the list.
Not, like, a high ranking spot, but a spot nonetheless.