Ah, the Silver Age, a peak time in comic book history. DC Comics was at peak wackiness, and Marvel was literally revolutionizing superheroes as we knew them. But if I had to pick the most fun comic series of the Silver Age…okay, I'd pick The Flash. But if I had to pick the WEIRDEST comic series of the Silver Age, I'd have to pick the Superman trifecta of Superman, Superboy, and Action Comics. Those are some strange, strange, stories. From lions to rainbows to space-mad apes, Silver Age Superman comics sure knew how to have fun. Let's take a look at them, shall we?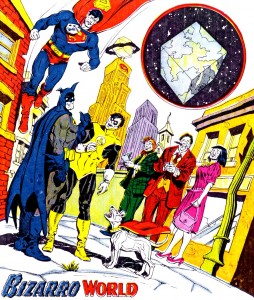 Bizarro World (Source DC Wikia)
10. Bizarro World and any time it shows up
Bizarro is a polarizing character. Some people like him a whole bunch and have a soft spot for the character. Others absolutely hate the hell out of him in every context. I honestly fall somewhere in the middle. I like him by himself but whenever multiple Bizarros and their backwards-talking planet show up, I get a headache and have to put the comic down. So when Bizarro and Bizarro Lois Lane leave earth and find a new planet they name Htrae, it becomes the first Bizarro World.
Bizarro builds a duplication device, because building a cloning machine is apparently a lot easier than mastering simple sentence structure. The new bunch of Bizarros comes up with the Bizarro Code, proclaiming, "Us do opposite of all Earthly things! Us hate beauty! Us love ugliness! Is big crime to make anything perfect on Bizarro World!" To be fair, that's less a "code" and more "a bunch of ranting proclamations", but whatever floats your boat.