Earth's mightiest heroes? Not so much. Sure, usually the Avengers do a pretty good job of keeping their membership to only the best and brightest, sometimes they let in someone they shouldn't. But over the years, those someones have started adding up. And so, submitted for your approval is my list of the worst Avengers of all time. And no, Hawkeye is not going to be on it, stop being dumb.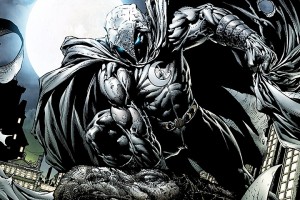 10. Moon Knight
Before anyone says anything, hear me out. I love Moon Knight. I love him oh so much. But, despite my passionate love for the character, he should NOT be an Avenger. Marc Spector aka Moon Knight was a mercenary doing less than legal work in Egypt. After betraying his villainous boss, Spector found himself abandoned and left for dead. When he stumbled upon an abandoned temple to Egyptian moon god Khonshu, he made a decision"¦ he would become a BAT!
Um, I mean, a knight. Of the moon. A "Moon Knight" if you will. "So what's the problem?" you ask, "that seems like a pretty standard superhero origin story." And you would be right if it weren't for one thing:
Moon Knight suffers from multiple personality disorder.
Yep, that's right, the Avengers drafted a psychologically unstable Batman and sent him off into the field. And what's worse is that they made him a Secret Avenger. Yeah, because a guy dressed like a bed sheet shouting at himself, that's REAL stealthy.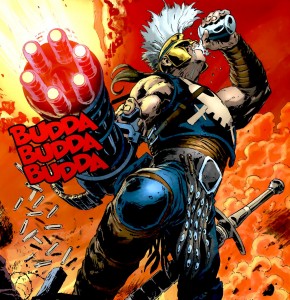 9. Ares
I'm sure you immediately see the problem here. Ares. God of War. Guy literally in charge of murder and warfare. On the Avengers. Did no one think this through? Apparently Tony Stark didn't when he offered Ares a spot on his Mighty Avengers team post-Civil War.
And to be fair, Ares helped the team with their fights a great deal, even if he did do it with a gigantic axe and sword that he used to cleave opponents in twain. Oh, and once the Mighty Avengers disbanded, Ares was more than happy to stay on"¦ with Norman Osborn's Dark Avengers. Yeah, the "Green Goblin" Norman Osborn.
Ares didn't seem to care one way or another which side he was working with, even when he found himself on a team alongside Venom and Bullseye. Ares continued to work against the side of good until he messed up big time and got ripped in half by The Sentry. "Who's the Sentry," you ask? Well…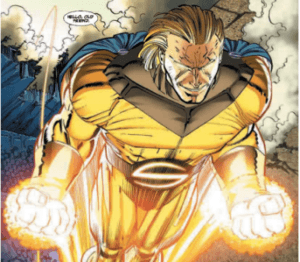 8. The Sentry
If Moon Knight was a mentally unstable Batman, The Sentry is a mentally unstable Superman. With all the horrors and insanity that implies. The Sentry, alias Bob Renolds, was"¦ I don't even know, it's confusing.
Imagine if Superman had multiple personality disorder and that his split personality was, like, a gangster-demon. There, now you've got The Sentry and his dark side, The Void. The Sentry was made an Avenger after he was discovered being crazy in a prison, which is just the best way to find new teammates. He served on a couple incarnations of the team, including the New, Mighty, and Dark Avengers teams.
He eventually went coo-coo for Cocoa Puffs for realsies and turned into a psychopathic supervillain, tearing Ares in half.  Oh, and it turned out that, before becoming a superhero, he was a remorseless drug addict. Then Thor beat him to death and dropped his body into the sun. The Sentry was so hated as an Avenger, that a website, www.killthesentry.com was created (mostly jokingly) to plead for his death. The website has since been taken down, but then, The Sentry's dead, so I guess that makes sense.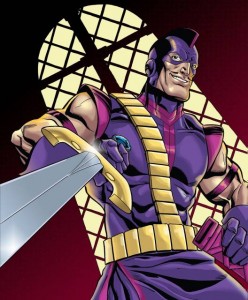 7. The Swordsman
People mock Hawkeye for being a terrible Avenger. You will notice that he is not, nor will he be, on this list. His mentor, however, definitely will be. Jacques Duquesne (whose name I had to check three times to make sure I was spelling it correctly) was a circus performer and carnival attraction. And WOW is that the most "1960s Marvel" sentence of all time. The economy of New York in the Marvel Universe used to be, like, thirty percent circus-based.
As a circus performer, he was an expert swordsman (duh) who took in a young Clint Barton and trained him to use the bow and arrow. This raises the question "if you know how to use a bow and arrow, why are you still trying to fight superheroes with a flipping sword?" A question which, to my knowledge, was never answered. Swordsman wasn't just a world-class jerkface, he was also a supervillain. Like, "worked with the Red Skull" levels of supervillain.
But after getting onto the Avengers as a traitor and failing even to accomplish that goal, Swordsman fled back to supervillainy. Swordsman eventually turned to the side of good and joined the team for real, before a laser blast traveled up his sword and killed him. That might be the dumbest death on this list. And trust me, it has some stiff competition.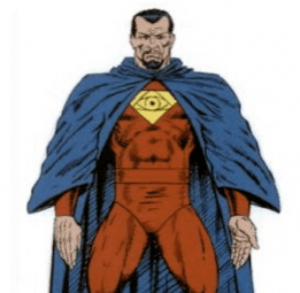 6. Dr. Druid
Dr. Druid is super dumb and I hate him. He is also the second most boring Avenger to have ever existed (Don't worry, we'll get to number one). Trained by the Ancient One, who trained Dr. Strange, Druid has some quasi-magic powers as well. Not as good as Strange's, of course, but Maybe sort of close not really. Druid was an Avenger in the eighties, along with 50% of this list. During that time, he got a supervillain inducted onto the team while being mind controlled by her. Good job there, buddy. That's some real A-number-one Avenging, right there.
After getting booted from earth's mightiest heroes, Druid took up a post commanding Shock Troop. If you need proof that this was a downgrade, Shock Troop's roster included The Living Mummy. After that, Dr. Strange took pity on Druid and set him up as the leader of the Secret Defenders. After leading the team for a little while, Druid decided that the responsibilities were to great and he didn't want to continue. So, he did what we all do when we have a job we don't like: he faked his death. Dr. Druid was eventually killed for real and set on fire, and his body was thrown in a dumpster.
Couldn't have come up with a better metaphor for his entire career myself.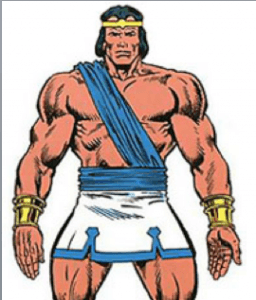 5. Gilgamesh
Gilgamesh should be higher on this list. He really should be, and he would be if I could say literally anything interesting about him. Ok, I'm gonna try to say something about him without falling asleep. Gilgamesh was a member of an ancient race of godlike beings until he joined the Avengers. His power is that he's fairly strong.
That information took me twenty minutes to find because I kept getting distracted by more interesting things. Like paint. Or tax law. What I'm saying is that Gilgamesh is boring. Gilgamesh is so boring, his codename is "The Forgotten One." Gilgamesh does to interesting stories what the Nazis did to German political credibility.
I've read almost every issue of the Avengers in which Gilgamesh appears and I would rather pour salt in a knife wound than ever look at Gilgamesh's dumb, boring, forgettable face again. The good news is that I am one hundred percent certain I will completely forget Gilgamesh the second I stop writing about him.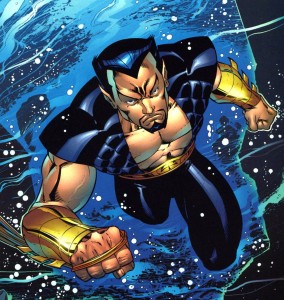 4. Namor
Namor is easily the best-known character on this list, just not for being an Avenger. Namor, or as I refer to him, "Marvel's Aquaman," was known as an anti-hero in the 40's and a Fantastic Four villain in the 60's. He was an Atlantian who liked three things: fighting Nazis, wearing speedos, and sleeping with Mr. Fantastic's wife. I'm sure there's a through-line in there somewhere.
Somehow Mr. Jellyfish McAdultery made his way onto the Avengers in the 1980's. I'm assuming this was because, y'know, the 80's were freakin' ridiculous. Namor being an Avenger might sound fine until you remember that he was an honest-to-goodness supervillain for two decades.
Hey, how many Avengers purposefully flooded major cities and drowned thousands of people? Why do I see two raised hands? Oh, right they're both Namor's because HE DID IT TWICE! Plus, he married his cousin.
Just felt like throwing that out there.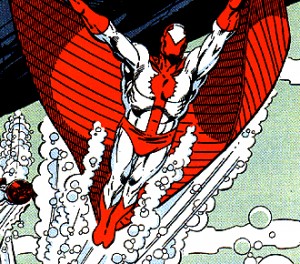 3. Stingray
Stingray, aka man-with-least-superheroic-name-ever Walter Newell, was an inventor and wannabe superhero based in Connecticut. Trying to be a superhero in Connecticut is like trying to be a movie star in San Diego: you can try, but all your opportunities are a two-hour commute away.
Clad in his power-rangers-esque costume, Stingray took to the seas, the one place with less crime than Connecticut. Stingray was drafted into the Avengers during a conflict over a Russian submarine because they needed a water guy and, wait for it, Namor was busy. That's right, when the man who tried to murder-drown New York City isn't available, Walter Newell is a good second choice.
I've read "The Crossing Line" Stingray's one and only outing as an Avenger and I am 99 percent certain that the Avengers accidentally left Stingray in Soviet Russia at the end of that story. We don't see him getting into the Quinjet with the rest of the team and when the Avengers return to their base at the start of the next issue, Stingray isn't with them. Looks like Walter has a long swim back to Connecticut ahead of him.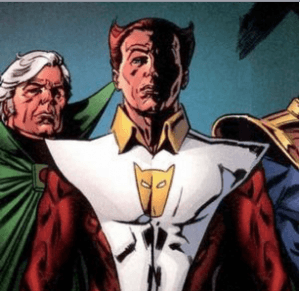 2. Starfox
Starfox crosses the line separating "bad" Avengers from "problematic" Avengers. Starfox's superpower is that, as a member of an alien race, he exudes ridiculous amounts of pheromones. Yes, his superpower is that you, dear reader, would find him very, very, attractive. The problem is that this attractiveness would be chemically induced.
As in, against your will.
And now I'm sure you understand why Starfox creeps the hell out of me. What's worse is that Starfox clearly understands his influence. In his entire Avengers tenure, I can only find one scene where he is talking to someone other than an attractive woman. One. Good work there, Captain Rohypnol.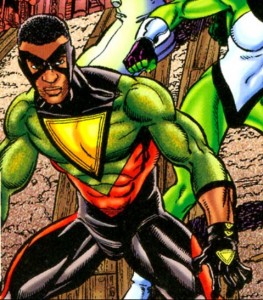 1. Triathlon
Delroy Garrett was an Olympic track medalist until he was caught using steroids. As if he was competing with himself for the gold medal in "Worst Life Decision" Delroy then decided to join a religious cult. The cult's leaders gave him superpowers and so Delroy decided to become part superhero, part cult spokesperson.
Delroy, now going by the name Triathlon, was welcomed onto the Avengers as a public relations measure to appease Delroy's cult. When it turned out that, (surprise, surprise) the cult was evil, Triathlon sided with the Avengers to defeat his former friends. But Triathlon isn't on this list because of his dumb backstory. He's here because of his dumb superpowers.
Triathlon's superpower is that he has the strength, speed, and agility of"¦ three guys. Three athletic guys, sure, but three guys nonetheless. Triathlon could get his butt handed to him by any number of guys greater than three. And that's not good when most opponents of the Avengers tend to have more cumulative might than the cast of Two and a Half Men. Delroy went on to abandon the identity of Triathlon to become the 3-D Man, which may actually be the only name stupider than Triathlon.
And there you go, the Top Nine Worst Avengers. Wait, sorry, Ten. Forgot about Gilgamesh again. Not the point. But now that I've shown you ten worse Avengers, its time for my list of Ten Reasons Hawkeye is the Greatest Avenger in the History of Ever and You Should Shut Up About Him.
Number Te– What do you mean I hit my word limit?