I wound up spending a large amount of time around my Fantasy Football-obsessed cousins over Thanksgiving, and this gave me an idea: Why not do that for comics? So this week, we'll be Fantasy Publishing a new slate of DC Rebirth books. Each book will have a creative team attached and a brief idea or concept. Ideally, they'd be added to the existing slate, rather than replacing them, so that's why you'll only see characters who don't currently have books.
                                                        Source: pinterest.com
10. The Ray
Writer: Steve Orlando
Artist: Ivan Reis
I love The Ray. And he deeply deserves to have a solo series again, especially the new version.
For the team, I'm sorry, but this is kinda obvious. Orlando's been writing him in JLA and obviously has a perspective on the character. His work is usually hit or miss for me, but the Ray: Rebirth one-shot that was released prior to the launch of JLA was excellent.
As for artists, Reis spent a long while drawing light-based constructs on Green Lantern, so seeing what he can bring to The Ray's brand of illuminatory combat would be fascinating.
I've always liked Ray Terrill as a character, but the changes to his sexuality that came when he was reintroduced during Rebirth really added to the character. The whole I was kept alone in the darkness for my entire life, which was just keeping me from realizing my true self is about as good a metaphor for the gay experience as you can come across.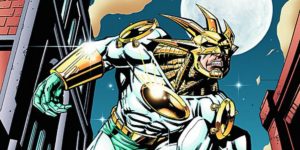 Source: cbr.com
9. Aztek
Writer: Joshua Williamson
Artist: Patrick Zircher
Aztek: He's the Ultimate Man!!
A Grant Morrison and Mark Millar collaboration from a time when they didn't hate each other, Aztek is the peak underrated nineties character. And if anyone needs a second go around, it's him. Aztek was raised by a cult to go into Vanity, the worst city in the DC universe, and do battle with the monster that sought to end the world.
Pre-52 Aztek lived out his purpose and died in battle, but this is a new opportunity, and a chance to give the Aztek story much more breathing room than it was allowed the first time around. For the team, I picked people who can play it up nineties style. Williamson is a fantastic get for DC, and his image work is featured in some of my favorite recent comics. Plus, from his existing DC work, I can tell how much he loves Morrison-JLA era DC comics. And you need that fondness for Aztek.
As for art, Patrick Zircher draws dudes in a really meaty satisfying way. They all look like piles of hardcore, and this is important for a book looking to recapture Morrison's DC energy.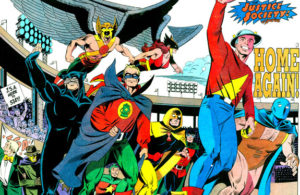 Source: newsarama.com
8. Justice Society of America
Writer: James Robinson
Artist: Michael Cho
We need the Justice Society of America back, and we need them now.
We got a little taste in Batman/Flash: The Button with Jay Garrick, but come on, we need more. And I don't mean the Earth 2 characters from the New 52. They were fine and all, but we need the classics back again.
Flash. Green Lantern. Wildcat. Power Girl. Sandman. Starman. A classic lineup taking place back when they were active. That's right, I want a throwback book. I'd be fine if they were all still active in the present, but for a series that's focused on them, let's see what they were doing in their prime, and maybe a bit of mystery as to why no one remembers them and why they disappeared.
On to the team. James Robinson probably hates being typecast, but he understands how to write comics about legacy better than anyone else. Yes, he's already written the JSA, but never in the long term. Which I'd love. As for art, Michael Cho has a gorgeous style that feels minimalist and throwback-y.

                                                   Source: therainbowhub.com
7. Spoiler
Writer: Bryan Q. Miller
Artist: Babs Tarr
Holy God, someone bring back Stephanie Brown as a major character. Yeah, it's neat to see her as a supporting character in a Batman weekly series every couple of years, but jeez!
She's such a great character. And one of the biggest crimes of the New 52 was depriving us of a long-running Stephanie Brown-as-Batgirl run. But we don't have to give up that easily.
Someone get Bryan Q. Miller back here and give him a Stephanie Brown book again. Oh, and get Babs Tarr on that thing, too. The few times she got to draw Steph during her run on the New 52 Batgirl were fantastic. I mean, it would be ideal to have Steph back as Batgirl, but since that doesn't seem likely any time soon, making Spoiler a major Bat-Character would be a fine compromise.
And if giving Stephanie a book is what it takes to get these two creators to work on a book together, I would gladly take that.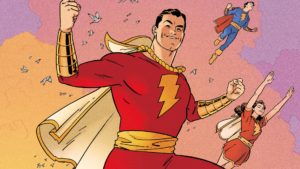 Source: dccomics.com
6. SHAZAM!
Writer: Jeff Parker
Artist: Evan "Doc" Shaner
Is it cheating to reunite two creators with a character they've already collaborated on? Well, I don't care whatsoever.
A couple years back, DC had an instantly forgotten event called Convergence that resulted in a bunch of weird little two-issue mini-series that served as time capsules to various points in DC history.
Parker and Shaner's SHAZAM! issues were far and away the best things to come out of that whole deal. Captain Marvel is a wonderful character, and we need him back now more than ever. And maybe they can stop calling him Shazam now. It sounds dumb. But, yeah, I need to do less convincing about why this comic would be great.
Just go read those two issues. They fight Gotham by Gaslight Batman in that. And his Bat-Zeppelin. Comic books are pretty great, you guys. Anyway, next entry!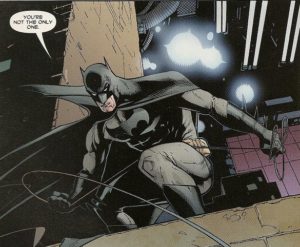 Source: comicsattack.com
5. Batman: Legends of the Dark Knight
First Writer: Becky Cloonan
First Artist: Doug Mahnke
Anthology books are a lost art.
We used to have them all the time back in the nineties, but now we really don't. They tried them again in a digital format a few years back, but no, that's not how you do it. Up and coming talent and multiple stories per issue is a good enough idea, but it isn't the way to sell someone on a book.
For that, you need all-star creators and one writer/art team per arc, like the original Legends of the Dark Knight, which is a great book, by the way. Batman is one of those characters every artist wants to draw, and every writer wants to write, so he's the optimal pick to launch an anthology theory.
To start off, I'd say launch the book with two people who are just starting to get as big as they deserve to be: Becky Cloonan and Doug Mahnke. Mahnke's art is always gorgeous, but in the right (or should I say "write") hands he can be absolutely terrifying. And Becky Cloonan's incredible writing for The Punisher has shown that she's more than ready to step up to the big leagues in terms of characters.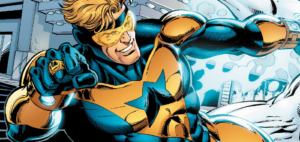 Source: comicbook.com
4. Booster Gold
Writer: Brian Michael Bendis
Artist: Dan Jurgens
Since the announcement that Marvel Legend Brian Michael Bendis was signed to write for DC Comics, people have been speculating about the books he'll write.
Most people have been asking about huge, A-List titles, but I think that's the opposite direction they should go. Bendis has always been at his best (Spider-Man excepted) when he was writing for the B or C-list. Even when he took over the Avengers for his famous run, he threw Luke Cage and Spider-Woman in there. So I wanted to give Bendis a high-action book that was very funny and packed with chances to experiment with DC History.
And so, Booster Gold. Throughout history, Booster's various solo series have been incredibly good comic books. His first 25-issue series is a hidden gem of the nineteen-eighties' DCU, and the sprawling 48-issue book that spun out of 52 was fantastically good. In addition, artist Dan Jurgens has been Booster's shepherd for decades, and he deserves to still be a part of where the character is headed.
A great character and a great opportunity.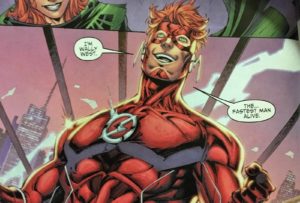 Source: blogspot.com
3. The Flash: Wally West
Writer: Devin Grayson
Artist: Stephen Byrne
Man, no one knows what to do with Wally West anymore.
As much as I like the New 52 version, he just doesn't have the history or experience that classic -recipe Wally has. So it would be nice to give him his own book. Hey, if we have two Flashes, why not two Flash books? As much as I like Josh Williamson's current Flash run, I'd pull someone else for this title.
Devin Grayson wrote Wally for years in Titans, one of DC's best books at the time. She hasn't been as prominent lately, but I'd love to see her back on a regular book. She'd be fantastic to guide Wally into this new age as the new, younger Flash.
For art, there was only one option. Stephen Byrne's work is gorgeous. I'd been lasciviously following his art on Twitter for some time, but it was his one-issue guest spot on Green Arrow that made me sit up and take notice. The way he drew Barry Allen in that issue made me thirst for another Super Speedster book from him.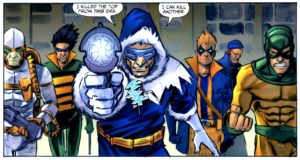 Source: dc.wikia.com
2. The Rogues
Writer: Gail Simone
Artist: Sara Pichelli
Books centered around villains never last super long. They're good, and they're fun, but people just don't stick with them (Harley Quinn comics notwithstanding).
But two books broke this trend: Suicide Squad and Secret Six. Secret Six writer Gail Simone should totally get on another villain team book. And boy, do I have a suggestion. The Flash Rogues have always been deeply great characters. They've supported a couple of miniseries on their own, but the classic Rogues aren't really used much right now.
I guess it's hard for writers to make them interesting as villains after decades of being torn between villains and anti-heroes. But spinning them off into their own book is an idea that could lead to some great comic booking. As for art, Sara Pichelli has been killing it over at Marvel, but I'd love to see her take on some of my all-time favorite villains.
Pichelli's excellent at capturing facial expressions and "acting", if you will, and that's what you need for a Gail Simone book. Someone who can take a funny line and elevate it artistically is an underappreciated talent, and with these two creators, this comic would be as funny as it would be heartfelt.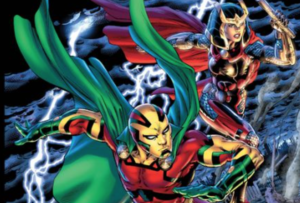 Source: pinterest.com
1. The New Gods
Writer: Louise Simonson
Artist: Nicola Scott
The New Gods are great.
A modern pantheon of old-style gods interpreted through the lens of superhero comics, Kirby's pantheon has been the source of some excellent comics.  Hell, right now we're getting King and Gerads' Mister Miracle, and it's one of 2017's best books.
Louise Simonson wrote the first several years of Superman: The Man of Steel, and she made it one of the best Superman books on the stands at the time. She frequently collaborated with her husband Walt, whose Orion run is one of the better non-Kirby New Gods stories, and her unique take on the stories was always refreshing. I would love to see her individual spin on the residents of Apokolips and New Genesis. Nicola Scott beautifully draws straightforward superheroing, and seeing her render the New Gods would truly make them look like a pantheon of heroes.
And there you have it: a dream publishing slate for DC Rebirth, Round Two. To clarify, I don't think DC would actually do any of these, and most probably wouldn't sell very well. But I have faith that if any of them were made, they'd be some pretty great comic books.