Howdy everybody and welcome back to my favoritist recurring series in which I dig through back issues of DC's handbook series Who's Who and expose you to some of the stranger corners of the DCU. We've talked about some weirdies before and this time is no exception, but here we go. Please enjoy these slices of peak comic-bookery.
                                                                                     Source: writeups.com
10. The Legion of Substitute Heroes
Don't let the word "no" keep you from achieving your dreams. These kids didn't!
When the Legion of Superheroes rejected them as members, a group of strangely powered teens formed together and created the Legion of Substitute Heroes! The team, led by founder Polar Boy, operated in secret for a time before they were discovered by the legion. Membership includes Color Kid, who can change the colors of any object, Chlorophyll Kid, who can make plants grow real fast, Stone Boy, who can turn to stone (but can't move when made of rock) and Double Header, who has two heads.
You may recognize these as horrible superpowers. This is kind of the point. Making fun of the subs powers is like making fun of Kung Fury's storyline. You can do it, but you're missing the point. My point is more that these powers SHOULDN'T PRECLUDE ANY OF THESE DUDES FROM LEGION MEMBERSHIP!!!
Matter Eater Lad is in the Legion. His power is that he can eat anything. Fire Lad is a sub. His power is that he BREATHES FIRE. One of these things is DRAMATICALLY MORE USEFUL. Eventually, Polar Boy and Dream Girl got promoted to full Legionnaires after time in the subs, so maybe someone agrees with me.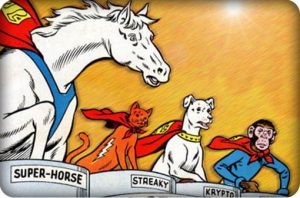 Source: starburstmagazine.com
9. The Legion of Super-Pets
This is my favorite kind of comic book fun-dumb. It's a super team composed of a horse, a dog, a cat, a monkey, and a shapeshifting blob of silly putty. I dare you to not want to read about that at least a little.
So one day in the future, evil Brain Globes from the planet Rambat descended on the planet earth with the intention of stealing the entire planet. The Legion of Super Heroes attempted to stop them, but were harmed by the brains' psychic abilities. So they decided to seek out beings that could fight the brains while remaining unaffected by their mind control powers. They settled on animals. Animals with superpowers. And since Superman had a lot of pets back then, they were well stocked.
The team was composed of Krypto the super dog, AKA my MVP, Streaky the super cat, Comet the super horse, and Beppo the super monkey. Later additions include my baby bear himself, Proty 2.
We will hopefully get to talk about Proty next time, but if not let the record stand that I love him.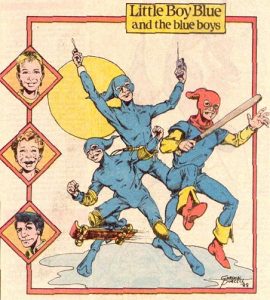 Source: dc.wikia.com
8. Little Boy Blue and the Blue Boys
Look, the forties saw the creation of a LOT of comic book characters, alright? Not all of them could be winners. Every once in a while you get a dud.
Enter: Little Boy Blue and the Blue Boys. In the city of, uh, Big City (I'd make a joke about how uncreative that is, but one of the most famous major comic book cities is literally called Metropolis, soooooooo) all was going well until gang leader Wolf Lupo came to town. As an aside, that's a rad name, 10 out of 10, would recommend.
Lupo's protection racket was so bad, Big City's Distract Attorney Dan Rogers found himself unable to do anything about it. Dan's son Tommy, however decided to be a masked vigilante alongside his best friend Tubby. I'm assuming that was his cruelly applied nickname and not his full legal name, but this is the forties DC Universe so really either could be true. The duo teamed up with another child, Toughy, and together they freed a pivotal witness against Lupo whom Lupo didn't kill for some reason.
Due to the color of their costumes and the general lack of creativity of the townsfolk, the trio became known as the Blue Boys, with their leader, Tommy, going by Little Boy Blue. It is not known whether or not he was as much of a friggin' crybaby as his nursery rhyme namesake.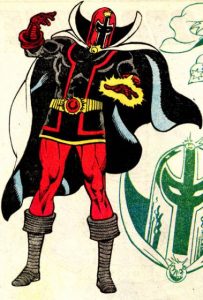 Source: comicvine.gamespot.com
7. Lord Satanis
No, I didn't steal this entry from every twelve year old's Dungeons and Dragons campaign, he's a real DC Comics character.
Lord Satanis hails from the far future, where magic had become more important than science. Either A: this was a reaction to the anti-magic pro-science society of the 64th century that produced Flash Villain Abra Kadabra or B: I am a gigantic nerd who thinks way too much about these things.
Satanis overthrew the magic ruler of his time, but before he could acquire the runestone which gave him ultimate power, it was sent back in time to keep it out of Satanis's grasp. Satanis followed it back and fought Superman for it. In the process, his girlfriend, also seeking control of the runestone, summoned Satan the Devil himself, who dragged Lord Satanis down to hell. Which had to be awkward.
Meeting your idol is always weird, much weirder when you named yourself after them.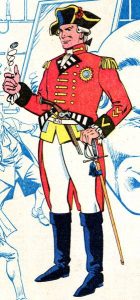 Source: comicvine.gamespot.com
6. Lord Shilling
Every once in a while, you encounter a villain who's so great, you realize they should've been the main character. And in the pages of DC western Tomahawk, we met Lord Shilling. Who is a proper English son of a gun.
The Time: the Revolutionary War. The Place: the future United States of America. The man known as Lord Shilling was one of the best espionage agents in the English Forces, a master of disguise able to impersonate anyone. He intercepted large amounts of information and, each time, only left behind one thing: a shilling with a hole in it.
Think about how much of a d**k move that is. "I'm so confident, I'm going to DESTROY MONEY and LEAVE IT BEHIND. Because I'm going to be just fine while your stupid country fails." Eventually, George Washington himself had enough of Shilling's s**t and sent old west freedom fighter Tomahawk after him. They tussled a few times, but the Lord always escaped capture. Because Lord Shilling don't give no quarter.
That ain't his chosen currency.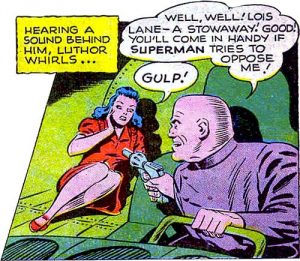 Source: randomactsofgeekery.blogspot.com
5. Alexi Luthor
Sometimes the first draft winds up very VERY different from the final form. See Alexi Luthor, AKA the Lex Luthor of earth 2. Alexi was a red headed villain of eastern European descent with goals of world domination. When war broke out between the nations of Galonia and Toran, he attempted to sabotage a peace conference and spark a major war, but Superman kicked his butt straight down the street.
He eventually caught his break when he got thrown in jail with cellmate Dan Rivers. Rivers was a fake fortune teller who used a mysterious meteorite he found as a tacky turban jewel. It is good to know that "tried to initiate a third world war" and "pretended to tell people the future" get you put in the same wing of a prison in Metropolis. But anyway, Luthor and Rivers got to talking and Luthor found out that the mysterious forehead gem Rivers had used made Superman weaker.
Luthor used the material, called Kryptonite, to fight Superman for years, never winning but occasionally getting close. During the Crisis, Brainiac grabbed Alexi and his earth 1 counterpart Lex Luthor to assist him in world domination. Alexi angrily remarked that Brainiac didn't need Lex, because he was inferior. Brainiac agreed that two Luthors was a bit much"¦ and killed Alexi.
This, ladies and gentlemen, is why you don't make waves. Just go with the flow and you won't get muderized by an alien robot.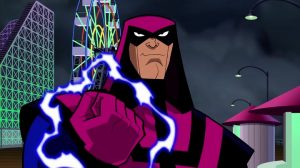 Source: dc.wikia.com
4. Major Disaster
Sometimes you don't become a supervillain because you were smart. Sometimes you become a supervillain because other people were dumb. So was the case for Paul Booker.
Paul was a standard criminal with nothing special about him. Then one day, while fleeing from the police, Paul broke into a house to hide. The house, as it turned out, belonged to Thomas Kalmaku, Hal Jordan's mechanic and Green Lantern's sidekick. While hiding there, Paul accidentally tripped a mechanism that opened a secret panel. Hidden in a secret compartment was a diary Tom was keeping of all Green Lantern's adventures. And it contained Green Lantern's secret identity because Tom is a moron. Oh, and it also contained The Flash's secret identity because Tom is a double-moron.
So Paul hired a bunch of criminal scientists to make him some supervillain gear, because why build it when you can buy it? Using devices to cause natural weather phenomena, he dubbed himself Major Disaster and set out to publically expose Flash and Green Lantern's secret identities. And all because Tom Kalmaku couldn't stop from scrapbooking top secret information.
Nice job, Tom.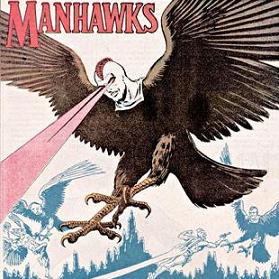 Source: fichapersonajedc.blogspot.com
3. The Manhawks
GAAAAAAAAAA-KILL IT WITH FIRE-AAAAAAAAAAAAAAAAAAAAH. Woof, deep breath. I can do this.
That is a Manhawk. The Manhawks are freaking horrifying. I hate them. I hate them SO MUCH. The Manhawks are an alien race that supposedly has human intelligence. This cannot be true because anything with human intelligence that looks like THAT would've committed ritual suicide long ago, but fine, whatever, suspension of disbelief.
Also, that is not the Manhawks real face. It is wearing a mask. The Manhawks wear the masks of the dominant race of the planet they are visiting. I am not really sure why they do this. It can't be as a disguise, because you are looking at a picture of a Manhawk and that is NO KIND OF DISGUISE. The only explanation I can find any logic in is the idea that these masks are intended to scare the ever loving heck out of the inhabitants of the planet they are invading. That works. Imagine watching that horrific scream-beast descend from the sky.
Thankfully for us, the Manhawks first encountered Hawkman, who promptly hit them with his mace and sent them fleeing for good. So, for the first and only time, I guess I have to say "good work, Hawkman". Huh, those words felt weird coming out of my mouth.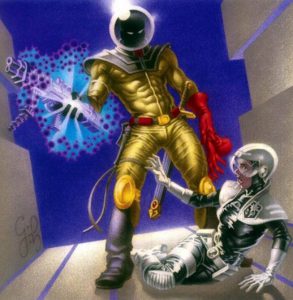 Source: comicvine.gamespot.com
2. Mano
THE HAND OF FATE.
Why yes, this is the one and only joke I will be making for this entry. You've heard it now, you can honestly move on to the next entry. I'll still be here. Mano was a mutant born in the 30th century on the planet Angtu. His power was that anything he touches with his right hand (the hand of fate) would disintegrate. Who wants to bet he's a leftie?
His planet's intense pollution forced him to wear an environmental hazmat suit at all times, giving him his distinctive look. Using his anti-matter touch led him to be hated by everyone on Angtu. He eventually got really fed up with all this and decided to do something about it.
He placed his hand on the ground, exerted all his powers, and disintegrated the whole planet, killing everyone. He went on to join the Fatal Five and fight the Legion of Superheroes. But yeah, I guess you could say he destroyed his home planet"¦ single-handedly. Ba-dum-tshh.
Thank you, thank you, I'll see myself out.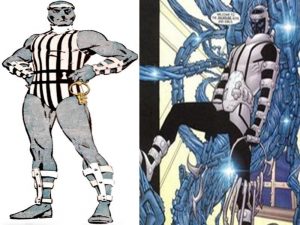 Source: comicsverse.com
1. Master Jailer
Not everyone from Smallville was a nice and upstanding person. Meet Carl Draper!
Carl was unattractive, clumsy, and kind of an ass. Needless to say, women didn't like him. Also, folks called him "Moosie" which, as far as derisive nicknames go, isn't honestly too bad. I mean, we literally have a character named Tubby ON THIS LIST.
Anyhoozles, Carl was in the Smallville High Geology Club like all other losers and when the club got trapped in a cave in, Carl found a way out. But before he could save the day, Superboy did instead. Carl had a thing for Lana Lang, who herself had a serious crush on Superboy. The ultimate "Nice Guy", Carl became angry and resentful. Man, dude woulda loved Reddit. Anyway, Carl actually DID make an effort to improve himself, dieting, exercising, and studying hard until he came out the other side an accomplished guy in his own right. Which would be a real success story if he weren't still a resentful jerkface.
So after he built Metropolis's best prison yet, he devoted himself to a career as the Master Jailer, a supervillain devoted to defeating Superman and winning over Lana's love. Master Jailer specializes in traps and restraints which, while kinky, isn't exactly gonna do much good against Superman. Because he's, you know, friggin' Superman.
And there you go, Another edition of "Hunter talks about weird DC characters that he loves ever so much" theatre down the tubes. If you enjoy these, leave a like or a share because the more popular these are, the more frequently I'll do them. But for now, I'll leave you with this advice: don't be fooled by a hawk in a mask, don't touch stuff with your right hand, and don't question your station around evil space robots. G'night everybody!