I love doing these. And since I'll be at SDCC all this week, I wanted to put out something fun for you all to enjoy. And since I finally got back to my comic book collection and my collection of Who's Who issues, I get to do another one of these columns. What I like to do is go through an '80s issue of Who's Who, DC's handbook of all their characters and teams. After, I usually pick out ten of the weirdest characters and make fun of them one by one. I do it because I love them, like I do all comic book ridiculousness. Because if you can't laugh at the thing you love, then you are in the wrong hobby, m'man.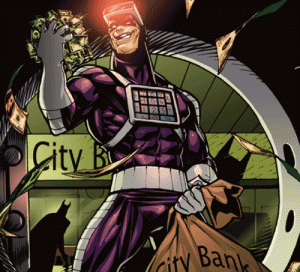 Source: sciencefiction.com
10. The Calculator
Fun fact: 90% of all DC supervillains are gigantic dorks. And the Calculator is no exception.
Noah Kuttler was…um, some guy, I guess? He actually doesn't seem to have an origin story, or at least not one I can find. But he first comes up as a supercriminal traveling the country with an insidious plan. You see, his suit records the fight patterns of every opponent, meaning that it's almost impossible for a hero to beat him twice. HOWEVER, beating him once is embarrassingly easy.
Maybe your plan shouldn't involve you getting your ass handed to you by every superhero on earth? Especially when the prison time you're gonna rack up doing that will keep you locked up so long, your master plan won't come into effect until you're eligible for social security.
They reinvented the Calculator later as a super genius who spends his time planning crimes instead of carrying them out. This is a smart move, especially since it involves getting punched in the face by the Elongated Man much less often.