I love doing these. And since I'll be at SDCC all this week, I wanted to put out something fun for you all to enjoy. And since I finally got back to my comic book collection and my collection of Who's Who issues, I get to do another one of these columns. What I like to do is go through an "˜80s issue of Who's Who, DC's handbook of all their characters and teams. After, I usually pick out ten of the weirdest characters and make fun of them one by one. I do it because I love them, like I do all comic book ridiculousness. Because if you can't laugh at the thing you love, then you are in the wrong hobby, m'man.
                                                    Source: sciencefiction.com
10. The Calculator
Fun fact: 90% of all DC supervillains are gigantic dorks. And the Calculator is no exception.
Noah Kuttler was"¦um, some guy, I guess? He actually doesn't seem to have an origin story, or at least not one I can find. But he first comes up as a supercriminal traveling the country with an insidious plan. You see, his suit records the fight patterns of every opponent, meaning that it's almost impossible for a hero to beat him twice. HOWEVER, beating him once is embarrassingly easy.
Maybe your plan shouldn't involve you getting your ass handed to you by every superhero on earth? Especially when the prison time you're gonna rack up doing that will keep you locked up so long, your master plan won't come into effect until you're eligible for social security.
They reinvented the Calculator later as a super genius who spends his time planning crimes instead of carrying them out. This is a smart move, especially since it involves getting punched in the face by the Elongated Man much less often.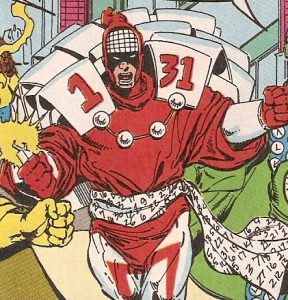 Source: batman.wikia.com
9. Calendar Man
Come on, how could I not? Calendar Man is the classic ridiculous DC villain archetype.
Born Julian Day, because in the DCU if your name is a noun, you'll be robbing banks before your twelfth birthday, Calendar Man arrived in Gotham with a plan.
To quote his Who's Who entry: Calendar Man "bas[ed] his crimes on the five different seasons-  winter, spring, summer, fall, and the Indian monsoon [season]." I'm sorry, what? Is"¦Does India have five seasons? Hold on, checking Wikipedia.
"¦
Ok, so the answer is "mostly no, in very few cases yes, sometimes six." That's a really obscure fact to base one fifth of your crime spree on, Calendar Man.
After getting his butt kicked and sent to prison, Day escaped and faced off with Batman again, this time coming up with a scheme relating to the days of the week. Although I'm assuming his plan revolved around some sort of obscure Sumerian eighth day of the week for no discernable reason.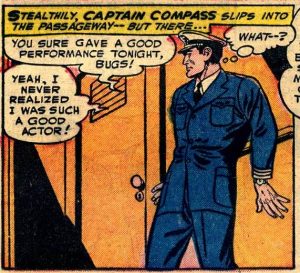 Source: sacomics.blogspot.com
8. Captain Compass
BOAT DETECTIVE!!!!!!!!!!!
Now we're going to town on the REALLY obscure characters. Like, if you know who this guy is without my telling you, congratulations, you're a liar.
Captain Compass, real name Mark Compass because of @!$&ing COURSE it is, was a skilled detective hired by a shipping company to solve boat crimes. Although apparently all of his detective experience was also boat related? How many boat crimes can there possibly be? Captain Compass is so obscure that when I went to Google him to see if he'd done anything else, the first search result was for a Harry Potter fanfiction author with the same username.
But that's not what we're here for. We're here to make fun of Boaty McBoatface, P.I. I guess Compass could go solve the mystery of the missing dingy. Or the case of the disappeared shipping crate. Or, the strange nature of seasickness. I"¦um"¦I couldn't think of another boat crime.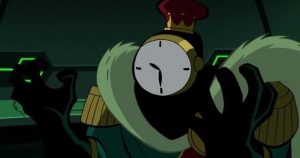 Source: screenrant.com
7. Clock King
William Tockman is the bomb. Like, I love him embarrassingly much. But the version I love is unfortunately the Batman: The Animated Series version, not the actual DCU version. The DCU version is much lamer.
This William Tockman was told he only had six months to live, so he decided to use that time to be a criminal so he could get the money he needed to take care of his ailing sister. So, think Walter White, if he decided that rather than cook meth, he'd prefer to dress up in a clock themed outfit and try to rob banks. As much as I liked Breaking Bad, I probably would've liked it a heck of a lot more if THAT was the premise. Tockman got knocked the eff out by Green Arrow and Speedy, and was locked up.
In prison, he learned that, oops, turns out his doctor screwed up his charts and he wasn't dying. Oh and, double oops, Tockman's sister died while he was in prison. Tockman blamed Green Arrow for all this, instead of either himself or his doctor (seriously, pick one, both are at fault), and went right back to his criminal activities.
I mean, he COULD have sued his doctor for malpractice and emotional distress, but why make a ton of money when you can put on a clock suit and get punched in the mouth by Batman?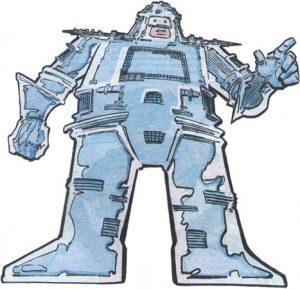 Source: comicvine.gamespot.com
6. Colonel Computron
Colonel Computron is a relic of that period of time when the Internet was just sort of barely starting to be a thing, and everything took advantage of it. This is around when hilariously outdated movies like Tron and War Games (both of which I unambiguously love, by the way) were released. A buddy of mine and I have started referring to these types of Internet fad films as "information superhighway movies" after the humorously outdated way people in them talk about the "new phenomenon".
But back to the Colonel. He appeared suddenly around the time of the Flash's trial. He appeared to be based on the Captain Computron toy produced by the Wiggins toy company. The same toy company DIRECTLY responsible for Captain Boomerang's existence, so there's that too.
Maybe someone in the DCU needs to start going around stripping business licenses from companies that create MORE THAN ONE supervillain. Just a thought.
So the Colonel's powers came from his giant computer suit, but since this was the eighties, that whole thing probably became obsolete twenty years ago. I don't even think you could run Undertale on that machine, much less Crysis 3.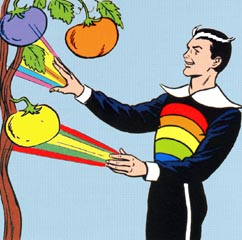 Source: comicvine.gamespot.com
5. Color Kid
What was my rule last time? ONE Legion of Superheroes character per list. And this time, our representative is Color Kid from the Legion of Substitute Heroes.
Color Kid's incredible power is that"¦ he can change the color of any object. That's about it. Now, admittedly, he's a member of the Legion Subs, so the whole point of this character was that his power was SUPPOSED to be stupid, but that doesn't make it less so.
And while other subs like Polar Boy got super cool reinventions in later Legion stories, Ulu Vakk, aka Color Kid, did not. Even Geoff Johns's "Superman and the Legion of Superheroes", which had a whole issue devoted to showing the Subs kicking all kinds of butt, has Color Kid get blinded and sidelined right out of the gate. Poor guy. You know you suck when Chlorophyll Kid gets a badass moment and you don't.
But whatever, Color Kid, I like you. And out of all the Legionnaires I could have put on this list, I chose you. That's gotta count for something, right?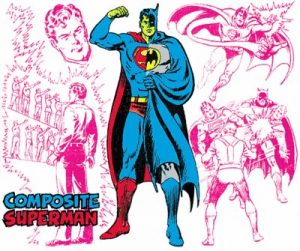 Source: dc.wikia.com
4. Composite Superman
For how simple this character looks, his explanation is SHOCKINGLY complicated, so buckle up "˜cause here we go.
Joe Meach was a wannabe famous person who could never quite get there. One day, he got a job as caretaker of the Superman Museum. Then, on a dark and stormy night, he was struck by lightning while at work, and gained all the superpowers of"¦the Legion of Superheroes.
What, did you think I was gonna say, Superman and Batman? No, that would make TOO much sense. Meach decided he wanted to humiliate Superman and Batman for some reason I can't quite figure out, and he made himself a half-Superman half-Batman costume.
Let's be honest here, the writer clearly STARTED with the visual design, and then asked himself, "How can I make this guy's origin as convoluted as physically possible?"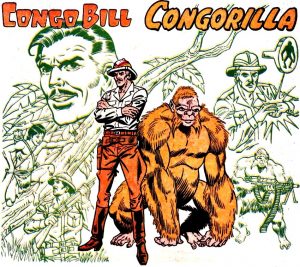 Source: dc.wikia.com
3. Congo Bill
The man who would be Congorilla started off as simple Congo Bill, who was a "˜30s and "˜40s DC adventure hero.
"Congo Bill" is also the name I'd take if I ever managed to get hired as a Jungle Cruise tour guide, if you were interested.
But one day Bill tried to save a strange old witch doctor. He failed, and the witch doctor died. But before he died, he gave Bill a strange ring that allowed Bill to switch his mind into a giant golden ape called Congorilla. What happens to Congorilla's mind isn't mentioned, but who cares, he's a gorilla and his life doesn't matter as much as a human's. What's great about that last sentence is you can read it as either sarcastic or fully serious, depending on your own personal views, and it reads fine either way. Not telling you which way I meant it as, that's just gonna be one of those mysteries of life.
Like how exactly Congo Bill got on the Justice League because THAT HAPPENED.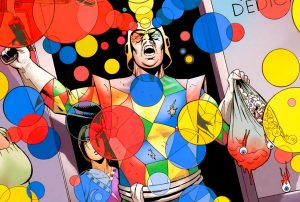 Source: comicvine.gamespot.com
2. Crazy Quilt
If you don't have an innate love for Crazy Quilt, I fundamentally don't understand you as a human being. Because Crazy Quilt is my jam.
Quilt started off as a famous artist, using his paintings to communicate secret instructions to his criminal henchmen. If that seems like a needlessly complex way of doing things, welcome to the DC universe, you can pick up your nametags and inability to see through glasses as a disguise to your left. Quilt was eventually shot by a rival gangster, which left him blind. The Who's Who doesn't explain how, but I'm going to assume "lead poisoning" rather than "shot in both eyes, yet somehow survived".
In trying to regain his sight, Quilt wound up only able to see bright colors and nothing else. Quilt took up the common DCU hobby of fighting Batman, and wound up regaining and then losing his sight a couple more times.
Quilt is actually more Robin's foe than Batman's, which makes sense. When you're spending your time tracking down clown-themed serial killers and shapeshifting monster men, maybe you can let the kid sidekick take care of the legally blind guy.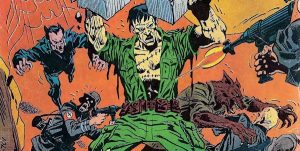 1. The Creature Commandos
Greatest DC superteam of all time? Greatest DC superteam of all time.
The Creature Commandos were formed out of a bunch of monsters who all hated the Nazis. So a World War Two superteam of universal horror monsters was formed and yes, that IS the best sentence I've ever typed or you'll ever read.
The team consisted of Lt. Shrieve, Medusa (no, not THAT Medusa), a Frankenstein named Taylor, a Wolfman named Griffith, and a Dracula named Velcro. Wait, I'm sorry, did I actually read that right? Velcro? VELCRO??????!!!!! Sgt. Vincent Velcro. Man, with a name like that, dude's just lucky he became a Dracula and not a shoe-themed Batman villain.
The Creature Commandos were eventually court-martialed for some unknown offense. Most likely because literally devouring the blood of your opponents is probably a war crime, Mr. Velcro. They volunteered to fly an experimental spacecraft and got lost in deep space. So yes, a World War II superteam of old-school horror monsters are lost in space in the DCU. They've popped up again over the years, but in my mind, they're still cartwheeling through space, having space adventures. Because a Space-Dracula is too good an idea not to use to its fullest extent.
And so there we go, another ten insane DC characters. I could write these twice a week until I die, but they depend on your support, so if you want more, give this a like or a share; it really does help. Until then, I'll be at San Diego Comic-Con all this week, so if you're gonna be there too, I dunno, hit me up on Twitter, I guess? And until next time, remember not to give your kid a noun for a name unless you want his career path to be "fights Batman".