People argue and bicker constantly over "worst of" lists. Whenever I (or any other internet writer) talk about a story being "terrible", at least one person will come out of the woodwork, yelling about how we're wrong and that the story is actually great. Somehow, I don't think that'll happen this time. The J. Michael Straczynski-written Superman story entitled Grounded may not be the worst comic book of all time, but it's sure as hell the worst Superman comic book.
Grounded shows a misunderstanding of Superman so fundamental and categorical that it wasn't allowed to finish. Straczynski mysteriously stopped scripting the story halfway through, and was replaced by the immensely talented G. Willow Wilson and, later, Chris Roberson. Why is it so bad? Well, let's look at ten terrible moments from the four Straczynski-scripted issues.
                  Superman #700 (Comicboxcommentary.com)
10. Slap Fight
So let's start with the inciting incident and go from there. After Superman has been off-planet fighting alien threats for a little while, he meets with the press to brief them on the situation. A sobbing woman approaches Superman and slaps him right in the face. Superman asks her what the problem is. Her answer was that, while Superman was off-world trying to save AN ENTIRE PLANET, this woman's husband died of cancer.
Now, while this is sad, you may recognize it as being NOT SUPERMAN'S FAULT. The woman claims that if Superman were on earth, she could have easily reached him (not true), after which he could have used his heat vision to burn out the brain tumor and save the husband's life (very not true).
There actually aren't words for how dumb that is. It somehow manages to out-dumb the scene from Civil War that this story rips off. And out-dumb-ing Civil War? That's hard to do.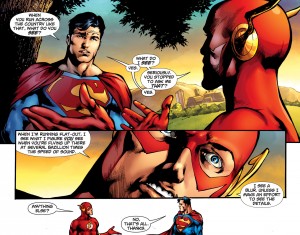 Superman #700 (dccomics.com)
9. "What Do You See, Flash?"
So our first entry came TWO PAGES into the first issue. This time, let's go all the way to"¦PAGE SIX of that same issue.
Yeah, this is gonna take a while.
Oh, and this first issue is actually Superman #700, which is a hell of a way to celebrate an anniversary. But, anyway, this scene comes almost immediately after the previous one.
In the scene, Superman plants himself in the Flash's path and just waits for him. Barry shows up and asks Superman what the heck he's doing there. Clark asks Barry what he "sees" when he's running. Barry responds that it's all kind of a blur, unless he focuses, which I'm sure is supposed to be an utterly brilliant metaphor. Clark thanks Barry, who asks him if he's been exposed to any Red Kryptonite lately. This is the DC Comics equivalent of Flash asking "Clark, are you high?" Not a bad question, given the rest of the story.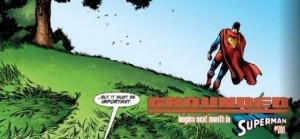 Superman #700 (therobotsvoice.com)
8. Walkabout
Okay, so we're finally through the ten-page story from Superman #700. Now we've arrived at Superman #701. Our first train wreck moment comes on Page Three.
Here is where we actually get the premise of the story. Superman decides that he needs to stop flying around saving the world. Instead, he will just walk across America. This is what we here in the comic book critiquing community call "dumb".
Let's ignore the fact that saving the world is kinda what Superman does. More importantly, the inciting incident of the story was the idea that Superman wasn't available enough, and committing to a slow stroll across the US makes him EVEN MORE UNAVAILABLE. Sure, he says that, if he's needed for a galactic crisis, he will go deal with that and then pick up where he left off, but there is always a crisis. Every step Clark takes, someone somewhere is killed by a giant robot or a space monkey. Fact.
Yes, there are a bajillion other heroes in the DCU, but there are just as many villains, if not more. Superman needs to be out there saving people, because if he isn't, someone needs to pick up the slack. And someone like Superman leaves one heck of a lot of slack.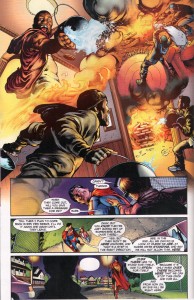 Superman #701 (theskippyreview.wordpress.com)
7. Burnin' Down the House
Superman #701, Page Ten: Okay, so we actually managed to get a decent number of pages into this issue without another stupid moment. Of course, this one is a doozy.
Ohhhhhh, boy, here we go.
While passing through Philadelphia, Superman finds out that there are drug dealers in the city. He decides to deal with it by walking over to go save the day, I guess. He finds the only drug dealer in Philadelphia (because there is only one, apparently), who immediately calls Superman on the fact that he doesn't have a search warrant, and therefore can't get the necessary evidence to arrest him. Superman then decides to use his heat vision to just burn down the drug dens.
Now, I don't know a lot about drugs, but I've watched enough Breaking Bad to know that burning down a meth lab is maybe a really bad idea. Something to do with explosions and residential areas.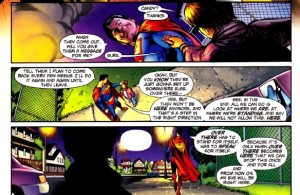 Superman #701 (comicsalliance.com)
6. Killing the Messenger
ONE PAGE LATER…
Are you kidding me? Seriously? Fine, whatever, let's talk about the next dumb moment.
As the violent drug dealers run back into their houses to prevent the massive explosion-in-progress, Superman turns to a five-year-old child and tells him to give the drug dealers a message when they return. When they return angry. And probably wielding weapons. And they don't seem like the types to go easy on a child who's telling them that Superman says to leave town. Superman: probable child murderer by association.
Couldn't Superman just wait around and tell the drug dealers himself? In a way that wouldn't literally be child endangerment? Superman's done some dumb things before, but this might be the most careless and dumb. I mean, I don't even think Deadpool would leave a child to face the cast of The Wire alone.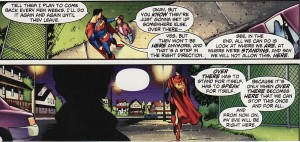 Superman #701 (comicboxcommentary.com)
5. Over There
Now it's time to take a giant leap forward in the story and move to a moment which is"¦in the SAME PANEL as the previous one.
It's like my copy of Grounded Vol.1 aggressively doesn't want me to turn the page.
So after Superman tells the kid to give the drug dealers the message to leave, the kid responds, "Okay. But you KNOW they're just gonna set up somewhere else, over there." This is actually an incredibly reasonable and well-thought-out statement.
Superman however, responds in literally the dumbest way possible. And bear with me here, because I'm just going to quote it verbatim, because any paraphrasing I do will make it seem less stupid than it actually is.
Here we go…Superman says:
Yes, but they won't be HERE anymore, and that's a step in the right direction. See, in the end, all we can do is look at"¦where we're standing, and say we will not allow this, here. Over there has to stand for itself"¦Because it's only when over there becomes here that we can stop this once and for all.
Okay, so I actually don't know where I could possibly start breaking that down. I shortened it a bit for simplicity's sake, but you aren't missing anything.
Can we start by acknowledging that the above quote makes NO SENSE WHATSOEVER? I've read over the thing about waiting for "over there" to become "here" five times and I still can't figure out what Superman is talking about in the slightest.
Also, it doesn't even make sense within the events of the story. "Here" DIDN'T stand up for themselves, Superman did it for them. And "Over There" isn't gonna have a Kryptonian around to deal with the problem. Also, RELOCATING A PROBLEM ISN'T THE SAME THING AS SOLVING IT!!! This is something that literally everyone knows. This speech is not profound, Superman, it is dumb. Really dumb. In just the worst way.
It might actually be the worst moment in the entire story arc. It's just that bad.

                    Superman #701 (siskoid.blogspot.com)
4. Heart Breaker, Dream Maker, Life Taker
Same issue, Page Twelve.
This one takes a whole page to be terrible.
AWE-some.
As Supes is walking calmly down the street, he passes an elderly man sitting on his porch. The man calls inside to his wife(?), telling her that his medical uncomfortability is probably just heartburn. Superman just walks right the heck onto his front porch, stares at the dude's chest and tells him that his heart is beating erratically, and he should see a doctor, "sooner rather than later".
And then (key moment here) SUPERMAN LEAVES! HE JUST WALKS AWAY!!! He doesn't fly the guy to a hospital or run and get a paramedic. No, he just goes off on his merry way and leaves that guy to maybe die waiting for emergency services. Also, having Superman walk up and tell you that you're probably about to die probably ISN'T great for your heart.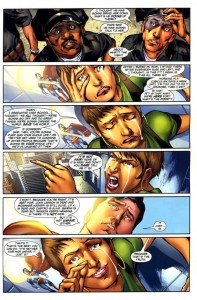 Superman #701 (imgur.com)
3. Unfair Play
SAME ISSUE.
Page Fifteen.
Gaaaaaaaaaaaaaah!!!!!!!!
Superman #701 might be the single worst comic book I've ever read. But now we get a scene that's all the worse, because it's a knock-off of an amazing one.
One of the best Superman pages of all time is the single page from All-Star Superman in which Supes talks down a potential jumper. It's elegant and powerful, and it exemplifies what the character is about more than anything else I can think of.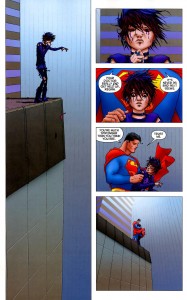 All-Star Superman #10 (griph.net)
So what's Grounded to do, except absolutely ruin the simplicity and miss the point? All-Star does the scene in five panels and four lines of dialogue. Grounded? SEVEN OVERLY TALKY PAGES!! And they are filled with disappointingly bad dialogue.
All-Star gives us "It's never as bad as it seems. You're much stronger than you think you are. Trust me." This legitimately gives me chills down my spine, just typing it. It's that good.
So what pearl of inspiring wisdom does Grounded give us about life? "It's not fair. But it's not unfair either. It just"¦is." That…um"¦what? That's terrible. Superman is the ultimate optimist. That is the key function of his character. He is the hero all heroes look up to. And his comment is that life just kinda happens? Woooooooooow.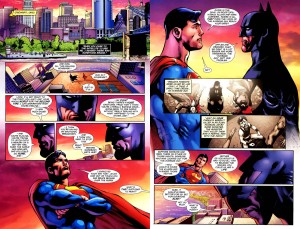 Superman #703 (theweeklycrisis.com)
2. A Real Grayson Move
WE DID IT!!! We finally made it out of Superman #701!!!
And 702 is"¦fine, I guess. We don't get a spectacularly dumb moment in the issue, just a bunch of little ones that aren't really worth mentioning.
But the stupid comes back full force in Issue #703, starting on page five, when Batman shows up to ask Superman what his problem is. Superman acts like a total jerk, because that's what he does in this story. And, making this easier for him is the fact that the Batman in this story is actually Dick Grayson, aka Nightwing. Bruce Wayne is still dead at this point, so Dick must step in. So Superman gets to talk down to him like he's a child.
Greaaaaaaaaaaat.
This isn't a direct quote, but Supes basically says, "Hey, maybe your parents wouldn't have gotten murdered if there'd been some dude like me walking around saving randos." Dick reasonably responds that Superman's operating on such a low level is a waste of his talents, and that he'd be better served saving the whole planet and stuff. What no one mentions is that there are LITERALLY THOUSANDS of DCU superheroes who are able to patrol around at street level, saving people. Superman doesn't need to do this. And walking around Smalltown America is (as Grayson points out) incredibly dangerous. If any of Superman's rogues gallery show up to fight him, he would be putting everyone in danger. He's just a big walking target.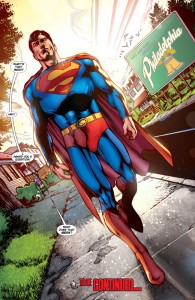 Superman #701 (dccomics.com)
1. Open Carry
Issue #704 is a fill-in written by G. Willow Wilson, so it is leaps and bounds better than anything else in the run. But #705 we should talk about.
The issue as a whole is a pretty heavy-handed PSA about child abuse. It's bad, but not as bad as it could be. Except for one key scene.
As Superman walks through a park, a bunch of people tell him to leave, because he is posing a major danger to everyone there. One of the women compares Superman to a man walking into a park with a gun, saying that he is worse, because he "is a gun". AND HERE WE HAVE THE OVERALL PROBLEM WITH GROUNDED. Superman's best stories do not come from acting like a jerkwad and being an accidental threat to all of humanity. Superman is not an "other".
People often refer to Superman as the ultimate outsider, but I think that's patently ridiculous. Superman isn't an outsider; he's an immigrant. He came to this planet and made it his own, eager to defend and protect it. And stories about his supposed inhumanity miss that core nature of the character. And that's the true reason why Grounded is the worst Superman comic of all time.
But hey, at least it's better than Man of Steel.
KIDDING!
I'm kidding.
Mostly.