Last week, we lost a true genius and my favorite comic book artist of all time, Darwyn Cooke. Darwyn was one of my personal inspirations and hearing of his passing was incredibly depressing. But it made me realize that I wanted to talk about one of Darwyn's best works, the DC Comics masterpiece known as The New Frontier. I'd also argue that New Frontier is the best Justice League story ever, with JLA Year One coming in as a close second. And what makes New Frontier so goshdarn great? Let's take a look, shall we?
PS: Even though we're talking about the comic book and not the animated movie based on it, I want to clarify that I really love the animated movie as well, it's just not as detailed or in depth as the book for obvious reasons.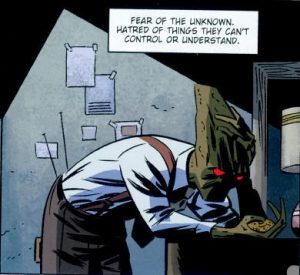 Source: idol-head.blogspot
10. Martian Manhunter
Martian Manhunter has always been a character I had trouble caring about. No matter how many comics I read about him, I just could not form an attachment to him. And then I read New Frontier and I realized, "Oh my god, why isn't J'onn J'onzz ALWAYS this interesting?"
The New Frontier version of Manhunter is a noble soul trapped in a world he never wanted to visit, who decides to go out and do good in that world. He absorbs all of earth's media and decides that he wants to be a detective so he can catch bad guys. That's fantastic.
And his relationship with King Faraday is incredibly nuanced. Watching J'onn shape himself over the course of the book is fascinating and wonderful.
One could argue that he's the most developed character in the work. Or at least the second most developed, after…