Ladies and lads, gentlemen and cads, welcome back to that segment I do where I grab an old character guide and talk about weird characters no one remembers but me. This time, we're gonna look at some DC characters.
In the "˜80s, DC published Who's Who, a handbook-esque series going over all of the characters they had at their disposal. And I have the whole series! So I grabbed the first three issues, covering the first two letters of the alphabet, and flipped through "˜em looking for weirdness. And I found some. Like, I found a lot. So let's talk about them.
These are my favorite articles to write, so I hope you have as much fun as I do as we talk about"¦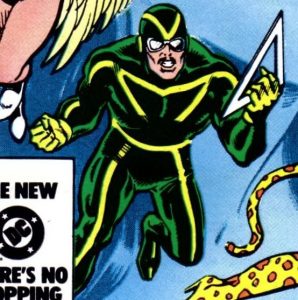 Source: asylum.insanejournal.com
10. Angle Man
Wow, we are starting out with maybe my favorite character on this list. High bar to set right away.
The man who would one day become Angle Man was born as humble child Anglo Bend.
NOPE!
NOPE!
THIS IS TOO AMAZING ALREADY. THAT COULD HAVE BEEN ENOUGH FOR AN ENTIRE ENTRY ON ITS OWN.
Anglo eventually turned to crime, always committing robberies with a unique"¦"angle". Heehee. Eventually, he realized he needed some better weaponry, so he built his new weapon: A PROTRACTOR! Ok, fine, it's actually called an "Angler" and it allows dimensional travel and force fields, but let's both be super clear on this: IT IS A PROTRACTOR. An evil protractor, sure, but a protractor nonetheless.
And to make things funnier, Angle Man is a Wonder Woman villain. Yeah, he's going up against the envoy of peace, the amazing amazon, one of the biggest badasses in the DCU. And what does he bring to fight her? A protractor. On the plus side, one of the more memorable Wonder Woman villains.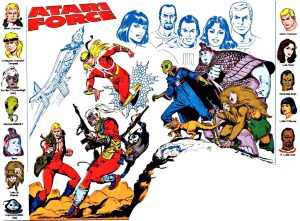 Source: dc.wikia.com
9. Atari Force
Promotional ties in comics are weird as heck. And, although nothing will be as great as those hostess comics (seriously, if Marvel or DC want to collect those in some way, I will buy that so hard), Atari Force comes close.
In the far future, earth has been left almost uninhabitable by an evil force named The Dark Destroyer. Wow. The Dark Destroyer. Did someone put a bunch of evil sounding words on a dartboard and pick whichever two the darts hit? Was his successor named Evil McBadguy?
So Atari Force was formed to fight The Dark Destroyer's forces and save the universe. Sadly, they didn't fight space-born evil through the power of Pong, because that'd be a comic I'd actually read. Atari Force was led by a man named Martin Champion. I"¦I LOVE that. Can that be MY new last name? WHO DO I TALK TO ABOUT MAKING THAT MY NEW LAST NAME??
Also, in-universe, the name Atari stands for Advanced Technology And Research Institute. I don't think the person who came up with that understands how acronyms work. Because that is not how they work.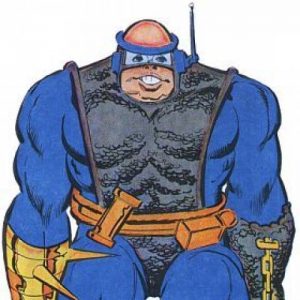 Source: comicvine.gamespot.com
8. Big Sir
Oh, boy. Heh, y'see, sometimes I have to talk about characters who are UNCOMFORTABLY NOT OKAY, and it's hard to make it funny and not REALLY, REALLY offensive. Big Sir is one of those characters. Because Big Sir is a Flash villain whose gimmick is that he has a mental handicap.
If you feel really seriously uncomfortable deep in your gut right now, it's okay, dude; I do too. We'll get through it together, pal, and then we'll get back to fun things.
Big Sir, Born Dufus P. Ratchet – wait, no.
No nononononononono.
Noooooooooooooooo.
Dufus? Oh, god, this is so bad. WHO THOUGHT THAT WAS OK? So, Du – So, Big Sir suffered from a pituitary gland deficiency that left him with a huge muscular body and the mind of a child. He fought the Flash (oh, god, why) and was even a member of the Justice League Antarctica. Okay, okay, happy ending, good.
Oh, wait, he eventually joined the Suicide Squad and got blown up by a bomb genetically engineered into a child.
"¦
Guys, I'm sad. Writing this made me sad. Let's"¦uh"¦let's talk about something fun now, okay? Okay.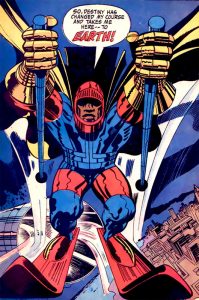 Source: comicvine.gamespot.com
7. Black Racer
I wish I liked the New Gods more than I do. I love Jack Kirby and his work a ton, but I'm not the biggest of New Gods fans for whatever reason.
Buuuut, the Black Racer makes me deliriously happy.
The Black Racer is the Fourth World's depiction of death. So instead of a grim reaper, this brightly colored son of a gun just flies at you on his skis. I feel like he claims a lot of victims. Like, I think I'd be too confused by him skiing right up to me to run from the specter of death.
I feel like that's an effective idea, to have Death just be really freaking weird so people just stare at him as he approaches because what the hell is a Medieval Times employee doing on skis and why is he flying? Who even thinks of that? Jack Kirby, that's who.
Also, favorite thing about his Who's Who entry: his "occupation" is listed as "messenger of death". I want that on my business cards. Right under my new name, Hunter Champion. I just need a PI license, and I'll be all set.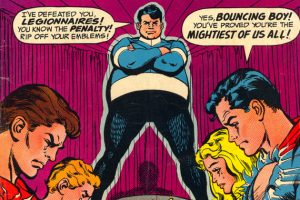 Source: comicsalliance.com
6. Bouncing Boy
I made the rule to only put ONE Legion of Superheroes character on this list. And I picked Bouncing Boy to fill that slot.
Chuck Taine (Of course, his name is Chuck) was a thirtieth-century earthling, who, like an idiot, drank an experimental potion and gained superpowers. He then, according to this Who's Who entry, loses and regains his powers three times. You know, like a screw up.
In post Zero Hour Legion comics, his full name is revealed to be Charles Foster Taine. That is one of those jokes that, if you get it, will make you seethingly mad at the pun.
This incarnation didn't have bouncing powers and was instead more of a tech support guy for the Legion. Because this version of the character didn't think to do shots of an experimental formula like a moron. Seriously, nice origin, idiot.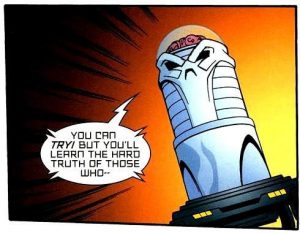 Source: dc.wikia.com
5. The Brain
THE MOST THREATENING VILLAIN OF ALL TIME, LADIES AND GENTLEMEN.
I actually like The Brain, I think he's been in some fun stories, but as I've said before, any villain who can be defeated with a light shove is probably due for an upgrade.
The Brain was a scientist performing experiments on gorillas to make them smarter. His greatest success was a gorilla he named Monsieur Mallah, who went on to be his partner throughout his criminal career. Then a colleague of his plotted to have the scientist get caught in an explosion, which destroyed his body. Mallah fused his brain with a computer network, and the scientist became The Brain.
Eventually, this became the classic brain-in-an-evil-looking-metal-chess-piece look we all know and love. The Brain went up against the Teen Titans, the Doom Patrol, and even the JLA, before he and Mallah finally announced their love for each other. Yeah, when I said they were partners, I meant they were partners. Now, I'm all in favor of gay marriage and LGBTQ rights, but I feel like human brain in jar on hyper-intelligent gorilla love crosses some kinda line.
But I don't have to worry about that any more because during Salvation Run, Gorilla Grodd picked up The Brain and beat Mallah to death with him. This is equal parts tragic and really funny. They died together, which is"¦sweet? I guess?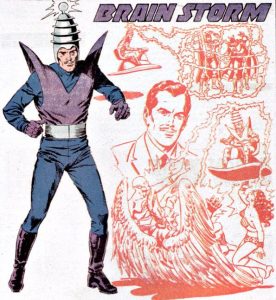 Source: dc.wikia.com
4. Brain Storm
Not gonna lie, the only reason I added Brain Storm to this list is because of his hilariously phallic looking helmet.
It's, uh, it's certainly something, isn't it?
Hee hee.
ANYWAY, let's actually talk about Brain Storm as a character. Born Axel Storm, which is 1000% the name of someone's Sonic the Hedgehog OC, Brain Storm built a helmet that allowed him to harness stellar energy. Not sure why the mechanical Marge Simpson up there couldn't build a less cumbersome looking helmet to do that, but whatever.
Believing that his brother had been killed by Green Lantern (due to a wacky mix-up), Axel attacked the Justice League, with predictable results. Later, he returned to fight them again, this time by striking them with various physical ailments.
He fuses the Flash's legs together so he can't run (which is hilarious), makes Green Arrow's arms disappear (which is somehow way funnier), blinds Superman (which is just a major jerk move), gives Green Lantern a stutter, and my favorite one of all, just gives Hawkman breathing problems. Like, that combination of things is really funny. Especially since he didn't even think highly enough of Hawkman to give him a character-specific ailment.
Best Justice League issue of all time? I would say yes.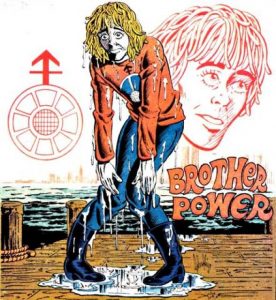 Source: giantbomb.com
3. Brother Power the Geek
We all love Captain America, right? And as a result, have the deserved amount of respect for his co-creator Joe Simon? Well, the thing is, not EVERYTHING Joe Simon created was as great as Steve Rogers.
So let's talk about Brother Power the Geek. Brother Power was a mannequin in an abandoned store that had been taken over by hippies. We are off to a GREAT start. One of the hippies, named Paul Cymbalist (I DON'T KNOW, OKAY?), dressed the mannequin in his blood soaked clothes after a fight. Then, when it was struck by lightning, it came to life and gained super powers. Because comic books.
Brother Power, as he christened himself, had a series of misadventures, one of which involved running for US Congress, because OF COURSE THAT HAPPENED. Eventually though, he was framed for sabotage and Governor Ronald Reagan had him shot into space. Yeah, GOVERNER. That's how long ago these comics were written and released.
I will say though that, although I raised the Captain America parallel as a joke, it's interesting to view Brother Power as embodying the spirit of the sixties in the same way Cap did for the forties. Say what you will about Joe Simon, guy knew how to write a decade.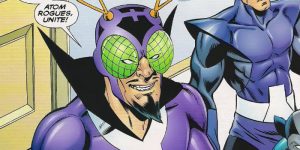 Source: screenrant.com
2. Bug-Eyed Bandit
Y'know, The Atom doesn't really have a great rogues gallery. It's weird, too; I always think of him as the third in the 50s DC trio, after Flash and Green Lantern, and they both have pretty good villains. But Atom has, like, Chronos. And that's it, as far as good ones go.
So let's talk about the Bug-Eyed Bandit. Bertram Laravan (god, these names somehow keep getting worse) designed a mechanical insect to act as pest control. But, needing money to keep funding his work, he turned to crime and stole it.
Y'know, Bertram, they have these things called "grants". You should maybe try applying for one or two of those before heading straight for Ivytown's Most Wanted list.
Eventually, Bertram and Batman villain the Ten-Eyed Man were killed by Shadow Demons during the Crisis. Writer Marv Wolfman did this because he "couldn't be part of a company that would print [those characters]".
Damn, Marv, harsh.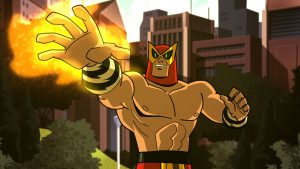 Source: comicvine.gamespot.com
1. B'wana Beast
B'wana Beast is known for having a superpower that, if you really think about it, is just horrifying amounts of animal abuse.
Mike Maxwell found a helmet and an elixir at the top of Mount Kilimanjaro and…drinks that elixir with NO CERTAINTY as to what it actually is. God, what is it with people in the DCU and drinking strange liquids? Does not seem safe.
But Mike got enhanced abilities and senses, and a horrifying new power. He has the ability to merge two animals together into one new animal. For instance, he could take a cat and an eagle, and fuse them into a new creature.
For the animals involved, this must be a mind-breakingly terrifying experience. I know that if I, personally, was Voltroned together with a snake or whatever, I would lose my mind in fear and confusion. God forbid PETA ever finds out about B'wana Beast's cosmic horror powers.
And with that, I'm gonna call this one. I really love doing these so I will almost definitely do another. Plus, we got A LOT of DC characters to work through. And a bunch more Marvel ones, as well.