The armored Avenger has been around for quite a while, and in that time he's amassed a wide array of quality supervillains. And all of those supervillains are tragically lacking in respect. So allow me to educate you on some of the best villains you know nothing about. Because at the end of this, you'll have a way better appreciation for these armored antagonists and for the billionaire playboy philanthropist they typically fight.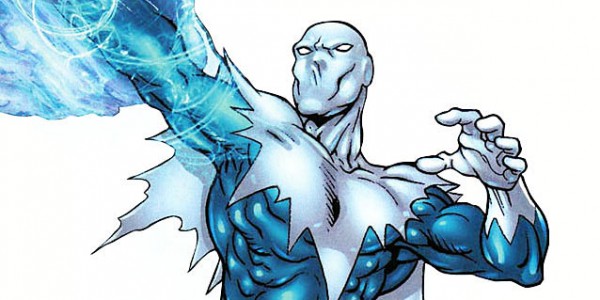 Source: osmweasel.com
10. Blizzard
Thunderbolts pride for life!
I loves me some Donnie Gill. Donnie was not the first Blizzard; Justin Hammer gave him an upgraded version of the first Blizzard's suit. He was put on Hammer's B-Team, alongside The Beetle and Whiplash. But they all got their butts kicked. During his time as Iron Man, James Rhodes was able to talk Blizzard into reforming, but wasn't long before he joined up with Hammer's team of villains, who were tasked with attacking the Thunderbolts.
He villain-ed around here and there, once under MODOK command and once vs. She-Hulk. Donnie then tried to redeem himself by spending some time being a good guy with the Thunderbolts. He eventually reverted to crime yet again, using a powered-up suit given to him by the Mandarin. He was one of a few villains to rebel by helping Tony Stark and Zeke Stane defeat the Mandarin and save the world.
Good for him!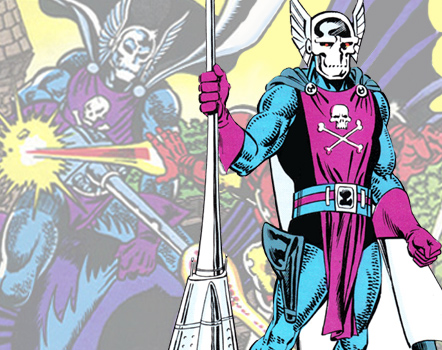 Source: marvel.com
9. Dreadknight
I frigging love Dreadknight. He's so insane and amazing.
So let's start with his name. His name is Bram Velsing. Bram. Velsing. That sounds like a spoonerism of a real name, but it somehow isn't. It's a riff on Bram Stoker and Van Helsing, because sure, why not.
Velsing was a Latverian scientist who was doing his own thing. And Dr. Doom didn't really like that. So Doom welded a mask to Velsing's face. Like a jerk. Velsing fled and found refuge with Victoria Frankenstein, the classic doctor's great granddaughter. There, he encountered supervillain The Black Knight's winged horse, and stole it.
He became a supervillain and fought numerous heroes, including the Golden Avenger. And Doctor Strange. And Spider-Man. And the Avengers. Dude's persistent, for a guy with a dumb name and a metal mask stuck to his face. I mean, he has a flying horse. That's pretty baller. He's got the whole knight thing going for him. Hell, he was even in the Frightful Four, and maybe the Masters of Evil, depending on who you ask. Go team Bram.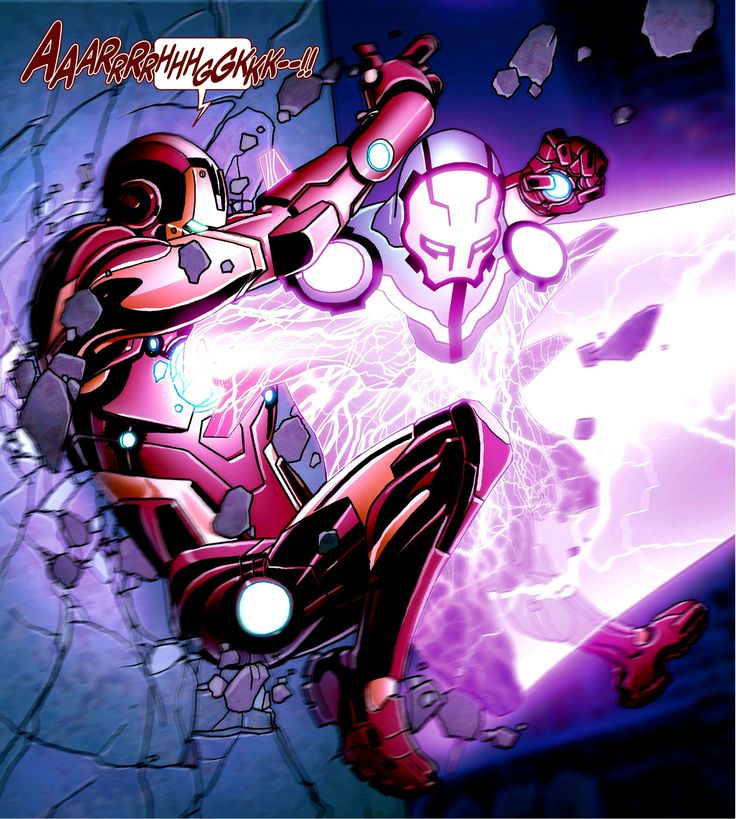 Source: pinterest.com
8. Living Laser
Arthur Parks was jilted by a girlfriend who left him for a wealthier man, so he decided to became a supervillain.
Yes, that's really it. Look, not every supervillain can have Mr. Freeze-level motivation, okay? Some of them are just jerks.
Arthur built himself a laser suit and turned to crime. He showed up, immediately fell in love with the Wasp, and took on the Avengers to have her. He lost! Surprise. Turns out it really doesn't matter how laser-y your suit is when you're literally up against the God of Thunder. He tried again under the Mandarin's command. And then again as a minion of Batroc the Leaper.
Wait, really? This dude took orders from Batroc the friggin' Leaper? How low on the totem pole do you have to be when you're taking orders from Frenchie McKicksalot? Pretty friggin' low, that's for certain. But that's clearly how low Arthur is.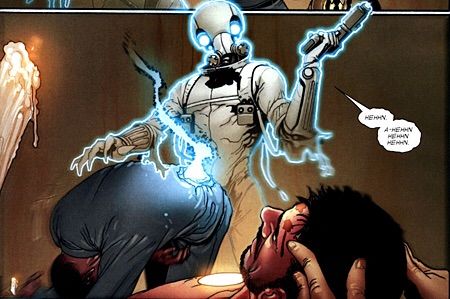 Source: aminoapps.com
7. The Ghost
THUNDERBOLTS PRIDE PART 2!!!!!!!
I friggin' LOVE The Ghost. And to explain why, I only need to use the quote that leads off his Marvel Database page: "If corporations are people, I am a murderer!"  How can you not love that guy?
The Ghost, real name unknown, started off as a simple computer engineer before he was wronged by a corporate business-type villain. He then decided to build a suit full of intangibility tech and go on a villain-ing spree. He first faced off with Iron Man under the employ of Roxxon Oil, and when he failed, they sent Iron Man villain Spymaster (not on this list) to kill him. Instead, Ghost murdered Spymaster. Ghost worked for a bunch of other dudes for a while, including Justin Hammer and the Kingpin (yes, THAT Kingpin).
He then joined the Norman Osborn Dark Reign Thunderbolts team, which we don't talk about before the Siege of Asgard broke that whole thing down. Oh, he also tried to kill a comatose Stark, but got cell tower bounced to Seoul. But then he found a place with Luke Cage's Thunderbolts team, which is the best thing ever, and I will never not love him because of that.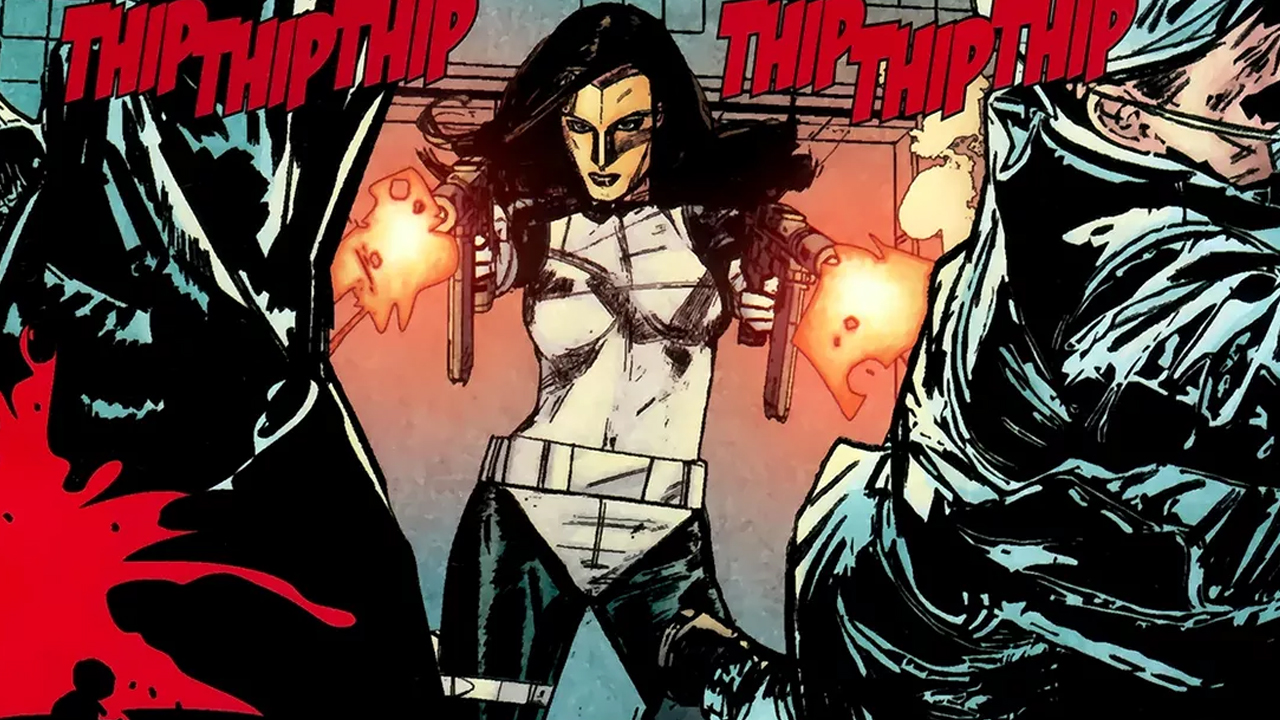 Source: comicvine.gamespot.com
6. Madame Masque
Look, her real name is Giuletta Kristina Nefaria. But I'm gonna call her by her alias, Whitney Frost, because it's the name she usually goes by, and because it's one hell of a lot easier to spell.
When Frost discovered that she was actually the daughter of Avengers villain Count Nefaria, she went to work as leader of the Maggia. During that time, she suffered a tragedy and had her face horribly scarred, leading her to her identity as Madame Masque. Under an assumed identity, she wound up falling in love with Tony Stark, and the two would flirt on and off for the remainder of their careers.
She also died and cloned herself a bunch and then came back and then the clones died and it was a whole thing that we are just skipping right over.  The Hood used her as a weapon against the Avengers. At this point, she and The Hood became constantly intertwined. She fought Hawkeye and Moon Knight and Hawkeye (the other one) and Iron Man again, until she eventually got possessed by demons, and Doctor Strange had to cure her.
And that was the last we saw of her.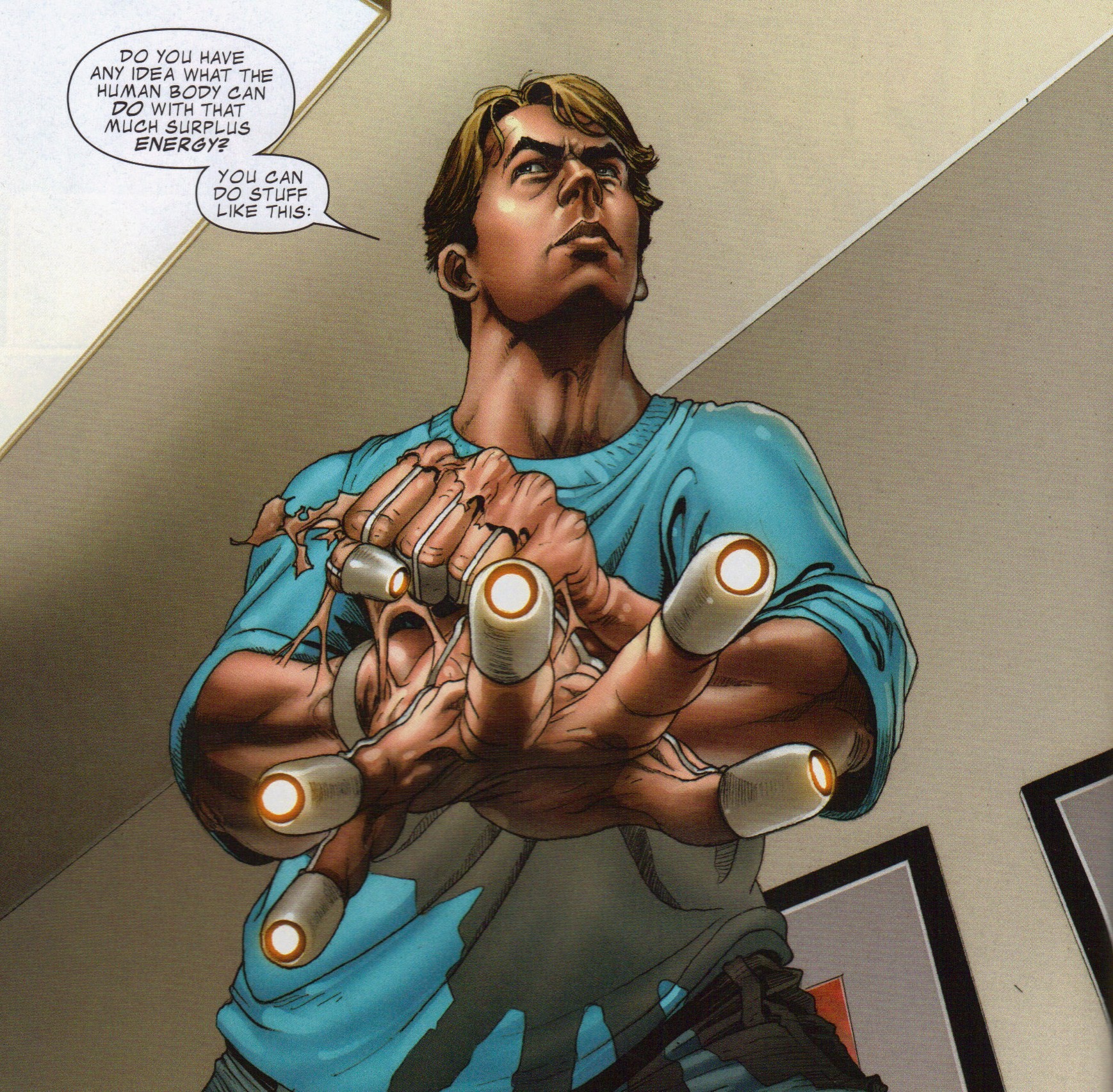 Source: comicvine.gamespot.com
5. Ezekiel Stane
Like father, like son, am I right?
One crazy psycho who likes building suits of armor will probably give birth to another, and that is exactly what happened here. Ezekiel was raised to be the best by his father Obadiah, who beat perfection into him. But Zeke still loved his dad, and was infuriated when Obadiah died in battle with Tony Stark. So he decided on revenge.
He tracked down black market Stark tech, and used it to augment himself and others with some hardcore Wetware. Wetware is a scary word. It's never good. It always means gross meat-flesh tech stuff. And Zeke is no different. He started tripping off repulsor-tech suicide bombs, because that's horrifying. He eventually took on Stark, and lost.
He tried again a couple more times, and was eventually enslaved by The Mandarin. He had to team up with Stark to survive, but soon went back to evil and villainy.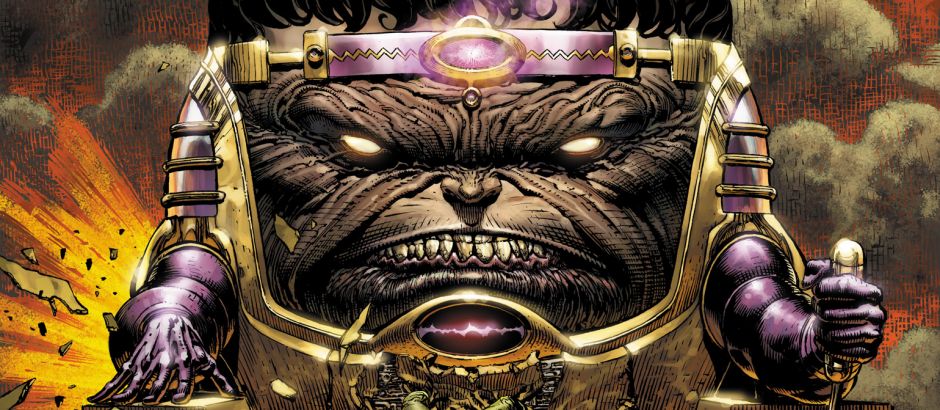 Source: marvel.com
4. MODOK
A few people were asking why I left ol' Big Head off my list of Captain America villains, and it's honestly because I don't consider him one.
Yes, I know he first appeared in Tales of Suspense, specifically in the Captain America stories in that book (I have read those comics, you know), but I always found MODOK more suited to fighting the Golden Boy than the striped boy scout.
George Tarleton was a technician working for AIM who was chosen for the MODOC program, which was designed to create a Mental Organism Designed Only for Computing. George got mutated into a hideous big-headed monster that became very powerful and full of murder. He re-christened himself MODOK, replacing the Computing thing with Killing.
He then took over AIM, much to the ire of everyone else in AIM. MODOK would rule AIM for a long time, despite most of AIM straight-up hating him. When he was exiled, he put together a team of D-List supervillains known as MODOK's 11, with the intention of regaining power. It worked.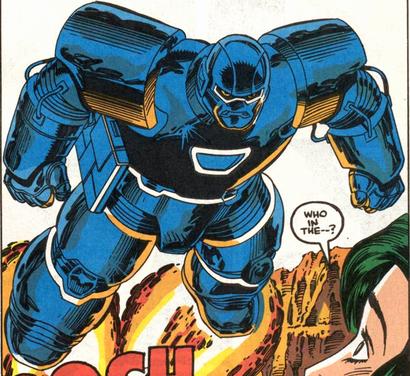 Source: comicvine.gamespot.com
3. Iron Monger
Obadiah Stane was a classic vicious businessman who grew up in a horrible state, living in poverty with a deceased mother and an alcoholic father. Obi's father, Zebadiah, had a thing for gambling, specifically Russian Roulette. And one night, he lost.
Obadiah grew up to become quite rich and successful. And once he got Stark Enterprises in his sights, he simply had to have it.
He bought Stark International and transformed it into Stane International, which must have been cheap as far as sign-changing goes. He was, however, unable to get his hands on the Iron Man armors, which left him pissed. So he built his own suit. The Iron Monger. After Stark crippled the armor, Stane decided he would never surrender, and he followed in his father's footsteps by blowing his own head off with his repulsor.
The Iron Monger armor was much less advanced than The Iron Man, in terms of weapon loadout, maneuverability, control scheme, and, quite honestly, visual design. The thing is a clunky mess, but it looks scary.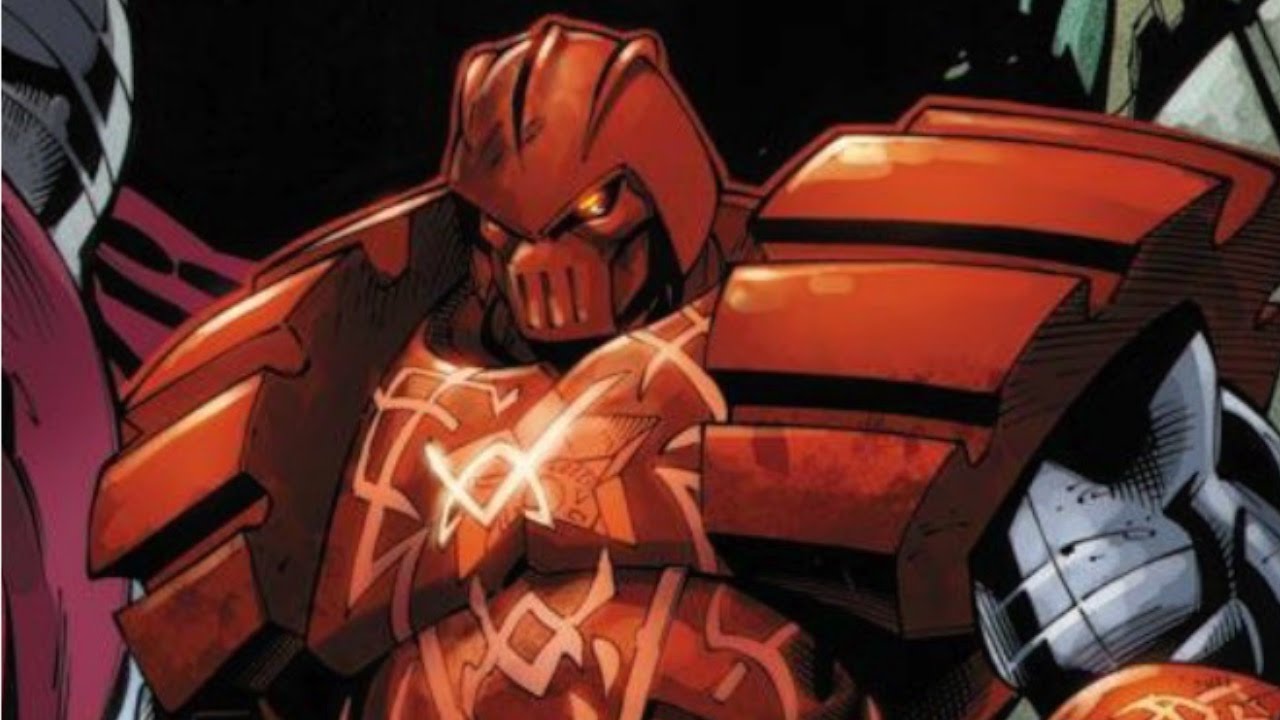 Source: youtube.com
2. Crimson Dynamo
Man, Iron Man goes through Crimson Dynamos fast. There have been so many.
Anton Vanko invented the armor and fought Iron Man until Tony tricked him into defecting to the US of A. He worked for Stark until a new dude, Boris Turgenov, stole the armor to become the second Crimson Dynamo. Vanko fought back, and they both died.
Alex Nevsky was Crimson Dynamo III, Vanko's former assistant. He was upset at Vanko's defection, so he built a new suit and fought Iron Man, but he eventually fled and was killed by the KGB, who took the suit. They gave it to Yuri Petrovitch, who failed in his first mission, so they took it away and gave it to Dimitri Burkharin.
He was also a KGB agent for a long while, but that ended when the Soviet Union fell. He eventually turned into a good guy, in fact. He even helped Tony Stark escape Norman Osborn by lending him his armor. Sweet guy. There have been other Crimson Dynamos (13 in all), but it's Dimitri who's become the defining one, and the one who is most often seen in the armor.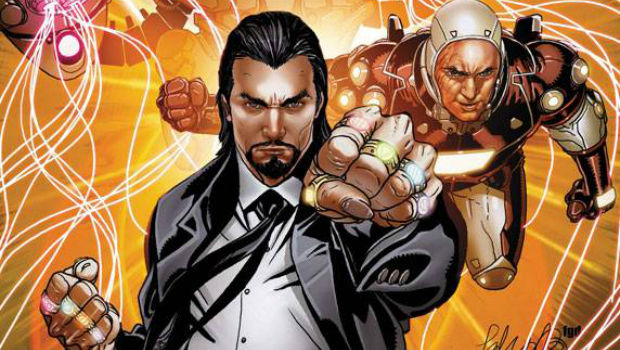 Source: fixist.com
1. The Mandarin
Of course we had to touch on The Mandarin. He's important!
The Mandarin was the son of rich nobles in China"¦according to The Mandarin. In reality, he was the child of an opium-addicted prostitute who lived in a whorehouse. He murdered everyone who stood in his path, and rose to power, eventually spearheading an operation to kidnap industrialist Tony Stark.
He also gained power thanks to ten alien rings he discovered in a crashed spaceship. Although the rings had the intended purpose of conquering the earth, they seemed content to let The Mandarin wear them on his fingers for a long while.
When Iron Man arose, Mandarin fought with him numerous times, even funding the Scarecrow and other villains in their attempts. No, the other – y'know what, I'm so sick of having to do that. YOU KNOW WHICH ONE I MEAN.
Mandarin is one of the most vicious Iron Man villains, and one of his best foes.
And there you go! My ten favorite Iron Man villains, all laid out for your enjoyment. I love Iron Man bad guys, so I had to leave a bunch out, maybe enough for a second list! We'll see.