With the seemingly endless list of comic book movies due to be released in the next five years, we can't help but get nostalgic for the movies we've enjoyed so far. The movies from our childhoods, the movies from our young adulthoods, the movies that may have missed the mark a little, and even the movies we try and pretend don't exist.
All of them hold special places in our hearts.
As for the new releases, fans already have high expectations for them. Comic book films have been reaching for new heights in recent years and with that, we will all get to see some of our favorite heroes and villains leap from the pages to big screen for the first time ever. After many years of the same characters being recycled over and over again, fans are excited to get a taste of familiar characters from the page in new settings on screen.
But before these new movies take our breath away, and while we're feeling nostalgic, we want to take some time to reflect on the movie moments that never went away. The ones that come up once a day, the ones come up with our friends that don't know anything about comic book movies, the ones that have become pop culture staples, the ones that made many of us comic book movie fans in the first place: The 10 Comic Book Movie Scenes We Still Talk About.
Spider-Man vs. Dr. Ock on the Train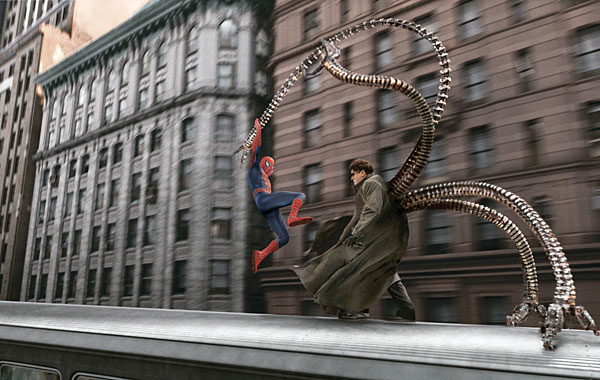 One of the joys of watching a Spider-Man movie is that you get to join the hero for some high flying and swinging above the city. In Spider-Man 2 we get to join him on a high speed fight aboard a moving train. Despite his weight, Dr. Ock proves to have some added balance with the use of his extra arms and puts up a good fight.
What really wows in this scene though is the agility of Spider-Man. In just four minutes we see him narrowly fly through a latticed tunnel, dodge a train on the opposite track, and fly through traffic while tethered to the still moving train. While agility has always been his game, we get to experience his strength too, with him stopping the moving train and saving the lives of everyone on board. A classic superhero moment.
Blade Crashes a Vampire Rave

In what may be one of the best comic book movie openers of all time (with Sin City right behind), Blade's entrance into a vampire rave tells us everything we'll need to know right up front. We enter what looks to be a typical rave, complete with Donal Logue (who I personally can only ever think of as being the star of Grounded for Life), getting down with two women at once and a room full of beautiful but mean people.
We cue to blood spraying from the ceiling and a potential victim who quickly learns he's the only human at the party. Of course, all the fun stops when Blade enters, impeccably dressed, while the vampires drenched horrifically in blood stare on. It's bloody, it's graphic, it sets you up for a wild ride.
Spider-Man Kiss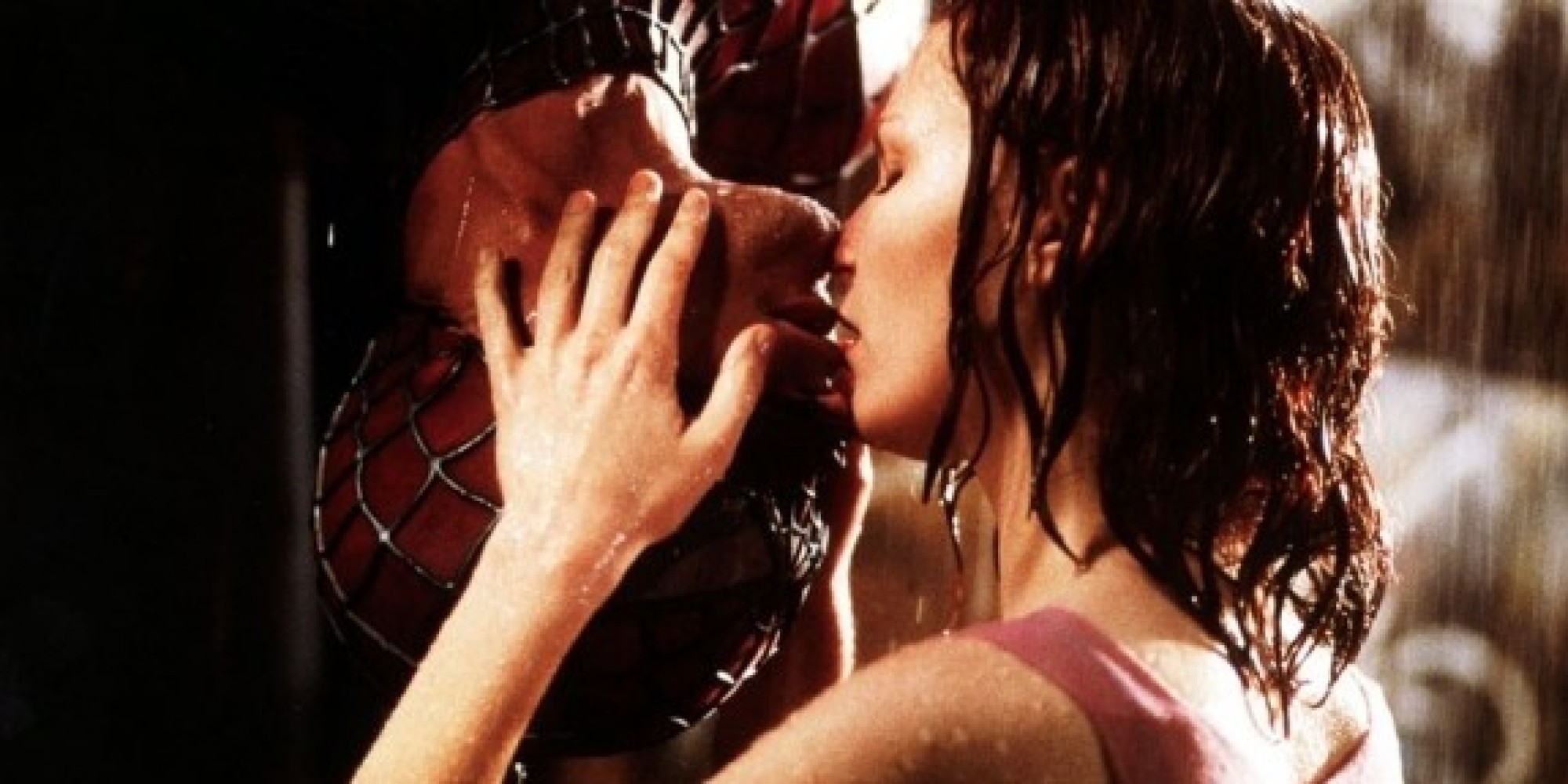 You can say what you want about this making the list, but it was a moment that people just couldn't stop talking about, and couldn't stop reinventing, or mocking. It was the most famous scene from Spider-Man, hands down, which is hard to do considering Willem Dafoe was the villain.
It was mix of Mary Jane's wet sexiness and Spidey's romantic side that made the scene a winner. It appealed to everyone's emotional and sexual sides, making not only one of the most famous comic book movie scenes of all time, but one of the most famous movie scenes of all time, period.
Hit-Girl's Entrance in Kick-Ass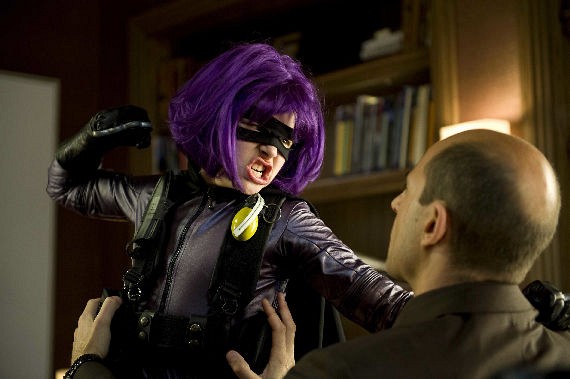 Who can forget the entrance of Hit-Girl into a room full of drug dealers in Kick-Ass? Somehow, one of the most brutal scenes on this list also becomes one of the funniest when we stop to consider a young Chloe Moretz, starring in what many consider her breakout role, as Hit-Girl opening up her epic battle scene with the c-word. There she is in a purple wig, having just killed the man Kick-Ass came to reprimand.
But without any hesitation, she single handedly takes out the entire room full of grown men and does so with no regret. Her sword skills are amazing, she takes off an entire leg, and doesn't even stop to discern who is right and who is wrong–she is there to save Kick-Ass. And boy does she. PS – The entire scene is set to "Banana Splits" by the Dickies, adding a level of"¦ well, whimsy.
This Is Sparta!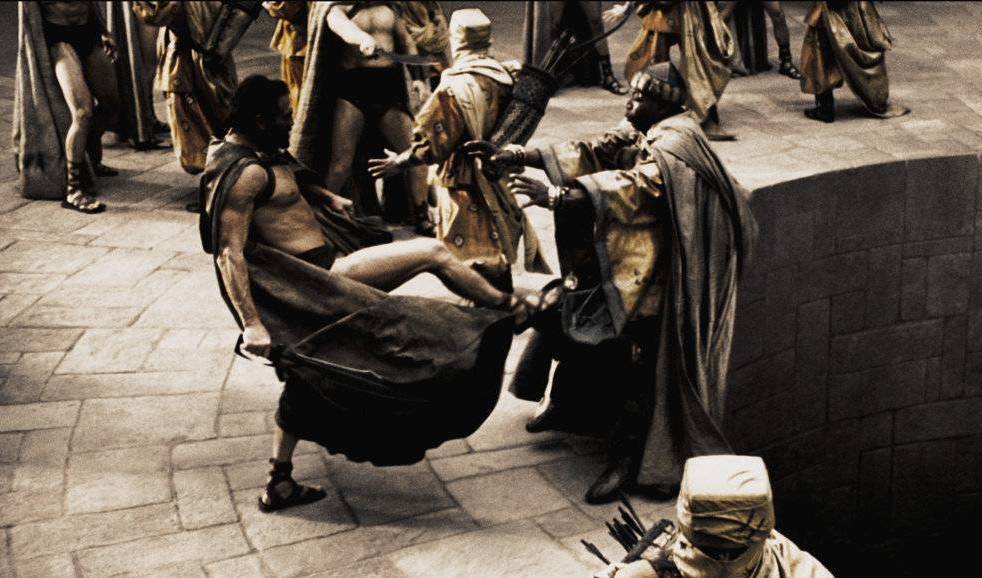 Who hasn't shouted this famous line before even the most boring of tasks? This single line made 300 a movie no one would forget, along, of course with its stunning imagery, colors, and insanely jacked dudes. The scene is beautifully done, starting with the gentle calmness of a summer storm.
When making his decision on what to do with the Persians, Leonidas looks out to his people, the children and women, before drawing his sword. The Persian tells him he is mad for doing so and in a stunning moment of trust, Leonidas looks to his Queen, gets her approval, and utters his now famous words, "Madness? This is Sparta!" And drop kicks the dude into their giant death well. An epic showing of strength, beautifully filmed and brilliantly acted with patience and spirit.
Batman Begins Calling Card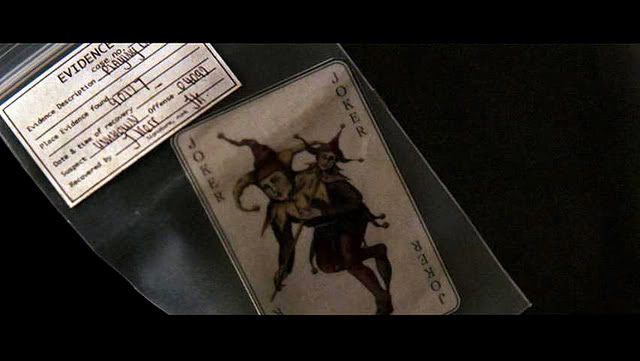 This was the "squee" heard around the world. The ending to Batman Begins leaves fans with a very particular calling card, The Joker card. It left everyone having to endure three painfully long years to see the reveal of the Joker in Dark Knight. The tease at the end of the movie was a moment everyone wanted to talk about.
How was someone going to top Jack Nicholson's Joker? What would a Joker character be like up against Bale's Batman? The questions were endless and we were all tossing in our beds. One of the most bitter-sweet, and certainly most talked about, endings of any superhero movie out there.
Dance With the Devil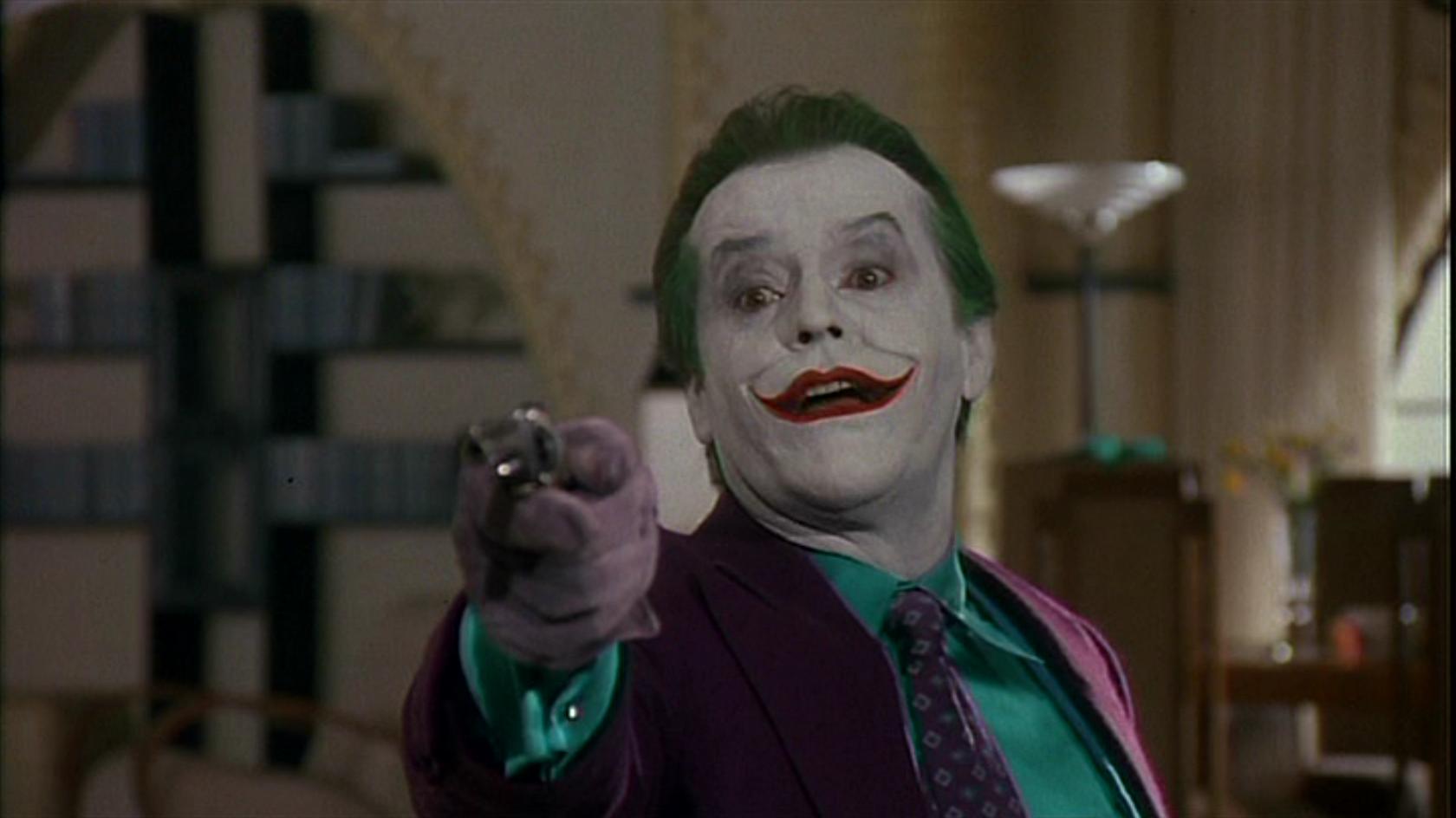 Speaking of Nicholson's Joker, how can we forget one of his most striking scenes from the 1989 Batman movie where he shows up to harass Vicki Vale and finds her with, not Batman, but Bruce Wayne. Wayne tries to hold his own without revealing who he truly is by getting wild with a fire poker, but then the Joker asks him, "Tell me something my friend, you ever dance with the devil in the pale moonlight?"
Not only is it a killer line, but if we're being savvy enough, we'll remember that the man who murdered Wayne's parents in the beginning of the movie said the same exact thing. Maybe a bit clumsy of a reveal, but still a great one given Nicholson's delivery.
Sin City Opener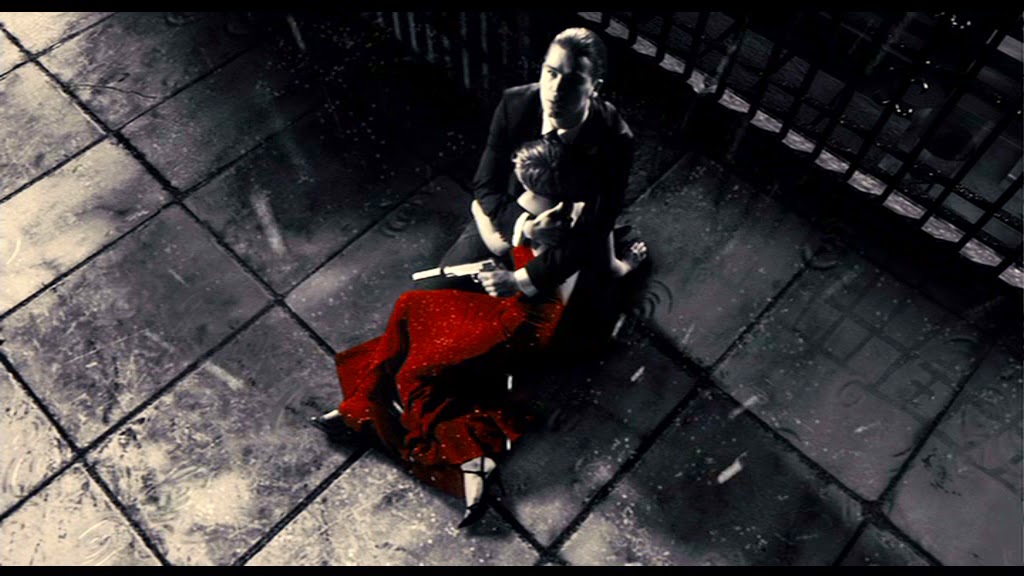 "She shivers in the wind like the last leaf on a dying tree," The Man (Josh Hartnett) says when we open. He follows a woman to an open terrace, presumably during a fancy party of some sort. The music is smooth jazz, we're transported and introduced to Frank Miller's world easy with the red dress and red lips on the woman as our only color.
The Man narrates in a way we're all used to when it comes to seedy crime movies– slow, easy. He tells the woman that everything will be alright, that he loves her, and then "the silencer makes a whisper of the gunshot." He'll pick her check up in the morning. And just like that, the movie we waltzed into so easy and familiar, is familiar no more.
Avengers Battle in New York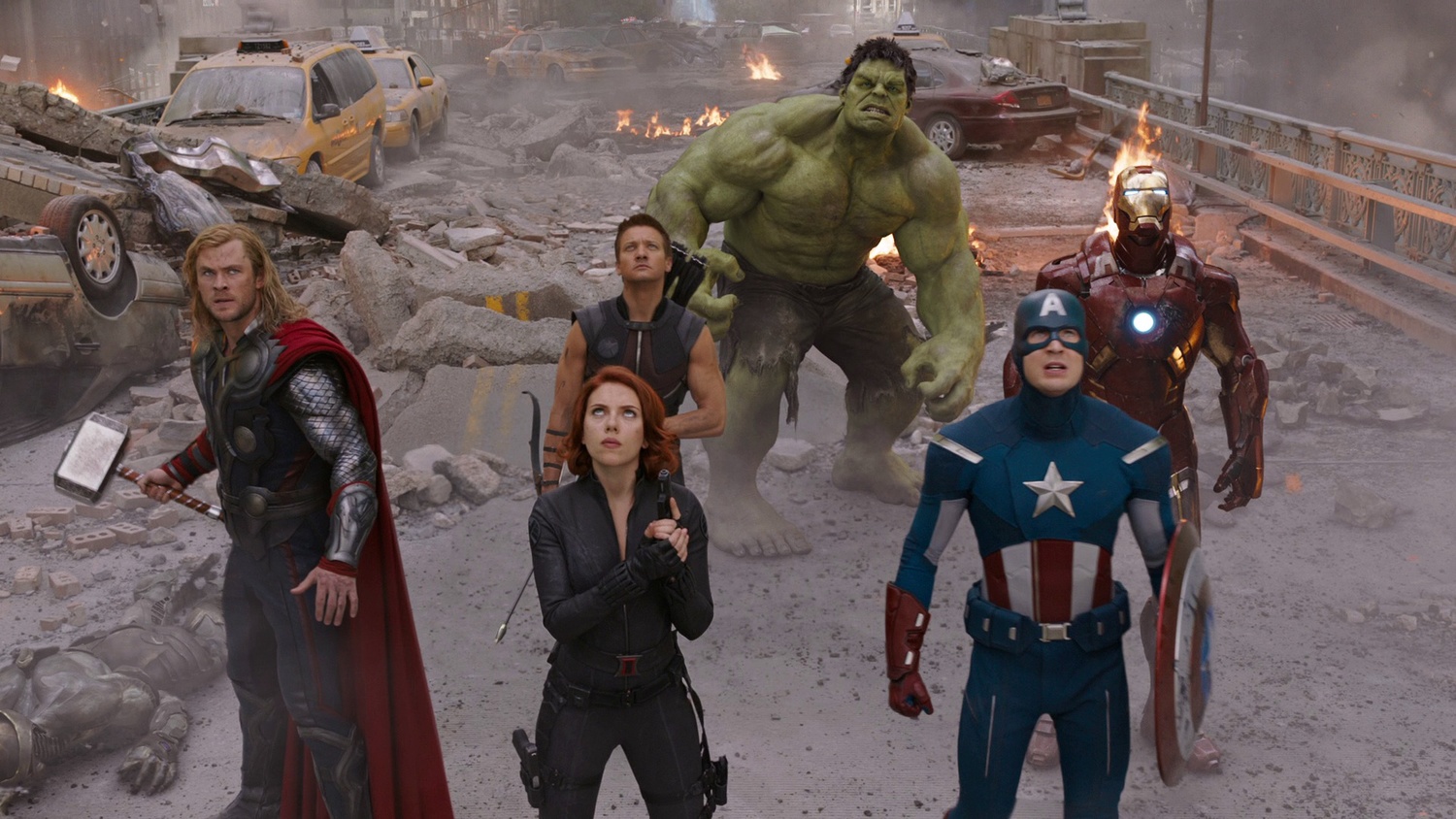 A beautifully done scene, fans are able to witness each of the Avengers battling it out in their own style in a single take. The scene blends from Black Widow to Iron Man to Captain America to Hawkeye high on a building top, to The Hulk battling it out, to Thor assisting with a deep blow that ends with a gigantic crash into Grand Central Station.
Not only is the entire scene an epic destruction scene for New York City, but we get to see how the Avengers work together as a team in a single smooth shot. It's a beautiful take on a classic fight scene.
The Joker's Upside Down Monologue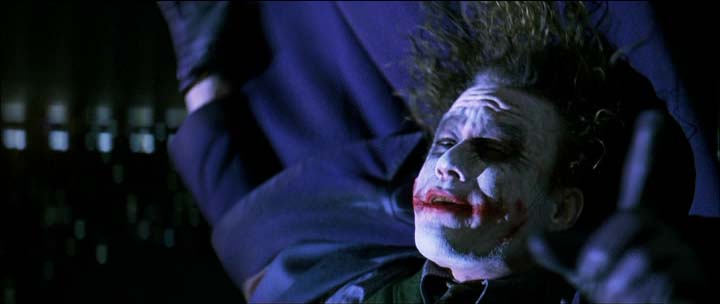 Heath Ledger's Joker from The Dark Knight is favorite among many, so it is no surprise that he delivers one of our favorite comic book movie monologues of all time"¦ all while dangling upside down. The fight scene leading up to the famous moment is pretty decent, but it is the moment when Batman doesn't let him fall to his death, instead tying him up to hang, that gets us started.
From there, the Joker bears down on the relationship between good and evil, how one cannot exist without the other using Batman as a prime example. He famously wraps up with a grand reveal about Harvey Dent, Gotham's White Knight, and the now very famous line, "Madness is like gravity, all it needs is a little push."