With Thor: Ragnarok currently shooting in Brisbane, we're getting a closer look at stars Tom Hiddleston and Chris Hemsworth, thanks to recent photos taken by a fan.
Instagram user Mark Milling shared photos yesterday from the shoot, capturing Hemsworth and Hiddleston between takes on what appears to be an outdoor street scene. Both actors are partially covered in normal clothing, but it's clear they're in their traditional Asgardian costumes underneath.
https://www.instagram.com/p/BJgsJimAtBW/?taken-by=markymark9999
https://www.instagram.com/p/BJgqjedA6fp/?taken-by=markymark9999
In addition, a new paparazzi photo of an unidentified cast member has also surfaced. A woman was photographed on set draped in a purple cloak, and fans have been speculating as to which character she's playing in the film.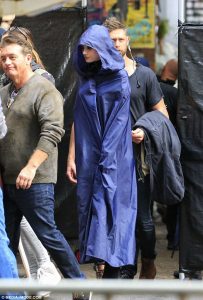 Some sources thought the mystery woman could be Cate Blanchett, covering up her Hela costume, or possibly Jaimie Alexander, playing Lady Sif. There's also speculation that the actress is playing Thor's mother, Gaea, but we'll just have to wait and see.
Behind-the-scenes photos from the Ragnarok set have been plentiful, so hopefully we'll get more clues as to the identity of the cloaked woman. Who do you think she is?