We've got a veritable swarm of comic book and superhero movies to look forward to in the next few years, with eight of them coming in 2020 alone (Birds of Prey, Bloodshot, The New Mutants, Black Widow, Wonder Woman 1984, Morbius, Venom 2 and The Eternals).

Several more are confirmed (Shang-Chi and the Legend of the Ten Rings, Doctor Strange in the Multiverse of Madness, Thor: Love and Thunder, The Batman, The Suicide Squad and Black Adam, for example). but they're nearly all based on well-known Marvel or DC properties.

Bloodshot (a Valiant Comics title) is pretty much the only exception to that rule – and that's a real shame, because we'd be absolutely thrilled to see more smaller comic book titles being turned into big-budget live action movies – starting this decade!

On that note, let's run through ten movies based on lesser-known comics we'd love to see in the 2020s!
10. Evil Ernie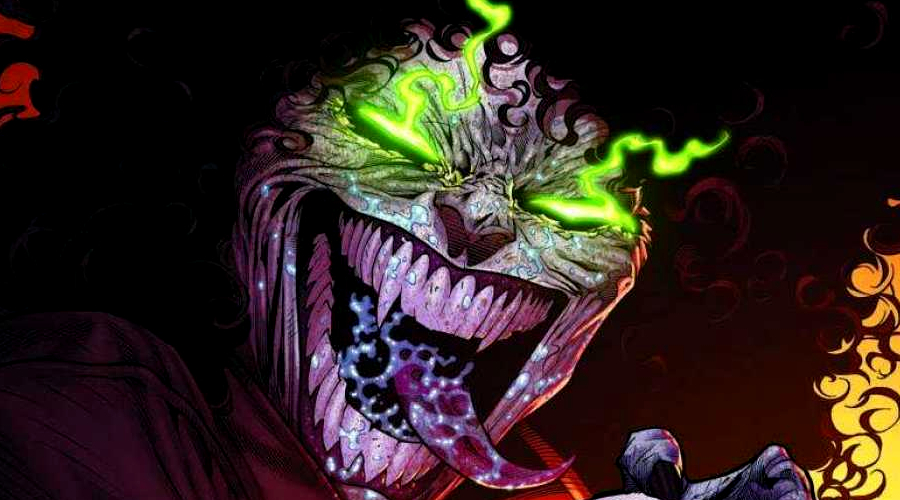 Aside from superhero stuff, has there been a more popular cultural phenomenon than zombies since the turn of the millennium? We think not.

The likes of The Walking Dead (and its spin-offs), Game of Thrones, Z Nation, World War Z, Zombieland (and its sequel) and Train to Busan are just some of the incredibly popular television shows and movies to have featured the undead in recent years.

Heck, it's got to the point now where fans are calling for the Marvel Cinematic Universe to dip into the zombie genre with a Marvel Zombies movie!

But we think we've got an even better idea: An Evil Ernie movie!

Published by Dynamite Entertainment (and previously Eternity Comics, Chaos! Comics and Devil's Due Publishing) Evil Ernie was Ernest Fairchild – a young boy with supernatural powers who was abused by his parents and, ultimately, killed by a mind-altering device whilst incarcerated in a mental asylum.

Lady Death then mutated him into a powerful undead killing machine – with a variety of superhuman, telepathic and magical powers – whom she tasked with murdering every living being on Earth!

Now, wouldn't that make for an incredibly entertaining movie?!
9. Saga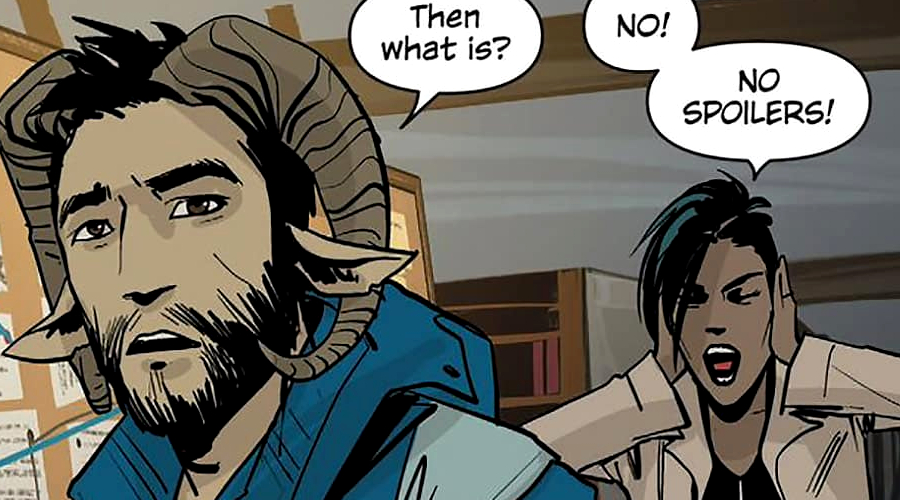 Let us make this very clear: Saga is one of the very best comic book series you could ever hope to read!

It's been ongoing since 2012 and is showing no signs of slowing down.

Published by Image Comics, it's a space opera/fantasy series (with very obvious influences from a variety of other genres and subgenres) that follows a husband and wife – Alana and Marko – who come from long-warring extraterrestrial races, as they flee from authorities from both sides of a galactic war and struggle to care for their daughter, Hazel.

It's been likened to a wide variety of works, including Star Wars, The Lord of the Rings and even classic works of literature such as Romeo and Juliet, Hamlet and the New Testament – which is high praise indeed!

Unsurprisingly, it's won countless awards and has even outsold series as popular as The Walking Dead!

With its huge range of weird and wonderful characters, we believe Saga would make for a truly epic movie franchise!

If it maintains its popularity, we don't just hope it'll be given the Hollywood treatment soon, we absolutely believe that it'll happen.
8. Coda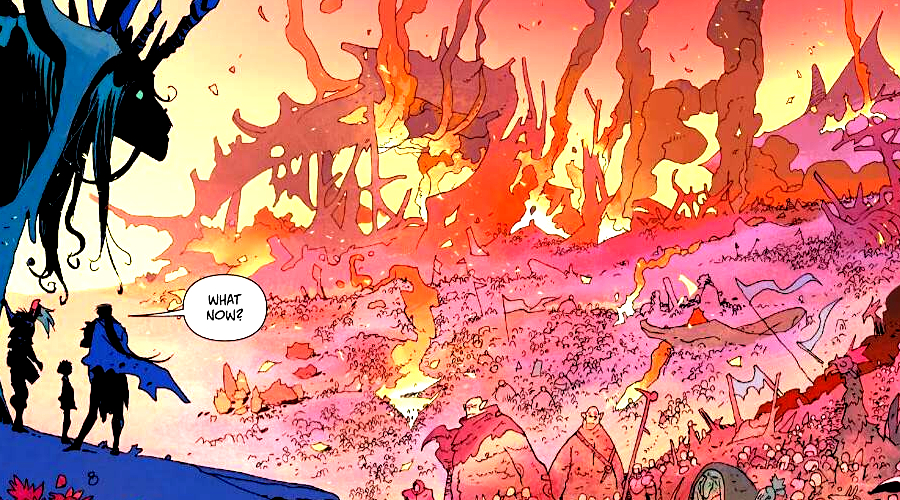 Coda is a fantastic twelve-issue comic, published by Boom! Studios in 2018 and 2019.

If you know someone who loves fantasy fiction, but is hesitant when it comes to giving comic books a try, point them in the direction of this title!

It's set in the aftermath of an apocalypse that wiped out nearly all the magic from a world that was once brimming with it – and the world-building in such a short space of time is unbelievable.

The story is focused an antisocial former bard named Hum, who sets out to find a way to save the soul of his wife, alongside a foul-tempered mutant unicorn.

He unwittingly ends up being dragged into a brutal power struggle – and, quite frankly, it's absolutely brilliant.

It's been compared with the likes of The Lord of the Rings, Dungeons and Dragons and Mad Max, which means it should appeal to a huge audience.

It's absolutely teeming with amazing twists and turns and, at the centre of it, there's a compelling love story.

The land in which it's set is so colourful, it would look fantastic on film – and we'd absolutely love to see it made into a movie.
7. Prism Stalker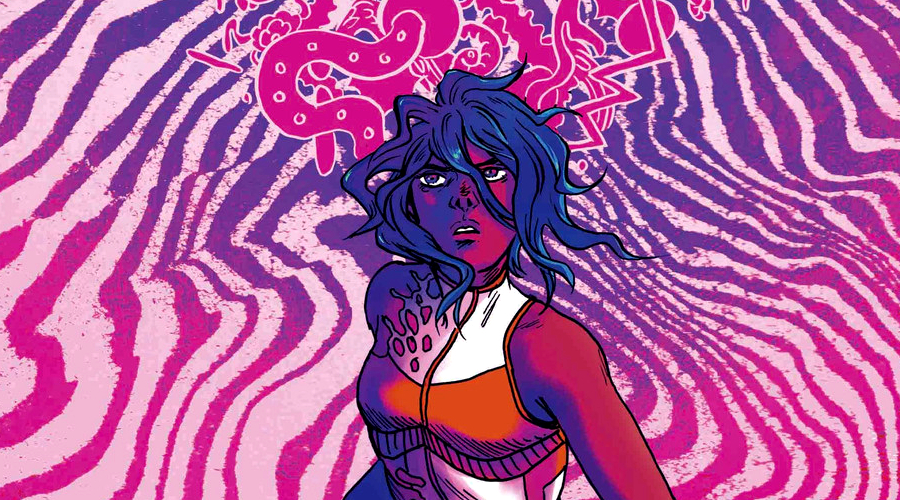 In 2018, there was a five issue mini-series published by Image Comics called Prism Stalker.

It was one of countless adventures in new sci-fi universes that have been published in the last few years, but this one really stood out as something special.

It follows a young refugee named Vep who was raised away from her devastated home planet as an indentured citizen in a foreign and extremely unfamiliar colony.

Vep spends her days tirelessly working for her insectoid hosts, with escape from the nest-like city she's stuck in looking increasingly unlikely – and any potential window of opportunity to get away seems to be rapidly closing – but she's curious and brave and she longs for a better life for herself and her family, which leads to an epic adventure.

The story is told in an eye-catching psychedelic, biopunk horror tone and any fans of Sailor Moon or the works of Octavia Butler are sure to love it.

Prism Stalker feels like something the current sci-fi movies in Hollywood want to be – it's seriously ahead of the curve – and it would make one hell of a movie itself, with some potentially incredible aesthetics.
6. Cosmoknights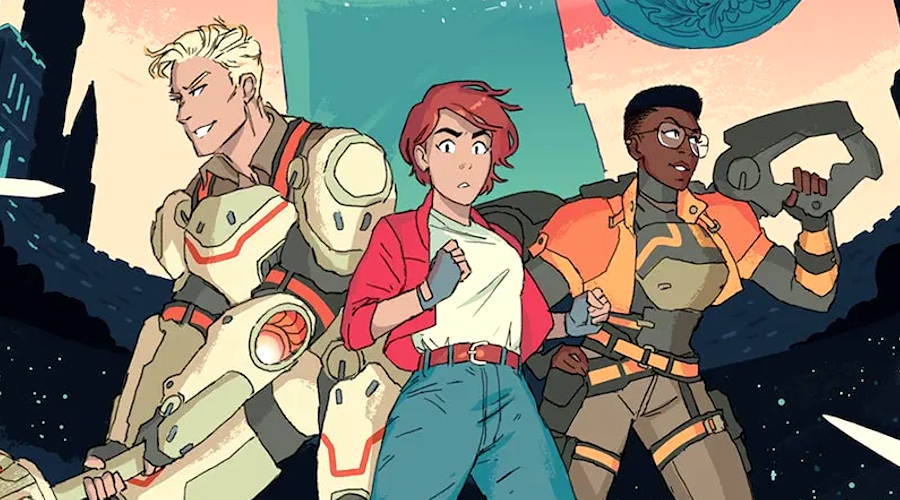 There's been a real focus on stressing the importance of LGBTQ representation in popular culture in recent years, but the world of superhero movies clearly received the memo a little later than most.

Granted, there have been a few LGBTQ characters in superhero movies (Negasonic Teenage Warhead and Yukio from Deadpool 2 spring immediately to mind) and Kevin Feige has assured fans of the Marvel Cinematic Universe that there's a trans character on the way in the franchise, but representation in the genre has undoubtedly been low on the whole.

A Cosmoknights movie would change that in a BIG way!

Cosmoknights was one of the most dynamic comics to hit the market in 2019. It's about a group of "space lesbians" dismantling the patriarchy and taking destiny into their own hands – and it involves a lot of mecha tech, which is always awesome.

Published by Top Shelf Productions, it was first released as webcomic back in March, before being released as a full-colour graphic novel in the fall.

It's fast-paced, brilliantly colourful, action-packed and both hilarious and heartbreaking – all of which would translate wonderfully to the big screen.
5. Criminal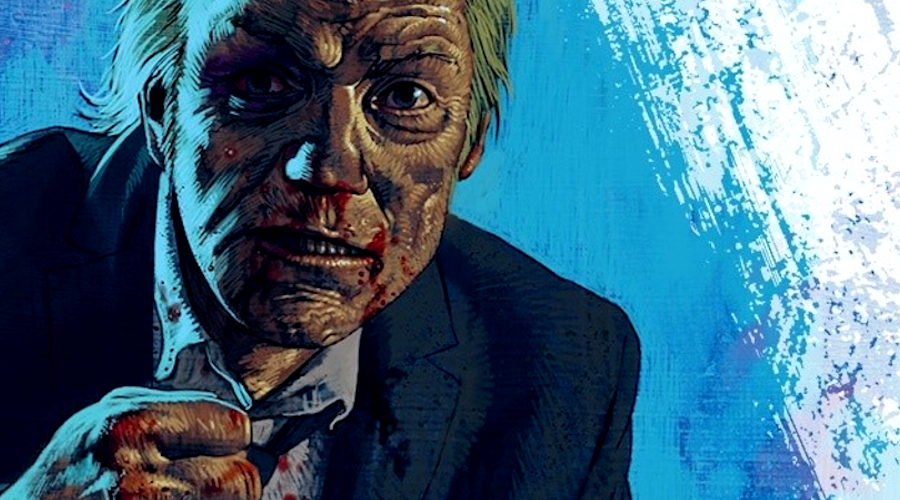 Crime movies have always been – and will always be – incredibly popular and it's been proven that crime movies based on comic books can be popular too (Sin City, for instance).

With that in mind, we believe that success could be replicated (or even improved upon) with movies based on Criminal.

Originally published by Marvel's Icon Imprint when it began in 2006, Criminal is currently published by Image Comics – and it's absolutely brilliant.

The series' story arcs are all self-contained and focus on different characters, meaning it would make for a really cool anthology movie.

Notably, although the characters aren't necessarily familiar with each other, they all inhabit the same world, grew up in the fictional Center City, go to the same bar, and all share a common history of two generations of crime.

It's written by Ed Brubaker and drawn by Sean Phillips – and nobody does crime comics like those two, so it's well worth a read. However, we'd really love to see it given the movie treatment, because it could be absolutely compelling on film – and the fact that it's fiendishly violent would mean it would be an action-packed riot!
4. Giant Days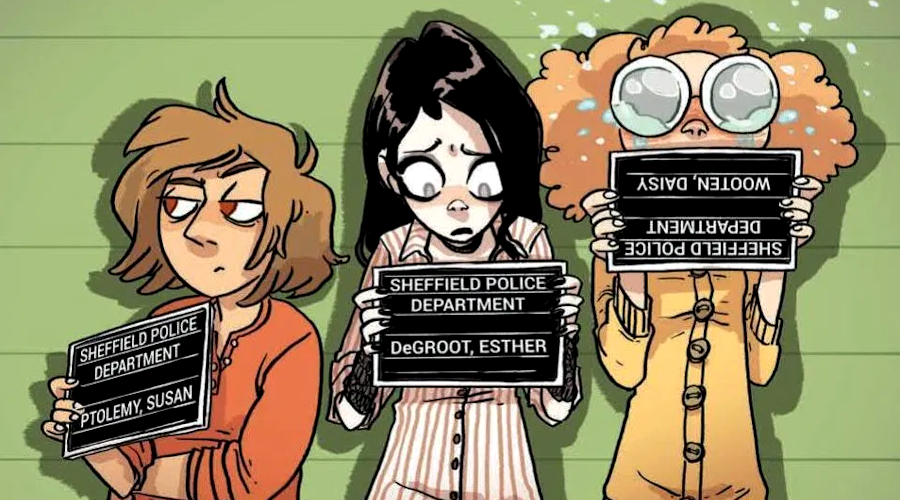 You know how there are loads of Hollywood movies set predominantly in colleges and universities in the United States (The Social Network, Pitch Perfect, Scream 2, Legally Blonde, Teen Wolf Too, Animal House, Urban Legend, St. Elmo's Fire etc)? Well what about one set in a university in Sheffield, Yorkshire, in the United Kingdom? There aren't many of those!

Giant Days started off as a webcomic back in 2011, before being turned into a 54 issue comic book series in 2015, running until 2019 and published by Boom! Studios.

It follows the lives of a group of deeply relatable characters – three young women called Esther de Groot, Susan Ptolemy and Daisy Wooton – who share a hall of residence at the University of Sheffield and face all of the typical challenges that come with university life i.e. the last chapter before adulthood really takes hold!

It's full of scenes that vary from being utterly hilarious to being excruciating to read, it has amazing in-depth characters and covers a load of important social issues like online shaming and coming-out.

Unsurprisingly, it's won a truly impressive number of awards – and we think it would be absolutely fantastic on film.
3. Copra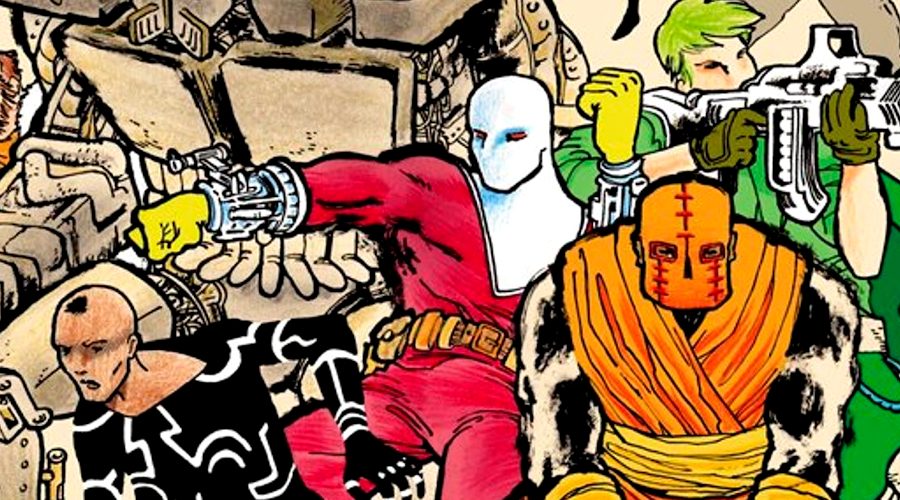 COPRA is absolutely fantastic.

Originally a self-published comic by the brilliant Michel Fiffe in 2012, it moved from his own COPRA Press imprint to Image Comics in 2019.

The series follows a group of Suicide Squad-esque misfits who get roped into suicide missions and black ops shenanigans, just like the DC team that the likes of Harley Quinn and Deadshot have been forced to join – in fact, some of the members are dead-ringers for certain Suicide Squad members (Vixen and Duchess, for example).

Having been running for so long, there are a plethora of amazing COPRA stories to dip into for any potential movie(s) – with some really fun antagonists for the team to deal with – and the series really would work perfectly on the big screen.

The dialogue is fantastic, the characters are very easy to care about, the stakes are always high, it's extremely engaging and the storytelling is generally rather masterful.

Should the series maintain its current popularity, we see no reason whatsoever for COPRA not to complete its amazing journey from self-published pencil sketches to big-budget Hollywood production in the very near future.
2. Bloodstrike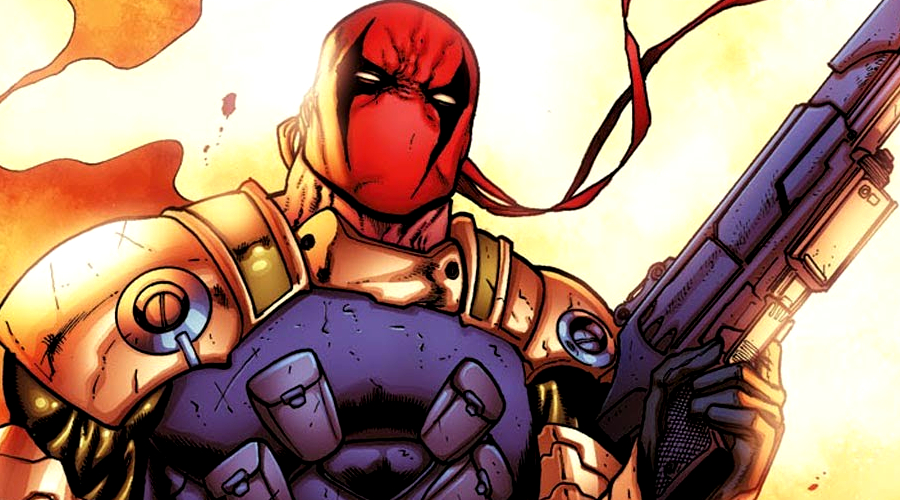 Along with COPRA, Bloodstrike is the title on this list that most closely resembles the superhero titles that casual fans are more likely to be familiar with.

It's an Image Comics title that was first published back in the 1990s – and it's pretty damn good.

Bloodstrike follows the exploits an elite team of government operatives who were killed in action but resurrected by military scientists using vampire blood.

Each member of the team needs to participate in ongoing treatment sessions in order to stay alive, which means they're unable to ever leave the project or opt out of participating in a mission – again, in similar fashion to the Suicide Squad.

A movie based on the property was reportedly planned as far back as 2012, but obviously never happened – and that was a real shame, because we're pretty sure it would be amazing and action-packed!

It's set in the same universe as titles like Spawn, which could result in it being integrated into a potentially larger cinematic universe – and that would be awesome!

The 2018 Bloodstrike: Brutalists comics – which were worked on by COPRA creator Michael Fiffe – were particularly brilliant, so check those out if you ever get the opportunity.
1. Canto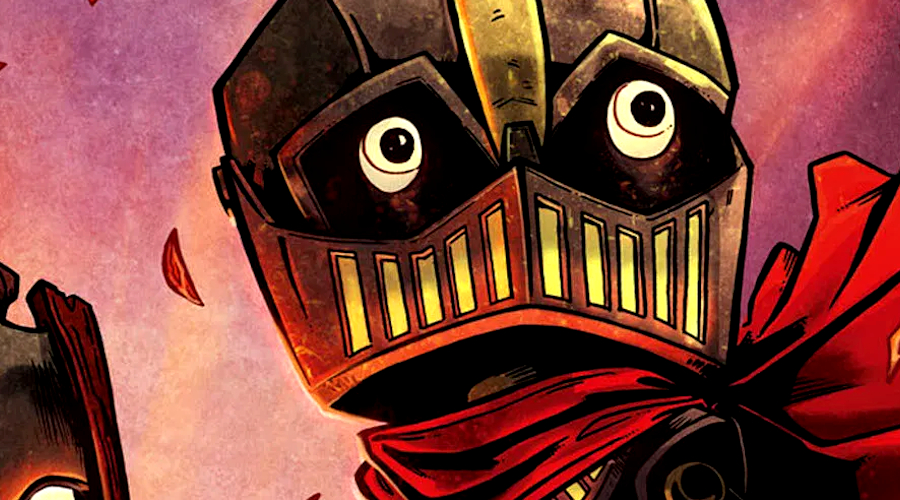 In 2019, we were introduced to Canto.

Canto is a little robot whose people once had hearts, but now have clocks in their place – and although he might resemble Marvin the Martian, he's certainly not an antagonist like the Looney Tunes character.

The six issue series – published by IDW Publishing – sees a little tin girl's clock damaged beyond repair by her slavers, prompting Canto into action to bring back her heart, quite literally before her time runs out. He ventures out into a strange and fantastic world to save her life.

It's an absolutely heart-wrenching tale that's more than likely to reduce those who read it to tears – and that's one of the reasons it would make such a fantastic movie.

It's appropriate for people of all ages and is absolutely teeming with adventure.

It's charming beyond belief and was so very obviously written with love and affection.

Movies like WALL-E proved how easy it was to fall in love with a little robot – and we feel as though Canto would have the same effect on even more people around the world.

Get it done, Hollywood!
What do you think of our list? Would you like to see any of these comics made into movies? Which other lesser-known titles do you want to see given the Hollywood treatment in the next decade? Let us know!