Sasuke Uchiha's departure from the Hidden Leaf Village in pursuit of greater strength to avenge his brother's actions resulted in a prolonged absence, spanning several years, before his eventual return.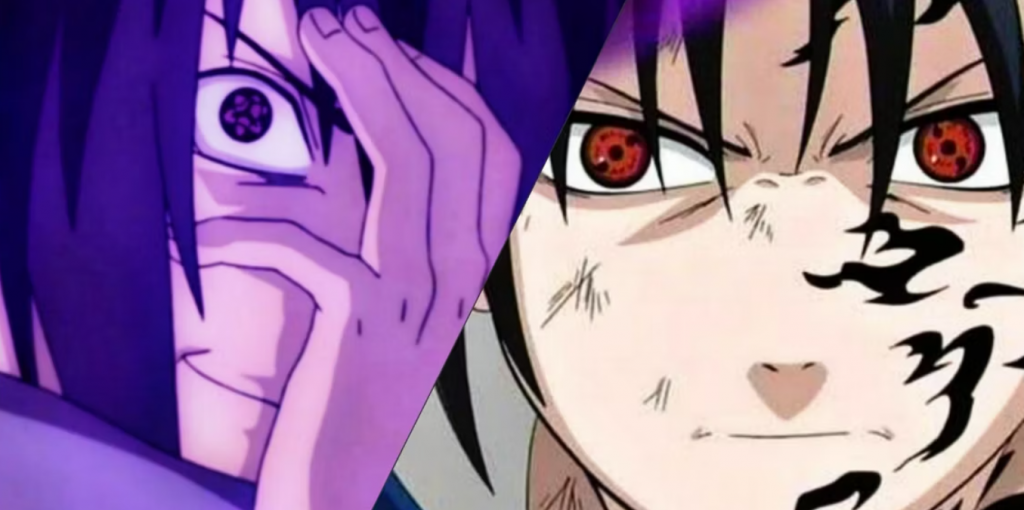 Sasuke Uchiha, a complex character within Masashi Kishimoto's Naruto franchise, held a significant role as the sole surviving Uchiha in the Hidden Leaf Village at the series' outset. Plagued by a deep sense of loneliness and anger, he found solace in the understanding of his fellow Team 7 member, Naruto Uzumaki. Both young boys faced the challenges of navigating the treacherous ninja world without the support of a family, yet Sasuke's personal circumstances were notably darker than Naruto's. Fueled by his thirst for power and a desire for vengeance, Sasuke embarked on a journey, realizing that the training required to defeat his renegade brother, Itachi, would never be offered by his mentor, Kakashi Hatake, or anyone else in the village. This realization ultimately led to Sasuke's departure from the Hidden Leaf Village.
Despite their stark personality differences, Sasuke and Naruto formed an unbreakable bond of brotherhood and rivalry that fueled the narrative of both the manga and anime for an extensive period. Sasuke's departure deeply affected Naruto, who embarked on a relentless mission to bring his friend back home. Every training session and jutsu mastered by Naruto aimed to surpass Sasuke's power and ultimately persuade him to return to the right path. Finally, when Sasuke reunited with Team 7 to combat the Ten-Tails and protect Konoha, their rivalry had reached its climax, setting the stage for an epic showdown.
When Does Sasuke Come Back to the Leaf Village?
In the Naruto Shippuden episode titled "The Unity Sign" (Episode 478), Naruto and Sasuke finally engaged in the long-awaited ultimate showdown. However, the journey leading up to this confrontation was arduous. While Naruto emerged victorious in the battle, it didn't result in Sasuke returning home as one might have anticipated. To comprehend the reasons behind this outcome, it is crucial to delve into the factors that initially compelled Sasuke to leave the Hidden Leaf and examine his actions during his absence.
Sasuke's bond with his older brother, Itachi, was incredibly strong. Idolizing Itachi, a prodigious ninja, Sasuke aspired to emulate him. However, everything changed when Itachi betrayed Sasuke and the Hidden Leaf Village, annihilating their entire Uchiha clan. This traumatic event left an indelible mark on Sasuke's soul, fueling his desire for vengeance. Itachi's actions inflicted further anguish on Sasuke when he subjected him to the relentless horrors of Tsukuyomi, forcing him to witness the gruesome demise of their family and clan repeatedly—this cruel manipulation aimed to kindle Sasuke's thirst for revenge and push him to attain greater strength.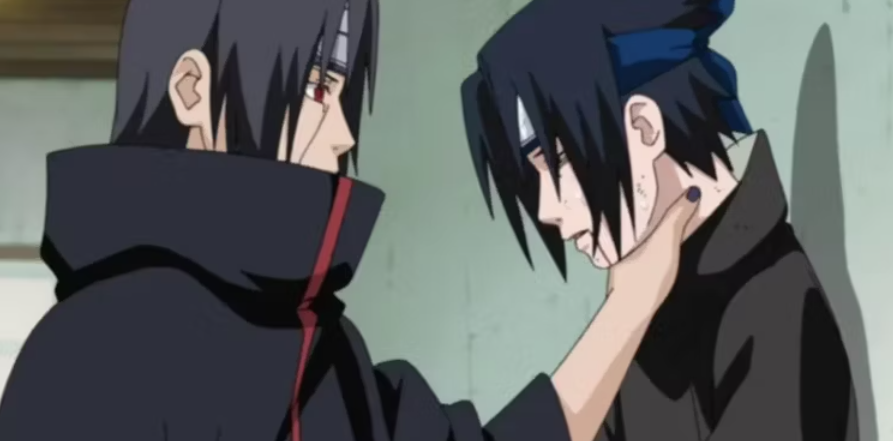 Consumed by his burning desire to exact revenge on Itachi, Sasuke became fixated on obtaining the power necessary to defeat his brother. In the midst of the Chunin exams' preliminaries, Kakashi trained Sasuke in the formidable Chidori lightning technique, believing it would grant him the strength he sought. However, when Sasuke confronted Itachi once again, he quickly realized the insufficiency of his newfound skills. The activation of the curse mark by Orochimaru during the second phase of the exams further intensified his longing for power. It compelled him to leave the village, seeking guidance from a superior master. Drawn to Orochimaru, one of the Legendary Sannin renowned for their exceptional abilities, Sasuke believed that studying under him would provide him with the techniques and knowledge beyond what Kakashi could offer. When Orochimaru dispatched a team to recruit Sasuke, he accepted the offer, embarking on a perilous path.
Sakura and Naruto were overwhelmed with grief and disbelief when Sasuke left, clinging to the hope that Orochimaru had forcibly taken him against his own will. Naruto made a solemn promise to himself to retrieve his friend, but their reunion revealed a harsh reality that shattered their bond. The ensuing battle between Naruto and Sasuke solidified their deep-rooted rivalry. Naruto devoted years not only to honing his skills but also to tirelessly searching for Sasuke. When news reached them that Sasuke was on the verge of confronting Itachi, Team 7 raced against time to intervene, but their efforts proved futile as they arrived too late to prevent the fateful encounter.
When Does Sasuke Come Back from Orochimaru?
From the outset, Orochimaru's true intentions for Sasuke were clear. The sinister pact offered Sasuke the means to exact his revenge on Itachi, with the condition that he would eventually become Orochimaru's vessel. However, Sasuke harbored secret plans that even Orochimaru failed to anticipate. Seizing an opportune moment when Orochimaru was weakened, Sasuke cunningly turned the tables, absorbing his master's power for himself. Now armed with the strength and knowledge he sought, Sasuke emerged from Orochimaru's underground lair. Instead of returning to the Hidden Leaf and seeking aid from Team 7, he assembled a new Taka team comprising three of Orochimaru's former test subjects: Karin, Suigetsu, and Jugo.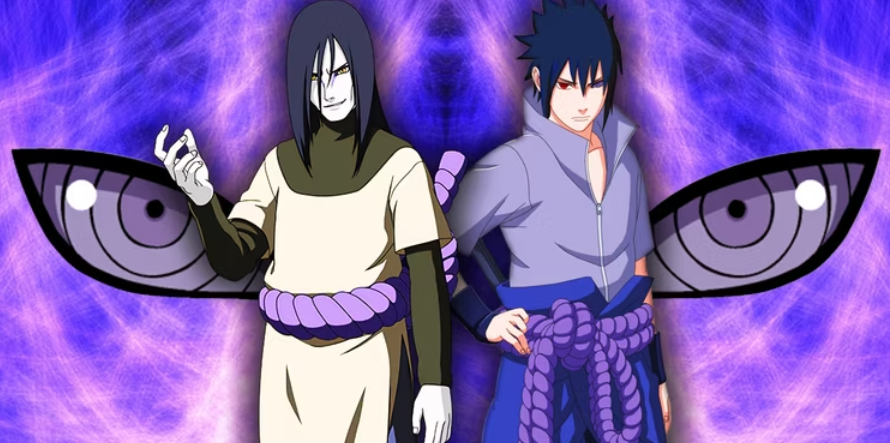 Despite the Hidden Leaf's efforts to prevent Sasuke from assassinating his brother, they could not intervene successfully. This act of murder solidified Sasuke's status as a rogue ninja, cut off from the village. Upon discovering the truth behind Itachi's actions, revealed by Madara, including the involvement of the Third Hokage and village elders, Sasuke's path took a darker turn. Temporarily aligning with the Akatsuki, Sasuke directed his anger and desire for vengeance toward the Hidden Leaf, vowing to annihilate it regardless of the consequences. However, before he could carry out his plan, the threat of Pain emerged, precluding his actions. It wasn't until the emergence of Madara and the Ten-Tails that Sasuke formed a temporary alliance with Naruto, driven by the desire to protect the Hidden Leaf and aspire to the position of Hokage, hoping to rectify past injustices.
In Naruto Shippuden Episode 478, the long-awaited clash between Naruto and Sasuke took place, resulting in a devastating battle that severely injured both rivals. The collision of Sasuke's Chidori and Naruto's Rasengan caused them to lose their respective left and right arms. As they lay side by side, believing their end was near, Sasuke finally relented and made a solemn promise to step aside, allowing Naruto to fulfill his dream of becoming Hokage. However, despite Naruto and Sakura's desire for Sasuke to return to his rightful place among them, he stubbornly refused, feeling the need to atone for the multitude of wrongs he had committed throughout the years.
When Does Sasuke Come Back to Boruto?
Fifteen years have passed since the events depicted in Naruto Shippuden, and the Hidden Leaf Village has undergone significant transformations under the vigilant leadership of the Seventh Hokage, as portrayed in Boruto: Naruto Next Generations. Despite the passage of time, Sasuke has not fully reintegrated into the village. However, he collaborates with Naruto, working together to gather crucial information to safeguard the village. Although he remains married to Sakura and is the father of a daughter named Sarada, their relationship has been strained due to his ongoing mission of self-redemption. However, when Sarada accompanies Naruto to a clandestine meeting with Sasuke, her desire to understand her father compels her to confront him about his prolonged absence.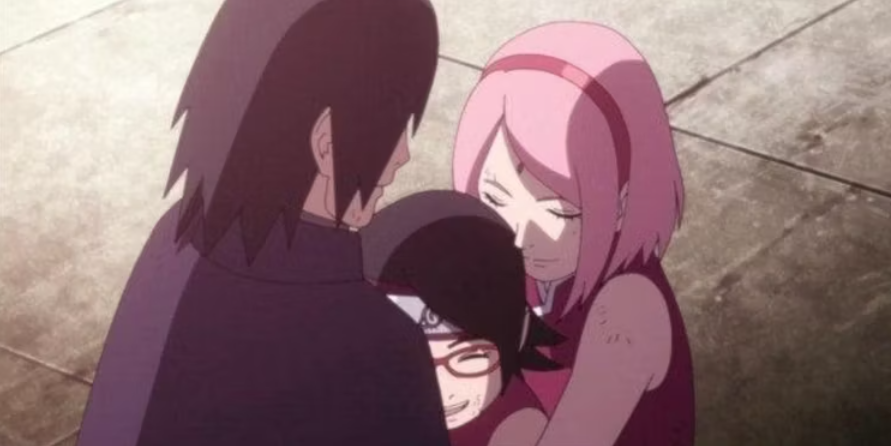 In their emotional encounter, Sarada expresses her disappointment and frustration at Sasuke's role as an absentee father throughout her formative years. Confronted with the impact of his absence on his daughter, Sasuke realizes the significance of his presence in her life. Determined to make amends and forge a deeper connection, he resolves to be more actively involved in Sarada's upbringing. He commits to returning to the Hidden Leaf Village whenever circumstances permit, enabling him to spend quality time training both Sarada and Boruto, who Sasuke takes under his wing as his student. This newfound dedication to his family marks a significant turning point in Sasuke's journey of self-redemption and reestablishing the bonds that were strained by his past choices.
Who Is Stronger, Naruto or Sasuke?
While the question of who was the better student between Sasuke and Naruto may appear straightforward, the answer is far from simple. Sasuke ultimately acknowledged Naruto as the victor in their intense and grueling battles. However, throughout the franchise, it becomes evident that Sasuke was initially the superior student. Sasuke quickly excelled in his training, possessing natural talent and displaying remarkable intelligence. His exceptional chakra control surpassed Naruto's, who struggled for years to master this fundamental skill.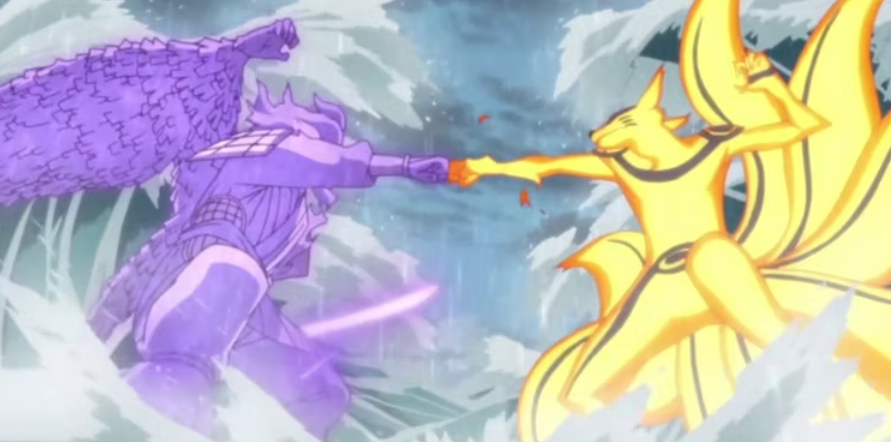 Over the course of their encounters, the two clashed five times. Sasuke emerged victorious in two battles, while two others ended inconclusively. It was in the fifth and final confrontation that Naruto triumphed. Although Sasuke may have possessed a more serious and focused demeanor as a student, Naruto's unwavering determination proved pivotal in his ability to surpass Sasuke's skill set. Naruto's relentless pursuit of excellence enabled him to master techniques that surpassed what Sasuke was capable of achieving.
Naruto's immense chakra reserve, attributed to his bond with the Nine-Tailed Fox, set him apart from Sasuke. Both individuals attained the coveted Sage of the Six Paths ability, but Naruto's manifestation of two Rinnegan surpassed Sasuke's possession of only one. As a result, Naruto's utilization of the Rinnegan proved to be more formidable and impactful. This distinction has led many to proclaim Naruto as the most powerful shinobi in the world, with Sasuke following closely as the second most powerful.
How Did Sasuke Get the Rinnegan?
The Rinnegan, one of the three Great Dojutsu, stands as a pinnacle among ocular powers in the Naruto world. This rare and exceptional kekkei genkai has been awakened by only a select few ninjas. A cautionary note accompanies the tremendous boost it provides to the wielder's chakra, as its overwhelming potency can lead to madness or a loss of self-control if not tempered by strength and caution. With the Rinnegan, one gains the ability to perceive the intricate flow of chakra within the body, granting mastery over not only any jutsu but also all five fundamental chakra natures. Additionally, Rinnegan users can tap into the Six Paths Techniques, encompassing Deva, Asura, Preta, Human, Animal, and Naraka, further amplifying their formidable prowess.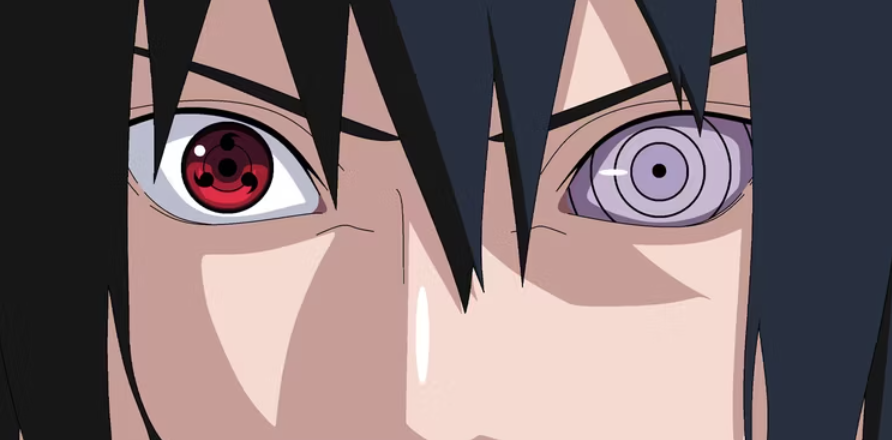 The awakening of Sasuke's Rinnegan was not a random occurrence but a result of a significant event. In a shared near-death dream state experienced by both Sasuke and Naruto, they unearthed a startling revelation. They discovered that they were interconnected counterparts, reincarnations of the legendary Sage of the Six Paths, Hagoromo Otsusuki. Within this profound encounter, Hagoromo bestowed upon them each a portion of his chakra, leading to the awakening of the Rinnegan in Sasuke's left eye and granting Naruto the transformative power of Six Paths Sage Mode. This extraordinary event marked a pivotal moment in their destinies, as they inherited the legacy and potential of the sage himself.
Does Sasuke Die in Boruto?
Currently, Sasuke Uchiha remains alive and present in both the Boruto manga and anime. However, there is speculation among fans that his survival may be in jeopardy in the near future. In the introductory episode of the Boruto anime, a new rivalry emerges between Boruto and Kawaki, surpassing the intensity of the childhood battle between Sasuke and Naruto. As Naruto and Sasuke are seemingly absent from the scene, and with Kawaki posing a threat to Boruto by mentioning the fate of the Seventh Hokage, the situation appears grim for the elder generation of revered ninja heroes.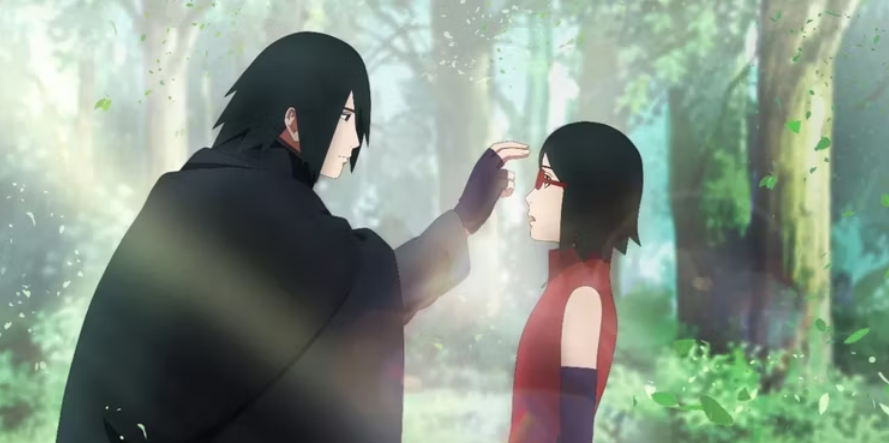 Furthermore, in this particular scene, Boruto is not only seen wearing Sasuke's Hidden Leaf headband, a practice he has intermittently adopted since becoming Sasuke's student, but also wielding Sasuke's sword. This implies that his mentor may be unable to participate in combat. Whether Sasuke's condition signifies his demise or incapacitation is of less significance. Given Boruto's reliance on the previous generation, it is highly likely that a time will come when neither Naruto nor Sasuke will be present to come to the rescue.