Marvel Comics has just set up an epic showdown. The publisher has revealed that Thanos will be the primary antagonist of the new Eternals series, which is set to kick off in November. While much remains mysterious, it has been confirmed that the Mad Titan will clash with the group in Eternals #2 in December. 
With the book's first issue not arriving for a couple of months, details are being kept under wraps. But Marvel did reveal cover art for the second issue, featuring Thanos looming large. Have a look.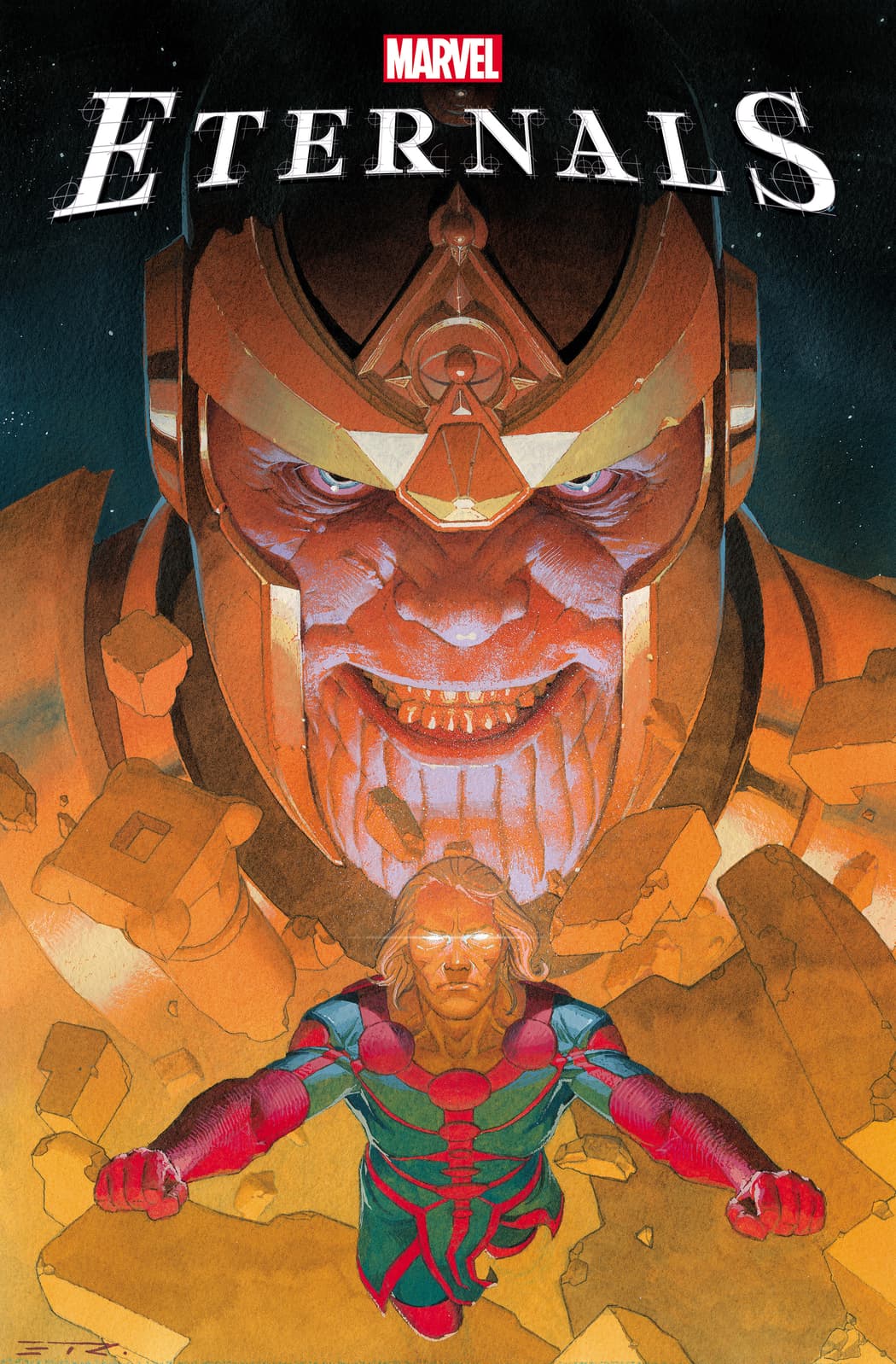 Here is Marvel's description of Eternals #2.
"The Mad Titan has returned. In the aftermath of an Eternal's death, Ikaris go up against Thanos in the heart of a city twisted by time. This epic battle will be explored in ETERNALS #2 and will reveal the monumental role Thanos will play in this bold new vision of Jack Kirby's classic Marvel creation." 
Kieron Gillen (The Wicked + The Divine, UNCANNY X-MEN, THOR) and Esad Ribić (SECRET WARS, KING THOR) are behind the new series. It was originally announced via a surprise trailer reveal back in August, With the addition of Thanos, the book has been given even more significance. 
The world at large became familiar with Thanos thanks to his appearances in the Marvel Cinematic Universe. He first appeared in a post-credits scene at the end of The Avengers, as well as showing up in Guardians of the Galaxy. Played by Josh Brolin, he went on to become the primary villain in Avengers: Infinity War and Avengers: Endgame. 
As for Eternals, the group was created by comics legend Jack Kirby. They were rather obscure until Marvel Studios decided to produce a movie based on the group, which is set to arrive in February 2021. That is, in part, why the publisher also decided to debut this new comic book series just a few months ahead of the film's scheduled debut. 
Here is the synopsis for Eternals #1
"What's the point of an eternal battle? For millions of years, one hundred Eternals have roamed the Earth, secret protectors of humanity. Without them, we'd be smears between the teeth of the demon-like Deviants. Their war has waged for all time, echoing in our myths and nightmares.
But today, Eternals face something new: change. Can they – or anyone on Earth – survive their discovery?" 
Eternals #2 hits shelves in December. 
So what do you think? Are you excited to see Thanos clash with the Eternals? Would you prefer a different villain? Join in on the conversation over on Facebook or Twitter!