The recently released official trailer for Spider-Man: Across the Spider-Verse unveils two important Spider-People from the Marvel multiverse: Mary Jane Watson-Parker as Spinneret and Anna-May "Annie" Parker as Spiderling, stirring excitement among fans and increasing anticipation for the film.
At the one-minute and 26-second mark of the trailer, Miles Morales/Spider-Man (Shameik Moore) and Gwen Stacy/Spider-Woman (Hailee Steinfeld) survey an array of spider-heroes from across the multiverse. During this scene, Mary Jane's superhero persona, Spinneret, appears walking alongside her and Peter's daughter, Annie, showcasing her pre-time skip Spiderling design. The sequence also features various other Spider-Man iterations, including the Superior Spider-Man, Spider-Cop, and the Peter Parker/Spider-Man from Insomniac Games' Marvel universe, offering a glimpse into the diverse array of Spider-People in the film.
When Did Mary Jane Watson Become a Superhero?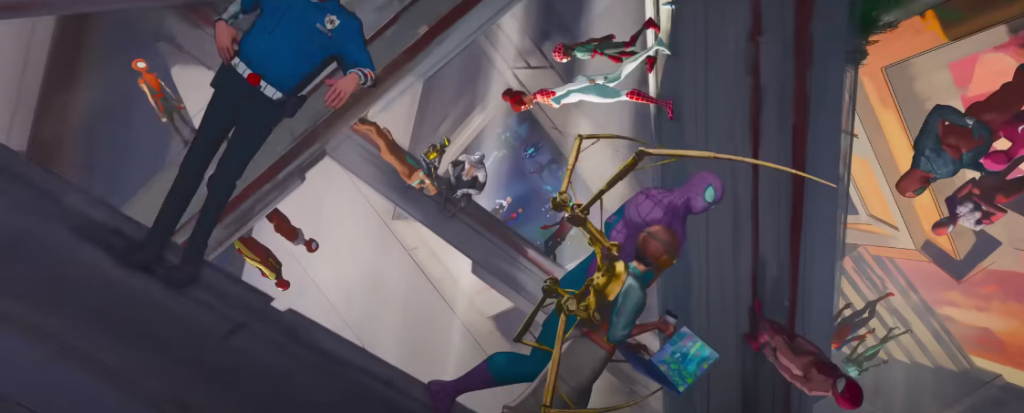 Dan Slott and Adam Kubert brought Mary Jane and Annie Parker from Earth-18119 to life in the first issue of "Amazing Spider-Man: Renew Your Vows," released in June 2015. The five-issue limited series followed an alternate reality where Peter Parker and Mary Jane never separated, and they raise their daughter, Annie, together as Spider-Man and his wife. The series resulted from the events of Secret Wars and portrayed a world where "One More Day" never happened.
The creators relaunched "Amazing Spider-Man: Renew Your Vows" as an ongoing series in November 2016. The new series elevated Mary Jane to a superhero, Spinneret, while Annie also donned the Spiderling suit. In issue #13, "Renew Your Vows," took a leap forward in time by eight years, showcasing Annie's teenage years. The series reached its conclusion with issue #23 in September 2018, wrapping up its second iteration.
Spider-Man: Across the Spider-Verse Hits Theaters in 2023
"Across the Spider-Verse," the highly-anticipated sequel to the 2018 Oscar-winning "Spider-Man: Into the Spider-Verse," will hit theaters on June 2, 2023. The talented voice cast, including Shameik Moore as Miles Morales, Hailee Steinfeld as Gwen, Jake Johnson as Peter B. Parker, and Oscar Isaac as Miguel O'Hara/Spider-Man 2099, will reprise their roles. The film also introduces new voices, such as Issa Rae as Jessica Drew/Spider-Woman and Daniel Kaluuya as Hobie Brown/Spider-Punk. In addition, fans can look forward to another addition to the Spider-Verse saga with "Spider-Man: Beyond the Spider-Verse," slated for release on March 29, 2024.
"Spider-Man: Across the Spider-Verse" arrives in theaters on June 2, 2023.