Disney+ released Moon Knight and it has received quite a spotlight because prior to the series, Moon Knight was a relatively unknown superhero. Doug Moench, who took over writing duties on Shang-Chi's comic book, Master of Kung Fu, early in its existence and then wrote it for the next decade, and who later co-created Moon Knight with Don Perlin in the pages of Werewolf by Night before writing Moon Knight's solo adventures in a variety of places before Moon Knight received his own ongoing series in 1980 that Moench wrote until Moench left Marvel in 1983 due a disagreement with Marvel's then-Editor-in-Chief, Jim Shooter. Both Master of Kung Fu and Moon Knight came to a close not long after Moench quit each book, but both series finished with arcs by writer Alan Zelenetz in which the main hero retires from crimefighting.
In 1985, Marvel launched a second Moon Knight series, written by Zelenetz, and in it, Moon Knight underwent a dramatic reboot.
When did Moon Knight Gain Superpowers?
In Moon Knight: Fist of Khonshu #1 (by Zelentz, Chris Warner, and E.R. Cruz), Marc Spector comes out of retirement to become Moon Knight again, being given special new Egyptian weapons and a new Moon Knight costume from some mysterious priests of Khonshu (years later, in an interesting time travel twist, we learned that these weapons were actually created by a time-traveling Hawkeye, as noted in a recent CBR post by Ashley Wilson)…
At the same time, Spector not only gained these magical weapons, but he also gained superpowers. Now, depending on how much moonlight there was on Earth at any given moment, Moon Knight would have increased strength.
In the comics up until this point (excepting his earliest appearances, which I'll get to in a future feature, where he very briefly had superpowers before Moench changed his mind), Moon Knight was just in peak human condition, as shown in the original Official Handbook of the Marvel Universe…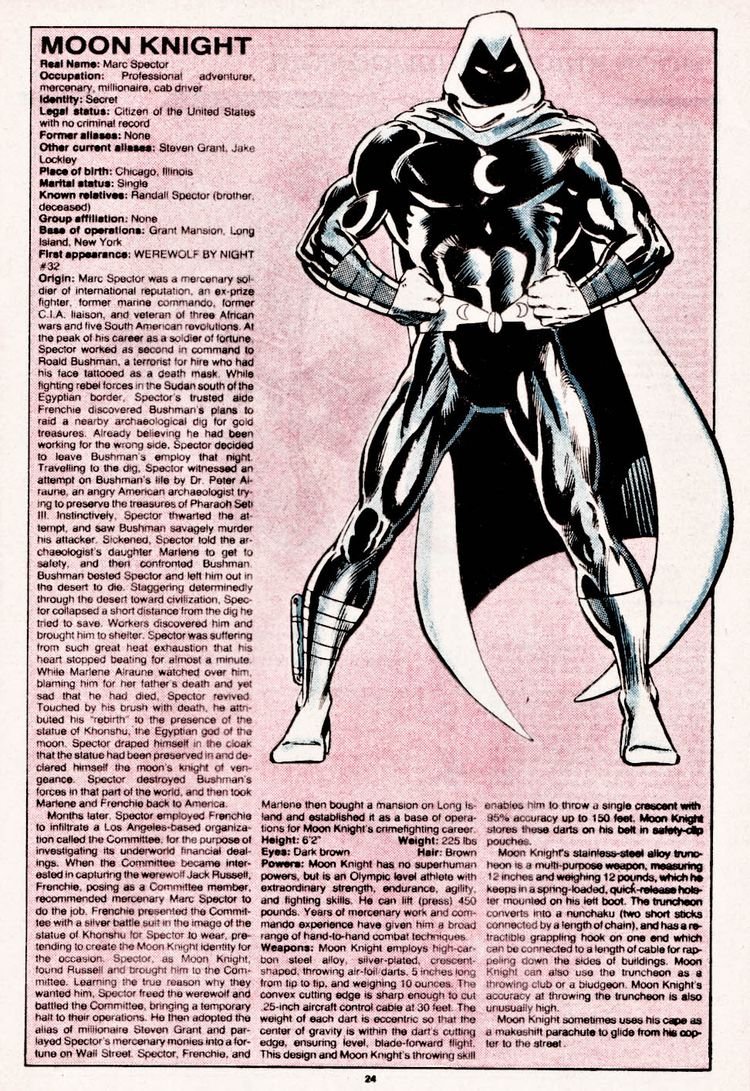 But as we see in Moon Knight: Fist of Khonshu #1, his new powers based on the phases of the moon gave him outright super strength!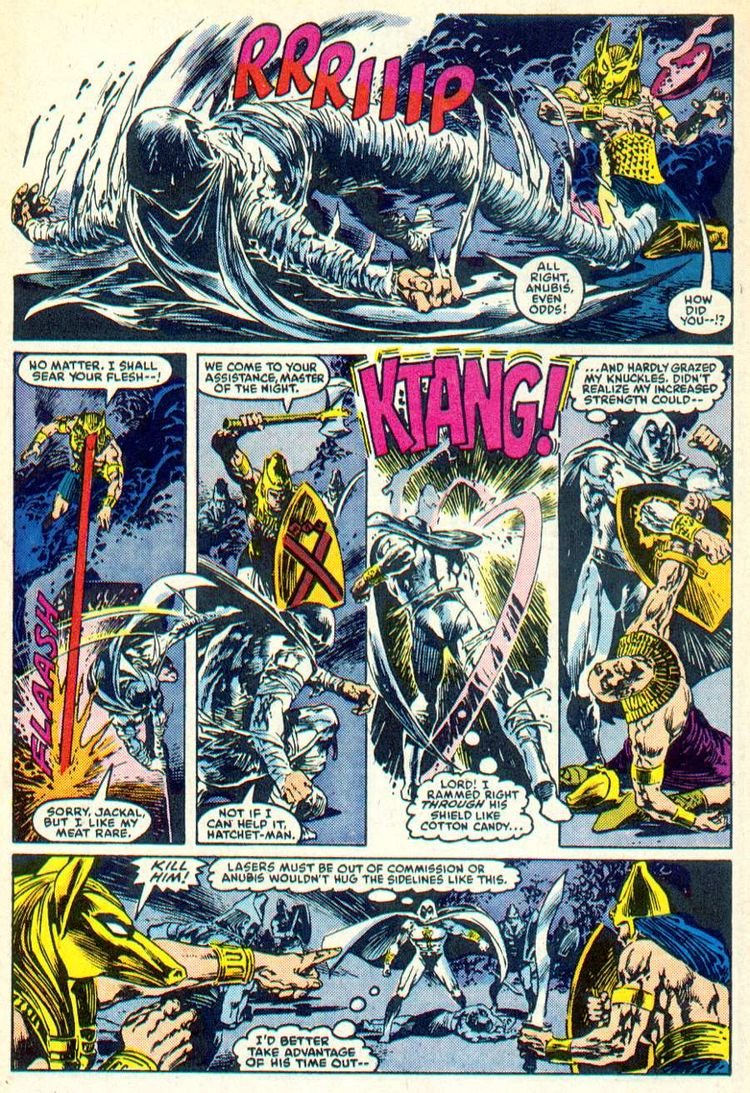 These new powers took some getting used to, as we would see in the second issue of Moon Knight: Fist of Khonshu (by Zelenetz, Warner, and Crus), when someone makes a joke about how superheroes are supposed to be able to bend steel bars with their bare hands and Moon Knight then recalled that, wait, he actually COULD do that now…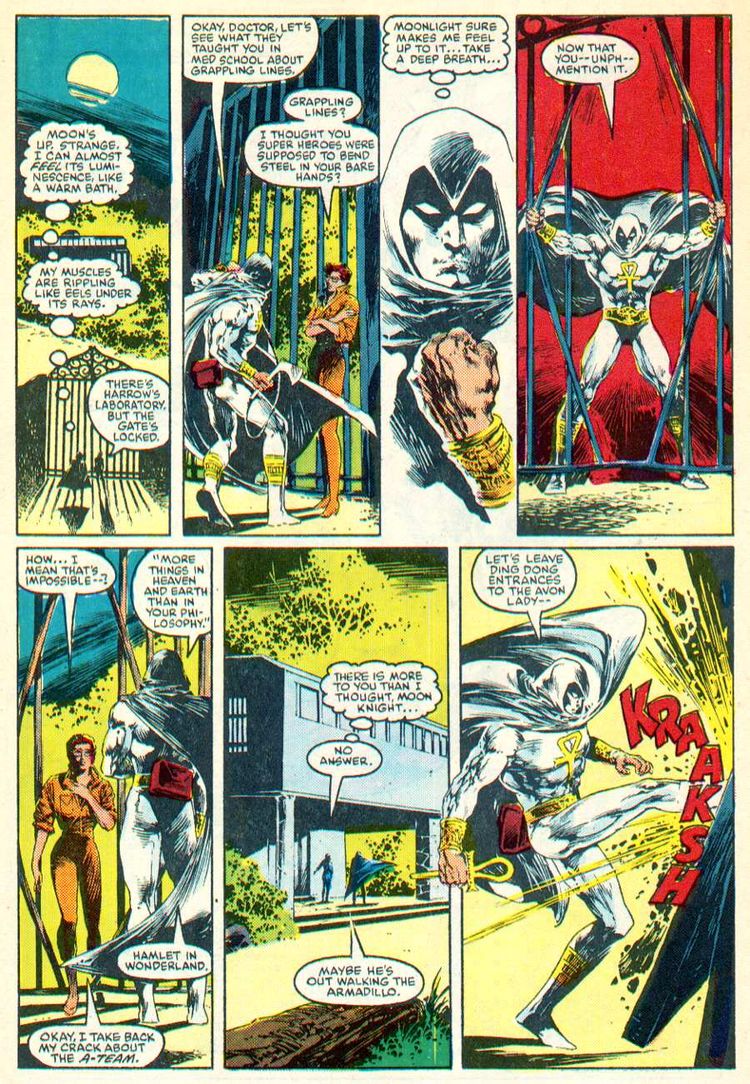 In the Deluxe Edition of the Official Handbook of the Marvel Universe, Moon Knight could now lift up to two tons with his newfound super-strength!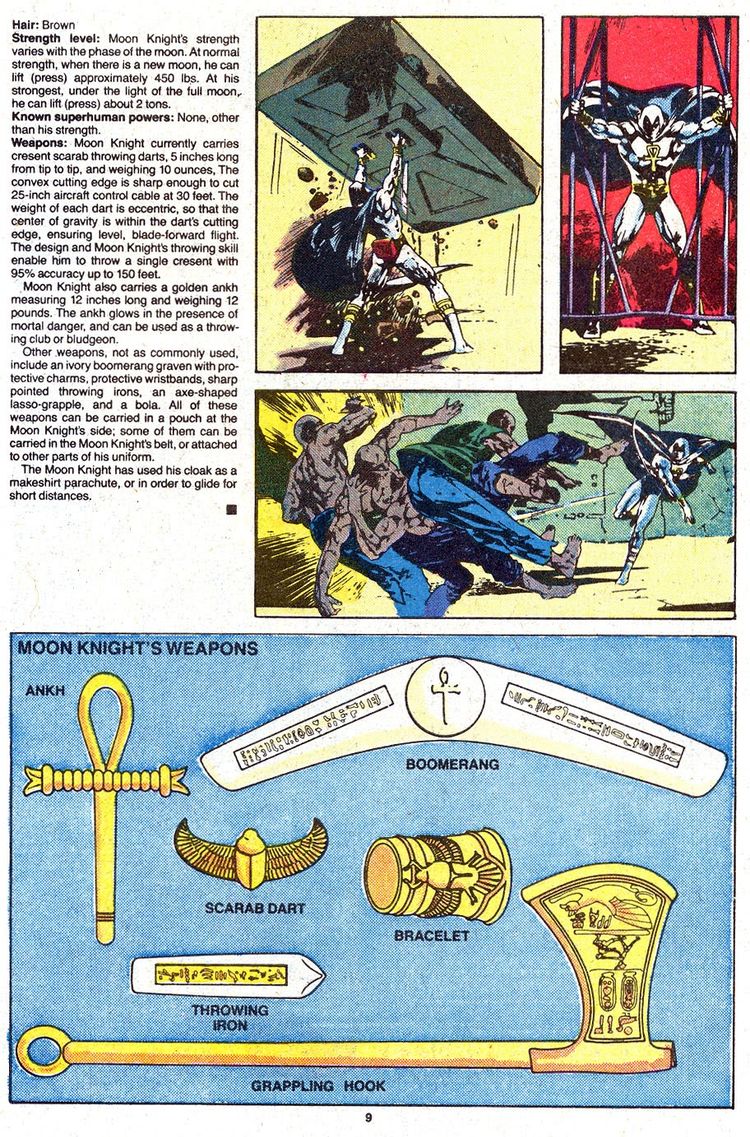 Moon Knight and his newfound weapons and superpowers then joined the Avengers for a period (in an especially odd point in time that I'll write about in the future – as you might imagine, I'm going to have a whole lot of Moon Knight-themed articles coming out over the next few weeks), but due to some Khonshu-inspired shenanigans, Moon Knight abandoned his new setup and went back to his old ways and left the Avengers (after having already sort of leaving the Avengers to join a sort of rogue team of Avengers with Mockingbird and Tigra).
Why Did Moon Knight Lose His Superpowers?
Moon Knight returned to New York and his old costume in Marc Spector: Moon Knight #1, a new 1989 ongoing series by Chuck Dixon, Sal Velluto, and Mark Farmer that specifically highlighted the human side of Moon Knight…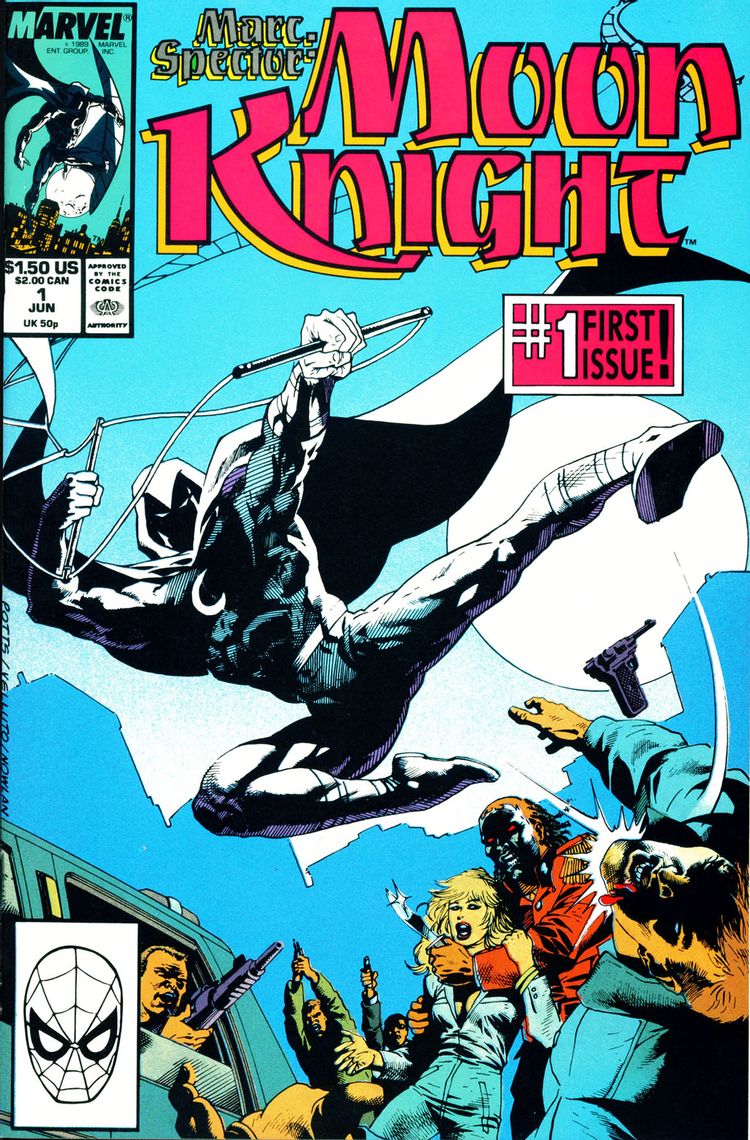 In that first issue, Moon Knight even remarks that it is nice to get back to just fighting regular crooks…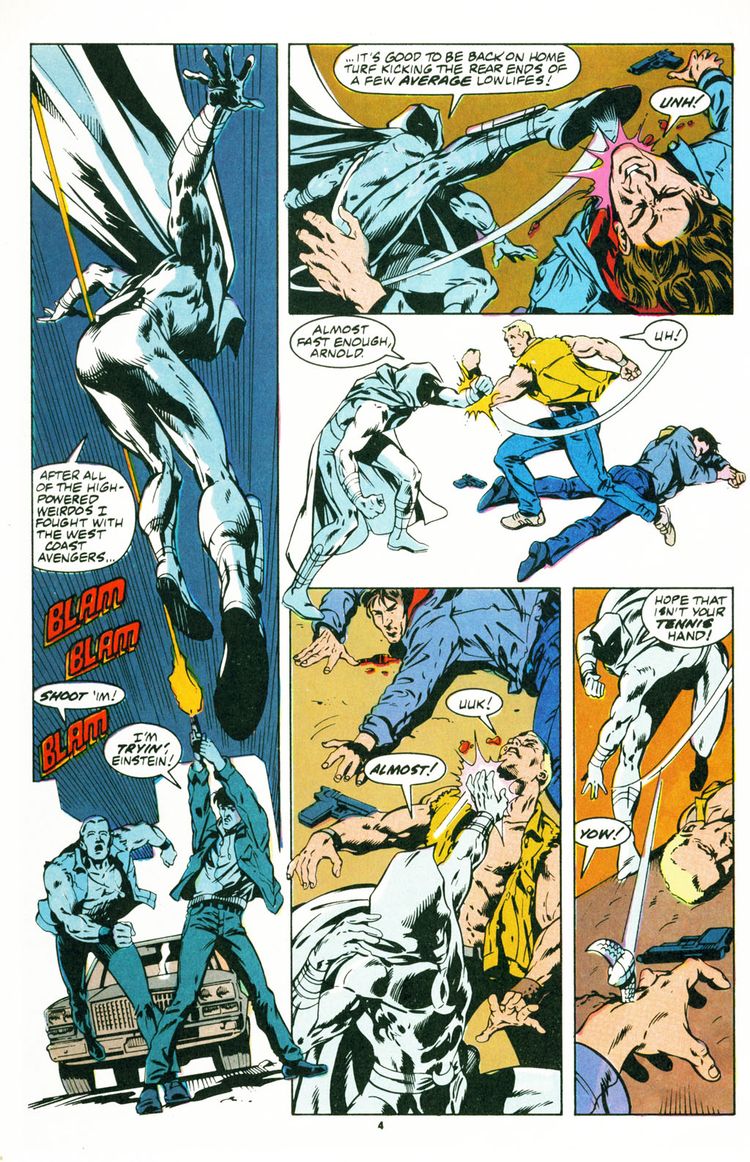 As noted, Dixon's take on Moon Knight heavily stressed the importance of Marc Spector himself, and as a result, Moon Knight no longer had superpowers during this run. However, the run also didn't make a point of saying WHY he didn't have superpowers, that just wasn't part of the series period. Moon Knight was simply back to his old ways.
However, since no one actually said he LOST his powers, the implication was that he still had them, as the 1991 Official Handbook of the Marvel Universe: Master Edition pointed out…
It wasn't until the acclaimed 2006 Moon Knight series by writer Charlie Huston that we got the answers…sort of.
In Moon Knight #7 (by Huston, David Finch, Danny Miki, and Frank D'Armata), we see that Spector kept the Egyptian weapons, but ignored them…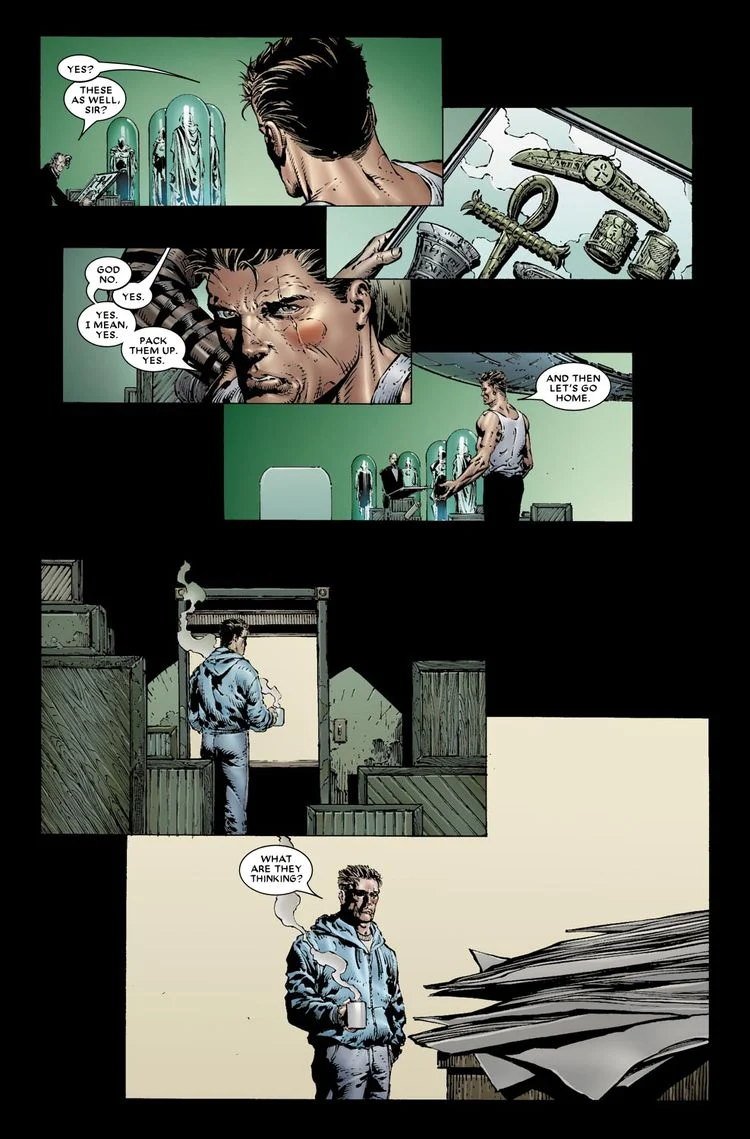 One of the main points of the series was how Moon Knight was returning to being a superhero after previously suffering some major injuries to his legs that kept him from fighting crime properly. In Moon Knight #9 (by Huston, Mico Suayan, and D'Armata), we see that Spector has been working out so much that he is able to once again fight crime, but he explains to his trainer that he has no superpowers…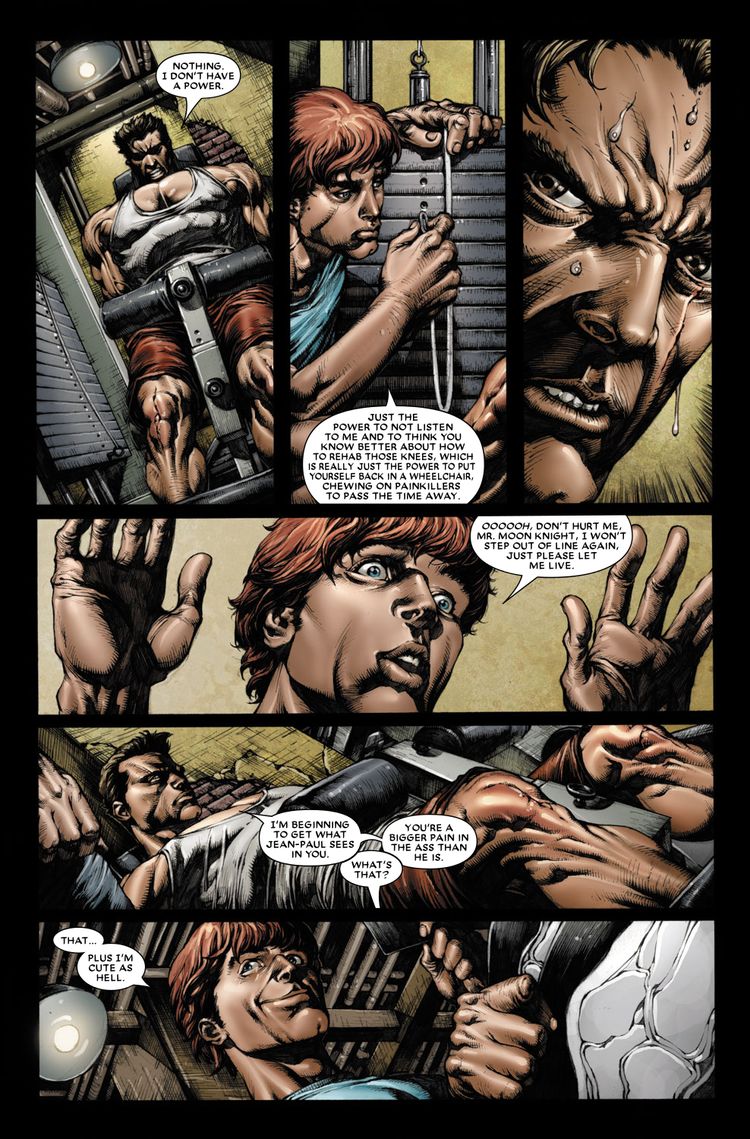 But he admits for the first time that he did use to have superpowers based on the phases of the moon (the hallucination is Khonshu ostensibly talking to Marc)…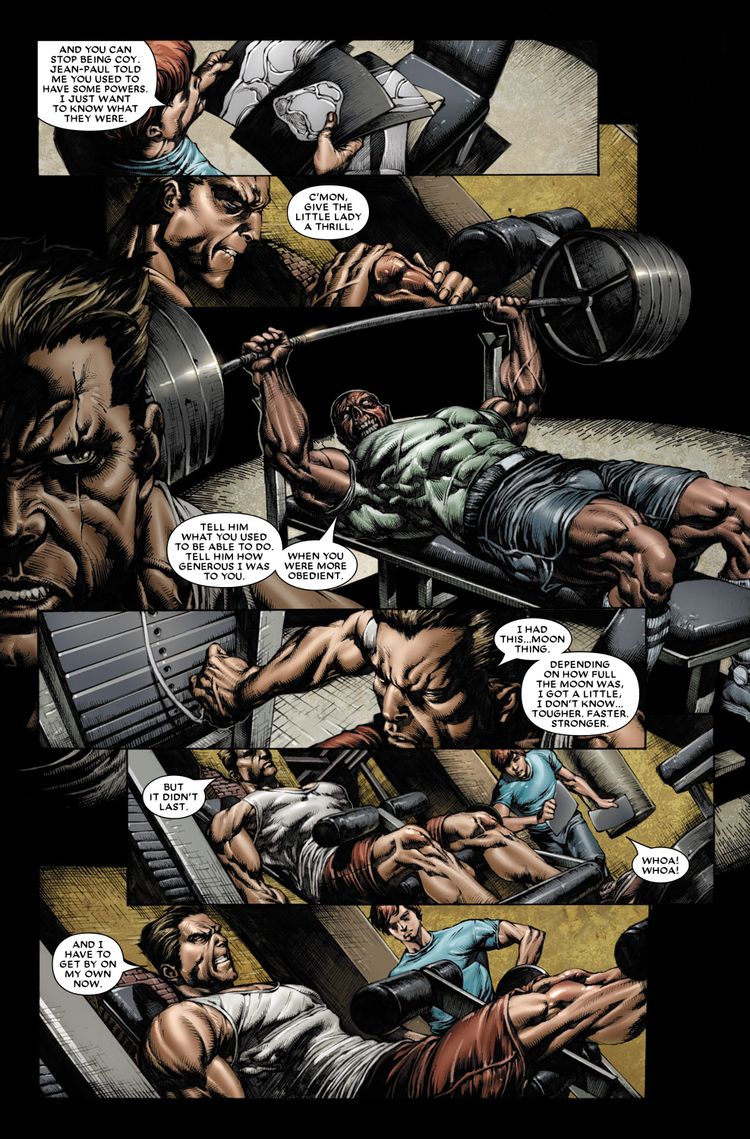 While Huston doesn't, like, explicitly explain what happened, he heavily implies that Marc has angered Khonshu and that is why he doesn't have the powers anymore.