The ever-flexible nature of time and destiny in the DC Universe is perhaps best demonstrated by the concept of Hypertime which allows for plenty of possible futures for their heroes and villains. But when these futures become written in stone, it takes away a character's potential flexibility.
Damian Wayne has increasingly been shown to eventually become Batman 666, as in Future State: Gotham #14 (by Dennis Culver, Giannis Milonogiannis, Geoff, and Troy Peteri) — which decreases his potential for growth and possibly seals his fate.
Batman #666 (by Grant Morrison and Andy Kubert) introduced a dark possible future for Damian. In this timeline, Bruce Wayne had fallen, and in his stead, Damian continued on as Batman. To ensure the protection of Gotham City as the rest of the world collapsed into chaos and fire, Damian sold his soul to the devil for immortality. Despite his best efforts, Gotham was eventually lost and he was forced to watch the city crumble at the hands of Doctor Simon Hurt. Since then, Batman 666 has become one of the defacto futures awaiting Damian Wayne across various realities.
Lately, that has carried over into Future State: Gotham. In a world where the Magistrate never lost their hold over Gotham City, there are now four people all effectively vying for the role of Batman. This includes a returned Bruce Wayne, a motivated Jace Fox, and an intelligence-amplified Dick Grayson. Damian is also back and using the mantle of Batman. In this timeline, Damian's investigation into the disappearance of Bruce led him down a dark path to hell. Eventually returning, Damian had been aged by the adventure and even retained a demonic edge — repeatedly coming close to losing control of himself, and leaving himself open to be fooled by Hush's new plans for Gotham City.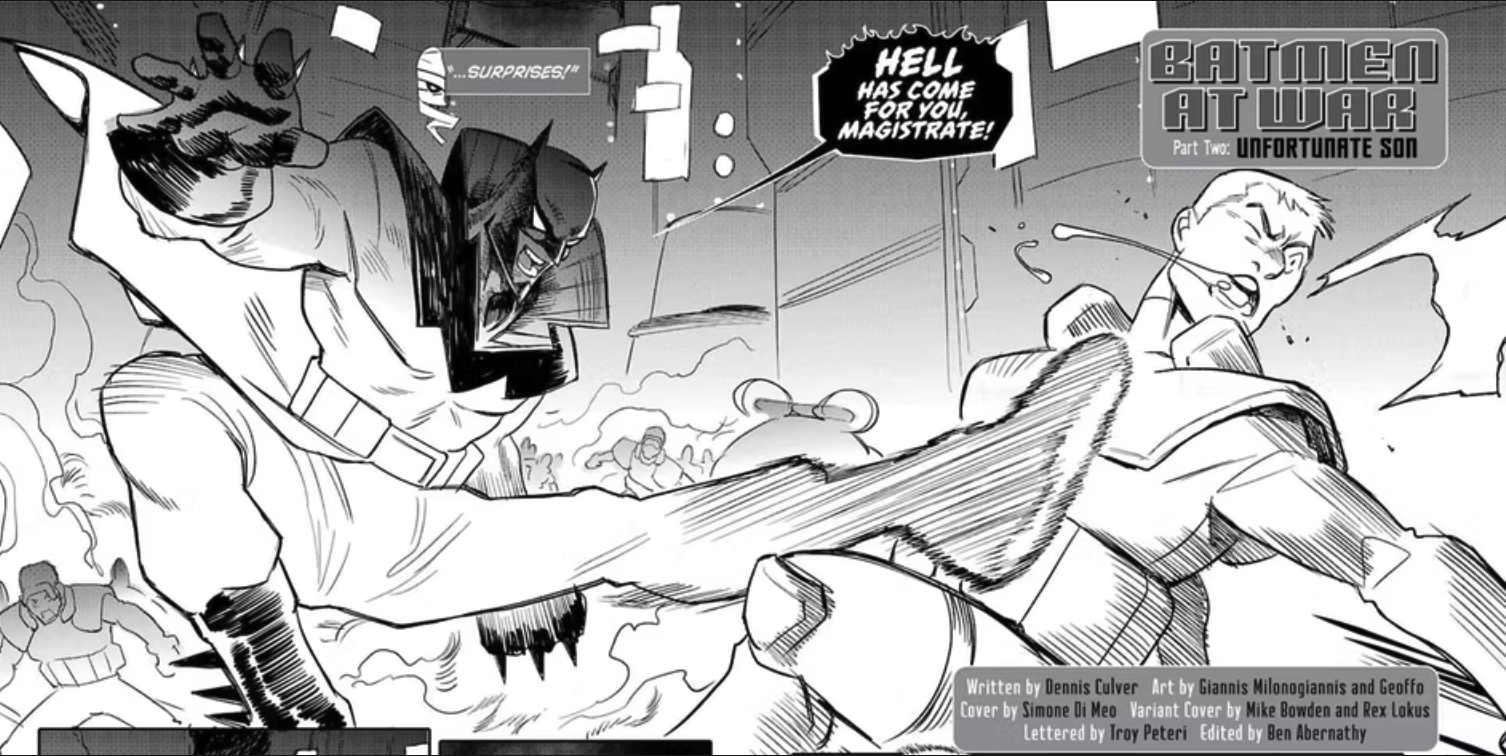 All of this shows that a grim future is almost always in the cards for Damian, becoming a version of the Dark Knight who stomps over moral lines that Batman should never cross — including murder — all in the name of protecting Gotham. This almost set-in-stone future of Damian's honestly removes one of the most exciting elements of his character — the fact that his future was always uncertain. Damian has grown over the years, far beyond his original conception. He has transformed into a genuinely committed hero who empathizes, if not sides with darker parts of the world.
This makes his decision to be a hero or embrace villainy a genuinely engrossing aspect of his character, as every event he takes part in could push him closer to one side of that divide. His attempts to establish himself as a hero are shaded by his tempting fall to become a grimmer figure — and any threat of his darker side winning out is tempered by his desire to remain a heroic figure. But if Damian is fated to become Batman 666, then he loses that mysterious quality. Giving Damian a sealed future completely removes the exciting "will he or won't he?" appeal that he has always had. Yes, Batman 666 remains an exciting possibility for the character, but it works best as just one potential fate instead of the most common one.