Comic book fans of The Flash must know very well who Gorilla Grodd exactly is. The super-intelligent telepathic ape has been one of the deadliest arch-rivals of the superspeedy superhero since 1959. The 1990 CBS adaptation of The Flash had disappointed the fans as the supervillain's name was mentioned, but they couldn't visualize him in live action.
In the CW adaption of The Flash, Grodd has already been teased in the Pilot episode as well as the fifth episode named Plastique. While in the first episode, fans saw a busted cage with the nametag Grodd. In the fifth episode of the CW series, the super-baddie ape was shown in the shadows of his cage in a sequence of flashback where after refusing General Wade Eiling from taking him away, Dr. Harrison Wells walks to Grodd saying that he's got some other plans for him.
After that particular episode, we didn't have any further traces of Grodd in The Flash. But, now it seems he isn't far away from making his first full-view appearance in the CW series!
Kreisberg Reveals Gorilla Grodd Progress!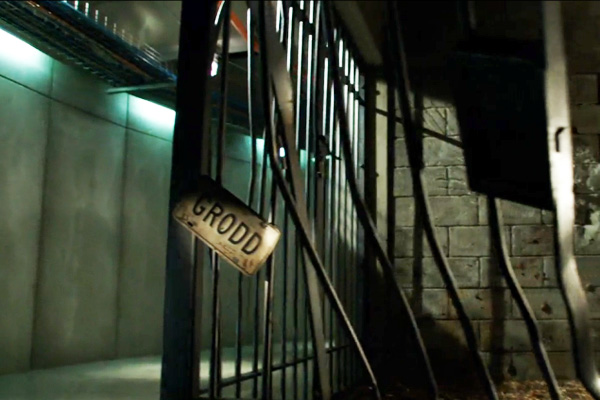 In a recent tweet, Executive Producer Andrew Kreisberg revealed that the villainous ape is currently under visual effects treatment of Armen V. Kevorkian. Kreisberg stated that in honor of his fellow executive producer of The Flash Geoff Johns' birthday, the veteran visual effects guru presented them with a VFX clip of Gorilla Grodd which blew their "˜puny human minds'!
Even though they had confirmed before that he's arriving in season one, the latest tweet from the EP seems to reconfirm that it isn't very far away! Here's a snapshot of Kreisberg's tweet.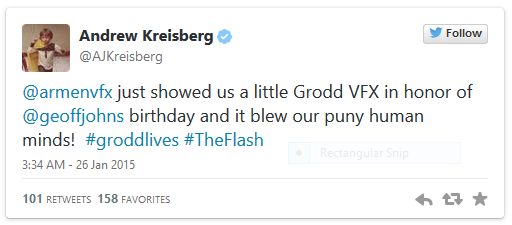 Gorilla Grodd Seems Exhilarating Enough!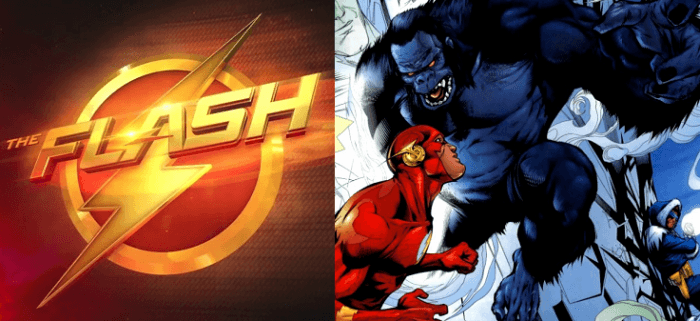 Kreisberg's excitement after watching the VFX clipping obviously promises fans a flamboyant Grodd. That seems to be more likely as The Flash team has been using a combination of practical as well as visual effects. Previously, stunt coordinator of the series revealed on Twitter that a Rise of the Planet of the Apes stuntman named Simon Burnett is doing all the Gorilla Grodd practical effect stuff. It seems unlikely that the product of Simon's practical effects and Armen's visual effects will have any lack of vivacity! What say, guys?