A new promotional image released by The CW gives us our first look at Tyler Hoechlin as Superman, who will have a recurring role in the second season of Supergirl. Though the Man of Steel has been an off-camera character for the show in its first season at CBS, his debut appearance will have a big impact when the series airs on its new network.
Supergirl actress Melissa Benoist poses with Tyler Hoechlin in the first ever photo of the Kryptionian cousins together in full costume. Superman's new costume was designed by Kiersten Ronning and looks to be inspired by the New 52's version which has muted colors and sports a red belt instead of red trunks.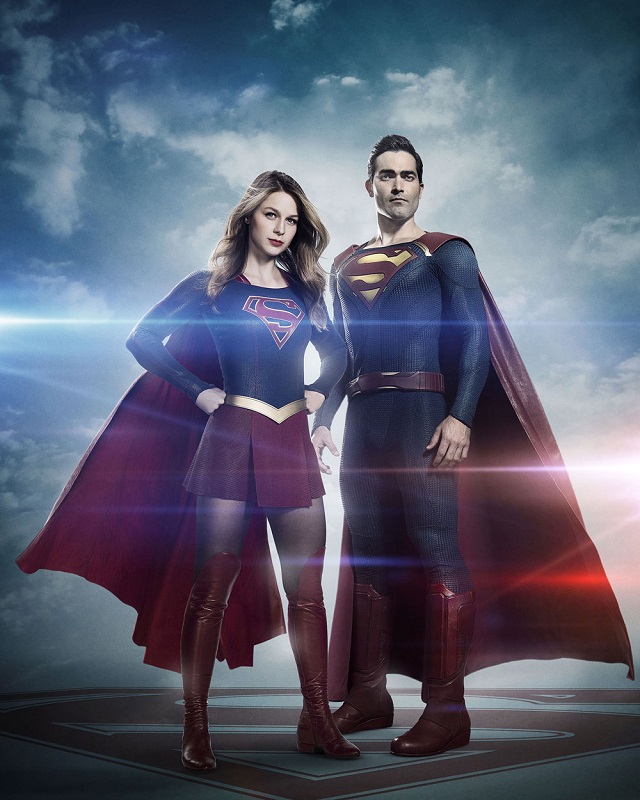 "I think it's the perfect time," said Benoist at San Diego Comic-Con. "All of the interactions [Kara] had with him last season through the instant messaging and the texting, it never felt like enough to me. Their relationship is important, and they're family and she has things that he doesn't and he has things that she doesn't. They're only going to reap benefits from each other. I'm so excited about it."
Hoechlin, who previously starred in Teen Wolf, is pumped to be playing the newest version of Superman, saying, "I think the fun is going to be finding where Clark Kent is in this world. I'm just excited to find out Clark's sense of humor."
This isn't the first brush with Superman for Hoechlin, and he has a specific vision of who the character should be. "I read for 'Man of Steel' years ago and I just remember going into that audition and being like — it was one of the first auditions I remember actually physically going in and being like, 'This might be want they want to see, but it's not what I find interesting. I think this is interesting,' and kind of committing to that," said Hoechlin.
Luckily, his ideas for Superman lined up with those of executive producers Greg Berlanti and Andrew Kreisberg. "I think that was a huge step as an actor, you commit to what you find interesting and if they like it, great, if not, you don't want to show up to work everyday thinking like, 'Well, what do they want today?' You want to find someone with similar idea," he adds. "With Greg and Andrew, it was an honest meeting about what I find fascinating and interesting about him and it kind of clicked. It felt right and it's really exciting to explore that some more."
It'll be interesting to see Superman's interactions and dynamic with the rest of the show's regulars, such as Martian Manhunter, James Olsen, Winn Schott and Alex Danvers.
Supergirl's second season will premiere on October 10, 2016 on The CW.