Ah, the Avengers, Marvel's greatest heroes banded together to face a threat no single hero could withstand. But who were the best heroes to take up membership on this team? Which lineup of earth's mightiest heroes truly was the mightiest? Well, let's look at them all, and narrow it down to the best of the best, the coolest of the cool. The team that Gilgamesh isn't on.
                                               Source: multiversitycomics.com
10. Pre-Disassembled Team
They might have gone through hell, but the immediately pre-disassembled team was a great lineup of heroes.
Scarlet Witch, Vision, She-Hulk, Captain America, Iron Man, Thor, Ant-Man, and Lionheart, who got really underused. Like, jeez, dig her up and do something cool with her, Marvel. Also, Hank Pym, sorta. When he was Yellowjacket. I like the Yellowjacket costume, great visual design and all that.
This team tangled with a crazed She-Hulk, a Red Skull plague, and even a resurrected team of Invaders. If you need to read a good story about these guys, I'd recommend Avengers Vol. 3, issue numbers 57 through 60. The arc, called World Trust, involved the team doing battle with the villainous Zodiac.
Also, Jack of Hearts was briefly involved with this team. Briefly. He"¦uh…would later become re-involved in the team in a disastrous way. It was quite an explosive reunion. Get it? What, too soon?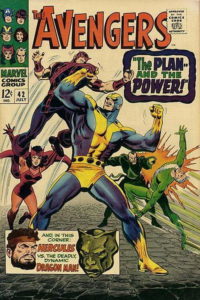 Source: marvel.wikia.com
9. Avengers #38 Team
I didn't put Cap's Kooky Quartet on this list, but not because I don't love them. I do. I just feel that the team didn't reach its heights until Goliath, Wasp, and Hercules joined.
That Goliath costume is amazing, and having Hank be temporarily stuck at that height is a great move. As always, Wasp is awesome, and I've always liked Hercules as a replacement for Thor on the Avengers. One of those things that works way better than it should.
In addition, you have the standard quartet. Captain America is obviously a mainstay. Hawkeye's new to the team, so he isn't as great as he will later become, but he's on his way to being the second-greatest Avenger.
Scarlet Witch would stick with the team, and become another awesome addition. And Quicksilver, while he wouldn't stick, would still be a phenomenal team member who always picked up the quality of any comic he was added to.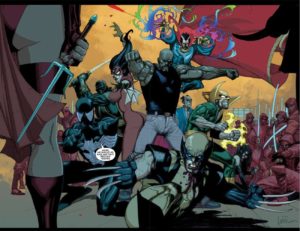 Source: powet.tv.com
8. Post-Civil War New Avengers Team
After Civil War came and went, the former New Avengers team split into two squads.
Iron Man took his pro-registration cohorts and put them together as the Mighty Avengers. On the other hand, Luke Cage took Captain America's sympathizers and banded them together as the New Avengers.
This team included Cage, Spider-Man (decked out in his black costume), Spider-Woman, and Wolverine, as usual. It then added Iron Fist, Dr. Strange, and Echo to create a very street-level Avengers team with a mystical focus and a hand-to-hand combat bent. Also, Jessica Jones stuck around as a valuable supporting team member.
Eventually, the team would be supplemented by its own Captain America when James Buchanan Barnes, aka Bucky, aka the Winter Soldier, came along in the stars and stripes. This squad lasted through Secret Invasion and Dark Reign, and lasted in this form until Siege, when everyone came back and reformed into the classic squad in time for the Heroic Age.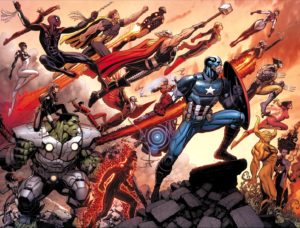 Source: geeksverse.com
7. Avengers World Team
When Marvel launched the Marvel Now! Initiative, they did so with a brand new Avengers team.
Said team adopted the rationale of Justice League Unlimited, and said, "Hey, why don't we just make everyone an Avenger?" So they did. Having a huge reserve team to call upon for specialized squads was kinda brilliant, and getting characters like Hyperion, Cannonball, Sunspot, and Shang-Chi inducted into the Avengers was a net bonus.
This team also battled cosmic monsters on two fronts during Infinity, an event that, from the looks of it, all you Marvel Movie fans should go check out if you want to be properly prepped for Infinity War. Jonathan Hickman is a great writer, and his team not only inducted, but introduced, some cool new characters.
We got a version of Starbrand from the New Universe, for God's sake! And a great Hyperion! And the Smasher, and Captain Universe! Captain Friggin' Universe!!! Who does that? Who includes characters no one has thought of in forever, and makes them awesome? Nightmask! Manifold! Ugh, so good.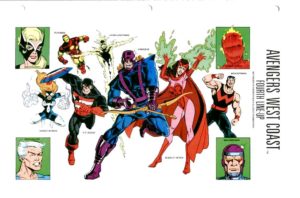 Source: marvel.wikia.com
6. West Coast Avengers Team
I loves me some Hawkeye. He is the second best Avenger. This is fact (Cap is the best, obvs).
Hawkeye struck out on his own for the West Coast, seeking to get away from cramped and crowded New York, and move out"¦to the best coast. With him went Iron Man in the Silver Centurion armor (the best Iron Man armor), Tigra, Wonder Man, and Mockingbird, who's the best. Mockingbird is so great and makes a phenomenal addition to this team. As was the USAgent, who joined way later on down the road.
This coalition of off-brand heroes wound up being a pretty great team for a while. Absolutely nailed the energy of the "˜80s Avengers. Mostly because of Hawkeye. Hawkeye is 33 percent of all good Avengers stories. He's just the best. And partnered with Mockingbird, there's some magic going on. Too bad about those two not staying together.
Also too bad this series got turned into Force Works, worsening it by 1000 percent.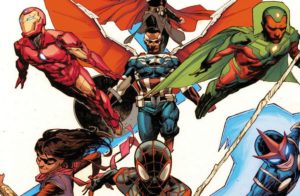 Source: talkingcomicbooks.com
5. All-New, All-Different Team
As the flagship book of the all-new Marvel NOW!, we were gifted with an all-star Avengers lineup.
And one specifically unlike any previous team, mostly due to who held the mantle at the time. Tony Stark is Iron Man, but we also get the Sam Wilson/Captain America and the Jane Foster/Thor. Plus old favorites like the Vision and new recruits like Ms. Marvel, Nova, and Miles Morales/Spider-Man. It's a refreshing blend of old and new that works together impressively well.
A lot of people flipped their s**t over this lineup, because it didn't use the classic versions of these characters, but I think these versions make for a more interesting team. It's a squad that's constantly in flux. Nova, Ms. Marvel, and Spider-Man are all young and easily swayed, and not sure who to trust. Iron Man is newly simplified and making efforts in new directions. Thor is struggling with her own mortality for the first time. Captain America is growing into the identity and trying to figure out what it means. And a morally questionable Vision still going through the horrors of the Tom King series.
It's a great team who all have their own thing going on.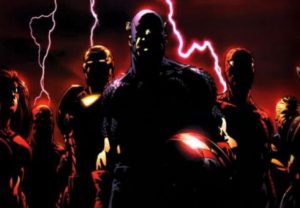 Source: vavel.com
4. Original New Avengers Team
After the horror show that was Avengers Disassembled, the team needed some fresh blood. And they got it with one basic idea: What if you took Marvel's most popular characters and put them all on the Avengers? Plus Spider-Woman and Luke Cage?
Well, you get a badass team of heroes. Captain America! Iron Man! Spider-Man! Wolverine! What a cool team! And this all-star crew allowed characters like Luke Cage and Spider-Woman to reach a new audience. And the Sentry, I guess. But this lineup launched the New Avengers title to great acclaim and respect.
This team ran for 20 issues, and was eventually divided when Civil War happened and split the team straight down the middle. Sad about that; it was a great group of characters, and I wish they'd lasted longer together. But hey, 20 issues ain't bad, better than some teams get!
Although the team went through multiple iterations, this was my personal favorite.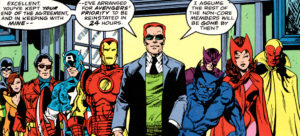 Source: ifanboy.com
3. Korvac Saga-Era Team
The Korvac Saga is one of the preeminent Avengers stories. One of those comics that you should probably read at some point. But it's also great for marking one of the all-time great Avengers teams.
You got your classic faves (Cap, Thor, Iron Man), your lower-tier dudes who bump up the ratings (Vision, Wonder Man), and your all-star bonus characters (Ms. Marvel, Quicksilver). This team was also famously in operation when the Avengers inducted the original Guardians of the Galaxy as honorary members.
So we also get the bonus of Starhawk, Vance Astro, Martinex, Charlie 27, and our main man Yondu. Yondu rocks. Especially heroic space archer Yondu. He's not as cool as star pirate Yondu, but second place ain't bad. Even when it comes to Yondus. This era of the team would also occasionally include The Beast, Hellcat, and others.
It's one of the most famous eras of Avenging, and it really does deserve to be immortalized here.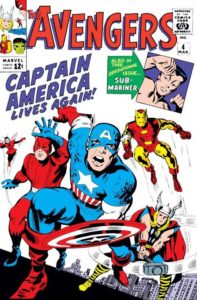 Source: comicvine.com
2. Avengers #4 Team
Yes, the Avengers technically had a team in the three issues before this one, but the team didn't fully solidify until Captain America showed up. And then they had the ultimate Avengers lineup that would define all the others.
Captain America. Iron Man. Thor. Giant Man. The Wasp. The definitive Avengers team.
Too simplistic to be the best, but defined just enough to be close. There's no weak link on the team. This very squad would go unamended until they were all switched out twelve issues later for the previously discussed Kooky Quartet version. But they'd remain as the founders (asterisk needed) of the rest of the series and throughout all of time.
The Avengers existed without Captain America, but in much the same way that Batman existed before his no-killing rule did: in an unfinished state. Captain America joining the Avengers is what truly made them The Avengers.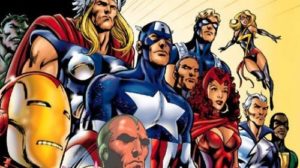 Source: insidepulse.com
1. Heroes Return Team
The best Avengers team of all time, folks. Seriously, I dream about this Avengers team. I have a poster of them above my bed that I stare at while kicking my legs behind me and cradling my head in my hands like a tween girl with a One Direction poster (Is that reference dated now? I don't keep up with the kids.).
Anyway, look at this team. Captain America. Iron Man. Thor. All in their best costumes. Plus The Vision AND Wonder Man. At the same time! Hawkeye is on this team! Hawkeye is the best! Goliath's here too! And Firestar! I like Firestar; I don't know what people have against her. Justice – I get it – he never amounted to much, but the rest of "˜em? Solid heroes, all around. The Scarlet Witch is here!
Plus, this team was written by Kurt Busiek and drawn by George Pérez. That is maybe the highest pedigree of anything ever made. I mean, Busiek and Pérez working together practically counts as the second coming, as far as I'm concerned.
And there we go, the ten best Avengers lineups! All ready and waiting for you to go out and read their adventures. What's your favorite Avengers team? Did I leave it out? Are you like a huge fan of the Heroes Reborn team, or something? Let me know!