Well, it's been almost ten years since The Dark Knight, which means it's been almost a decade since we've seen a good DC Movie. But have no fear, Wonder Woman has arrived, not only to outpace the rest of the DCEU, but also to deliver one of the best superhero movies of the last five years. The film is smart and fun and serious and beautiful-looking, and I can't stop gushing about how much I love it. This movie is spellbinding. So let's talk about why.
MAJOR SPOILERS FOR THE MOVIE DO NOT READ UNLESS YOU WANNA GET SPOILED TO ALL HELL.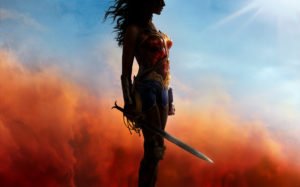 Source: tumblr.com
10. It's Allowed to be Its Own Thing
When DC launched their big cinematic universe, they did it with a movie whose sole goal was to establish Superman. But after that film, the next two films got bogged down in needless cameos and poorly executed universe building.
This film? None of that. There are little hints at an expanding universe, specifically the framing device of Diana going through relics for some mysterious reason, but the only Easter eggs are charmingly backgrounded. My favorite is the revelation that the wonderfully charming Sameer was…a Blackhawk!
That's right, DC's high flying air aces The Blackhawks have a presence in the DCEU. But do you know how far in the background this Easter egg is? It isn't even in the movie! It's just something the actor revealed on Twitter! Perfect!
The film didn't need to drag itself down into the mire of explaining what a Mother Box is; it just went off and did its own thing. Thank God.