Last week, the first issue of Nick Spencer's Captain America: Steve Rogers was released, and its last page twist set the Internet on fire. Now, I actually managed to avoid having it spoiled for me, but since it became A Thing, you probably had it ruined for you by Thursday morning. And there's a chance that you're pissed off.
Well, actually, no, there isn't. All the people who are pissed off are most likely just reading the titles of each entry on this list before gleefully raging at me from the comments. If you actually took the time to read all of the text, you would either agree with me or at least be willing to hear me out.
To clarify, it is totally fine if "Captain America appears to be a secret HYDRA Agent" isn't a story you're interested in reading. I don't have a problem with that. I have a problem with people acting like this is the worst thing to ever happen, ever, and insisting that the creators behind this story are Anti-Semitic garbage because that is a stupid, stupid opinion to HAVE, let alone shout at the world in 140 characters, hiding behind your egg avatar. So why is your anger dumb? Let's break it down.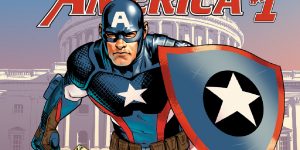 Source: heroichollywood.com
10. The Story isn't Over Yet
We have had a grand total of ONE ISSUE of this series. And the big moment happens on the last page. We don't yet know the context behind the moment in question.
Has Cap "always" been HYDRA as everyone assumes? Has he simply been infiltrating HYDRA this whole time as a double agent? Did the Cosmic Cube that de-aged Steve also leave him with false memories? Or did that cosmic cube maybe leave him under HYDRA's control, much like Winter Soldier was controlled by the Russian Government in the Brubaker run?
WE. DON'T. KNOW. That's the point.
Nick Spencer is a really great writer (Superior Foes of Spider-Man is my favorite Marvel comic of the decade and The Fix is the best thing I read every month) so maybe give him a shot here. Let him tell the story, or at least explain what's going on in the next issue. This is a premature freakout from people who have no patience. Calm down, let the situation unfold, relax.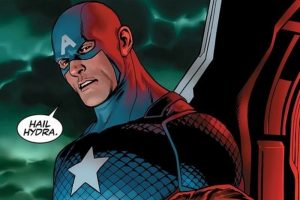 Source: media.gq.com
9. This isn't Permanent
But let's pretend like the story really is going in the "Cap totally for real IS HYDRA" direction. That doesn't matter either.
Why? Because IT WILL GO BACK. Comics are all about change and reverting back to the status quo. I've spoken before about how I love the Dark Flash story, in which a mysterious new Flash replaces Wally West. That arc was good, because it was a shakeup that told an interesting story before shifting back to the way things were before. A neat diversion before the return to the norm.
Also, Superior Spider-Man and Peter David's Grey Hulk run were both incredibly interesting. It was fun to read longterm changes to classic characters, yes, but they eventually went back to normal.
But no, you're right, when a comic book character changes, they stay that way forever. I forgot that Ben Reilly was still Spider-Man, Azrael was still Batman, and Superman was still made of blue electricity.
And it's amazing that they were able to make Cap a HYDRA agent when he's been a werewolf since the late eighties.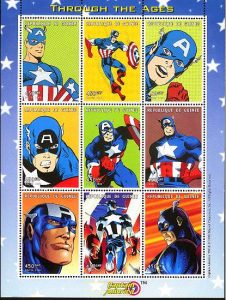 Source: artonstamps.com
8. It isn't Going to "Ruin" Anything
Go to your bookshelf or longboxes. Right now. Go to where you keep your Captain America comics. Are they still there? Has Nick Spencer broken into your house and burned all of them? No? Then shut the hell up.
All those stories you liked still exist and are still the same. And if you're thinking "ugh, that doesn't matter, I want to read new Captain America comics and I don't wanna read about HYDRA Cap", then there are a couple of things you can do. One: you could go read the currently publishing Captain America: Sam Wilson series, which features A Captain America and is pretty fun.
No? You want new Steve Rogers stuff? Well, go on Amazon, find a trade of a Cap comics you haven't yet read and pick that up. I'd suggest runs by Ed Brubaker, Rick Remender, Mark Waid or Mark Gruenwald. Odds are you haven't read ALL of those, and they're all good.
What's that? You want to read a currently publishing Steve Rogers as Captain America series that is brand new? Well in that case"¦ too friggin' bad, we can't all get everything we want.
All I'VE wanted for the last three years has been an ongoing Booster Gold series from DC, but that isn't happening, so I have to deal. Just because you want something doesn't mean they owe it to you to make it. That belief is called "entitlement".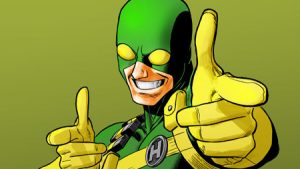 Source: tumblr.com
7. HYDRA ≠ Nazis
This one is important because a lot of people seem to forget it. HYDRA AND NAZIS ARE NOT THE SAME THING. HYDRA ARE NOT NAZIS. In fact, if you think HYDRA are Nazis, you've probably been watching too many movies and not reading enough comic books.
HYDRA was created as a SPECTRE riff for Nick Fury to fight. They were corporate evil with no actual political ties, and if anything, leaned closer to communist allegory than Nazi.
Yes, HYDRA WORKED WITH Nazis but they were not NAZIS. Movie HYDRA? Nazis. Comic book HYDRA. Not Nazis. Which, by the way, there have been a ton of stories where Steve Rogers wears Nazi paraphernalia for mind control/alternate universe/whatever reasons. This is not the first time. It was happening all the way back to the seventies.
This is not "a betrayal" of the character, stop being overdramatic. Go take a nap, watch some TV, and maybe calm down a bit.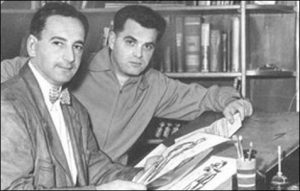 Source: brainstorming.wordpress.com
6. The Creators are NOT a Conversational Weapon for You to Use
Shut up about Joe Simon and Jack Kirby.
Like, RIGHT. NOW.
They aren't still here to give their opinions either way and odds are they wouldn't care. They both understood how work for hire worked (even though Kirby wasn't super happy about it) and they watched MUCH WORSE happen to those characters. You pretending like you know what they would have said is incredibly disrespectful. Say what you will about Marvel, but don't dig up Cap's creators and put words in their mouths like a friggin' Weekend at Bernie's remake.
No one knows how they would have felt because THEY AREN'T AROUND TO TELL US. If I had to hazard a guess, as a guy who didn't know either of them but has read one heck of a lot about them, I'd guess they'd just be happy the character they created was still relevant. But again, that's just a guess, based on researching the heck out of both of these men.
What we DO know is the opinion of the man who brought Steve Rogers back. The man who added the whole "man out of time" aspect to his history among other things. Stan Lee. And Stan"¦ is totally fine with it. In an interview, Lee said it was a "helluva clever idea" calling it a "crazy idea" but "a good idea". Soooooooooo, yeah.
Oh, and for those of you claiming that this twist is disrespectful to Simon and Kirby because they were both Jewish, let's talk in the next entry because"¦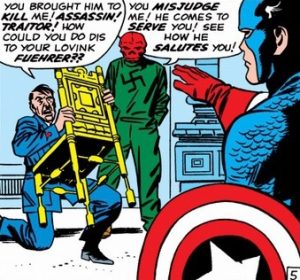 Source: screamsheet.wordpress.com
5. It's Really Not "Anti-Semitic". At All.
I'm Jewish. I'm not religious, I'm not practicing, but I am Jewish by birth. Statistically, you probably aren't. So when non-Jewish people tell me I should find this story anti-Semitic, it actually offends me.
It offends me mostly because it's stupid, but it also offends me because there is still a degree of actual anti-Semitism in the world, and pal, this ain't it. People using Simon and Kirby's Judaism to say why this twist is somehow "wrong" makes me OBSCENELY angry.
First off, as we discussed, HYDRA AREN'T NAZIS. Also, as we discussed, you should shut up about Simon and Kirby themselves. And thirdly, ALL OF THIS IS FICTIONAL. So, you are saying that, if I hear you correctly, two men who you didn't know, and who are no longer alive, are being disrespected because a fictional character they created was maybe possibly, but probably not, revealed to be a member of a fictional organization you keep confusing with a VERY DIFFERENT real organization that was actually legitimately a real threat.
Hey, you know what you could be doing with all that outrage? Go after neo-nazi groups, and the KKK, and ACTUAL HATE GROUPS WHO ACTUALLY LIKED THE NAZIS. Go be this vitriolic to them because they actually are disrespecting the memories of every Jewish person currently or no previously alive, especially those like Simon and Kirby, who enlisted during WWII.
                                                       Source: whatculture.com
4. You are Only Making the Comic More Successful by Whining About It
If you really, really hate this story idea and you want it to go back to normal as soon as possible, there are two things you can do about it: 1. Don't buy it (simple), and 2. STOP TALKING ABOUT IT.
Your ranting and raving and frothing at the mouth about how much you HAAAAAAAATE it is just spreading the word to other people who will buy and read this comic book.
Now, I'm psyched about that because I really want to see where this story is going and your providing free advertisement for it is only making it more successful. Marvel couldn't have PAID for farther reaching PR than #SayNoToHYDRACap provided.
BTW, that hashtag is way too wordy, you can do better. Oh well at least it's not #NotMyCaptainAmerica.
Again though, silence is the best weapon against a thing you don't like. If it doesn't sell, it will end. But yeah, I want Spencer on Cap as long as possible.
That first issue was great.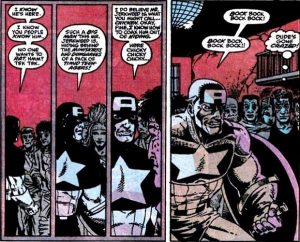 Source: dorkly.com
3. This isn't Even the Worst Thing Steve Rogers Has Ever Done
So, like I said, there have been numerous times where Captain America has espoused actual Nazi Ideology while under mind control. Like, this has happened a bunch.
Captain America has been a Nazi more times than Jean Grey has died, you guys, it's kind of a thing. But that's not all! What about Streets of Poison, in which a meth lab explodes all over Steve and he becomes a legitimate, drug-addicted psycho? Because that happened.
He also hits his at-the-time girlfriend Diamondback during that time. Domestic abuse while under the influence of meth? Kinda worse than HYDRA. By A LOT.
Or what about Ultimate Captain America, who assaults and murders surrendering combatants and acts generally like an all around psycho jerkface? All of these are worse than "Maybe HYDRA Cap". And none of those "ruined" the character.
You may have noticed that I didn't list Capwolf among the bad changes to Steve Rogers. That is because Capwolf is awesome, and I will hear nothing to the contrary.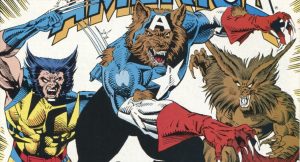 Source: blumhouse.com
2. ALL Comics are Gimmicks
"Gimmick" is just a word for "thing I don't like", like "biased" or "click-bait". They've lost all meaning.
Guys, every comic you like is a gimmick. Your reaction to the story might be "Oh, so Cap's HYDRA now? What a gimmick!" But let's play around with that.
The Dark Knight Returns? Oh, so Batman's all old and angry now? What a gimmick!
All-Star-Superman? Oh, so Superman's dying? Again? What a gimmick!
Avengers Four? Oh, so they're just gonna bring Steve Rogers back and make him an Avenger? WHAT A GIMMICK!
Civil War? Oh, so Cap and Iron Man are fighting all of a sudden? WHAT A GI""you get it. I don't need to provide any more examples.
"¦
Watchmen? Oh, so they're just gonna do new versions of all the old Charlton Comics characters but now they're all angsty and dark and stuff, What a gimmick!
Sorry, I had to get in one more.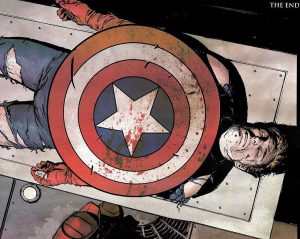 Source: moviepilot.com
1. You are Making Our Community Look Bad
I've spoken before about this but when you guys flip your lids and turn into angry screamy manchildren spouting off death and rape threats, you make all of us look bad.
Grow the #$%* up and stop throwing #$&*ing tantrums. As a comic book reader of more than a decade, whose collection is in the thousands of issues, I feel ashamed every time I see one of you twitter-ing your little heart out about whatever's boiling your kettle this week.
I will say this once, and only once: SENDING DEATH THREATS MAKES YOU A DESPICABLE GARBAGE PERSON. Always. It is an unjustifiable action. There is literally no scenario where you sending a death threat to the creator of a comic book is in any way the action of anyone but a villainous piece of human waste.
You are not a crusader fighting for the restoration of the "true" Captain America, you are a bully. Plain and simple. A cowardly, childish bully. And even if you aren't sending death threats, writing to and harassing the creators, editors, or other Marvel employees? That makes you a bully too. And they're also the actions of an awful human being.
There's a reason I don't consider myself part of gamer culture anymore. Part of that is due to cyberbullying, death-and-rape-threat-spouting hate movements like Gamergate, but a lot of it is due to the culture becoming shockingly toxic. I'm not a gamer because gamers embarrass me. I don't want comic fans to have the same effect.
But hopefully my words have had some effect. Like what you like and don't like what you don't like, but please, honestly, calm down about it.