Hey there, folks. Do you have someone in your life who wants to read comics, but he or she doesn't know where to start? Someone who just needs an entry point into this wide world of comicdom? Well, you've come to the right place. A lot of people make the mistake of just handing others their own favorite comics, which is usually a bad idea. It doesn't matter how good you think Kick-Ass 2 is; your friend probably doesn't exactly share your taste. Along the same lines, while something like Crisis of Infinite Earths is good, it shouldn't be anyone's first comic. You want something that's accessible to everyone. Oh, and also, don't try to make people get into comics unless they tell you they want to get into comics.
                                                       Source: afterellen.com
10. Queen and Country
For: Your Friend Who Loves Spy Novels
We all have that friend or family member who burns through Tom Clancy novels like a house on fire. Usually an uncle.
Well, when he comes knocking at your door looking for a comic to get engaged in, hand "˜im a copy of the Queen and Country definitive edition. Q & C is Greg Rucka's masterwork, done with numerous artists over the course of the series. The story follows the S.I.S., the British spy department that no James Bond movie ever covered.
The book is really half ensemble piece and half two-hander. Yes, it's about the entire Operations department, but it's more specifically about Director of Operations (D-Ops) Paul Crocker and Agent Tara Chace, who starts the series as Minder 2. Each arc covers a mission, and each arc plays out like the best spy thriller.
In addition, Rucka has also written three Queen and Country novels that take place at various points in the series. These puppies are no airport reads.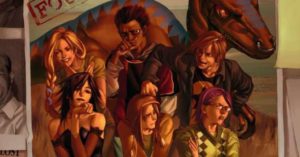 Source: criticalhit.net
9. Runaways
For: Your Friend Looking for a New YA Series
With the newly debuted (and widely acclaimed) Hulu series on the air, it shouldn't be hard to convince a friend to give Brian K. Vaughan and Adrian Alphona's masterpiece a chance.
The series follows a group of teenagers who are friends because their parents hang out all the time. But when they discover that their parents hang out all the time because they're a supervillain cabal, they run away. Because they're smart kids, they also steal a bunch of stuff and become superheroes. And along with the show, that entire original comic book series was recently released in some nice big collections for you to gift.
We all have friends who flit between YA series like moths darting through flames. Harry Potter, Hunger Games, whatever that Mortal Instruments thing is, they love it all.
And, well, Runaways is exactly that kind of thing in comic book form, but also in the Marvel Universe.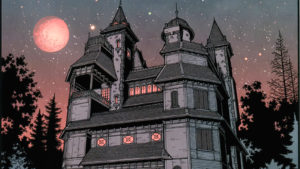 Source: theverge.com
8. Locke and Key
For: Your Friend Who Worships Stephen King Like He's the Lord
Joe Hill is an excellent novelist in his own right (Horns is my personal favorite among his books), and his comic book work is deeply good. As well, Gabriel Rodríguez's art is terrifying and beautiful at the same time.
In the story, a tragedy befalls the Locke family, leaving them to move back to their inherited Massachusetts home. But mysterious, creepy things start happening in the manor, which is dubbed the Keyhouse.
Nightmares befall everyone, ghosts from the past turn up, and the ancient evil hidden deep in the well is about to awaken. It's a wonderful comic, and you really do need to check it out on your own before your friend comes a'calling.
But if she hits you up looking for some spooky comics to enthrall her, this is your best pick. Not your only, but your best.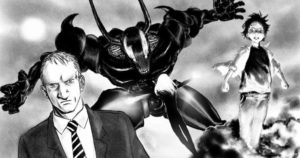 Source: crunchfu.com
7. Pluto
For: Your Friend Who Just Adored Blade Runner 2049
The first and only manga on this list, Pluto is phenomenal.
It justifies the existence of manga to me, and that's something I previously thought impossible. Pluto is also maybe the only good grim and gritty reboot.
The series took an arc of the beloved children's manga Astro Boy and turned it into a serious detective thriller about Geischt, a robot detective who tracked a series of ritualistic robot and human murders. If your buddy likes thinky sci-fi that's mostly about the emotions of robots, this is exactly what you want to give him.
Honestly, the first volume is worth it, even if just for the specific mini-arc about North No. 2, the former war robot who found new life as the butler to a composer. That little tale has so much depth and meaning that it will blow you away.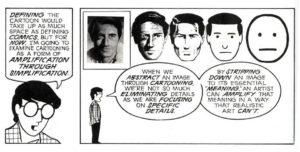 Source: sequart.com
6. Understanding Comics
For: Your Friend Who Really Likes TED Talks
Scott McCloud's Understanding Comics is one of those definitive works that every comic fan should read at some point.
But it's also basically an illustrated TED Talk about how comics work as an artistic medium. And it's a mind-blower. If someone wants a big treatise on comics from a theory and craft standpoint, it doesn't get much better than this.
I've often remarked that Understanding Comics is basically a guided tour, with Scott lecturing the reader in a really entertaining way. The final result is a book that feels unlike anything else. It's more like an illustrated essay than anything else. But don't be fooled, it's also incredibly entertaining.
It's not just mind-blowing and educational; it's really funny, as well. The sequence on The Treachery of Images is hilarious in its own right. This is a good gift for someone more interested in comics as an artform than as a medium, or anyone who just likes to learn how stuff works.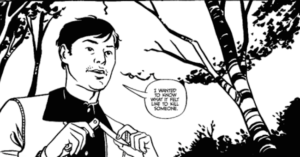 Source: projectnerd.com
5. The Green River Killer
For: Your True Crime Nerd Friend
We all know at least three people who live off true crime fiction. The podcasts, the shows, the books. And comics actually have a ton of entrants in the True Crime genre.
As for selection, I wanted to go with The Green River Killer, which is about Gary Ridgeway and the lead detective who worked with him to identify his victims in the months following his capture. This graphic novel succeeded because it was actually written by the son of said lead detective.
That personal touch is sure to leave your friend enthralled and engrossed with her new favorite true crime story. It's also a solid profile of a serial killer. Ridgeway is creepy and unsettling to an extreme. It all has the feel of a great investigative miniseries, but in comic book form.
Plus, if she likes this one, there are plenty of other true crime comics to move on to. Torso and My Friend Dahmer are two of my favorites.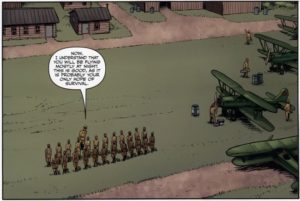 Source: 4thletter.com
4. War Stories/Battlefields
For: Your Dad
What I mean is, "for anyone in your life who knows more about World War II than their financial records". But let's be honest, that means your dad. Unless you personally know me. In which case, it means me AND your dad.
Garth Ennis friggin' L O V E S World War II, and he's created at least three comics that are devoted to it. But War Stories and its spiritual sequel, Battlefields, are the best examples.
Both books are anthology series with each issue or mini series taking place with a different cast of characters and in a different time period. But what makes both of them excellent is the narrow focus and meticulous research. Seriously, every time I read a volume of either of these books, I wind up buying another book about the war.
Personal favorites are Archangel from War Stories and Night Witches from Battlefields. They're both air combat stories, because I love planes.

                                                         Source: blogspot.com
3. Invincible Iron Man
For: Your Friend with the Semi-Popular MCU Tumblr
Overall, the Marvel Cinematic Universe has been an incredible success.
It's brought in generations of new fans who love these characters. Sometimes, it can be hard to find a good book when you want to introduce someone to comics. But it shouldn't be that difficult, because that book already exists.
The release of Fraction and Larroca's Invincible Iron Man, an all-time run on the character, coincided with the release of the original Iron Man movie. The book is a great gateway into the overall Marvel Universe. About 12 trade paperbacks long, it ties in with numerous Marvel events from that time and carries through one complete and unique story.
I already did a Ten Best Stories From article about how good this book is, and the first arc alone will give someone enough to be hooked. The Five Nightmares is a fantastic introduction to the character and his world, and the rest of the series will make them fall in love with Iron Man.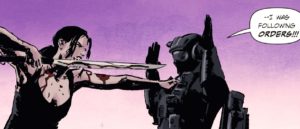 Source: slashfilm.com
2. Lazarus
For: Your Friend Who's Still Waiting for a New Song of Ice And Fire Book
Part of the skill needed to recommend stuff is to select books that aren't EXACTLY like the stuff the person already loves. When your friend comes to you looking for a comic she'll enjoy, you'll want to give her something that'll broaden her horizons a tad.
So it's Lazarus for those Game of Thrones nerds – those GOT-heads, if you will. The book focuses on a group of rich families who divide up the globe following an apparent apocalypse. They feud, they bicker, they fight.
But, unlike the Starks and the Lannisters, all of these families are dumpy rich people who don't actually know how to fight. So each family has a Lazarus, an individual who was augmented using genetics or cybernetics or what have you, who dishes out all their combat for them. The book is centered on the life of Forever Carlyle, the Carlyle family's Lazarus.
Rucka and Lark are badass storytellers through and through, and this is some of their best work. It has all of GOT's fun politics, but twice the sword vs. gun fights.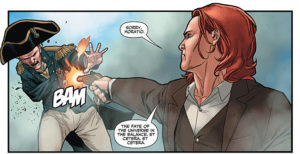 Source: comicsalliance.com
1. Ivar, Timewalker
For: Your Friend Who's Still Crying Over the Doctor Who Christmas Special
I love Valiant's output right now. Seriously, I don't think they're publishing a single book that isn't great.
Sadly, Ivar is over. Happily, it resulted in a nice little chunk of comics. Ivar is basically a Doctor Who comic. It stars Ivar, the Timewalker, an ancient hero who uses time portals to move through space and time. He picks up Dr. Neela Sethi, the future inventor of time travel, and takes her on a quest through time and space that's deeply tied to both characters' destinies.
I know quite a few Whovians, and all of them would have a positive response to Ivar's story. Plus, it's a great intro to the Valiant Universe, as its characters pop up again in the recent (at the time of this writing) miniseries event, Faith and the Future Force. It's a pretty fun time.
So there you go. Here are your recs to rec to the people you know who want to get into comics. Hope they like them. But honestly, use your own judgment, as well.