Espionage is one of those classic comic book genres that never really gets the respect that it deserves. Like, I love me some spy comics, but people tend to ignore them in favor of war or horror, or, obviously, superheroes. But the world of cool gadgets, covert ops, and quiet gunfights has a ton of representation in the four-color world. So grab your shaken not stirred Martini, make sure your suit and tie are clean, and pop that silencer on your Walther PPK, because it's time to gear up and talk spies.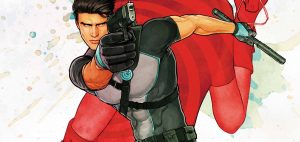 Source: dccomics.com
10. Dick Grayson
Robin, Nightwing, Batman…Dick Grayson has held many identities. But one in particular stands out on this list: Agent 37 of SPYRAL.
After his identity was exposed to the world by the Crime Syndicate, Richard Grayson had nowhere left to turn. Sent to infiltrate the organization by Batman himself, Grayson decided to do it using his own methods. With his everlasting charm and wit, Dick made his way through the SPYRAL ranks, gaining notoriety for his very unusual methods.
With full and complete anonymity due to his Hypnos implants, Grayson was able to work with tons of high profile heroes without being recognized. Midnighter, Batgirl, Superman, old friends and new friends alike. The series itself is fun, high octane, sexy spy stuff that doesn't take itself too seriously. Like old school James Bond, some globe trotting adventure for you to enjoy.
Like the ad campaign for the series stated, you may know Nightwing, but you don't know Dick.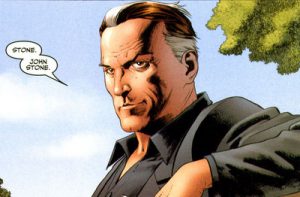 Source: comicvine.gamespot.com
9. John Stone
If you are a comic book fan and haven't read Planetary, that absolutely needs to happen at once. The series is essentially a series of heartfelt tributes to everything from kaiju to Hong Kong action cinema. And those are just the first two issues. But we're here to talk about issue eleven.
This one takes place during a meeting between Planetary member Elijah Snow and Spymaster extraordinaire John Stone. Stone and Snow are old pals, and the conversation eventually turns to Stone's long career as a seemingly non-aging super secret agent.
John Stone is a hard-drinkin' hard-smokin' ladykillin' (the sexy kind not the murder kind) super spy machine. Patented after seventies Nick Fury, Stone is ex-OSS and the supposed inventor of psychological operations. It's amazing how cool a spy you can establish in one issue when you're as good a writer as Warren Ellis.
Planetary: rad. John Stone: pretty sweet.
                                                  Source: cmro.travis-starnes
8. John Lynch
Look, there are two real types of spies, agents, and spymasters. This list will contain crap tons of both, but here is our first of the latter.
John Lynch is the Wildstorm spymaster extraordinaire, the cold, calculating bastard who will do pretty much anything to pretty much anyone if it gets results. Lynch was the organizer of IO, and was the only man trying to stop the evil supervillain known as TAO.
To do this he placed an agent deep inside TAO's organization. An agent named""actually, wait, we'll get to that guy later on. For know though, we'll focus on Lynch.
Lynch's plans backfired and nearly got him nearly killed; he was comatose for over a year. But upon awakening, his care for his agents immediately resumed, making him automatically a better spymaster than half the people on this list. Don't cross Lynch, because even the people on his side, the ones he likes, often don't make it out alive. And if they aren't safe, what does that make you?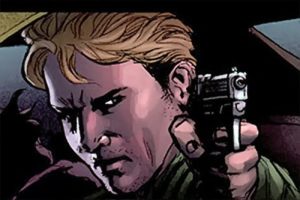 Source: writeups.com
7. Nemesis
What kind of a man does it take to disappear under cover? What kind of a person do you have to be to do whatever it takes to survive? Whatever the answer, Tom Tresser is that kind of man.
Tom is a master of disguise who began as a vigilante before getting brought on as a government agent. Tom spent his early days sneaking into a secret group known as The Council in order to avenge his brother's death. Eventually, with Batman's help, Tom brought The Council down, but was almost killed in the process. But he was saved by Amanda Waller and Rick Flag and decided to help the with their brand new venture, The Suicide Squad.
He served with the Squad for a while, infiltrating Moscow and falling for fellow team member Nightshade. Later on, Nemesis took a job with the new Department of Metahuman Affairs, working alongside Wonder Woman.
But no matter who he works for, Tom Tresser is a master of disguise and a secret agent through and through.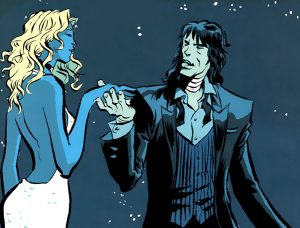 Source: comicvine.gamespot.com
6. Casanova Quinn
What if you had to go undercover and pretend to be"¦yourself? That was Casanova Quinn's assignment.
Cass was the son of Cornelius Quinn, spymaster of the international organization known as EMPIRE, a group Cass wanted nothing to do with. Casanova is kidnapped by the mastermind behind WASTE, a rival organization, and shunted into a parallel universe, where he was killed.
Now Quinn must pose as himself to infiltrate EMPIRE, while simultaneously trying to get the better of WASTE. His mission ranged from burying a mysterious untouched civilization to executing the next potential Messiah, but in the end, he got his own life back in his control. And did that while in a giant Japanese robot. And that's all just Volume One.
Casanova Quinn, super secret agent of space and time.
                                                           Source: marvel.com
5. Spider-Woman
One of the best double agents out there. The only woman to play SHIELD and HYDRA against each other in equal measure. A private detective, a weapon of evil, a superhero, and an agent of more secret groups than almost anyone else.
Seriously, just LISTEN to the shortlist of groups Jessica Drew has been a part of: HYDRA, the global terrorist cell devoted to evil and world domination. SHIELD, the international peace-keeping task force determined to keep the earth safe. SWORD, the interplanetary agency intending to keep the planet safe from intergalactic threats. The Secret Avengers, the covert ops arm of the Avengers with one simple mantra: run the mission, don't get caught, save the world.
Drew has worked for everybody and they all got their money's worth. A brilliant secret agent, double agent, and superhero, Spider-Woman will kick your butt and steal your identity without breaking a sweat.
Avoid getting caught in her web.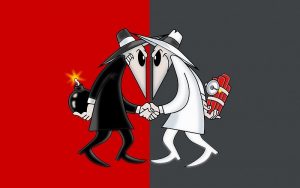 Source: desktopimages.org
4. White Spy/Black Spy
Look, these two share a spot because, come on, was I gonna pick one? I mean, if I was, Black Spy for life, but whatever.
I grew up on Mad Magazine, and one of my favorite monthly features was the wonderful Spy vs. Spy. For those who aren't or weren't Mad readers, Spy vs. Spy was a running series about two spies trying to trick each other into elaborate death traps.
Both spies are equally cunning and foolish, able to rig up Home Alone-esque Rube Goldberg machines one week but falling for another of such traps in the next, if not the very same, issue. Spy vs. Spy have appeared in numerous different adaptations and media since their creation, in animation, video games, and even a Mountain Dew ad campaign.
I gotta say, this espionage duo has a deep-seated place in my heart, and no list of spies in comics would be even close to complete without a spot reserved for them. Of course, let's hope they can share a spot without trying to kill each other.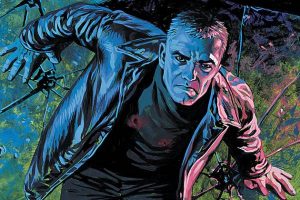 Source: mxdwnmovies.com
3. Holden Carver
Remember when I said we'd talk about John Lynch's super secret deep cover agent at some point? Well, here he is.
Holden "Conductor" Carver was an IO agent until he was approached for recruitment by one of TAO's agents. He took the position with the permission of John Lynch, making it seem to everyone else as if he had betrayed everyone he knew and loved. Unfortunately, Lynch was plunged into a coma shortly afterwards, leaving Carver out in the cold.
Hated by all of his old friends, trapped in a den of scum and villainy, and quite honestly growing to like it, Holden is in a tough situation. Sleeper, the series Holden stars in, is one of the best and most underrated comics of all time, and my favorite espionage-based comic book ever. And Holden Carver is the perfect guy to get down and dirty with the bad guys.
But sometimes, when you do that, you don't come back up.
                                                              Source: mtv.com
2. Black Widow
Obvious choice is obvious.
Widow is a spy head to toe, and has always been way more an agent than she is a superhero. Natasha will routinely do whatever needs to be done to accomplish her goal, even at the expense of her more heroic persona. But don't be mistaken, she can really and truly throw down.
The first issue of Waid and Samnee's recent Black Widow series is literally twenty-two pages of her taking out SHIELD agent after SHIELD agent like a majestic force of glory and kickassness. Seriously, she bails out of a Helicarrier at one point. Tell me that isn't awesome. I mean, if you do, you're a dirty, dirty liar. But as an Avenger and a superhero, Natasha balances both worlds like no one else. She's the only one who can stoop to practical assassination but still feel more than fitting standing next to Captain America.
She's a hero, even if she's one who has a little more red in her ledger than she'd like.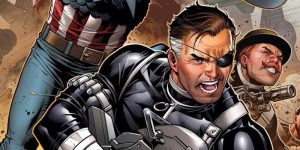 Source: businessinsider.com
1. Nick Fury
DUUUUUUUUUUUUUUUUUH.
I mean, come ON. Was I really not gonna put good ol' Nicholas Fury on this list? I'm not an idiot.
Fury is easily the most famous and successful comic book spy in comics. The dude started off as a World War II soldier with the Howling Commandos before James Bond's rise to prominence made spy comics a thing in demand. And so Fury was brought back and turned into the charming and sexy Agent of SHIELD we all know and love. The super spy graduated to Director of SHIELD and became the badass spymaster he has since remained. Well, until Original Sin, but let's not talk about that. The original Agent of SHIELD series is well worth a read, especially for Jim Steranko's trippy cool artwork.
Fury's a hardcore jerk sometimes, but watching him play around as the greatest spy of all time? That never gets old.
And there we go, ten agents so secretive, I bet you already forgot some of them. The best of the best. Spymasters, secret agents, double agents, masters of disguise, all the best. So if you have nothing better to do this week, and if any of these stories looked interesting, feel free to curl up on the couch with your girlfriend whose name is also a pun, tell M you will be busy for a couple hours, and get to reading. That is your mission, after all, if you choose to accept it.