As a long time comic book reader, I will often have people ask me questions about the medium. But the most commonly asked question is always the same: "I want to start reading (insert character name here), where do I start?" So, I figured, why not put out a handy list for y'all. Here are ten comics that should serve as a good 100 level course to some of the most popular characters in comic books right now. All of these should be currently in print and available for purchase. Happy reading!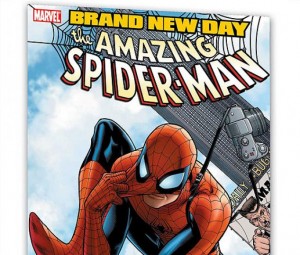 10. Brand New Day
(Spider-Man)
Brand New Day is one of the most successful character revitalizations I've ever seen. Spinning out of the famously bad One More Day, BND took a bunch of great writers and artists and let them take turns at writing Spider-Man. What resulted was a fun series of short adventures that eventually gave way to some larger story arcs.
That first year led to a bunch of stories about brand new villains, brand new supporting characters and some fun stories. Spider-Man and Wolverine fight Mayan Snow Monsters. Doctor Octopus returns with a final master plan. A new goblin emerges and it's a race to discover their secret identity. Etc.
Brand New Day ran for years, and while it has some less great stories, stuff like "The Gauntlet" and "Shed" are more than worth it. Truly, Brand New Day took Spider-Man in new and entertaining directions and felt like a true breath of fresh air.